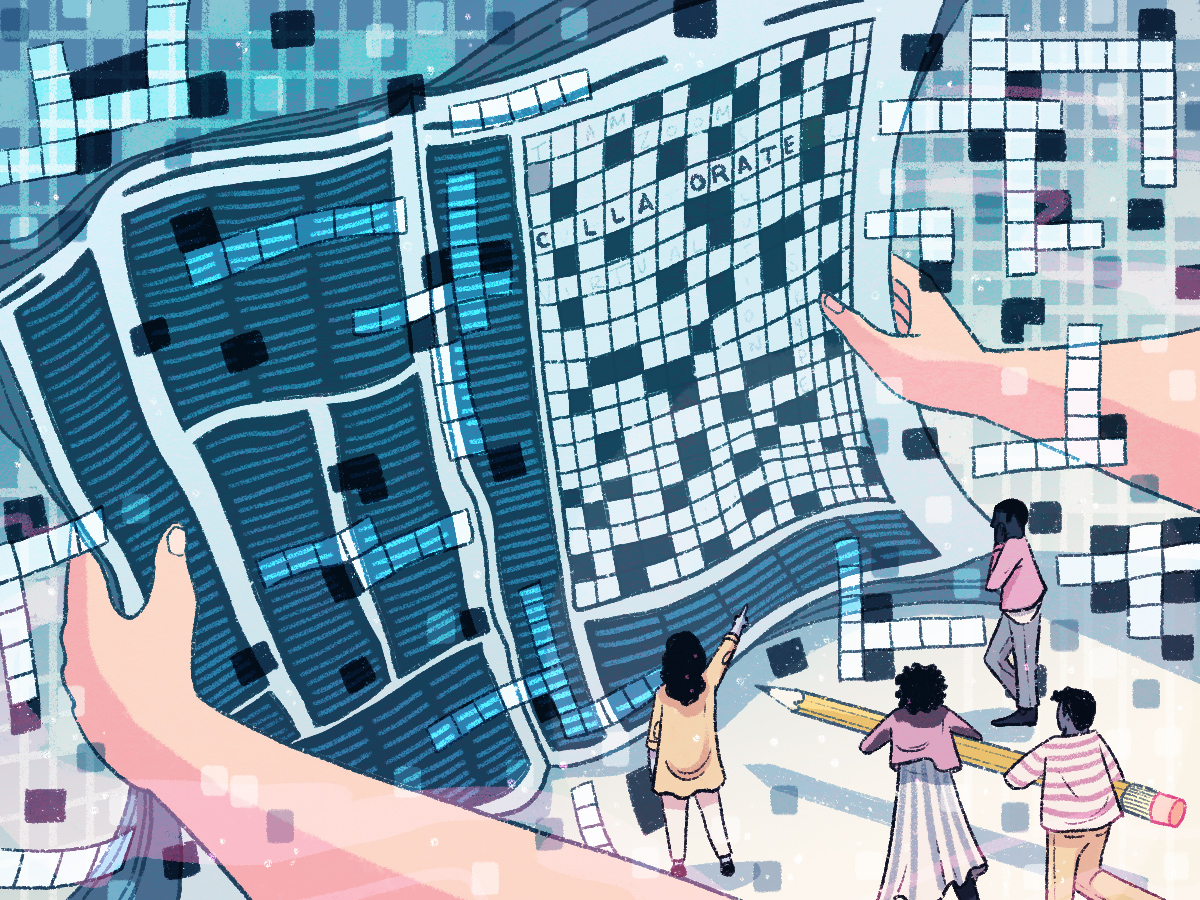 Since the pandemic began, organizations have been working hard on how they collaborate. But something's still missing, and it's to do with people.
Looking at successful tech and creative collaborations of the past, common trends emerge. Any organization can use these to kickstart better collaboration within and between their teams.
1.   Make partnerships bigger than their parts
A great collaboration means bringing together people in a way that makes a sum greater than its parts.
Perhaps the most impactful partnership right now involves big pharmaceutical companies working together to create COVID-19 vaccines. Harvard Business Review also looked at lessons learned from thousands of Chinese companies adopting more open data architecture to help scale up medical supplies production.
SECURE FUTURES
What's coming next?
Be first to find out what's happening in tech, leadership and cybersecurity.
There are other examples too. Rival payment vendors Alipay and WeChat worked with the Shanghai government to develop a QR-code based tracking system adopted by 10 million users in just six weeks.
2.   Look for driven and imaginative leadership
The Unabomber was a terrorist who bombed some 16 targets across the US from the 1970s until his capture in 1996. The recent Netflix series on the hunt for the Unabomber shows how driven and imaginative leadership allowed the FBI to organize the huge investigation that ultimately identified and caught the perpetrator. A crucial piece in the puzzle was the decision to use a little-known investigative tool at the time, forensic linguistics, to profile the killer and link a suspect to the bomber's messages through his writing.
3.   Combine people with complementary skills
A remarkable feature of the collaboration of the UK's famous Bletchley Park World War II code-breaking group is they worked together without knowing what each other did. The set of computers known as Colossus flawlessly executed a complex and precise series of steps. And while the Enigma machines get much publicity, the real challenge was a more complex German High Command code called Lorenz. The innovative team was assembled by recruiting civilians through difficult crossword puzzles placed in newspapers.
Another great example is the team that created the Ford Mustang, as chronicled in 2015 documentary A Faster Horse. It's all about a group of engineers and designers working together to solve a specific problem.
4.   Involve everyone in generating and executing ideas
Member of surreal British comedy group Monty Python, Eric Idle, says the whole Monty Python team wrote their skits before they cast them. It meant no one would be personally invested in an idea before the group could fine-tune it.
Many collaborative efforts depend on a solid process of idea creation and development. Real-time online writing and editing tools like Google Docs can facilitate these efforts when you're not working face-to-face.
5.   Use active learning and group training
The US Army now recognizes soldiers must protect their digital networks and repel cyber invasions. They recently created a cyber workspace near Augusta, Georgia, called Tatooine. The name refers to the planet where Star Wars' Luke Skywalker spent time in the early movies.
Initially, it will focus on drone detection, active hunting of cyber threats on Department of Defense networks and designing better training systems for cyber soldiers. They're also building great partnerships between military and civilian resources, for example, the successful Hack the Army bug bounty program.
6.   Use communication and collaboration tools effectively
Many of these teams worked together before the digital age, using basic communication tools. We're now blessed with email, real-time messaging apps, video chats and more. But these blessings are also a curse if misused.
I've previously written about the signs you're not using communication tools effectively.
Email is collaboration's natural enemy. It's not instant, and threaded replies get out of hand. It's a terrible way to edit a document with more than one author. Alternatives like Slack and Microsoft Teams bring collaborators together better.
The history of collaboration has been one of fits and starts. While we keep making the same mistakes, there are signs of hope as new digital collaboration tools help us over some of the hurdles. I hope you'll find these examples an inspiration for your future collaborations.