2020: The year remote working went mainstream. Goodbye, long commute. Hello, months of lockdown, endless Zoom calls and employers monitoring your breaks with tracking software. Not quite the idyllic beachfront office in Barbados some pictured.
Ah yes, the office. A shared space where colleagues could go for a coffee together and often. Ironically, a space where no one closely checked what you were up to. Will we ever return to the same as before COVID-19?
Maybe not. Research from the UK's Human Resources professional body, CIPD, suggests flexible working will more than double in the wake of the coronavirus pandemic. Does this mean the end of the early morning crush to get to your desk? Not necessarily.
Secure Futures
What's coming next?
Be first to find out what's happening in tech, leadership and cybersecurity.
The World Economic Forum says the future of business is the 'triple bottom line:' People, planet, profit. "If COVID-19 has taught us anything about how to surmount our socio-environmental challenges, it is that each one of us – as individuals, companies or governments – needs to take ownership of our future. Being a bystander is no longer an option," says CB Bhattacharya, Chair in Sustainability and Ethics at University of Pittsburgh.
Flexible working is one way to advance how we do business. It's the art of designing an employee's role around their needs and preferences to benefit both the individual and organization.
If underpinned with balance, respect and trust, flexible working enables a more diverse pool of talent to stay in employment longer.
Difference is a strength
We all have a reason for wanting more balance in our lives. It could be children, care responsibilities or health issues. You may wish to live in the countryside, go to the gym in the morning or avoid the rush-hour commute.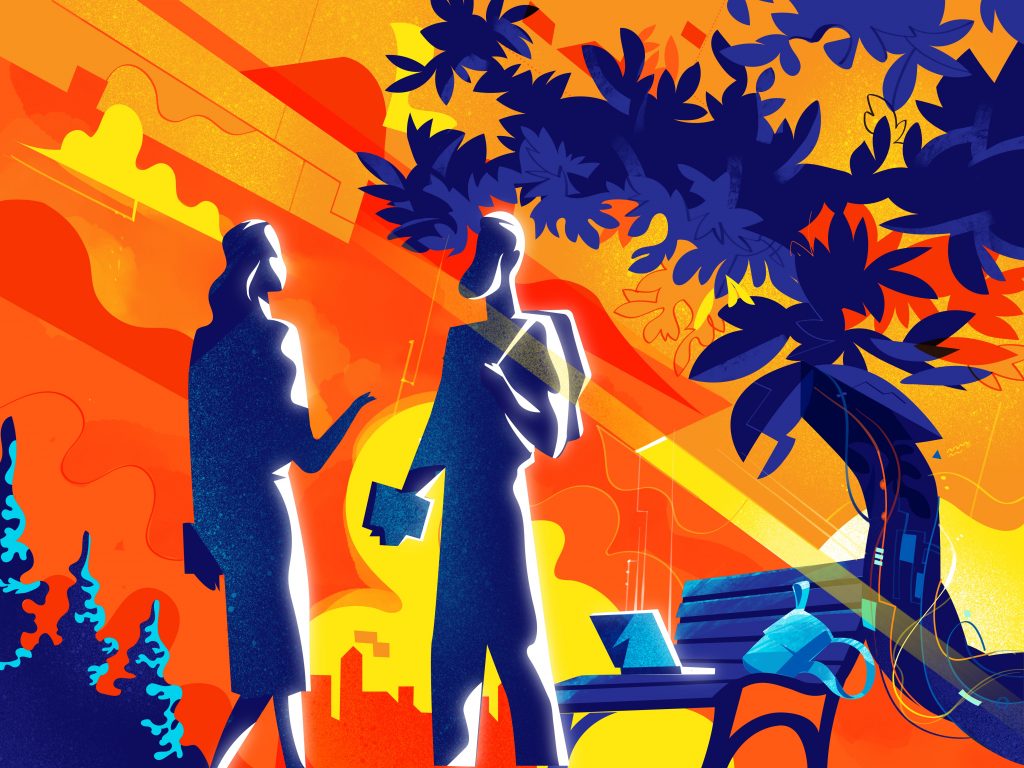 But offices are not on the way out. Reports of loneliness and burnout emerged just a few months after working from home was mandated in early 2020. It's no surprise workers say their preferred pattern is an almost even split of working from the office and remotely, and leadership agrees.
While parenthood often triggers requests for flexible work, businesses that assume it's just for parents are missing a trick. Offering design-your-own work pattern to all staff helps reduce inequality alongside shared boundaries, such as restricting meetings to between 10 am and 4 pm.
Flexibility enables diverse and inclusive leadership teams. A few years ago, there were more men named David or Steve in the FTSE 100 (100 top businesses on the London Stock Exchange) than women and ethnic minorities. Things may have improved – a third of all board members in the FTSE 100 are now women – but there's still a long way to go. More than a third of the UK's top companies have no ethnic minorities on their boards.
Flexible working is one important step towards better work-life balance and diversity and inclusion. While more women may need flexible working more because they're more likely to have care responsibilities, it's when flex is available to all that it can help level the playing field.
Flexible work needs good boundaries
Flexible working can erode boundaries around when work begins and ends. With email easily accessed on mobile phones, employees may feel pressured to be available 24/7.
Even before the pandemic, 'leavism' was on the rise: Overwhelmed workers catching up on tasks during annual leave, or taking leave instead of calling in sick out of concern for their reputation.
Jobs should be designed around the agreed flexibility of the role, rather than retrofit. Squeezing a full-time position into part-time hours never works long-term. You should also nurture flexible arrangements with regular check-ins and refinement.
Respect commitments inside and outside work with a baseline of honest and transparent communication. Supporting your team to know when to switch off and take a break helps them be more focused and effective.
Freelancers should feel included
Using freelance talent lets you scale up or down quickly to react to market needs. Businesses of the future will need a foundation of sustainable and ethical behaviors and will include a mix of temporary and permanent staff.
Treating in-house freelancers with the same respect as staff creates better results. Make sure your plug-in talent gets a comprehensive contract, a clear brief and prompt payment. Include long-term freelancers in team meetings, and keep them updated about changes at the company and announcements of cake in the kitchen.
Trust must become more important than control
Tightening the reins may be an instinctive reaction to a backdrop of global uncertainty. As the world has adjusted to remote working en masse, the demand for monitoring tech has increased.
Software that allows managers to check whether employees are doing enough work creates a culture of fear. It makes employees feel reluctant to take the breaks that make them more effective.
Research from CIPD shows those who work flexibly have more job satisfaction and commitment. It reduces absence. But workers worry about visibility. They want to be in the office, so they don't get passed over for promotion.
Organizations must train leaders to be wary of 'presenteeism' – mistaking hours spent at work for a measure of performance, and move towards a culture that values productivity and quality of output.
Facing a global pandemic has given us moments of quiet reflection. We can clarify what is important. The World Economic Forum says we should "strengthen our social fabric and inspire economic activity that creates value for humankind if we are to create a world that is sustainable and well-equipped to combat impending crises."
It's now time to move towards a new way of working that puts people at the heart of your business and trusts them to do their best work. The rewards are too great to miss.