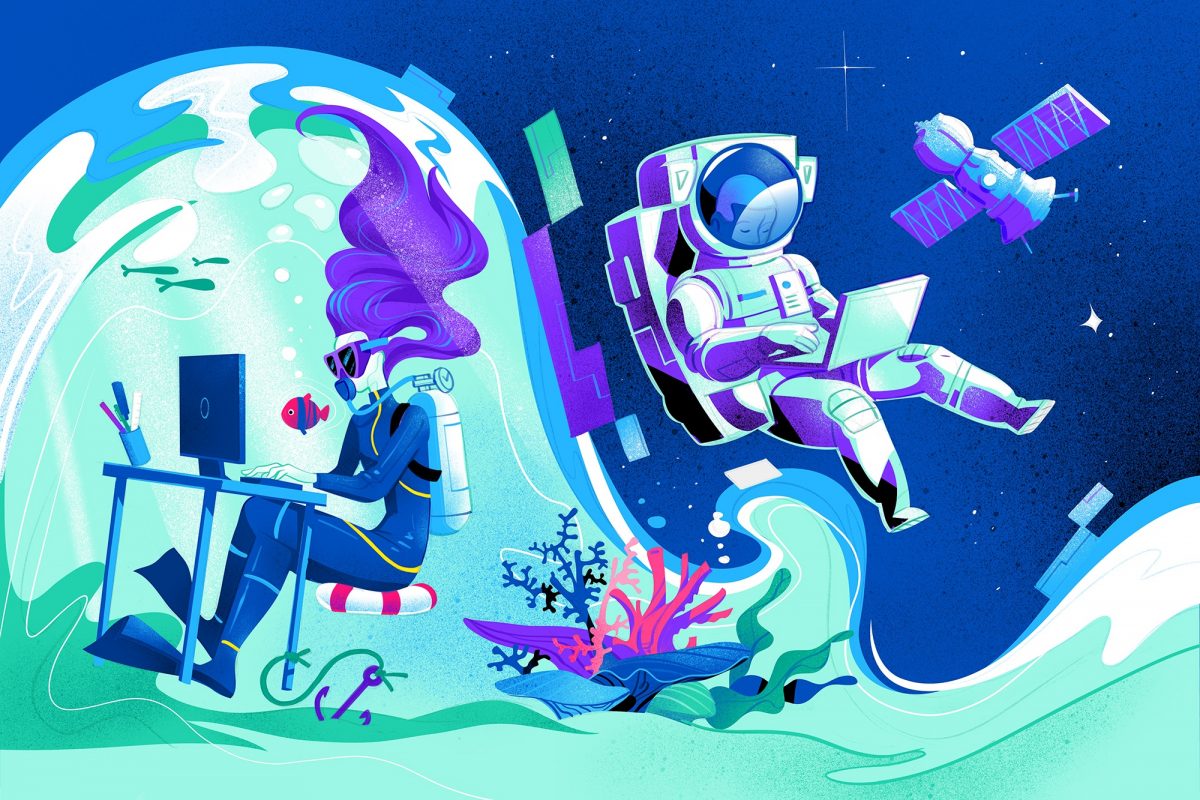 No sweaty morning commute. Lunch in the comfort of my home and, most importantly, bucket-loads more work done to a better standard. After swapping full-time for a flexible working arrangement recently, the benefits are clearer to me now more than they've ever been. So I'm celebrating how virtual offices are transforming the way we work for the better. And these amazing people around the world are enjoying the benefits too.
First things first: working outside the standard 'nine to five' helps. A lot. Since switching, it's clear to me that my best work as a writer doesn't come within a constrained time frame. I'm free to spend my days doing things I enjoy, then buckle in for an evening of working from my laptop – sometimes at a café. Which brings me to my next personal highlight: no more offices.
One previous situation springs to mind, a job I had a few years ago. A packed central city workplace, the humdrum of idle kitchen sounds, the crippling pressure of making small talk in the said kitchen and, for my sins, a bottomless biscuit tin which I spent most of my day slowly devouring. My motivation and productivity were at an all-time low. Now, having the chance to work anywhere, at any time, has given me a new lease of life. And I'm not the only one who feels that way.
By having more responsibility in managing our workload, we can all create the best office in the world – and one that's right for you. And this is just the beginning for job flexibility. A recent LinkedIn study concluded that over the last three years, global job postings offering flexible working have increased by 78 percent. Here we go.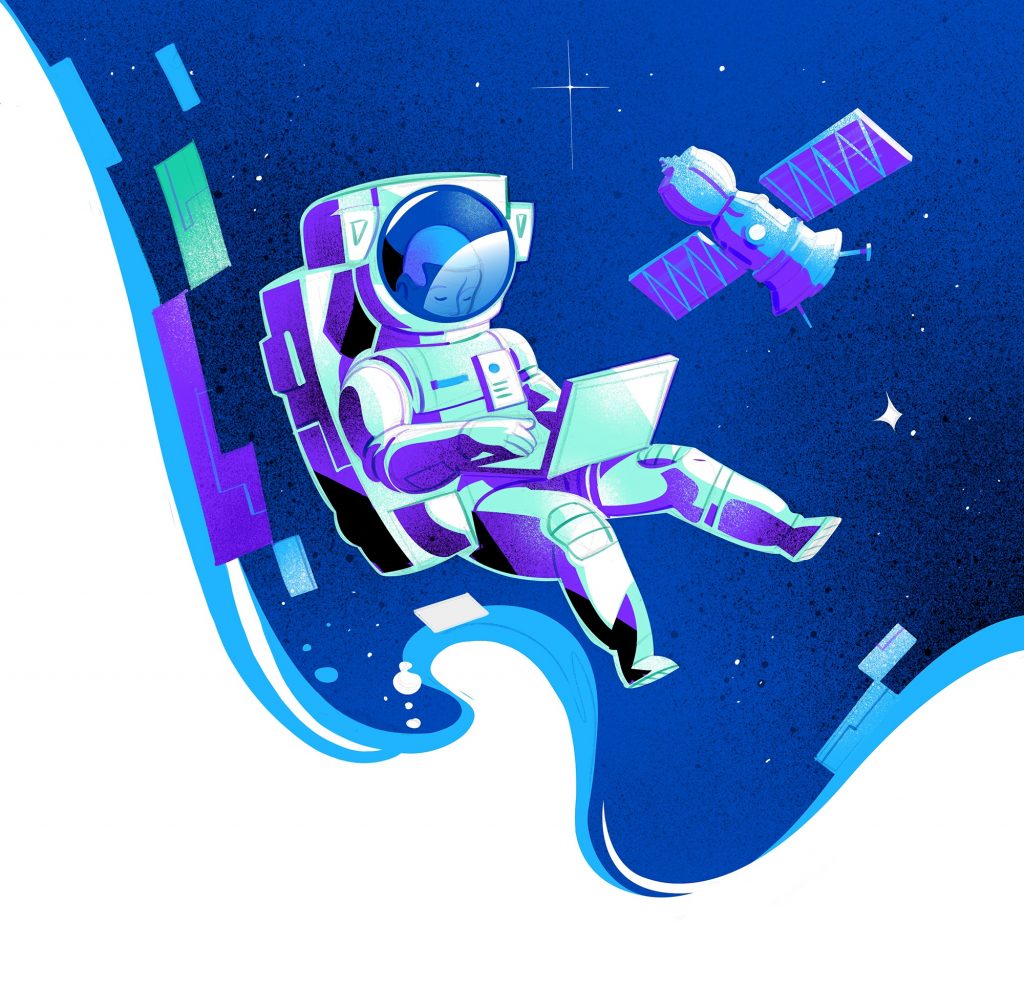 Let's get flexible
Dimension Data's research suggests that globally there will be a 40 percent increase in flexible arrangements over the next two years. Compare that with Forbes' findings on the US flexible-working market (it currently stands at 50 percent), and the Chartered Institute of Personnel Development's estimation that the UK's flexible-working market will reach 70 percent in 2020. We have a trend on our hands. This might sound great from an employee's perspective, but why should employers care?
Happier workforce
Flexible working will make your employees happier. By giving them an element of freedom over their hours, or where they work from, you're investing in their well-being. And it pays back. Psychologist Shawn Achor's inspiring TED talk explains how happier people are actually more productive. Happiness spreads: they'll have a little extra time they would have spent commuting to do something they love, like walking their children to school, supporting a family member or friend, or just getting some rest. The latter being particularly important for those who work long hours, travel a lot for work or live a long way from their workplace. It also helps those managing health conditions, or just people whose productivity doesn't necessarily flow during conventional working hours.
I'm lucky enough to take a few hours out here and there if I'm not feeling 100 percent, which means I can recharge my batteries physically and psychologically. Something that, in today's fast-paced world of work, many don't have the luxury of doing.
Increased productivity
What happens when you mix flexible working arrangements with a happier workforce? Productivity goes through the roof. Or at least that's what this study from HSBC in the UK showed – indicating 89 percent of those surveyed believe flexible working is key to getting more work done.
The amount I can do from home, a café or somewhere else in comparison to what I used to achieve in an office is, quite frankly, frightening.
Talent attraction
A recent Zenefits survey indicated that in the US, 77 percent of employees consider flexible-work arrangements when weighing up a job offer. Think about it: you're offered two jobs, one with flexible working, one without. Which one are you likely to take? It's a no-brainer, really. This is especially important if your business is looking to hire millennials like me. Why? A Global Shapers Survey noted that over 30 percent of under-30s place value on work-life balance when considering job opportunities. Flexible working – it pulls a crowd.
If I were to move jobs, opportunities that offer flexible working in comparison to those that don't will always get my vote.
Who could benefit?
In short: everyone. More specifically, there are certain groups who might welcome it more than others – from parents who are juggling childcare with a demanding full-time job, to those desperately trying to coordinate multiple teams in different time zones. Flexible working is transforming the way employment, businesses and talent attraction work, but how will it impact cybersecurity?
Protecting employees on the go
With a growing tendency for workforces to work remotely and a burgeoning BYOD (bring your own device) culture, built-in security is not enough anymore. IT managers can increase their security budgets and reinvent endpoint protection to empower employees on the go. So if you want to reduce the number of security incidents while providing your employees with a flexible arrangement, you'll need to tool up. Home office and remote-working users aren't protected by the corporate firewall, so the data on their devices should be encrypted and their internet connection should be secured by a firewall or web controls. This requires endpoint protection with reach functionality, which also helps your IT team to meet compliance and security requirements by applying patches, detecting anomalies that could be cyberthreats, and controlling what websites and services employees can safely use. Find out more in this article about teleworking and cybersecurity.
Flexibility in action
As today's workforce becomes more connected, and our lives more hectic, flexible working arrangements that help staff support their lifestyles while meeting demanding job needs are more important than ever. If you're not already offering flexibility to your workforce, or thinking about it, my advice is this: do it before your competitors get there first.