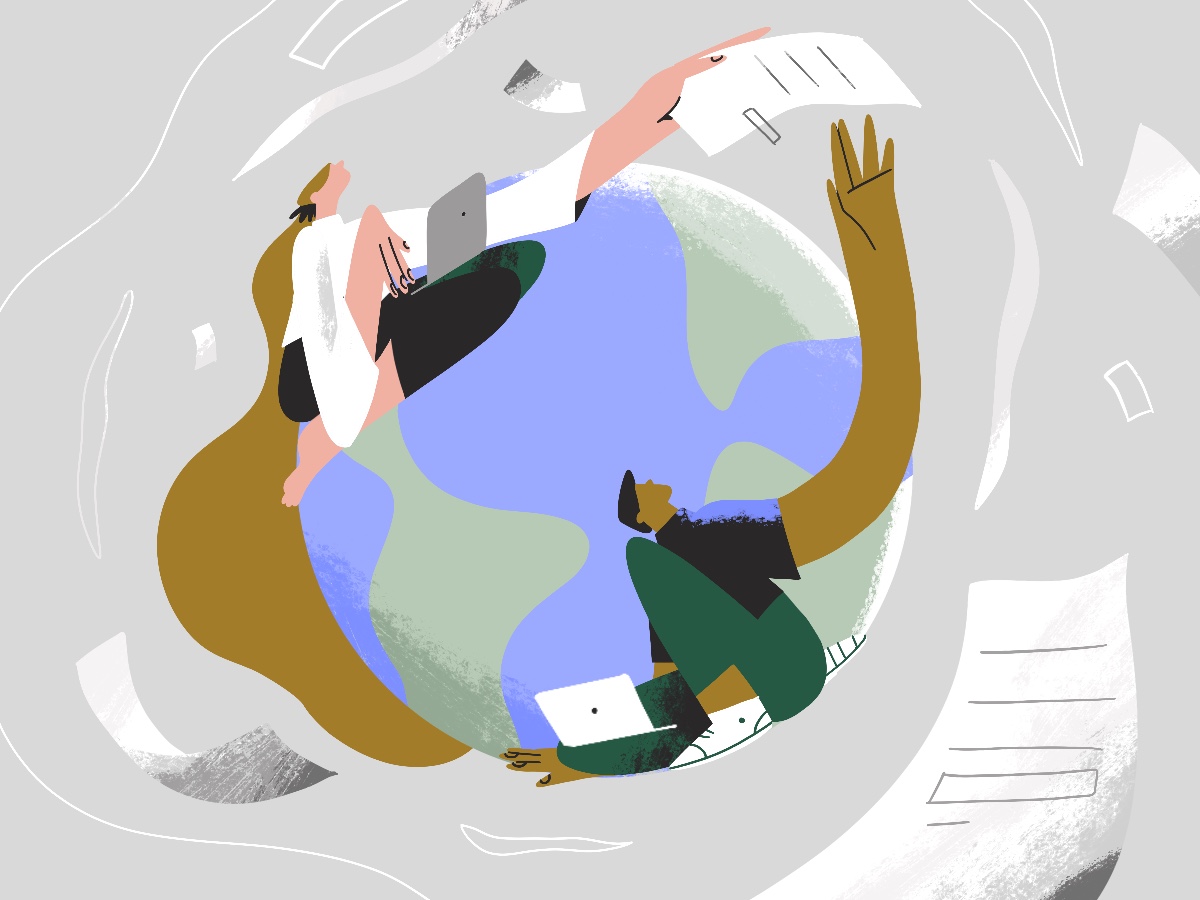 Last year, as the pandemic broke out, British entrepreneur of Capital Business Media Richard Alvin found his return flight from Florida to the UK canceled. He then rented an Airbnb with a pool and worked remotely from it for the next three months, in constant communication with his London and New York teams.
While many businesses see the benefits of recruiting internationally and don't mind navigating time zones for meetings, some challenges – like international employment law – mean 'remote first' companies are still uncommon. But new platforms are landing that help even the smallest start-up employ the best people beyond the usual horizons.
Remote appeal for workers
The increasing adoption of remote working opens a wealth of possibilities for people liberated by the confines of the office-based 9 to 5. Progressive companies, largely those in tech, promote it as a new kind of 'office perk.' And with good reason: Kaspersky's Securing the Future of Work study of 8,000 respondents found for 32 percent, being able to work from anywhere was the benefit of remote working they most wanted to keep post-pandemic.
Employees are acting on that desire too. The Global Workforce Revolution report by international HR and employment platform Remote found 20 percent of US and 10 percent of UK tech workers have requested to relocate since Covid. The report also found a huge 81 percent of the 1,500 UK and US tech workers surveyed would move to a different state or country if it wouldn't affect their employment or pay.
Know your employees' priorities
Future of Work report
Our study of 8,000 employees gives leaders insights on how to get ahead on attracting and retaining the best.
The report also surveyed tech companies, finding 66 percent plan to increase options for employees to live and work where they want to. Attracting and retaining people is a motivator, with 42 percent of tech businesses expecting international remote working to increase talent supply.
Navigating the red tape of global employment
The borderless recruitment promised by remote working isn't as simple as posting a job vacancy and watching international applications roll in. HR, tax and employment laws vary across the globe – more than some companies can easily navigate. Larger international enterprises are more likely to have the resources to do it.
But there are ways even small to medium-sized companies could take advantage of global talent without so much red tape. Those committed to teams without borders are increasingly adopting specialist platforms for international employment.
Video conferencing start-up Whereby, founded in Norway, has a 'remote first' policy. They use Remote to help expand their workforce internationally.
"Remote-first means our business is set up so we can work wherever we thrive," says Whereby's vice president of people and talent, Jessica Hayes.
"We're not doing this because we can make more money by recruiting globally. We believe talent is equally distributed across the world, but the opportunities are not."
Our ethical underpinning is about opening up the economics of small communities over traditional urban hubs. We also think distributed working is the best lever for diversity and inclusion.

Jessica Hayes, Vice President of People and Talent, Remote
Hayes hopes Whereby will recruit more people from Japan to support its growing Japanese user base with local insights. Working with platforms like Remote helps Whereby ensure all international employees have the same legal security and support with a permanent or contracted work arrangement.
Driving the remote economy
These are familiar pain points for Remote's vice president of growth, Elisa Rossi. Last year, she relocated from San Francisco back to her native Italy to be closer to family.
Rossi relays how Remote's CEO Job van der Voort's experiences in a previous role at one of the world's largest and most successful remote-first companies led him to build Remote. "They decided they'd never have an office and hire the best person for the job, regardless of where they are. It's now a successful enterprise with talent across 67 countries. There are the logistics and all the operational challenges of making that happen.
"We want to take a leading role in the remote economy by making it easy for people to employ anywhere. We reduce the significant complexities of global employment, like establishing an entity in a new country, figuring out tax and staying compliant."
Remote's users range from three-person start-ups to enterprises with 1,000 roles to fill. Customers are largely in the US, Europe and Latin America. Their most active customers are tech companies expanding internationally, those adopting remote-first from day one and companies transitioning to remote-first. Rossi thinks Remote levels the playing field for companies of any size to benefit from global talent.
Opening the best work opportunities to the world
It's an issue close to the heart of Estonian entrepreneur Karoli Hindriks, who, like Whereby, wants to equalize the distribution of great work opportunities. Hindriks founded cross-border recruitment and immigration platform Jobbatical in 2014. Estonian's government consulted her in developing its digital nomad visa, which lets remote workers work freely in Estonia for a year.
Hindriks explains, "Jobbatical started by asking, how could we come from a small country like Estonia and attract people from all over the world to Tallinn instead of Silicon Valley, New York or London? We found the biggest pain point for both employees and companies isn't the recruitment, but the immigration relocation, so we built tech around that."
While many countries such as Barbados and Iceland have followed Estonia's lead and introduced a digital nomad visa, in most there's no policy supporting the ability to work and travel legally.
"We need big economies like the UK, Spain and Italy to consider this policy seriously," she says. "When companies and a country can make the process easy, companies can focus on hiring the best people, regardless of location. Today we cannot help with the immigration status of digital nomad workforces, and I see more companies requesting help at a policy level, so they can let people work where they are living."
Getting on top of international legislation
While platforms like Remote and Jobbatical can do much of this heavy lifting for companies, Whereby's Hayes recommends companies use international legal counsel too. "Employment law in every country is a complex beast. If a manager has staff in multiple countries and needs to terminate one, how can they know the legislative requirements? Or the tax perspective? Employees will have different questions too."
Although Remote's Rossi and Jobbatical's Hindrix point to their companies' rigorous cybersecurity and data handling practices, remote-first employers need top-notch cybersecurity practice. As dispersed home workers can mean the business is more vulnerable to cyberattack, investing in cybersecurity tools and awareness to protect against international breaches is a must.
Kaspersky's Securing the Future of Work report gives tips for remote-working employees, like updating devices and passwords regularly and using virtual private networks (VPNs.) It's also worth reading up on the importance of system hardening and team cybersecurity awareness.
"You need to know the cyber-risks of remote working, how you can prepare your teams and encourage a culture of collaboration and transparency. If you're thinking about extending remote working beyond COVID-19, have the right cybersecurity training program and products in place to keep your teams and business safe," advises Kaspersky UK enterprise expert Lee Rendell.
Working from anywhere is becoming a reality. If companies can keep tabs on the legal requirements and sharpen their cybersecurity game, they can take advantage of a wider talent pool and greater diversity. As more players aiming to smooth the process of hiring internationally come on the scene, the digital nomad may soon travel wherever the wind takes her.