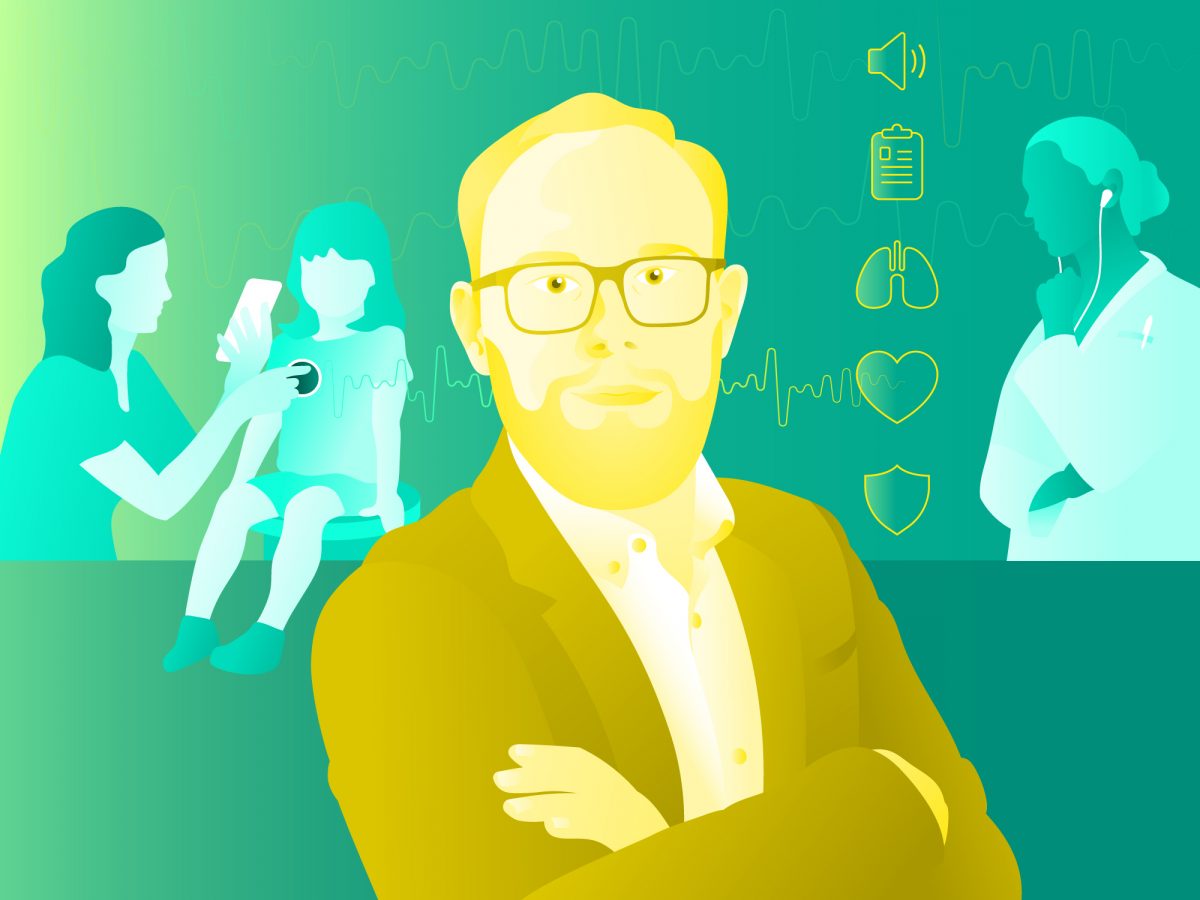 As part of Kaspersky's Bring on the Future series, we meet people and businesses around the world who are changing the industry and society for the better.
Telemedicine – the art of making healthcare digital. It's a burgeoning industry, especially in the wake of the COVID-19 pandemic, which has highlighted the urgent need for remote patient care and e-health.
One company leading the telemedicine revolution is StethoMe. Its digital stethoscope takes you from smartphone to smart diagnosis in real-time using AI-powered software. But how does it work? And can it pave a new route for patient-doctor consultations? I spoke with Slawomir Kmak, StethoMe's Business Development Director and public health specialist, to find out more.
Ryan Loftus: Hi, Slawek. What's the story behind StethoMe?
Slawomir Kmak: The company started in Poland about five years ago. Initially, three of our co-founders ran a successful software company but were keen to start a new venture. Sharing frustrating medical experiences as parents, and with children with respiratory ailments, they wanted to explore how telemedicine could help.
After looking into the industry, they met two scientists, or acousticians to be precise, also sharing frustrating medical experiences as parents, who wanted to build a digital stethoscope for child healthcare. Initially, it was aimed at children to make consultations easier between doctors and pediatric patients.
StethoMe name comes from 'to stethoscope me.' It's a system built for smart lung and heart screening consultations, capturing sounds from inside the human body and transferring them to medical consultants for diagnosis. We've just celebrated our fifth year in business.
Happy anniversary! So what's the big vision for StethoMe?
We make the patient-doctor consultation process easier and quicker for both parties, and AI algorithms make it more clinically accurate. A stethoscope is a primary tool for patient-doctor interaction. Auscultation exams (using a stethoscope to listen to sounds inside the body) is essential, especially for children. We want to be able to make the tech available to do this in every home.
At first, we focused on pediatric care, but now we're expanding it to adults. StethoMe works with many partners, from healthcare providers to public health organizations. We want to expand that to include insurance companies, outpatient clinics, telemedicine brands and more.
As common as thermometers. How does your technology work?
There are two elements to StethoMe: hardware and software. The hardware is unique and designed by us; it recently won a 2020 IF design award. It's the device that you hold up to a patient's chest to capture lung and heart sounds.
Then you have the software, with AI algorithms that analyze the sounds and provide digital information to each party. StethoMe algorithms indicate and inform patients about abnormalities in their respiratory system; a doctor then receives the waveforms in real-time with an indication of these abnormalities.


Our AI algorithms are based on 12,000 recordings, 40,000 medical descriptions and one million medical tags, which are used to classify waveforms and their attributes. For a patient, it works like this: you follow an easy, step-by-step tutorial to make the right auscultation exam at home, then StethoMe's AI analyzes the sounds and provides immediate results. There are three outcomes: red, orange and green lungs. Green lungs mean everything's fine; orange means there are some abnormalities, and red lungs indicate there may be a problem. This is when you can send your results to a doctor who receives precise information about the abnormalities.
On the StethoMe doctor platform, physicians can playback sounds, see spectrograms with an accurate indication of abnormalities at each auscultation point, and understand relative risk and heart beats-per-minute (BPM) values. This gives healthcare professionals clinical advice on how to diagnose the patient.
Smart diagnosis indeed. What are the benefits of using StethoMe?
For patients, StethoMe means auscultation exams previously only available in a doctor's office can be performed at home. You'll know straight away if you or your child's lung condition needs further treatment. StethoMe also allows telemedicine to be more precise – this limits the need for physicals visits to your doctor.
For doctors, StethoMe offers easy, swift remote consultations, reducing the load on healthcare systems, while AI ensures precise, clinical interactions. It can also benefit the monitoring of ongoing chronic diseases like asthma. StethoMe stethoscope provides a clear sound that's louder and much more precise than a traditional stethoscope.
But perhaps one of the most significant benefits is that anyone, including parents and caregivers, can use StethoMe. That sets us apart from many competitors and similar innovations.
Let's talk COVID-19. How has it affected StethoMe or vice versa?
As with all businesses, COVID-19 has been a demanding time for our organization. That said, as it's a respiratory disease, our product has made an impact for doctors and health workers on the frontline who can't easily use a real stethoscope through their PPE as it increases the chances of transmitting the virus. We've developed a unique feature for frontline doctors in isolation hospitals so they can use StethoMe through headphones, underneath their PPE.
StethoMe gives the freedom to outsource auscultation examinations to a nurse or even directly to the patient at home. Remote auscultation is crucial during a pandemic to limit the probability of health workers becoming infected.
That's huge. How do you keep your customer and company data secure?
We don't provide a platform for the data; StethoMe is an open API. Which means we can integrate into existing platforms and systems. We don't hold any customer data on our servers and our partners have cybersecurity measures in place.
The only data we process is the wave file, which from a GDPR or other data regulation point of view isn't considered to be personal data. Across our business, we make sure that we're fully protected against cyber-risks – everything from encrypted communications and VPNs to keeping our servers up-to-date.
What's the biggest challenge you've faced so far?
Many! StethoMe is a very demanding project; we've had to work hard to get the required medical industry certification. The biggest challenge was building the AI algorithm, which was difficult to get clinical validation due to its complexity. But we did it, and now it's out there and working, a proud moment for us.
Nice! On the flip side of that, what's the biggest success you've had?
Again, medical certification! Clinical validation is a huge motivation for us; it means the project has been recognized as having credible potential. We recently launched with our first customers, ranging from healthcare providers to consumers and public health organizations. It's great to see our product being used across Europe.
Additionally, being able to help hospitals to work more safely during the pandemic gives us a big, motivational kick. We know what we do could change healthcare.
A good day. So what does the future hold for StethoMe?
We want to grow and expand, focusing initially in the EU then over to the US, where we're currently in the middle of the Food and Drug Administration (FDA) certification process. From there, we'd love to expand to the Middle East and beyond.
As we're AI-driven, we're developing more features based on our algorithm. Right now, we're working on a health index to monitor the exact progression of chronic disease in the patient's record. Once this is built, we'll be able to offer an even more effective service.
Thanks, Slawek, and good luck!