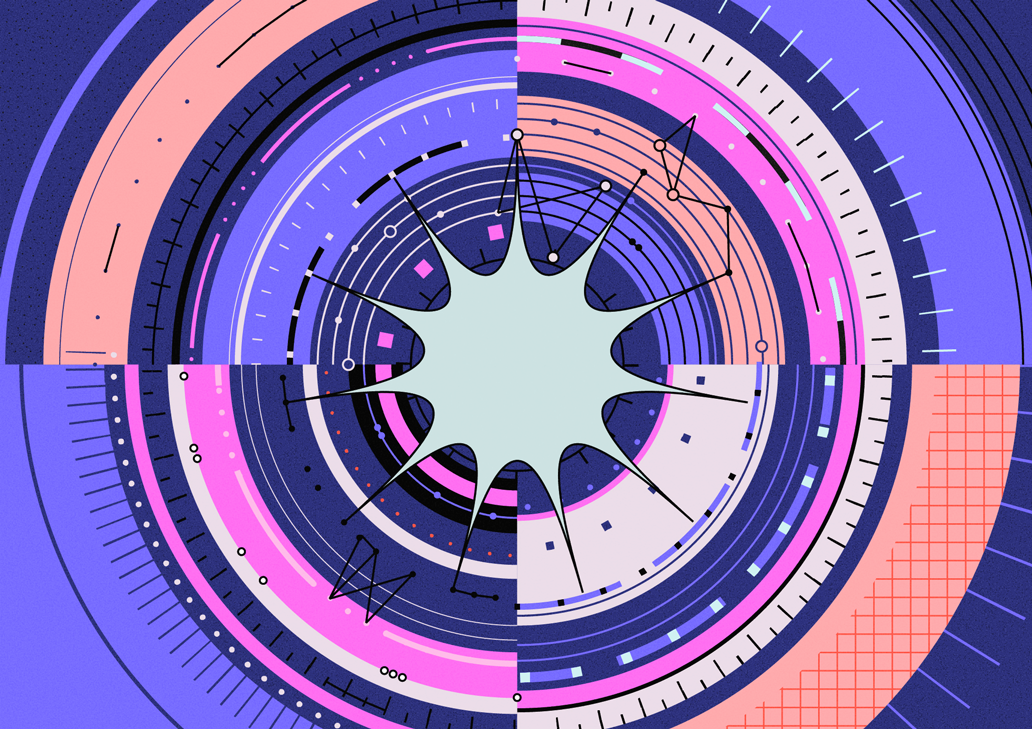 Innovation is a profound kind of recycling. Innovators go through the closets, sheds and attics of human knowledge, taking snippets of what we already know and combining them in new ways, solving new problems.
Despite mass quarantine and isolation, innovations appear almost daily that aim to save lives and support people's well-being in the face of the coronavirus COVID-19 pandemic.
Here are six ways technology is taking on the novel virus.
1.  Folding proteins on home computers to speed up finding a COVID-19 antibody
The power of home computers is helping scientists develop an antibody to stop COVID-19 infecting lung cells. You can take part by downloading a protein folding simulator.
Why simulate how proteins fold? According to Ariana Brenner Clerkin of Folding@home, COVID-19 first infects people when a protein on the virus surface (the spike protein) binds to a lung cell's receptor protein (ACE2).
Scientists are looking for an antibody protein that can prevent infection by stopping the spike protein binding to its receptor.
They've already developed an antibody for similar coronavirus SARS. To find one for Covid-19, they must better understand the spike protein's structure. They need to study all shapes the spike protein can make. Folding@home models the Covid-19 spike protein and finds sites for an antibody to target. Computational models can do the folding, but they need a lot of computing power.
Many computers working toward the same goal will speed up finding an antibody. The data that comes out of Folding@home is open to all.
2.  Crowdsourcing protein design against the coronavirus
The free online game FoldIt goes a step further and crowdsources designing a protein that may become a future COVID-19 antiviral. Run by scientists alongside the University of Washington Institute for Protein Design, the game lets users design a protein that will bind with COVID-19's spike proteins.
The Institute for Protein Design will manufacture and test the most promising community-generated protein designs against the coronavirus spike protein.
3.  Community-engineered ventilators powered by car windscreen-wiper motors
In severe cases, COVID-19 affects lung function to the extent that patients may need a ventilator to breathe. Several countries face a shortage of ventilators, and it looks like ramping up their manufacture through current supply lines may not be enough.
This led a group of some 17 engineers led by Spanish prototyping company Protofy to develop OxyGEN – a ventilator that uses a car windscreen-wiper motor to automate a resuscitation bag. Protofy says an untrained person can make it in four hours using wood, acrylic or aluminum.
This wonderfully calming video shows the ventilator in action.
The group is now working alongside two Spanish hospitals to test and improve the device. Although not yet determined safe and effective, the group has made the OxyGEN ventilator's plans freely available. They've invited engineers, makers and any other "geek" to a forum to ventilate their ideas for improving OxyGEN's design.
4.  Training AI to detect signs of coronavirus in speech
Dr Tedros Adhanom Ghebreyesus, Director-General of the World Health Organization, said in a virtual conference, "We have a simple message for all countries: Test, test, test." But with all the will in the world, testing time, facilities and expertise are limited.
AI could help relieve that burden if it can detect COVID-19 by using the sound of someone's voice. Voice forensics expert Professor Rita Singh of Carnegie Mellon University, Israeli inventor Shmuel Ur and natural language processing startup Voca.ai are developing an AI-powered system that could detect coronavirus infections using a voice sample. Voca.ai invites members of the public to submit a voice sample that they say will be anonymized, aggregated and studied.
Some privacy and security implications come to mind here. A voice sample may not fit the definition of personal data in many jurisdictions. Still, with biometric identification technology fast becoming more common, it may be the type of data that's easily de-anonymized. The study's consent form also says they may pass the 'anonymized' data on to third parties.
5.  Charlotte and Dave: 3D-printable valves that connect a snorkeling mask to oxygen supply
Former hospital physician Renato Favero came up with an idea to fix Italy's shortage of hospital CPAP (continuous positive airway pressure) masks: Adjusting a snorkeling mask. He took the idea to engineering and design firm Isinnova.
The snorkeling mask's manufacturer willingly supplied its design drawings. From there, Isinnova designed 3D-printable components that can connect the mask to wall-mounted oxygen and CPAP respirators.
Here's a video introducing you to the two new 3D-printed valves, Charlotte and Dave.
Although not certified and meant only for a situation where there is no other option, Isinnova has patented the valve pattern and made it freely available.
6.  Remote hackathon unleashes 42,000 minds on COVID-19
In March 2020, Germany held a remote Hackathon #WirvsVirus: Hacking to fight the crisis. In English, We versus Virus.
The country's biggest digital ideas competition to date, the virtual event attracted 42,000 participants. They used Airtable to organize teams to collaborate remotely on 800 challenges around the virus's impacts – from contact tracing, to border controls, to motivating people to stay home.
What ideas have come out of it? Here's the #WirvsVirus solutions showcase. One example is TrackCOVIDCluster, an app that could help with contact tracing by identifying and notifying people you've been near if you test positive.
Although a hackathon aims to get as many ideas as possible on the table rather than assess their viability, the team behind TrackCOVIDCluster has had privacy in mind from the start.
We believe in shaping a future in which data protection and digital privacy are not an obstacle, but a basic requirement for functioning solutions.

Moritz Gansel

TrackCovidCluster app team
What can everyday innovators learn from these ideas?
What stands out is how fast these ideas have become something tangible and the teams' openness to sharing. It's heartening to see so many willing to give whatever they can for the greater good.
In business, are we giving enough away, with no expectation of return?
It seems a radical question, and yet, you needn't look far for business leaders who say things like, the secret to success is generosity and it's everyone's job to give something back.
The healthcare industry itself is not immune to the risks of life-threatening cyberattacks. In this critical situation, medical staff takes on most of the load. So to help these organizations focus on what matters most, Kaspersky is offering free licenses for many of our healthcare products.
With economic tough times expected alongside the technological challenge of fighting COVID-19, there's no better time to ask how we can make generosity a bigger part of business, leadership and life.