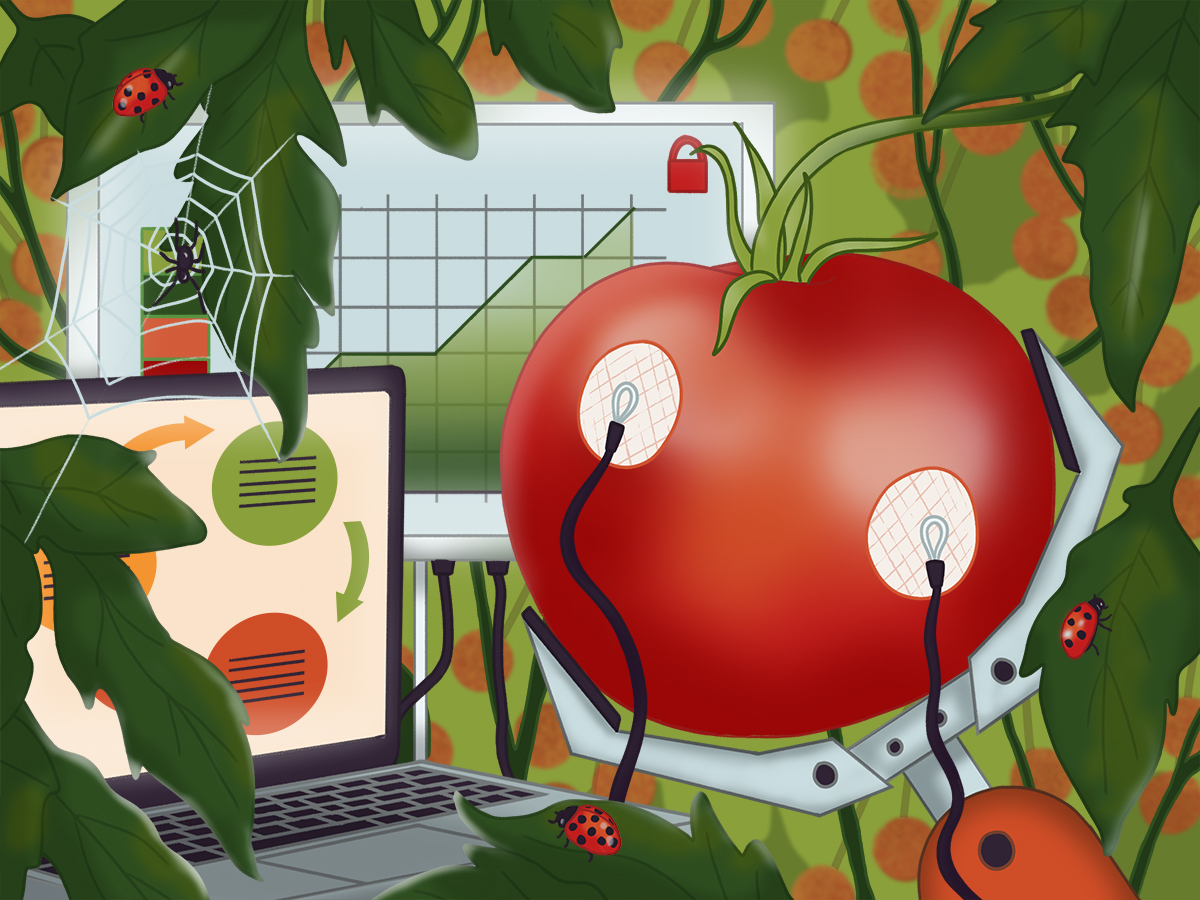 The UN estimates nearly 10 billion people will inhabit our planet by 2050 – two billion more than today. How will we feed them?
With the current population path, global food production must increase by 25 to 70 percent before 2050. It may seem impossible, but 'smart agriculture' is starting to help farmers increase production, lower costs and conserve water.
Smart agriculture uses connected technology, like internet of things (IoT) sensors or cutting-edge tech like robotics, drones and AI, to increase quantity and quality of farming products while reducing impact on the land. It's about making farming more efficient and precise.
Sensors, satellites and internet-connected tractors
Smart agriculture often involves capturing and analyzing data in new ways to give farmers information that helps them make better decisions. For example, smart sensors can give farmers detailed maps of topography, resources and soil temperature. They can use climate forecasts to predict weather patterns in the coming days and weeks – predicting weather is hard in the developing world because weather forecasting infrastructure is less developed.
Secure Futures
Focus on the future
We keep you up-to-date on tech, leadership and business.
The benefits of smart agriculture's big data use are shaping today's farming more than we might think.
We're witnessing companies like Google, IBM and Microsoft invest in farming, alongside an increase in the number of non-traditional farm employees like computer technicians and programmers. Tech and big data could play a pivotal role in our agricultural future.

Professor Derek Stewart, AgriFood Business Sector Lead, James Hutton Research Institute
Climate Edge uses data capture and analysis to help farmers in the developing world farm better. They're fighting common problems like lack of affordable farm insurance and barriers to joining cooperatives by providing farmers with sensors and data-analyzing equipment.
When the challenge is to do more with less, data-driven agriculture has a lot to offer. Internet-connected tractors can ensure no waste through overlap when sowing seeds or spraying. Satellites can monitor crop health and sustainability.
It's easy to see why IoT is a hit with farmers. Business Insider Intelligence projects farms will install nearly 12 million agricultural sensors worldwide by 2023. It seems this part of smart agriculture is here to stay.
Artificial intelligence in the wild
Soil quality is one of the biggest challenges in the way of healthier, more abundant food. In recent decades, agricultural output has fallen by up to 13 percent because of the degradation of two billion hectares of global farmland.
Berlin-based agricultural tech startup PEAT is out to solve the problem of degraded soil. PEAT developed Plantix, a deep learning application helping farmers identify soil defects and giving soil restoration advice. It also helps identify and correct plant pests and diseases.
Plantix uses deep learning to help farmers identify and solve soil quality problems.
It's not all daisy chains and smarter yields, mind. Agriculture 4.0 could help us feed billions sustainably and fairly. But, as with all seismic tech shifts, there are risks. One of those is cybersecurity.
The cyber risks for smart farmers
These new technologies rely on data and internet connection, opening a world of opportunity for hackers and cybercriminals to disrupt the system.
If compromised, smart devices, IoT and connected infrastructure on farms could be controlled from the outside. We could see severe consequences, like turning pesticide-spreading drones against their owners or rendering expensive equipment completely useless.
Historically, agricultural sector cyberattacks have been few and far between. The US Council of Economic Advisers reported the agricultural industry experienced just 11 cyber incidents in 2016.
That's not to say agricultural cyberattacks won't happen more in future. And it goes beyond farms themselves.
Where smart agriculture connects farmers with logistics companies and consumers, disruptions to IT systems in those supply chains, particularly logistics, could have catastrophic effects. For example, delayed shipments could mean spoiled produce, leaving shelves empty and raising prices.
It's happened before. The 2017 WannaCry ransomware and Petya malware attack on shipping company Maersk led to a complete IT shutdown, causing 300 million US dollars in losses and a stadium-load of missed deliveries of products agriculture relies upon, from food to fuel.
The future of farming is in collecting and analyzing big data to maximize efficiency. With the right regulation and widespread adoption of smart farming, farmers could boost yields to meet incoming population growth. But with any advance in technology must be fully safeguarded before we rely on it.