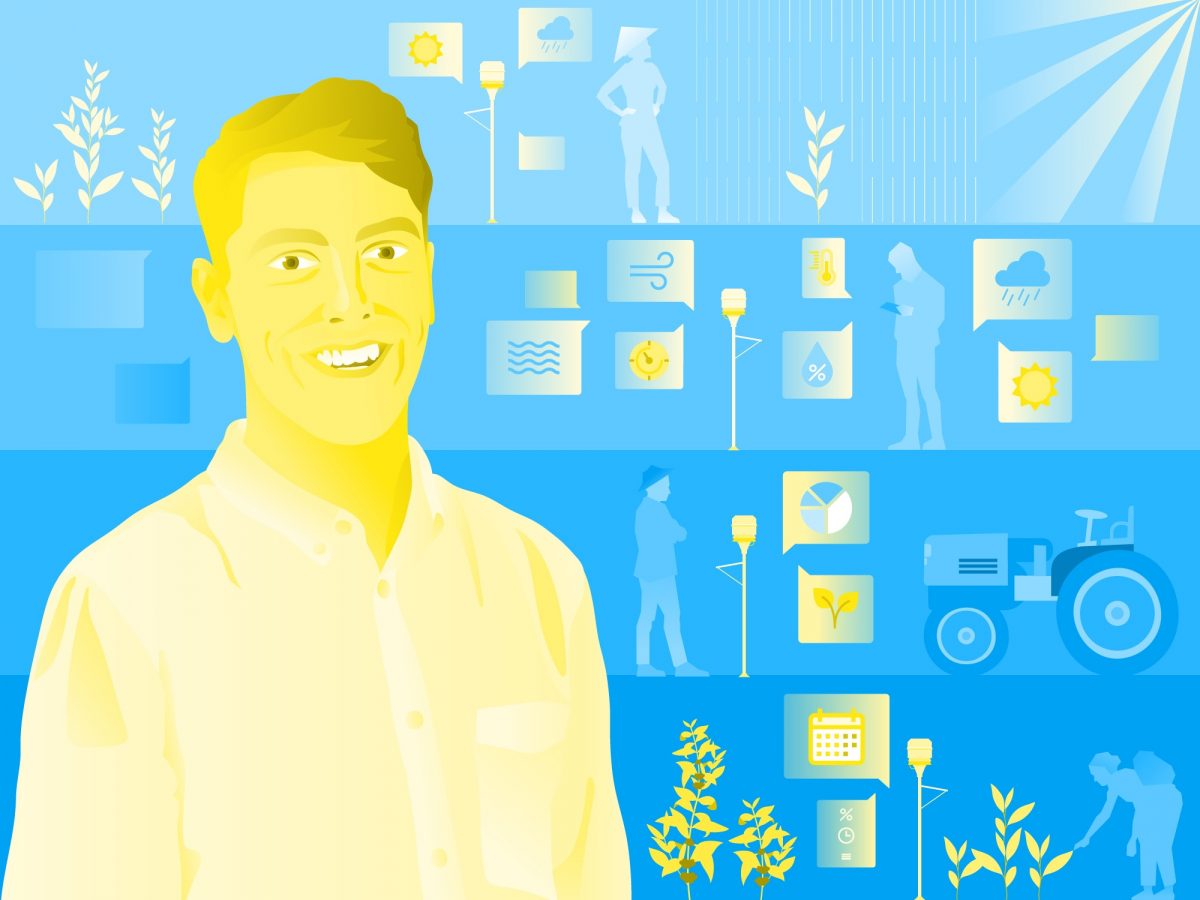 As part of Kaspersky's Bring on the Future series, we're meeting businesses around the world who are changing their industry, and society, for the better.
Farming isn't easy – fact. It's even trickier for smallholder tea or coffee farms in developing nations. Why? Lack of affordable infrastructure and the intensifying effects of climate change to name a couple of factors. But things are changing. Since 2015, the good people of Climate Edge have been helping farmers in developing nations fight common problems – from lack of affordable farm insurance to jumping through hoops to join cooperatives – by digitizing their day to day. I spoke with James Alden, co-founder and CEO, to find out more.
Ryan: Why did you start Climate Edge, and how did you come to found it?
James: We started it from a social perspective – my business partner Paul and I were studying environmental technology at Imperial College. When it came to our dissertations, Peter Baker, now our business partner, was running a project on how to prepare smallholder coffee farmers for climate change. We liked the sound of it, so went to Honduras to get involved. Almost instantly, we realised that farmers were really up against it. Climate change was impacting their ability to grow crops massively and not much was being done to support them.
As part of our dissertation, we were required to collect yield data manually every day. Which, as you can imagine, was tedious. We thought, "If this is hard for us, how hard is it for the farmers, and what knock-on effects will it have if they don't do it?" After doing some digging, we realised that by not having data from the farm readily available, it was impacting everything from the way farmers insure themselves to understanding climate change and selling their products. That was how we could help, by giving farmers the means to digitize their everyday work.
Helping farmers digitize their everyday processes, got it. So who's behind Climate Edge?
Myself, Paul Baranowski and Peter Baker. Both Paul and I are from an environmental tech background – with exposure to policy, business and management – whereas Peter is the academic. Since beginning in 2015 we've brought on a product designer, a developer and someone to specifically focus on partner relations.
You're building quite the team, what's the big vision?
To be honest, our vision has changed quite a bit since we first started. Originally, we set out to help farmers adapt to climate change conditions by giving them a simple, easy-to-use digital system to record key farming data, how that affects their farm, and how best to prepare against changing environmental conditions. Now, we want to open up the market so that farmers can get access to the services and the value they need, to address the problems they have, which go beyond preparing for climate change.
For example, insurance. Without recorded data – which most smallholder farms don't have – insurers don't know the risk of each individual farmer. They end up estimating, which results in small farms being lumped onto policies that either don't fit them, or are too expensive altogether, so if a fire comes and wipes out their crop, they're finished.
We also want to move away from helping farmers at a localized level, to helping their cooperatives. In developing nations, a handful of farms form 'cooperatives', which are groups of farms that club their exports together to sell on – the benefits of which are tenfold, from fair prices to guaranteed sales. However, cooperatives need to be certified by organisations like Rainforest Alliance and Fair Trade, otherwise traders won't buy from them. All well and good, but to be accredited, these small farms need to show a series of markers, from biodiversity measures, to pesticide use or even crop history, something that's increasingly difficult to do by hand, and can often be a barrier for these farms to join cooperatives. Climate Edge helps farmers store this data digitally, instead of on thousands of sheets of paper – or not at all!
Must be a huge weight off their minds. So how does the technology work?
In the first instance, we use Nexo – a weather station – to collect data from farms. The Nexo monitors everything from soil temperature to humidity and everything in between. Then our analytical software takes this data and logs it. By measuring air temperature, soil temperature, air humidity, precipitation and more, we can monitor the key conditions determining yield and quality.
Our back-end system then takes this raw data, analyses it and provides farmers and their cooperatives, if they have one, with actionable, tailored information so they can implement the right solutions. Climate Edge gives smallholder farmers globally the information needed to adapt to a devastating changing climate. Our agricultural weather stations and blended satellite imaging identify how yield and quality of crops are being impacted by key climatic variables, at an affordable price for the market we are working in.
Remarkable! So how does Climate Edge differ from similar technologies on the market?
Right now, future forecasting in agriculture is huge. Future forecasting is the ability to know if the prices for different things are going to go up or down depending on yields. Our technology and operation differs because we use Climate Edge-affiliated farmers to collect very high quality data, then use that data to make conclusions from the surrounding farmland and other farmers. Climate Edge also has the power to affect the agricultural supply chain. For example, our climate data enables micro-insurers to make accurate pay-outs, our farm management data gives micro-financers the ability to identify reliable investments and the two combined provide the information needed to manage supply chains securely. Through this accessible approach we can provide the 500 million global farmers growing the world's most valuable crops the necessary information to grow stable and profitable businesses.
That has the potential for a huge impact. How does it work when a farm signs up? What's the process?
We currently work with farmer cooperatives who have a big data burden, but little in the way of automating any of their processes. The biggest burden for cooperatives is maintaining their certification standards (meaning that they can sell their crops under value-adding marks, such as Rainforest Alliance or Fairtrade). Without this certification it can be very difficult, if not impossible, for the cooperatives to sell the crops, which is why this is such an important issue.
Climate Edge supports cooperatives through this process by providing an app which integrates into the current data collection and reporting process, making this far less time consuming and complicated.  We provide this service for free to the farmers.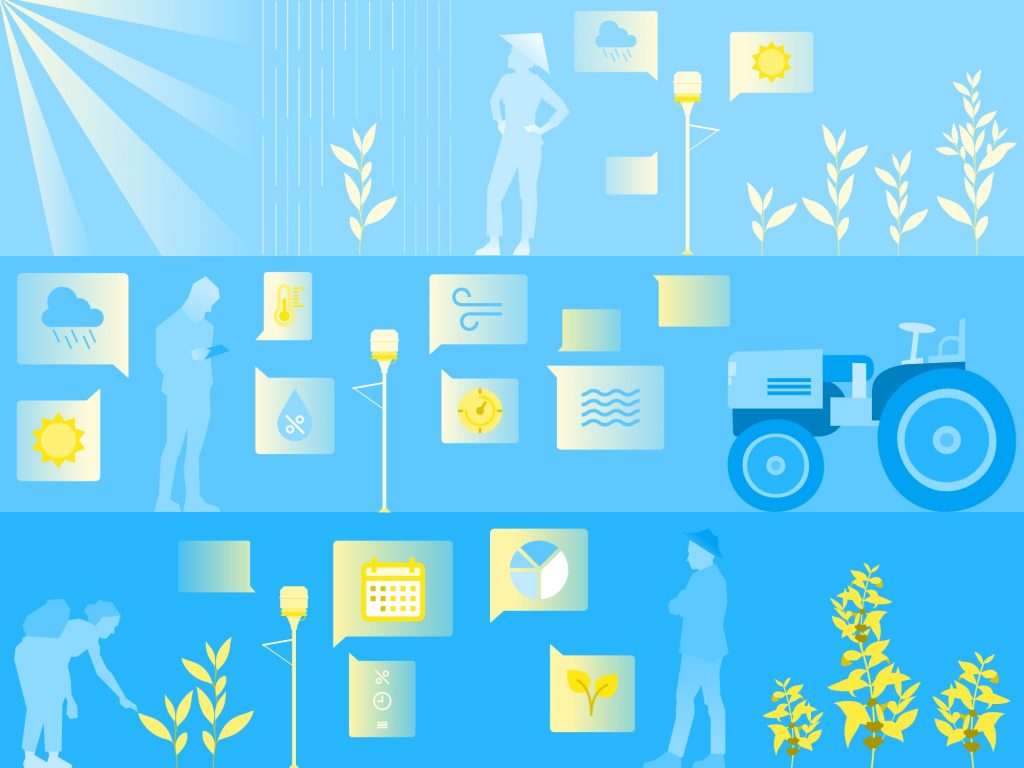 Climate Edge benefits as the data collected through this process is often the same as the data needed for processes done by other businesses in the supply chain. For example, one service we have been delivering recently is conducting impact assessments for NGOs (non-governmental organizations). If an NGO does a project with a cooperative, how much impact did they achieve with the money they were given?  There has been a great push from funding donors to know more about the impact that has been achieved using their money, but for many NGOs this requires a huge amount more money to be spent paying for staff on the ground to visit farms and survey farmers. We can cut out that process as we are already on the ground collecting the data they need.
It can't have been smooth sailing the whole way. What big challenges have you faced so far?
Our biggest challenges are probably the same as most other start-ups; making sure that what we commit to building is correct, that we grow efficiently but also as quickly as possible, and making sure we don't run out of money.
This is a delicate balance to achieve and it is often difficult to make sure you are spending enough time on validating product market fit versus fundraising.  Both are incredibly important, but when you only have a certain amount of hours in the day and a small team, you have to make decisions on what is most important at that moment in time.
Creating products which benefit stakeholders and farmers is key to achieving a suitable price point.

James Alden

Founder, Climate Edge
Smallholder farming is built on narrow profit margins and often low incomes. This means it is difficult to develop technologies which add sufficient value whilst still being affordable. As a result, there is little innovation in the market. We believe creating products which benefit a number of stakeholders, including farmers, is key to spreading the cost between users, and achieving a suitable price point for each.
 I'm sure you've had your fair share of positive stories. What's been your biggest success?
Our greatest success is that we have been able to start generating revenue very early on in our journey.  This is not common among many start-ups, who want to make sure everything is perfect before offering it to customers. But that's dangerous because building a client base and building trust takes time, and as we all know, time is money.
We've been able to offer our service in broken-down chunks to initial clients and partners, which is extremely beneficial in two ways. Firstly, it brings in money which means we don't need to fundraise as much, saving us time and equity, and secondly, it means that we can move quicker by understanding exactly what it is our clients want and how we can give it to them.
It's been quite the journey so far. What do you think the future opportunities are for smart farming, or specifically, big data use in farming?
The opportunity in our market is enormous. Agriculture in developing nations hasn't seen any significant innovation since the green revolution, but the demand for the crops produced has risen dramatically. We won't be able to learn how we can make sure supply keeps up with demand without innovating significantly. Of course some of this will come from breeding new crops which can yield more, or can withstand more extreme conditions, but it will also involve making agriculture more investible, or understanding where the greatest supply chain risks are and how to mitigate them.
Data-driven farming practices will completely change the global agricultural market, with more information and power in farmers' hands.

James Alden

Founder, Climate Edge
Smallholder farming is currently a number of steps behind other global agricultural systems, particularly in the tropics. Many of the farmers we have worked with are incredibly isolated from high-tech products which improve efficiency, up-to-date agronomic models and finance management software – all of which are mainstays of European and US agriculture.
The technology to provide data-driven farming is not the problem, which is a great position to be in. The challenge is in creating business models that allow these technologies to be fostered in the market. Once this has been achieved in a scalable way, I see data-driven farming practices completely changing the global agriculture market, as much more information (and therefore power) will be put in farmers' hands.
Previously, you've said that Climate Edge can 'provide significant value to other sectors'. Which sectors could this have a positive effect on?
Our goal is to become a big data broker for the developing agriculture sector. This data can have a lot of value for a lot of different people. This includes NGOs, insurance providers who need data on the risk profile of farmers or of an area, or banks who need data to understand the likelihood of a client defaulting on their loan.  It also helps input providers who need to understand market drivers and demand so that they can pre-emptively make products which meet that need, and investors who speculate on commodity markets want to make sure their investments are most likely to pay off.
The value of data is being seen in many different industries and agriculture is no different.  We are making this happen in a place it hasn't been done before.
Impressive! What does the future hold for Climate Edge?
Scaling up. We are currently consolidating our efforts and increasing our scale in two key areas.  The first is East Africa, starting with Kenya.  The second is Latin America, starting with Colombia.  We are moving from a scattergun approach where we were trying to better understand the landscape of different sectors, to now expanding within the most promising. We have a number of very exciting partnerships and clients, like Unilever and Producers Direct, which are starting to scale to lead this expansion.