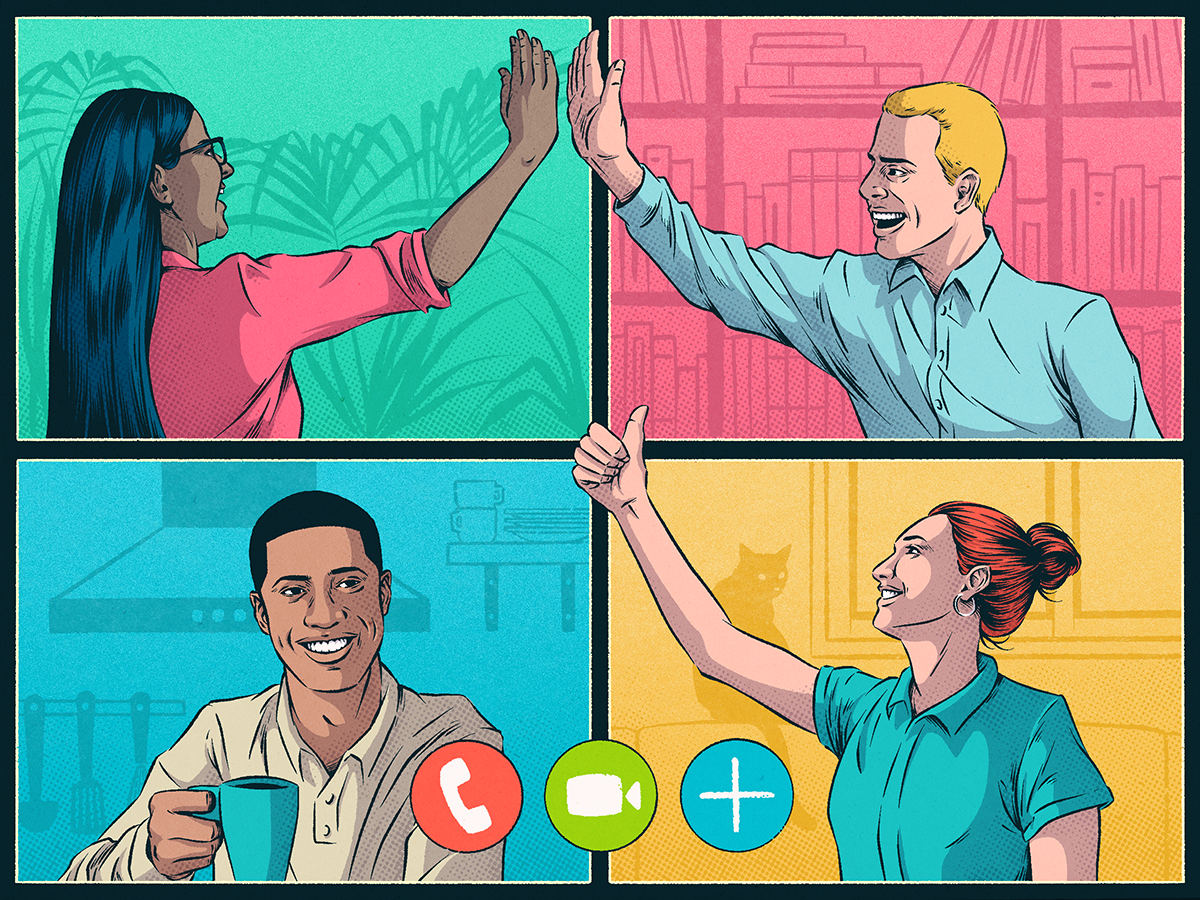 Peer through any residential street window these days, and you'll likely see a homeworker at a kitchen-table workstation tapping on a laptop, brainstorming over Zoom or sharing files on workflow apps like Slack. But it's not just everyday work processes going online.
Companies are increasingly discovering remote team building, including activities ranging from video treasure hunts to interactive escape rooms to cocktail-making masterclasses. Why do they see team building as so important at times like these?
Not all team building is created equal
Research suggests changes in work culture seen during the COVID-19 pandemic are here to stay. A survey by US tech researchers Enterprise Technology Research predicts remote workers will more than double in 2021 compared with before the outbreak, to make up 34 percent of the workforce.
Secure Futures
We're on your team
All you need to know about business and the future
While most are happy with more flexible work patterns, working from home has downsides. Social media app firm Buffer asked 3,500 remote workers worldwide what they felt was the biggest struggle of working remotely. "Collaboration and communication" and "loneliness" came joint top. Remote team building could improve upon both issues.
But when I asked Dr. Christine Grant, Deputy Head of Coventry University's School of Psychological, Social and Behavioral Sciences and author of Agile Working and Well-Being in the Digital Age, she cautioned. Employers should make sure they don't overload the schedules of people already spending swathes of their day on Zoom or Microsoft Teams calls.
If you can use technology to support team-building activities, that's a positive. But you need to do enough of it, not too much. It's about stimulating teams in a creative way to keep their attention. If you end up with people sitting in on a virtual activity and checking their emails, it won't be beneficial.

Dr. Christine Grant, Deputy Head, School of Psychological, Social and Behavioral Sciences, Coventry University
Virtual team building business is booming
How can companies best engage scattered teams who may be suffering from videoconferencing fatigue? Many employers, particularly small and medium-sized businesses (SMBs,) have been content to take an informal approach, with activities led by people within the organization. HR insider magazines have come up with plenty of ideas that can work over video, from trivia quizzes and icebreaker games to office book clubs and a good old-fashioned Friday social.
For something closer to the traditional day out of the office, expert guidance can help. Andy Wells, owner and founder of London-based team builders Zing Events, has worked with most FTSE 100 companies. Before 2020, he'd already noticed an uptick in demand for virtual events and had added app activities and remote options for events usually held live.
But the pandemic forced more radical change in the company's model. "The number of events we run has increased massively. We were running around 300 live events a year, but we now have over 150 virtual bookings a month. Now we're working remotely, we can meet this demand. Staff don't have to travel around the country, so we can fit several events into one day. Before, our people would have to pick up the equipment, drive to the venue, set everything up, then run the activity."
Timmon Whitehead, Managing Director of another team building outfit, White Rhino, said the company decided to ramp up its virtual offerings in March 2020, concentrating on tried-and-tested escape rooms and food-and-drink masterclasses previously offered live. These proved popular, and Whitehead puts down to employers wanting to recognize and reward staff efforts at a time of crisis. "People worked hard over lockdown, going above and beyond to keep things moving," he says. "The activities are a welcome break from that, and a chance to socialize with teammates and colleagues. People may constantly see each other on video calls, but they hardly get a chance to relax and enjoy time together. Virtual activities like socials and team challenges give that opportunity, and that's why they've been so well received."
Murder mysteries or cocktail classes?
There are broadly two types of remote team building activity. First, those entirely in the virtual realm. These rely on a bespoke app alongside videoconferencing on a laptop or desktop. Teams chat and collaborate while solving challenges and accumulating points, usually against a time limit, with a live leader board to keep it competitive. Popular scenarios include puzzle trails, crime-scene investigations and escape rooms. Wells estimates 40 percent of their bookings in the past year have been for the virtual escape room. Part of the appeal of virtual events is affordability – they can normally be run by one facilitator, cutting overheads. Team members can take part from anywhere.
The second type of team-building event involves real-world activities overseen by an expert, for example, cook-alongs and cocktail masterclasses with ingredients received in advance. Though technically simpler, needing just videoconferencing, these events involve more logistics for all. To take part in a cook-along, employees need access to a kitchen and oven and must banish anyone else who shares the house to another room for the duration. Couriering equipment and ingredients to each participant comes at a cost.
When virtual meets physical
The most sophisticated activities combine real-life and virtual elements. White Rhino's Around The World Team Challenge uses a bespoke app to take participants on a journey through 22 countries. Players solve clues, answer questions and complete physical challenges, like learning kung fu moves in China, registered by image-recognition technology. Tasks earn travel credits, tallied up to determine where each team finishes.
"The physical element is there by design," says Whitehead. "Many people now know the feeling of sitting at their desk in the morning, then looking up to find it's six o'clock – you've been in the same place all day. Anything we can do to get people up and about and be more active is fantastic, but we're conscious it needs to be suitable for everybody."
Reputable events providers have a support team on hand to help with technical issues. They pay heed to security and encryption – guarding against the sort of "Zoombombing" intrusions that captured headlines last year when gatecrashers disrupted video meetings with pornography and other shock content.
To get the most out of a virtual activity, teams need to be comfortable using the technology. On this front, Wells noticed a change over 2020.
In the first couple of months of the pandemic, we had to do more hand-holding and answer more questions. But people got used to the technology fast. It's now second nature to use tools like Zoom, Microsoft Teams and productivity apps.

Andy Wells, owner and founder, Zing Events
Dr. Grant notes tech-savviness is often generational. While older employees may have smartphones or tablets and find them helpful, they may find it harder to use more complex features. "Young people tend to use their phones for multiple activities, including playing games during downtime," she says. "But it's not so easy for everyone to do that, and you may lose a few people who would have engaged in face-to-face activities more easily. You don't want technology to become an inhibitor – activities need to be accessible to all."
The hybrid future of work
Keeping participants focused on the task rather than catching up on workplace gossip can also be a challenge. While co-workers may have had much formal contact through video calls with a specific task or agenda, they may not have had the chance to meet more informally – the "watercooler" conversations vital for team cohesion.
This prompted Wells' company to make a simple tweak. "Our presenters used to get to the end, wrap up and finish the call. Now we leave the virtual meeting room open, so people can keep engaging and chatting. That's gone down well."
Future work trend-spotters suggest "hybrid working" will soon become the norm. A recent survey of employees, managers and senior executives across several countries suggested a typical weekly schedule may involve a mix of remote and office-based work.
This chimes with team-building companies. They're developing offerings to accommodate both on-site and remote participants. Whitehead says, "We're anticipating companies will return to running live events but will offer a virtual element as well. So if people aren't able to attend, or don't feel comfortable doing so, they can take part from their own home, playing the same game virtually and contributing to the same score as team members who take part live."
Whatever the shape of work to come, virtual team building will remain a part of the toolkit for companies wanting to maintain a happy, connected workforce. Dr. Grant says, "With remote working, agile working or home working, socialization can be a problem. Even if you have on-screen meetings all the time, it's easy to feel invisible and isolated.
"You need regular check-ins with colleagues and managers, making sure your well-being is OK, and interaction outside meetings. The organization needs to create an environment for this. We can use technology to help, but we need to make sure we use it to our advantage and deal with its less positive effects."
As they negotiate the path to post-COVID-19 work culture, employers must rise to the challenge of maintaining strong connections between teams and colleagues. The fast-evolving remote team building industry provides options to suit many budgets and needs. How will you help your team grow relationships and collaboration skills for their future?