COVID-19 has had a monumental impact on retail worldwide. While everyone has found lockdowns and social distancing challenging, stores are working hard to adapt to shifting consumer expectations and a new reality. It's make-or-break for many bricks-and-mortar outlets.
How will savvy stores stay safe from the crumbling façade of face-to-face shopping? One way is by using interactive shopping experiences that combine physical and digital – or 'phygital' shopping – to keep, win and wow customers.
Storefronts shutting, ecommerce booming
In the UK in 2020, according to research by professional services firm PwC (formerly PricewaterhouseCooper,) around 10,000 more chain stores closed than opened – that's around 27 closures every day. The US fared better within this downward trend, with Coresight research finding 5,437 more stores closed than opened in the same year.
Meanwhile, the Office for National Statistics reported UK ecommerce grew by 46 percent in 2020 – its strongest annual growth since 2008. The global picture was similar, with eMarketer estimating worldwide ecommerce sales grew 28 percent in the same year.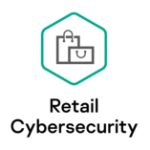 Stay open for business
Kaspersky Retail Cybersecurity
Rigorous security and compliance for POS terminals, workstations, mobile devices and back-office systems.
Adding interest to physical shopping
Phygital retail isn't entirely new. Stores have been experimenting with these new technologies for a few years.
The 2021 opening of 'frictionless' grocery store Amazon Fresh in London shows the potential of phygital technology to change physical shopping beyond recognition. Customers at Amazon Fresh scan a QR code when they enter, place items in a basket and leave when they've finished shopping. In-store cameras and sensors track what's placed in the basket, and the shopper is automatically charged. Forget lines and self-checkouts announcing "unexpected item in the bagging area."
Neil Saunders, managing director and retail analyst at GlobalData Retail, thinks more consumers will want both ease and inspiration from their shopping experience, post-pandemic. "Technology can make the shopping process more convenient and enhance it with the likes of augmented reality or location-based push notifications with offers."
Starting the phygital journey doesn't mean an overnight transition to fully digitized business. It may mean introducing relatively simple tools that enhance the consumer experience. Letting shoppers check when their order will be ready to pick up or alerting customers when their favorite item is on sale can go a long way to making shopping more convenient.
Retailers need to look carefully at the shopping experience to find where there's friction and, where possible, minimizing it with technology. For example, paying is often a pain point as it involves lining up – it's time-consuming.

Neil Saunders, Managing Director and Retail Analyst, GlobalData Retail
New audio documentary Fast Forward by Kaspersky Tomorrow Unlocked explores more phygital experiences in retail, with analysis from expert technology futurists, in episode 2: Scan purchase for maximum score.
Not just for the biggest players
More ambitious retailers who have embraced technologies like augmented reality can expand their digital horizons by giving customers new ways to understand products. Sportswear brand Adidas launched three augmented reality experiences at their flagship store on Oxford Street in London, letting shoppers use their smartphone camera to explore new product features.
While high-tech retailers like Samsung and Amazon undoubtedly pioneered digital in physical retail, small and medium-sized businesses and non-tech firms can benefit from this emerging trend – if they ask the right questions.
Bart Veen, Founder and Creative Director of event company BART, has created technology-led events for brands like Tommy Hilfiger and the Mall of the Netherlands. He believes technology shouldn't be used for technology's sake. There must be a well-defined understanding of the impact the technology will have on the business.
Form follows function. Don't look at technologies as an end product. Ask, what is your goal and what are your customers' needs? Look into who you are as a brand. If you have that clear, you're ahead.

Bart Veen, Founder and Creative Director, BART
Improving the customer experience is more than a nice-to-have for high street stores – it may give a much-needed edge in a competitive market. According to Salesforce's 2020 State of the Connected Customer report, 80 percent of customers think the experience a company provides is as important as its products and services. But the same research found two in three customers felt impersonally treated in their interactions with stores.
There's a fine line between using technology to refine customer experience and overusing digital tools that take away the personal touch shoppers want. On their phygital journey, stores should work with experts in tech who know how to avoid crossing the line.
"Innovation is doing something that hasn't been done before, and it's all about collaborating. If you have the best experts together and you all have the same goal in mind, you can create something extraordinary," says Veen.
Post-pandemic retail
Like many industries, the banking sector doubled down on digitization as COVID-19 limited access to face-to-face banking. But as online banking keeps growing, branches are still vital to many, especially older people and small business owners. Yet, most provide few services beyond the traditional offering of paying in cash and checks, activating cards and buying foreign currency.
The UK's Barclays bank saw an opportunity and converted 25 closed branches into Eagle Labs: Spaces for co-working, mentoring and networking, as well as getting banking advice. They also used digital technologies to enhance start-ups' experience and make services faster and more convenient, while bank staff offered valuable personal customer interaction and support.
As retail bounces back after COVID-19, there's a need to reassess what physical stores do. Barclays is just one of many companies looking to move beyond its traditional services. Fashion, grocery and electronics are all accelerating their digital transformation to meet customer expectations better.
Mark Thomson, Director of Retail and Hospitality Solutions for Europe, the Middle East and Africa at retail technology provider Zebra Technologies, believes the most effective phygital solutions enhance the physical experience with digital benefits. An effective shopping experience blends in-store and online.
"Customers measure an in-store experience against an online one, so it needs the right technology to let retail staff host an experience rather than just attend," says Thomson. "Physical stores have a future, but as part of a more digital world."
As the lines between physical and digital retail blur, retailers in all industries can capitalize on recent tech innovations that make in-store shopping less stressful and more convenient. From cashier-less shopping to augmented reality to location-based push notifications, future retail will pair the best of technology with personalized experiences.