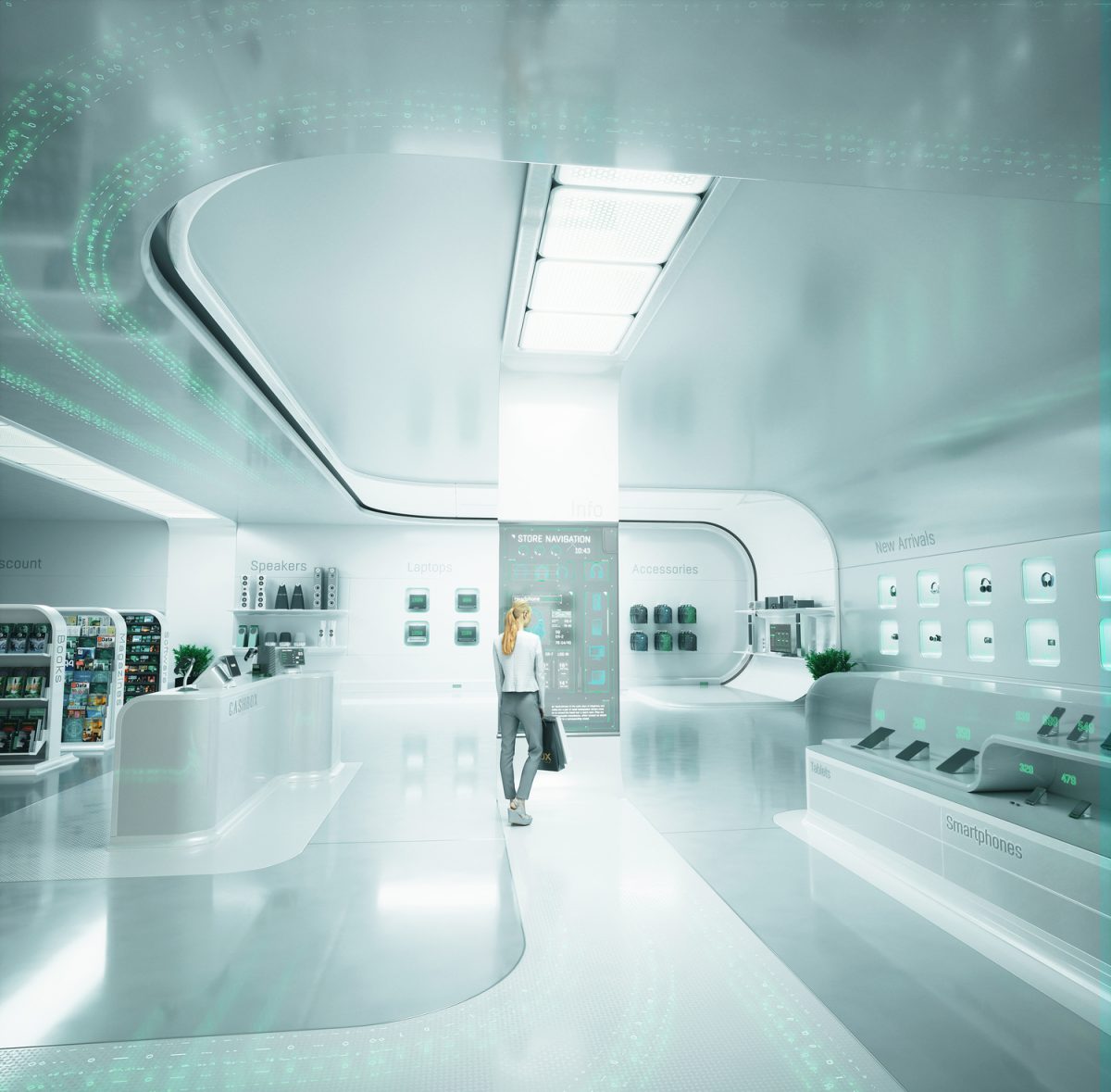 Whether you're an avid online shopper, a retail business owner, or a customer, it's fair to say the world of shopping is always evolving – the rise of eCommerce, the birth of Alexa and front-room shopping, or even this helper-robot. The retail industry is changing fast. Now, it's AI's turn to make its mark.
According to a recent IBM survey, the use of AI-driven intelligent automation in the retail and consumer products industries will leap from 40 percent now to 80 percent by 2021. While its most important purpose in the retail sector will be for supply-chain planning, as uptake matures, it opens up new ways of doing business that can increase operational efficiency and enhance the customer experience.
Putting the 'ai' into retail
Artificial intelligence: the simulation of human intelligence by machines – computers thinking and acting like humans. These processes include learning (understanding information and how to use it), reasoning (using rules to reach conclusions) and self-correction. But how does that translate to the retail industry, and what can we expect? Let's take a look.
Voice-enabled AI at home
Since Amazon launched Echo in 2014, smart assistants have been a massive target for retailers. For example, in 2017, Tesco announced a partnership in the UK with Google to make thousands of its products available through Google Home. Amazon and Google are one thing, but Sunning Electronics are putting their spin on AI in the home. They've adapted a chatbot to become a shopping assistant called Sue. They say she can understand shopper's emotions.
It's looking like there will be more retailer and innovator partnerships springing up, so expect some of your favorite products to soon be available through the power of your voice…if they aren't already.
Digital dressing rooms
The number of online shoppers is expected to reach 2.21bn by 2021 yet many still favor bricks and mortar browsing, especially when it comes to fashion. Now, retailer Mango and telecoms firm Vodafone are making the in-store process more seamless than ever before. Introducing the digital dressing room.
Each changing room is fitted with a digital mirror. This allows shoppers to scan the clothing from the comfort of their cubicle, contacting the store staff directly from the mirror to request other colors and sizes. The mirror can also suggest other clothes to match whatever you've chosen. Handy.
ASOS is also utilizing a similar approach. They're using an in-app image recognition feature to show users similar products they've bought before, and uses AI to improve sizing assistance on its website. The tool, known as 'fit assistance,' helps people make an even more specific purchase.
Cobots (collaborative robots)
Collaboration is one thing, but what about collaborative robots, or cobots? Yes, it's a thing, and it's already on the rise. Rick Faulk, chief executive of Wilmington, Massachusetts-based Locus Robotics Corp, said the demand for robots is burgeoning towards the end of 2019 (they've sent out more than 500 so far this year). Apparently, it's down to brands bolstering the number of seasonal worker bots (yep, they exist) that work in warehouses to dispatch your Christmas present (and other seasonal goods).
Cobots can help workers pick items or even collect goods themselves. And it's looking like an attractive proposition to businesses who need extra help during peak seasons. For example, France-based Geodis SA is boosting its robotic workforce by 75 percent to help workers at its US warehouses using nearly 300 cobots.
What else is on the horizon for retail?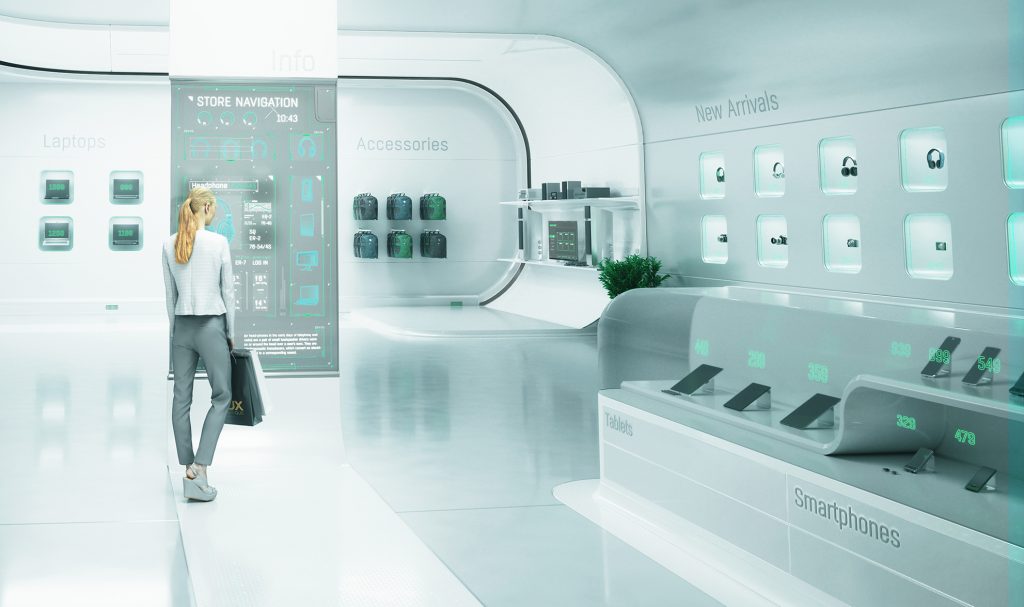 Two areas that could be next in line, beyond improving the user experience, might be logistics and customer assistance. In essence, AI technologies interpret information differently to humans. So, in the first instance, they can prime supply chains, helping items travel from point A to point B quickly and safely, so people don't have packages turning up late, or going missing altogether.
Looking further ahead, the potential for AI to train retail employees quickly could greatly benefit brands. Not only could it help staff become experienced on specific topics, but the AI could also suggest product improvements, generate recommendations on where to stock and display products, and share insights about inventory that boost store profits and customer satisfaction.
Could AI in retail cause cybersecurity concerns?
These examples show that retailers are already using AI to boost the shopper experience, but as they do so, the threats to their data and their businesses will increase in different ways.
One specific cyber-threat associated with AI is spear phishing. Specifically, implementing machine learning (ML) algorithms. ML is the chief principle of AI; it allows programs to learn by analyzing data which gives hackers another point of attack. With spear phishing, cybercriminals craft more enticing messages meant to dupe the victim into giving the intruder access to sensitive data or install malicious programs.  Alexey Pankratov comments:

AI technologies have the potential to significantly improve the retail sector, delivering more efficient operations and ultimately better customer experience. But like all investment in new connected technologies, planning how you will implement cybersecurity to support it is essential.

Alexey Pankratov

Enterprise Solution Manager, Kaspersky
Ultimately, AI in retail operations will increase dramatically over the next few years. By investing in cybersecurity, from endpoint solutions to awareness training, you can reduce the chances of cyber-threats damaging your business.