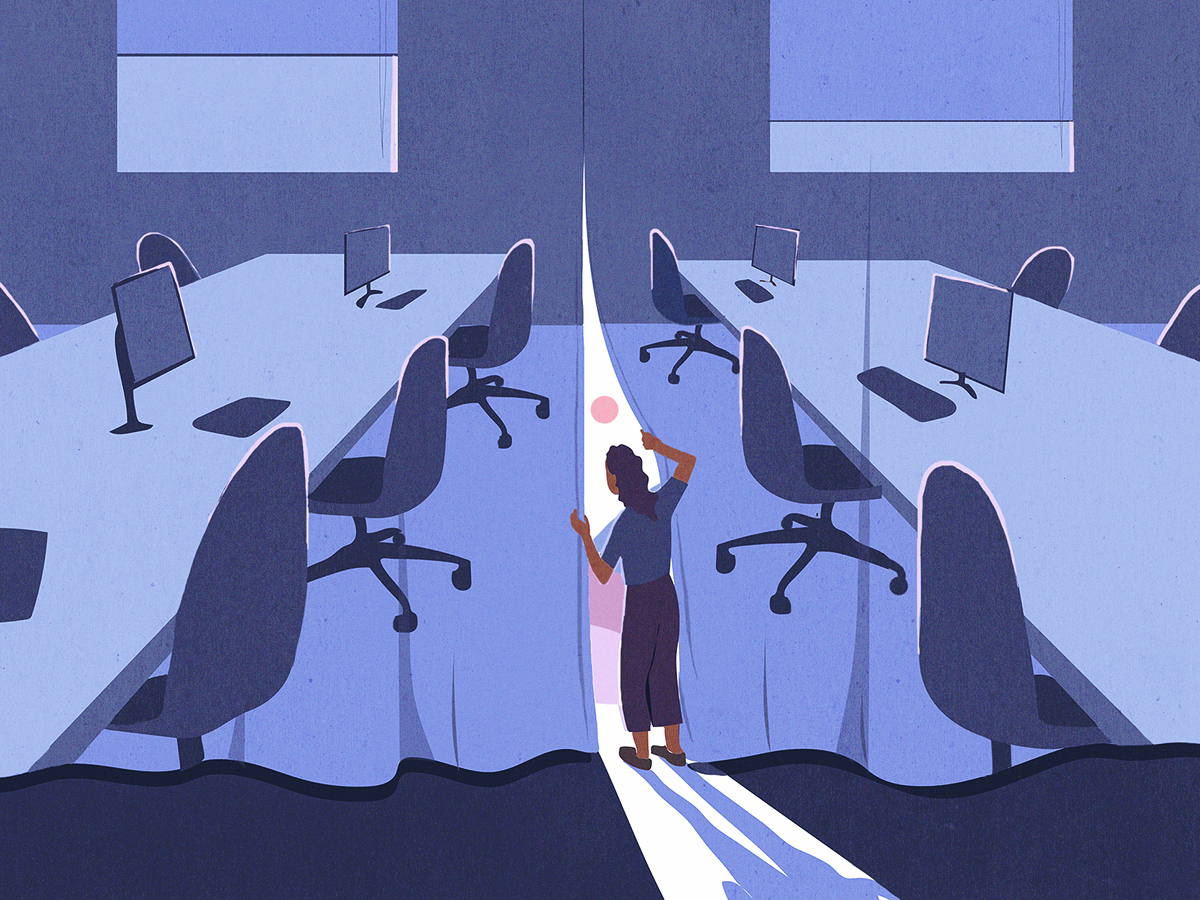 When COVID-19 spread across the globe, it demanded urgent action from every business. For many, working from home was mandated overnight. Others were sent home on paid leave. Spending slowed drastically. It even disrupted the disruptors: Monzo, Deliveroo and WeWork announced devastating job cuts.
It also sparked a time of self-reflection. Environmental impact came into sharp focus, and a conversation about work-life balance erupted.
According to leading market intelligence agency Mintel, its consumer and social media trends expert Gabrielle Lieberman says coronavirus didn't create behavior shifts. It accelerated them. Global trends in wellbeing, identity and experiences slated for 2030 are on a fast track to being adopted sharpish.
Businesses can't slow down. They must grab the opportunity to create a 'new normal' that works for them.
There's no place like home unless it's for months on end
When working from home started en masse overnight, we relished the novelty of no commute, being moments from the pantry and avoiding boring watercooler stories.
Flexible working seemed 'solved' as tech giants like Spotify, Facebook and Google implemented longer-term work-from-home policies. Job done, right?
Not so fast. It wasn't long before Zoom calls got old, loneliness took hold and employees started to fear taking a break under the eye of productivity monitoring. Parents faced a crisis as their home and work life collided.
Flexible working has proven benefits. It means different things to different people. Definitions include remote work, compressed hours (working longer days but a shorter week) and split hours (for example, working early morning to afternoon, then again in the evening.) It's hard to pin down because it means work designed around an individual to optimize their balance and productivity.
Secure Futures
What's coming next?
Be first to find out what's happening in tech, leadership and cybersecurity.
Most people want to keep working flexibly post-COVID-19, according to the World Economic Forum's July 2020 research. They want more autonomy and want to split their time between the office and remote work. Senior managers agreed flexible working has benefits but stressed the importance of face-to-face meetings. Where those face-to-faces aren't possible, collaborative tools like Slack and Microsoft Teams can build positive vibes with dedicated channels for humor and memes as well as work-related chat.
Workplace design can make us healthier
To help companies prepare their workspaces for life with COVID-19, the International WELL Building Institute (IWBI) created a WELL health-safety rating. It's an "evidence-based, third-party verified rating" for new and existing buildings and spaces focused on "operational policies, maintenance protocols, emergency plans and stakeholder engagement strategies."
But can businesses go further with their office spaces and use them to improve employee health and wellbeing? IWBI also works with companies to help them meet the WELL Building Standard. This rating system recognizes that buildings, and everything in them, can enhance people's health and wellbeing. It encourages organizations to pay more attention to things like light, nourishment and biophilic design: Interior planting with species that improve indoor air quality and filter pollutants.
Just as flexibility benefits both business and employees, remember flexible office space can liberate the budget. For example, having a more compact office with hot desks, workshop spaces and meeting rooms can reduce costs.
Retain more people by building leaders' emotional intelligence
To help teams cope with change, World Economic Forum research shows empathetic, supportive team leaders are more important than ever. And we're not there yet – more than half of managers need training in skills to support employee mental health. And it might just turn out to be a staff retention boon: Employees don't leave companies, they leave managers.
Dr. Joti Samra, R.Psych, founder of MyWorkplaceHealth, a consultancy helping businesses make their workplace more psychologically healthy, puts communication at the center of the empathy and support team leaders can give. She says, "Have one-to-ones with direct reports more often to understand their stress points. It may be money, children or caring for an elderly relative. Adapt expectations to each person's needs. I'm asking my managers to have more contact to find out who's OK and who's struggling, so we can give them early support."
The flex appeal of freelancers
Tapping into the global freelance market can be a cost-efficient way to scale up or down, reacting to the market quickly. Steve Folland, host of the Being Freelance podcast, has seen his community grow in numbers and strength.
You can use freelancers when you need them. They're experienced, motivated people who can get the job done remotely. Once you're happy with having team members working outside your organization, it removes geographical boundaries to talent. It makes great business sense.

Steve Folland, Being Freelance network and podcast
On the best ways to work with freelance talent, Folland recommends, "Give clear briefs, realistic deadlines and listen to their advice. When it's all done, pay promptly. Bring freelancers on with as much notice as possible. You'll get the best results that way. As with all relationships, communication is key."
Owning the Zoom
Knowing your way around video chat software has proven essential if you accidentally turn yourself into a potato. Employees thrown into the deep end during the COVID-19 pandemic with software like Slack, Trello and Asana are keen to keep developing their knowledge. Invest in learning and development, including when it's best not to Zoom and when to take a digital detox, helps retain talent and make your business more resilient.
Remote working is a big change in the way people work and caries serious cybersecurity risks. To keep data secure, train freelancers and staff working remotely to be cybersafe.
People, planet, profit
Overnight changes in reaction to COVID-19 gave many of us time to reflect on our environmental impact. While the pandemic initially presented us with clearer skies and cleaner waterways, the focus on hygiene has derailed the war on single-use plastic.
Businesses shouldn't wait to use their corporate influence for environmental change. As well as looking at processes across your company, including the services and products you buy and organizations and non-profits you partner with, look at how you can reduce your company's IT carbon footprint. The UN Global Compact also has frameworks, resources and guidance on how to improve your business practices for a better future.
Amongst uncertainty, it's natural to feel conservative and cautious. But for visionaries, it's time to rip up the rulebook and embrace the opportunity to create a new normal that works for your business. It's time to be the architect of your future.