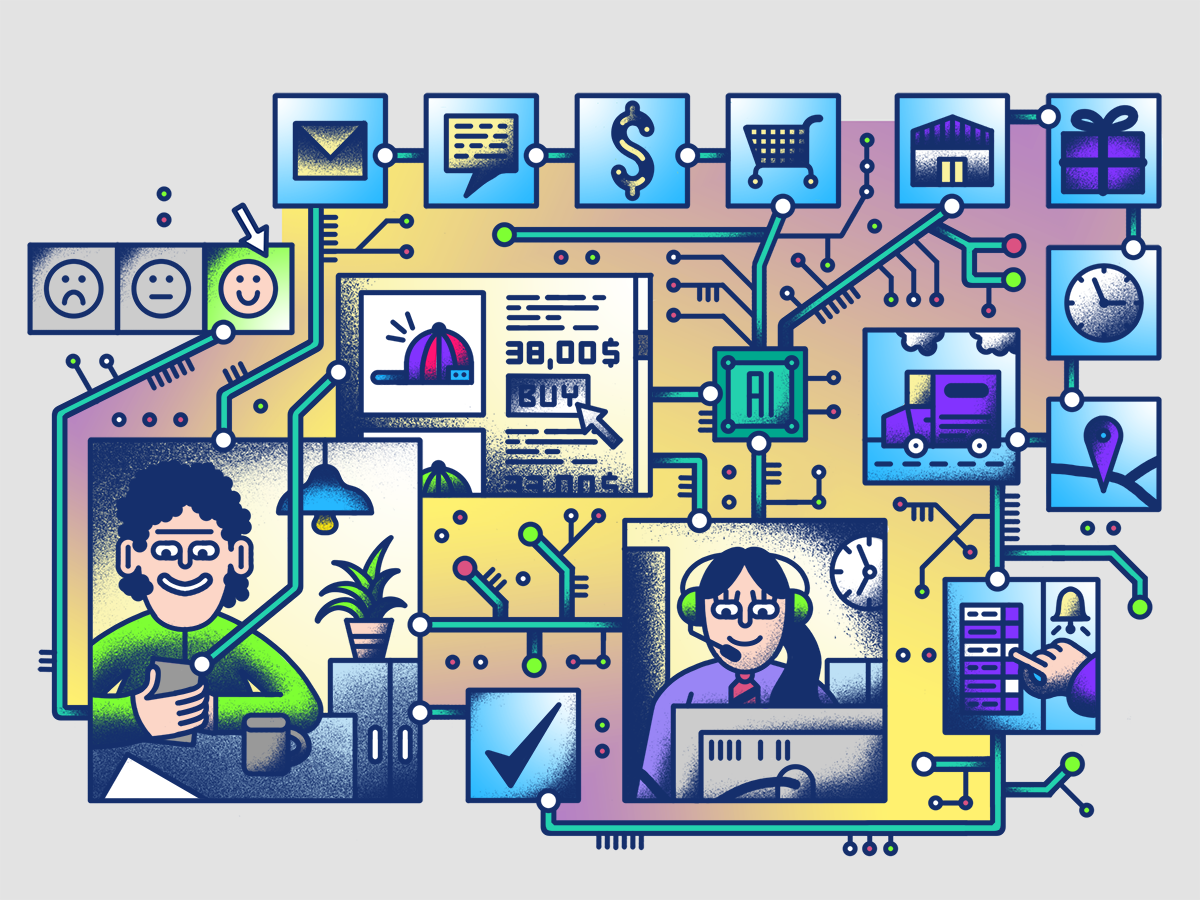 Almost every business wants to put customers at the heart of what they do – in a Pegasystems survey of 5,000 customer experience practitioners, 92 percent say being customer-centered is a high priority for their organization. So naturally, companies are all over any technology that can improve customer experience on a large scale, and artificial intelligence (AI) is one of the most promising.
But to get an AI implementation right and have a systematically good customer experience (also known as CX), you must go beyond the technological solutions. AI magnifies or at least surfaces quirks in human behavior otherwise softened as messages pass through many hands. That's why in preparing for AI, I recommend you look closely at your organization's strategy, structure and culture.
Success of new tech is all about the human factor
No matter the sector, human interactions are crucial. No technology can replace or undo the wrong customer experience mindset. Digital customer experience expert Amélie Beerens told me, "The success factor is the human factor."
When there are many technologies, people and functions across an organization contributing to customer experience, it's easy for the weakest link to cause failure.
First, offer the best possible product or service. But when striving to improve customer experience, you must have a strategic plan informed by your brand mission and identity.
Mindset, alignment and execution make or break any customer experience change, including AI-driven enhancements.
Cybersecurity for larger organizations
Enterprise cybersecurity
Our range of cybersecurity solutions for the unique needs of larger organizations and businesses.
Company culture influences how much you center customers
Prompted by the internet giving individuals a louder voice, company boards have clamored to reorient their strategy toward customers. It makes sense: Studies show customers are willing to pay more for and be more loyal after a good experience.
But wanting to be customer-centered isn't enough. Your strategy, culture and people will be instrumental in making customer centricity come alive. Customer service author and host of Punk CX podcast Adrian Swinscoe wrote, "Companies with open and collaborative cultures are likely to have more success implementing AI for customer experience than more product-focused or hierarchical organizations, who are likely to struggle with siloed working, data access and sharing, and unaligned objectives."
Engage your employees in the AI execution
Despite businesses saying the customer is their highest priority, most customers don't feel that way.
Can AI contribute to delivering a better customer experience at scale? Aligning an organization with the right technological solution is where things often break down. Good execution relies on employee engagement and dedication.
A PwC (formerly PricewaterhouseCoopers) survey of 15,000 customers in 12 countries showed a company's employees have a big impact on customer experience, especially for higher-value products. Swinscoe writes, "Companies should focus as much on their employees and their experience as they do on their customers."
Human interaction not only reinforces brand, it becomes part of the data set informing AI initiatives. As the number of interactions grows, the case for automation rises. AI – which ranges from narrow, such as If this then that formulas, to complex processes involving machine learning or neural networks, such as General or Super AI – helps manage the sheer volume.
To be effective, AI needs large data sets to learn from. The challenge is, it learns from human interactions that are often messy and hard to categorize, much less reproduce.
For the foreseeable future, fully automated and excellent customer service is unlikely. The best solutions use humans and AI – often called augmented intelligence.
Take, for example, Digital Genius, a customer service automation platform. Digital Genius gives customer service agents for airline KLM AI-generated alternatives to choose from when replying to a customer. The AI uses the customer's data alongside inquiry information to suggest responses, removing menial tasks so the agent can work in ways that value their ability.
The AI journey is internal first
Considering how to use AI can be informative and structuring for organizations. It forces you to assess your first principles and values down to the customer outcomes you want.
There are many ways to use AI in customer experience. It can triage incoming messages, augment and measure employee interactions with customers or run chatbots.
As with any new process, there must be much forethought and readiness to make mistakes, learn and correct. Senior teams (the C-suite) must understand and support what the company wants to achieve in customer experience. But they often don't: The Pega 2020 customer experience survey found 64 percent of customer service programs don't have a senior team sponsor, making it hard to implement the program organization-wide. Perhaps that's in part because PWC's 2021 Pulse survey found just 47 percent of executives understand how robotics and AI may improve customer experience.
Learning alongside your AI
Infusing the customer journey with AI needs ongoing learning and vetting to avoid biases negatively affecting customer experience. AI mirrors both our best and worst traits.
To start using AI as part of your customer experience program, the AI learns from a data set of human-to-human interactions from customer databases and relationship management. And that's easier said than done.
Creating, cleaning and organizing the AI's learning data set is a heavy lift needing considerable resources. For best results, get C-suite sponsorship, diversity in the team and customer-facing employee representation. Beerens says, "Diversity and integrity are the secret ingredients to building a strong data set."
Getting customer experience right can't be reduced to a single statistic – it's a moving target. Keep sight of your brand's mission, and don't let the technology (and the IT department) lead the way. AI has a role to play in customer experience, but it's vital to get the business culture – mindset, beliefs and behaviors – right before delegating customer relationships to a machine. As Swinscoe says, "Everything is an input, even the team you hire to help build, test and implement these models. Everything matters."