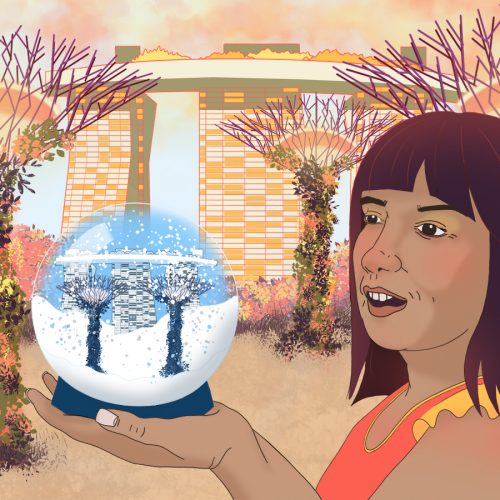 Singapore's light-up trees, sparkling skyscrapers and robot delivery companies make the 21st-century Southeast Asian metropolis look like it's already in the next century. But the financial hub city-state is now making leaps in the fight for the environmental future every global city faces, thanks to a copy of itself.
Digital Climate Urban Twin (DUCT) is a digital city using 3D semantic modeling designed to help Singapore plan its future. It can display buildings, streets and different modes of transport and plug-in other real-time information like climate, traffic flow and energy use.
Singapore's environmental challenges
Singapore's temperature has risen dramatically in the past 60 years. As it moved from a farming community to a financial hub, the city-state traded farms for skyscrapers. Urban areas can be 7 degrees hotter than the countryside.
It's worse than a natural disaster: The US Centers for Disease Control & Prevention says extreme heat poses more human health risk than tornados, hurricanes and floods.
It's happening because Singapore is subject to the Urban Heat Island effect. Heat gets stored through the day in artificial materials like asphalt and concrete, then released at night. Dr. Winston Chow, Associate Professor of Science and Technology at Singapore Management University, says city living compounds the heat island effect: "Urban elements like vehicles and air-conditioning units emit a lot of waste heat."
Kaspersky National Cybersecurity
State cybersecurity solution
For countering cyber espionage, protecting critical infrastructure, advanced threat detection and response, and more.
How the digital twin helps urban design
The Digital Urban Climate Twin (DUCT) was created by a Singapore-​ETH Centre, a Swiss and Singaporean research partnership. It receives real-time information on things like climate, traffic and building energy expenditure so urban planners, engineers and architects can see how these forces could affect a proposed building. It lets try 'what if?' scenarios and examine proposed solutions to environmental issues.
Professor Gerhard Schmitt of the Singapore-ETH Centre says, "Many cities use simple digital twins to look at energy or transport concerns, but DUCT does more in terms of temperature and outdoor thermal comfort for people."
Green architecture expert Chiara Calufetti-Lim says in times past, they would manually collect the information DUCT provides. Teams would count cars and buses driving along a thoroughfare or take a 3D model of a proposed building to a wind tunnel to see how it affected airflow. And Calufetti-Lim says the information they've traditionally worked with is about the building, not its surroundings. "With this extra information, you can consider nearby structures," says Calufetti-Lim. "If there is a building next door with a reflective glass façade, we can use this tool to anticipate its impact."
Calufetti-Lim's colleague, master planner and urban designer Chris Panfil, says DUCT's extra information for architects and planners could be good and bad. "Too many options can confuse the client. It's exciting but adds another level of editing for the designer or architect."
Applying the digital twin to urban challenges
The success of DUCT, says Singapore-ETH Centre's Schmitt, relies on using and maintaining it. "It needs to be supported and shared by all involved in managing, planning and running a city," he says.
Town planners in Singapore's Yuhua district have already used the digital twin to plan how to integrate a pedestrian bridge over one of its highways with local parks. Another Yuhua program is also using the twin to look at how to enhance pedestrian networks with more environmentally friendly solar panels and sensor-controlled LED lighting.
While DUCT is new, Singapore has long been fighting to reduce temperatures with architecture and nature. In 2006, it opened the world's largest underground district cooling system. By 2023, it will open Singapore's first smart, sustainable town: Tengah. The nature-centered neighborhoods will have a car-free town center.
Singapore has also turned to natural solutions to cut air pollution and increase shade. It plans to plant one million trees over the next 10 years, creating tree-filled Nature Ways along highways to make streets cooler and more pleasant and for all households to be no more than a 10-minute walk from a park by 2030.
Professor Gerhard Schmitt says planting can help curb the Urban Heat Island effect, but cities must realize it can hinder more than help if done incorrectly. "In parts of Europe or Australia with dry air, trees provide cooling by evaporation and shade, but in the Tropics with its high humidity, the evaporation is lower," says Schmitt. "If you plant trees too close to a building that gets sun during the day, they might trap heat and stop the area cooling at night."
Schmitt adds that air won't pass through tightly planted trees. "You must plant trees at the right distances, or it can be counterproductive," says Schmitt. "DUCT also deals with this."
Game-changing solution for cities
DUCT can be rolled out for any city. Dmytriy Pereklita, President of DK Studio Architects, which has offices in North America and Asia, says DUCT is "a game-changer in analyzing existing cities but also in planning new cities and communities."
Pereklita thinks the construction industry needs innovation. "Building is generally slow, and feedback takes years. Constant data and almost immediate feedback mean a chance for faster turnaround and improvement."
Professor Schmitt says DUCT wants to stop environmental issues compounding.
We want to break the vicious cycle in cities of more noise, more heat, more industry, more CO2.

Professor Gerhard Schmitt, Singapore-ETH Centre
Schmitt says DUCT should be seen as a long-term solution. "A city takes a long time to be built and rebuilt. A typical city in Europe renews itself at most, one to two percent a year. But if you have DUCT, you can plan long-term and adjust."
He believes DUCT can help create more livable cities across the globe. "The temperature of cities and pollution and noise levels will go down, and people's health will benefit," adds Schmitt.