Kaspersky, a global cybersecurity and digital privacy company, and Fnatic, the high-performance esports brand, announce a global partnership. The two leaders in their fields will develop multiple joint initiatives including multi-channel digital content campaigns and a digital event series. In addition, the Kaspersky brand name will appear on the jerseys of the Fnatic Rising League of Legends team.
For years, Kaspersky has been committed to the development of esports and gaming – the company has been sponsoring events and championships and has continually improved its solutions for the specific needs of gamers. Kaspersky's key consumer products include a Gaming mode – a feature which, when enabled, holds off scans and updates, does not display any notifications and therefore, doesn't disturb the player or consume much in terms of CPU resource.
The partnership underpins Kaspersky's bold new 'Fearless Gaming' approach, which the company intends to bring to life through a series of activities and content pieces developed in collaboration with Fnatic. Through the cooperation, Kaspersky and Fnatic aim to raise awareness about the importance of cybersecurity and its role in esports.
"In order to make gaming truly fearless you need to ensure it is thoroughly protected. We know that not only because we are a global cybersecurity company, but also because many Kaspersky employees are avid gamers. We understand gamers' interests, needs and behavior, and aim to make sure they enjoy the best of what technology brings," says Andrew Winton, Vice President for Global Marketing at Kaspersky. "We are pleased to cooperate with Fnatic and support one of the world's premier esports teams achieve their ambitions, while at the same time, learn more from the professional esports community to further improve our products for a wider gaming audience."
"We're delighted to work with Kaspersky to deliver such a crucial message about the importance of cybersecurity in esports to fans and gamers across the world," says Fnatic CEO Sam Mathews. "Their mission for protected and fearless gaming aligns perfectly with Fnatic's mission, and we can't wait to show you what we've been working on."
The joint content, activations and digital events, which will be produced within the partnership, will be featured across Kaspersky and Fnatic digital channels. They will share, among other knowledge, best practices for how gamers can avoid cyberthreats, secure in-game assets and how to make sure gaming remains fast and uninterrupted.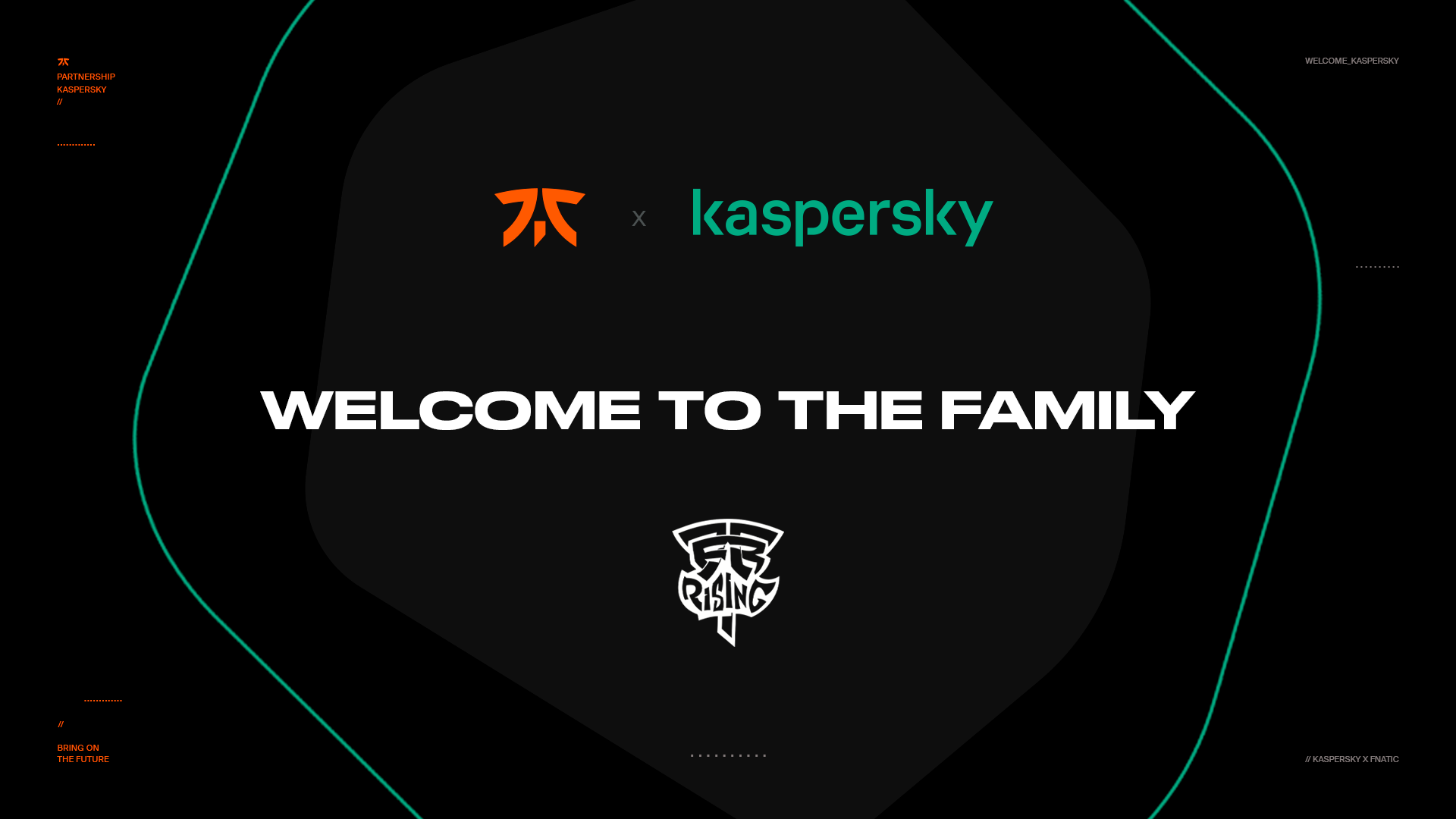 About Fnatic
Fnatic is a global esports entertainment brand headquartered in London, laser-focused on seeking out, levelling up and amplifying gamers and creators. Founded in 2004 by Sam Mathews, Fnatic teams have since claimed more than 200 championships across 30 different games. Driven by performance, Fnatic is the channel through which the most forward-thinking brands communicate with young people. It delivers industry-leading content, experiences and activations through offices and facilities in cities between London and Tokyo. For more information, visit Fnatic.com.
About Kaspersky
Kaspersky is a global cybersecurity and digital privacy company founded in 1997. Kaspersky's deep threat intelligence and security expertise is constantly transforming into innovative security solutions and services to protect businesses, critical infrastructure, governments and consumers around the globe. The company's comprehensive security portfolio includes leading endpoint protection and a number of specialized security solutions and services to fight sophisticated and evolving digital threats. Over 400 million users are protected by Kaspersky technologies and we help 240,000 corporate clients protect what matters most to them. Learn more at www.kaspersky.com.
Team play: Kaspersky and Fnatic announce global partnership
Kaspersky
Kaspersky, a global cybersecurity and digital privacy company, and Fnatic, the high-performance esports brand, announce a global partnership.