Auto-Renewal Service
Our hassle-free Auto-Renewal Plan is designed to save you time, effort and risk by extending your subscription automatically before it expires*.
Benefits of automatically renewing your license include:

Uninterrupted protection — Your subscription will continue with continuous protection

Worry free, peace of mind that your devices are always secure

Saves you time — We take care of everything for you and will send you notifications to inform you of your next billing date & confirmation that your license has been renewed

Flexibility — You may unsubscribe from this service at any time
*
Renewal prices are subject to change, additional online offers & discounts may be available at the time of your renewal which cannot be applied to your subscription. We will send you at least one email reminder to notify you of this. You will also receive by email confirmation of the renewal price you will pay, and the duration of your new subscription, before it is automatically renewed. You may be required to upgrade to the latest version of Kaspersky for free at this time.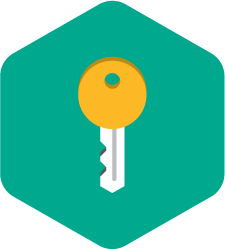 Kaspersky
Password Manager
Protect All Your Passwords
It's unwise to use the same password for multiple accounts… but multiple passwords are difficult to remember.
We securely store all your passwords, addresses & credit card details. Then we synchronize them across your computers & mobiles… so you only need to remember one master password – to access all your individual passwords & data.
Securely stores passwords, credit card data & more
Synchronizes for access via your PC, Mac & mobile
Speeds up access to your favorite accounts & sites
SAFETY – Securely stores your passwords, addresses & bank card data

Keeping your passwords safe – helps to keep you safe. So we store your passwords, addresses and credit card details in a secure vault – and they can only be unlocked with a master password that only you know.

PC, MAC & MOBILE – Synchronizes data for access from your computers and mobiles

Because you use computers and mobiles for surfing & shopping, we synchronize your passwords, addresses and card details across all your devices – so you can access them from your PC, Mac, Android phone & tablet, iPhone and iPad.

SIMPLICITY – Gives you easy access to all your favorite websites & accounts

Remembering different passwords – for every website and account you use – can be a challenge. With all your passwords and usernames securely stored, it's easier to sign into your favorite sites and accounts when you return to them.

CONVENIENCE – Does more to protect your data against security risks

Storing passwords in your browser may be convenient – but it can put your security at risk. However, with just a few clicks, all your passwords can be encrypted and stored in a secure vault… so they're still easy to access – but they're now secure. If you're already using another password manager, it's easy to import all your passwords and account details into the secure vault.

STRENGTH – Automatically generates strong, individual passwords

Simple passwords can be easy for hackers to guess. That's why our password generator automatically creates strong passwords for each account and website you use. Passwords are created on your PC – but can be accessed via any of your supported devices.

DATA CAPTURE – Includes easy-to-use data capture on mobile devices

Automated data entry can help to prevent errors. If you need to capture the account number for one of your credit cards, you simply scan the card with your mobile. Also, if you're using an iPhone with Touch ID fingerprint recognition, your fingerprint lets you access your stored passwords, addresses and card details.

For all devices

Internet connection required - for product activation, updates & for access to some features

Windows-based desktops and laptops

100 MB free space on the hard drive
Microsoft® Windows® 10 Home / Pro / Enterprise
Microsoft Windows 8 & 8.1 / Pro / Enterprise / 8.1 update
Microsoft Windows 7 / Starter / Home Basic & Premium / Professional / Ultimate / Enterprise SP1 or higher
Microsoft Windows Vista® Home Basic / Home Premium / Business / Ultimate SP2 or higher
Microsoft Windows XP Home / Professional (32-bit) SP3 or higher

Processor: 1 GHz or higher
Memory (RAM): 1 GB (32-bit or 64-bit)

Mac desktops and laptops

100 MB of free space on the hard drive
OS X 10.9 - 10.11

Supported browsers:

Microsoft Internet Explorer® 81 or higher
Mozilla™ FireFox™ (version 40 or higher) / Mozilla FireFox for OS X
Google Chrome™ (version 45 or higher) / Google Chrome for OS X
Yandex Browser (version 15.0 or higher)
Safari 9 for OS X

Android-based smartphones and tablets

50 MB of free space
Android™ 4.0 or higher
Minimum screen resolution: 320 x 480

iPhone and iPad

75 MB of free space
iOS® 8.0 or higher

1If you're using Microsoft Internet Explorer 8, the product's auto-fill function for entered credentials is not supported.
Reviews
Nice privacy protection..It's easy to use and handled my privacy..more safe than the other.

Just want to say I LOVE KASPERSKY INTERNET SECURITY & PASSWORD MANAGER.

Great product very easy to set up. The password manager is really great.
Help me choose
Find the right product in just 30 seconds!
NOT SURE WHICH PRODUCT IS RIGHT FOR YOU?
Whatever you need to protect – and whatever devices you're using – we can help. Click the button below… and we'll help you decide which Kaspersky Lab security solution is best for you.