The range of apps and websites teens and tweens use is constantly evolving. While many provide an enjoyable and harmless experience, the worst apps for kids can sometimes create risky situations. These include opening up unwanted communication with strangers, unintentionally revealing personal information, and cyberbullying – amongst other dangers.
To ensure your kids are using apps appropriate for their age and circumstances, it is essential to be aware of risks.
In this article, we look at potentially dangerous apps and websites for kids.
Tik Tok
What is Tik Tok?
With over 1.65 billion downloads so far, Tik Tok is very popular amongst teens and tweens. Tik Tok enables users to create, share and discover short music videos and has been described as karaoke for the digital age. Special effects can be added to the videos, which allow users to express themselves creatively.
Is Tik Tok safe for kids?
When users aged between 13 and 15 sign up for the app, their accounts are set to private by default. This feature means only friends can comment on videos. Only users aged 16 and over can livestream and use direct messaging, and only users aged over 18 can buy, send, or receive virtual gifts.
However, the app has no age verification and relies on users inputting their actual dates of birth.
Because the app encourages performance, with many users excited to showcase their talents, predators could potentially use flattery and compliments as a way to initiate contact with young people.
Some parents have expressed concern about the use of inappropriate language in some of the videos (although the app does not allow users to search for objectionable content such as "sex" or "porn").
Parents can also use Restricted Mode for some control or Family Safety Mode to pair their account with their child's to completely control the settings.
Official age rating?
Official age rating: 13+
Omegle
What is Omegle?
Omegle is a free chat site that allows you to speak to other users without registering. The app's marketing slogan is "Talk with strangers!" It will match you with another random user logged into the site from anywhere in the world.
It offers both text and video chat and has "interest" tags, which enable you to connect to other users based on mutual interests. Its popularity spiked during the coronavirus pandemic in 2020.
Chats are anonymous unless you reveal your identity. When a chat starts, people are identified as "you" and "stranger." Users can stop a chat if they feel uncomfortable by clicking the "Stop" button and exiting the site or starting a new chat with someone else.
Is Omegle safe for kids?
Omegle is transparent when it comes to dangers on the site. It clearly states, "Predators have been known to use Omegle, so please be careful."
That said, Omegle does not have any solid safety guidelines or parental controls to protect children.
Omegle connects kids with strangers of any age. If you want to protect your children against the dangers that lurk on sites like Omegle, it is important to talk to them about it. Explaining what and who may be out there with criminal intentions could be your best line of defense.
Key parental concerns with the app relate to its potential for cyberbullying and online grooming.
Omegle does not have a block function for other users, although users are invited to report inappropriate behavior.
While Omegle will ban users for cruelty and misbehavior, the bans are based on their IP addresses. This ban is not effective against commonly available software such as a virtual private network (VPN).
Official age rating?
Official age rating: 13+
Houseparty
What is Houseparty?
Houseparty is a video chatting app that allows friends to communicate with each other, one to one or in groups of up to 8, through live video and texts in chat groups. Users can play games with the people in that chat group.
Is Houseparty safe for kids?
Houseparty says you have to be 13+ to create an account, but there is no age verification – users simply input a date of birth.
There is no screening, and the video is live, so there is nothing to prevent kids from seeing inappropriate content.
There are no parental controls on the app.
By default, Houseparty is not set to private. This means that when using the app, friends (or friends of friends who you may not know) can automatically start a video chat with you without you having to accept.
People can also see what calls you are in and who with and can join without an invitation.
Users can send links via chat and take screenshots.
Official age rating?
Official age rating: 13+
Tellonyn
What is Tellonym?
Tellonyn is an anonymous messenger app that describes itself as "the most honest place on the internet".
It allows users to ask and answer questions about each other without disclosing their identity and has become very popular in middle and high schools.
Is Tellonym safe for kids?
Content is user-generated and anonymous, and there have been reports of cyberbullying, violent threats, and adult themes, including sexual content and references to drugs and alcohol (if filters are not switched on).
There is no age verification in place even though the app is rated 17+ on the App Store.
Accounts are set to public by default, which means strangers could contact your child.
There is a feature that allows users to share their location. This is switched off by default, but it is worth checking that your child has it switched off.
The app does have reporting and blocking tools and also community guidelines for users to follow.
Official age rating?
Official age rating: Tellonym's terms of use say users must be 13+, but the App Store rates this app as suitable for 17+.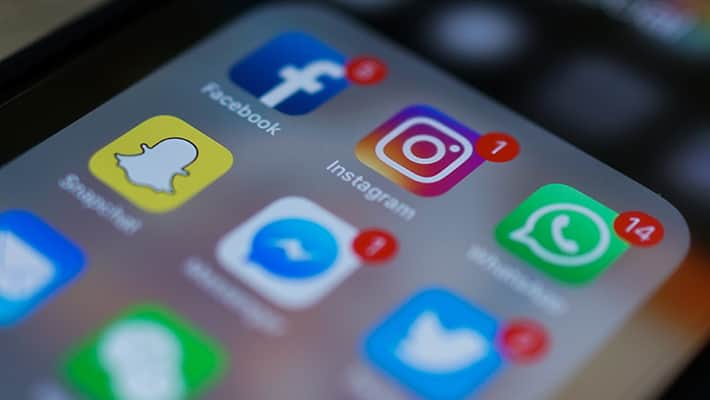 Snapchat
What is Snapchat?
Snapchat is an app that allows users to send photos and videos that disappear once they are received. It features filters and special effects, allowing users to alter pictures.
Is Snapchat safe for kids?
According to Snapchat's terms of service, you have to be 13+ to sign up, but again, there is no age verification in place to check.
Many kids believe that images on Snapchat can't be saved and circulated, and so may feel comfortable sharing pictures that they otherwise would not. However, users can take a screenshot before an image vanishes in the app, and images themselves remain on Snapchat's servers for up to 30 days.
Some parents have raised concerns about age-inappropriate material and marketing ploys dressed up as quizzes to gain users' data.
Official age rating?
Official age rating: 13+
YOLO
What is YOLO?
YOLO – which stands for 'You Only Live Once' – is an anonymous question and answer app within Snapchat. Users can post anonymous questions and comments on a Snapchat story and attach an image.
Once a user has linked the app to a Snapchat account, they are prompted to 'get anonymous messages' and create a question to prompt others to 'send me honest messages'.
Is YOLO safe for kids?
The anonymous element to this app, and others like it, can make it a haven for bullying and sometimes brutally honest comments. In the past, Apple and Google stores have banned similar anonymous apps because of their scope for cyberbullying and hate speech.
Users can report people, but it is not possible to block people because users are anonymous. If someone is sending an abusive response, the algorithms are supposed to pick this up, and the terms and conditions state that "objectionable content" will not be tolerated. If you report a comment, that comment should be taken down if it is found to be offensive.
The app is vague about how user data is shared.
Official age rating?
Official age rating: 13+
Kik
What is Kik?
Kik is a free texting app that has no character or texting limit. It allows children to create a username and text strangers without sharing their mobile number. Users can share photos, videos, and games on this platform.
Is Kik safe for kids?
The app allows children to chat with strangers online. By allowing users to identify themselves using only a username (i.e., not associated with a phone number), Kik goes further than other apps in providing anonymity.
The combination of anonymity, allowing users to search profiles by age, and sending pictures that aren't stored on phones has been singled out for criticism.
There are no parental controls within Kik.
In 2018, the BBC reported that the Kik Messenger app was featured in 1,100 child sex abuse cases in the UK alone – helping to create a perception of one of the worst apps for kids.
Official age rating?
Official age rating: 13+
Discord
What is Discord?
Discord is a voice and text chat app that is popular with gamers. Gamers use it to chat to other players while playing games or to swap tips and advice in game-specific servers.
Some games, such as Fortnite, have official verified Discords for fans to discuss the game.
Is Discord safe for kids?
Discord has information available on their site for parents and carers with tips for keeping their child safe.
Discord also has a 'Keep Me Safe' function that automatically blocks inappropriate images sent via direct message. You need to switch this on when your child sets up an account. However, the feature doesn't scan text, so your child could still be sent messages that contain inappropriate or upsetting language.
You can change your child's privacy settings so people they don't know can't contact them, but they will still be able to access the public servers. Your child could come across images, videos, and comments they find upsetting on the public servers.
You can easily block a user directly in the app by clicking on their profile.
Reporting individual pieces of content is more complicated. You have to send Discord a message and link to the message, image, or video you would like to report.
Official age rating?
Official age rating: 13+
Twitch
What is Twitch?
Twitch is a live streaming site popular with gamers that allows users to share live gameplay for others to watch and comment on in real-time. Users can also watch playbacks of games being played and chat with other gamers.
It is not possible to join a live game on Twitch, but you can speak to other users who are watching the game in a live chat window.
Is Twitch safe for kids?
Wherever live streaming is involved, there is always the potential for unfiltered language or inappropriate imagery to be shown because it is unedited.
Twitch's chat feature can become chaotic on popular streams with higher viewership, as everyone is typing at the same time in an effort to interact with their favorite streamers. On bigger channels, these chats can become a yelling contest with cyberbullying and hate speech. When this happens, moderators struggle to keep up with the overloaded chat.
If live streaming, make sure the game your child is streaming is age-appropriate and ensure that your chat is monitored so you don't invite any unwanted attention.
If your child is mostly watching other gamers live stream, the best thing to do is research the people and channels that your child watches and ensure that they are watching streams that are suitable for their age.
Official age rating?
Official age rating: 13+
Tumblr
What is Tumblr?
Tumblr is a micro-blogging site that allows users to share photos, videos, short blogs, gifs, and links, and has a built-in chat function. It can also be a place for kids and teens to connect with one another and share their fandoms – i.e., post about shows or movies they like.


Is Tumblr safe for kids?
Tumblr banned pornographic content in 2018, but it is still possible to see sexually suggestive images on the platform. There are also reports of pro-anorexia (sometimes referred to as pro-ana) posts, pro-self-harm posts, and other unsuitable content.
There are no parental controls available, but there are privacy settings that you can help your child to adjust.
Official age rating?
Official age rating: 16+
Instagram
What is Instagram?
Given its popularity, you are probably more familiar with Instagram than other photo-sharing apps. Users post photos to their grid, which they can edit using filters, or stories which last for 24 hours. Owned by Facebook, users tend to follow friends, family, or celebrities. There is also a live streaming feature.
Is Instagram safe for kids?
The app has in-built features that automatically remove offensive words and comments – and you can add your own list of words that you don't want to appear. However, it is still possible to find mature or inappropriate content and comments on the app (though there is a way to flag inappropriate content for review).
Some people use the app to make rude or unpleasant comments. This is known as "trolling" and is often carried out anonymously.
Users can change their settings to block their location or certain followers, but many users are casual about their settings and connect with others they don't know.
Official age rating?
Official age rating: 13+
WhatsApp
What is WhatsApp?
Many parents use WhatsApp – it is a very popular messaging app that allows users to send texts, videos, photos, make calls and have video chats worldwide.
Is WhatsApp safe for kids?
Whilst your tween or teen can only talk to existing contacts on their phone, some content can be shared that might not be age-appropriate. This is particularly an issue if they are added to group conversations by other friends, so they can end up having contacts on their phone who they have never met face to face.
Therefore, it is possible they could see or be contacted by someone they don't know and could be vulnerable to content posted by that person.
Although a user cannot control who adds them to a group chat, they can always control their own participation within it – they can leave whenever they want to.
It is a good idea to advise your child that if they are in a group chat with someone they do not know and are uncomfortable with, they should exit the group and speak to you about it.
Official age rating?
Official age rating: 16+
YouTube Kids
What is YouTube Kids?
YouTube describes YouTube Kids as a more 'contained environment for children to explore YouTube' making it easier for parents and caregivers to guide their journey.
Essentially, it is a separate version of the popular video-sharing site aimed squarely at children. One of its best features is a timer, so you can set limits for how long your kids play on the app.
Is YouTube Kids safe for kids?
The app is mostly safe as its algorithm aims to filter out any content which is unsuitable for kids, and this is augmented by human moderators too. That said, there is a small chance that content featuring nudity or violence could slip through the net.
There have been reports of videos that look like they are for kids but are clearly not. These videos seemingly have kid-friendly titles and start off with familiar characters from kids' TV shows (such as Peppa Pig) but then become strange or even disturbing. Some of videos have been tagged intentionally to fool the YouTube algorithm.
YouTube warns that kids may see something you do not want them to see and that you can block or report inappropriate videos.
If users do not have the premium version, they will see ads including for junk food or products that you may not want your child to see.
Official age rating?
Official age rating: 4+
9 Tips on how to talk to your kids about internet safety
Now that you've learnt about some of the potentially dangerous websites and apps out there. It's time to sit down and talk to your children about internet and online safety.
Here are some tips and advice to help things go smoothly:
1. Ask your child about what apps and websites they use
Ask your child to teach you and show you their favorite apps, games, or websites. This will help you understand how they work and highlight any potential issues with the worst apps for kids.
2. Discuss any potential concerns with your child
If you feel your child is accessing a dangerous app or website for kids or teens, explain why you feel this way. Where possible, make it a joint decision with your child, so they understand the reasons not to use something.
3. Be honest and straightforward with your children
Talk to them about the consequences of inappropriate use of technology. Educate your kids about cyberbullying, hacking and social engineering, and online grooming.
4. Reassure your child that they can talk to you
Tell your child that you won't overreact if they tell you something they have seen online, such as nasty comments, sexual content, or violent images. Tell them you would prefer they talked to you about it rather than keep it to themselves. Show them how they can block or report content they find disturbing.
5. Set boundaries – but be realistic
The boundaries you set for internet use will depend on your child's age and what is right for your family. They might include things like agreeing on rules about how much time they spend online and when, not saying things over text that they wouldn't say to someone's face, not sending private images, or allowing you to know their password so you can check their phone.
6. Set up parental controls
Set up or review your parental controls and internet filters. Parental controls are designed to help protect children from inappropriate content online. These controls can be used in several ways – for example, to help ensure that your children access only age-appropriate content, to set usage times, to monitor activity, and prevent personal information from being shared with strangers.
7. Make sure your child is running the latest antivirus programs
Antivirus software protects your devices from incoming threats and seeks out, destroys, and warns of possible threats to the system. New viruses are coming out all the time, and antivirus software keeps up with the latest threats.
8. Ensure your child's privacy settings are set to maximum
Almost all social media apps will have privacy settings that you can adjust. Get to know them and sit down with your kids to adjust them together.
9. Use a trusted cybersecurity solution on all your children's devices
Kaspersky Safe Kids is designed to help you protect your kids online. It includes an app on your child's device plus an app on your phone, which lets you see reports and customize settings. There are parental controls built into the software and it even allows you to manage their screen time by device.
Related Articles: