April 20, 2017
Kaspersky Lab Protects the FIDE World Chess Grand Prix 2017 in Moscow
Kaspersky Lab will protect the Moscow Grand Prix, to be held 12-21 May.
Kaspersky Lab will protect the Moscow Grand Prix, to be held 12-21 May. Earlier this year the company signed a sponsorship agreement with FIDE and World Chess and became an official cybersecurity partner of these organizations. The first deployment of Kaspersky Lab technologies will be implemented during the Moscow Grand Prix, with a focus on protecting the Worldchess.com website and the online broadcast of the tournament from DDoS attacks.
In future, additional Kaspersky Lab solutions and services will also be integrated in the IT infrastructure of FIDE, World Chess, and national chess federations. In addition, the company will be conducting cybersecurity training for the chess players taking part in the championship cycle, and providing them with Kaspersky Total Security for their devices.
Eugene Kaspersky, Chairman and CEO of Kaspersky Lab, commented: "We're very happy to be supporting the World Chess Championship, it goes without saying. The world's ultimate game of strategy, chess is a beautiful, intelligent – and very computerized sport. Most watch competitions online, and it's extremely important that no cyberattacks affect the championship and disturb players or spectators; while the grandmasters use various programs for game analysis and strategy planning to learn different techniques and prepare for tournaments. Clearly, data protection is a top priority for them, too."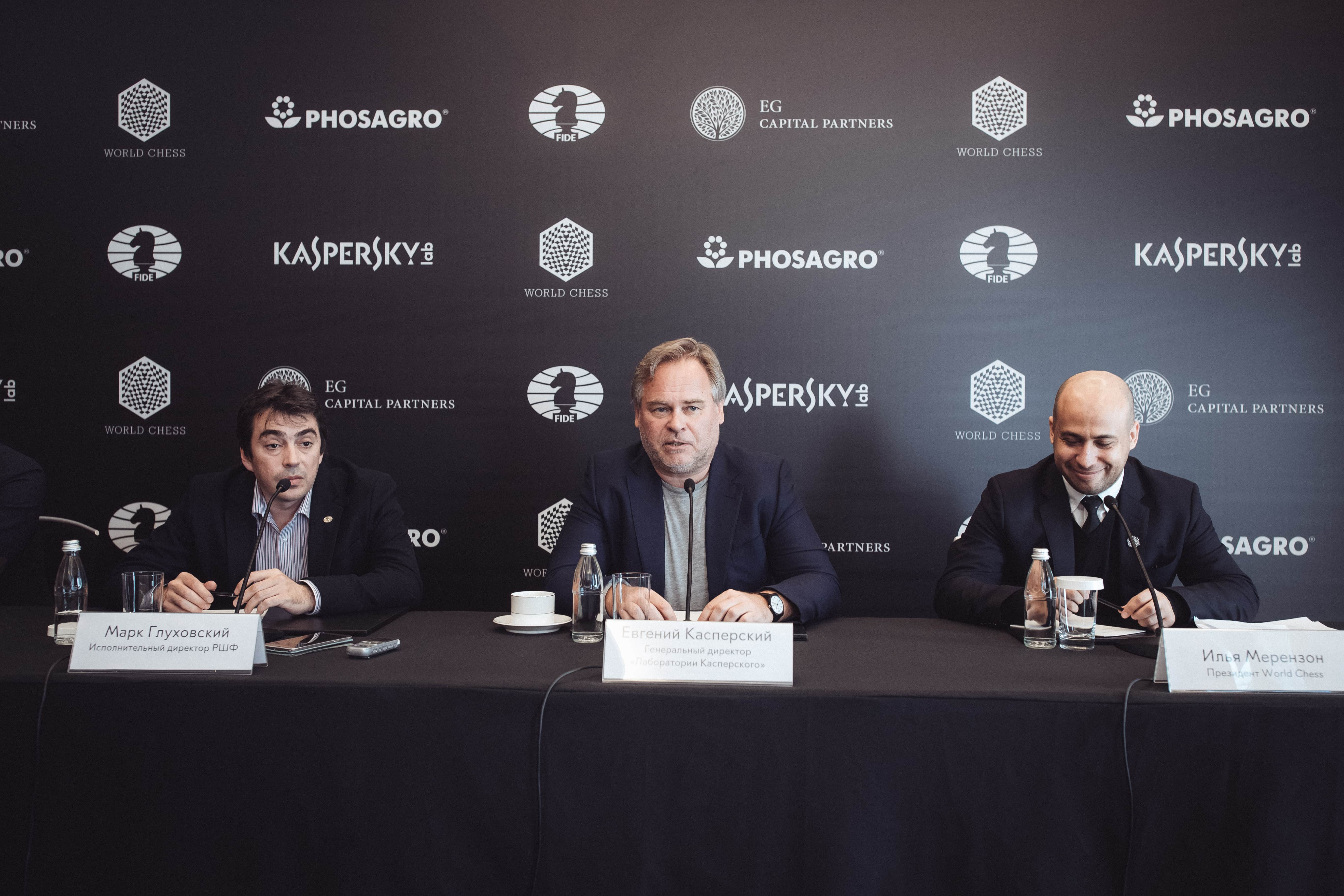 Ilya Merenzon, Chief Executive of World Chess, said: "Today chess is a sport closely connected with information technologies. The Internet audience of chess is growing every year. The audience of the online broadcast of the World Championship in New York last year was more than 10 million viewers. Plus, hundreds of millions of people around the world play chess online. Chess has become a new trend and its commercial component has increased, attracting new partners. I am sure that the championship cycle 2017-18 in general, and the Grand Prix series in particular, will be an incredible event for the audience and an excellent business platform for our partners."
The FIDE World Chess Championship is a two-year series of six events taking place around the world that feature the world's top grandmasters, culminating in a bi-annual World Chess Championship Match that determines the World Champion - one of the most prestigious titles in the world of sport. The 2017-18 Championship tour includes four Grand Prix Tournaments in Sharjah, Moscow, Geneva and Palma de Mallorca, as well as the Candidates Tournament, and the World Chess Championship Match, in November 2018. The Moscow Grand Prix will last 10 days, during which each of the 18 participating grandmasters will play nine games.
Kaspersky Lab also supports several chess players. Since 2016, the company has sponsored chess Grandmaster and World Vice Champion Sergey Karjakin; and since 2012, it has partnered with a young candidate master Andrey Tsvetkov, as well as Grandmaster and the world junior chess champion Mikhail Antipov. Within these partnerships, Kaspersky Lab is providing information security and support in arranging and participating in sporting tournaments.
You can find more information about Kaspersky Lab's chess activities at chess.kaspersky.com.
Articles related to Corporate News
One of the fastest growing types of threat among the multitude targeting industrial organizations in 2017 was targeted attacks.

Learn more >

The inclusion of Eugene Kaspersky on this list is incorrect because the term "oligarch" refers to those who combine large personal fortune with political influence, and neither he nor Kaspersky Lab have any political ties with any government, including Russia.

Learn more >

With digital transformation melting protection perimeters, IT security teams in enterprises are having to deal with the fact that complex threats are already within their network, as illustrated by the 48% of enterprises who believe that their organization may already be hacked.

Learn more >