Kaspersky Secure Remote Workspace
Cyber Immune, manageable and functional thin client infrastructure
Cyber Immune thin client infrastructure
Kaspersky Secure Remote Workspace is a solution for building a managed and functional infrastructure of thin clients based on the Cyber Immune operating system KasperskyOS. Provides a secure connection to VDI and includes complementary products:
Software product based on KasperskyOS installed on thin clients
Kaspersky Security Center
Unified console for centralized management of thin clients
Kaspersky Security Management Suite
Kaspersky Secure Remote Workspace
Cyber Immune, manageable and functional thin client infrastructure
Secure access to virtual desktop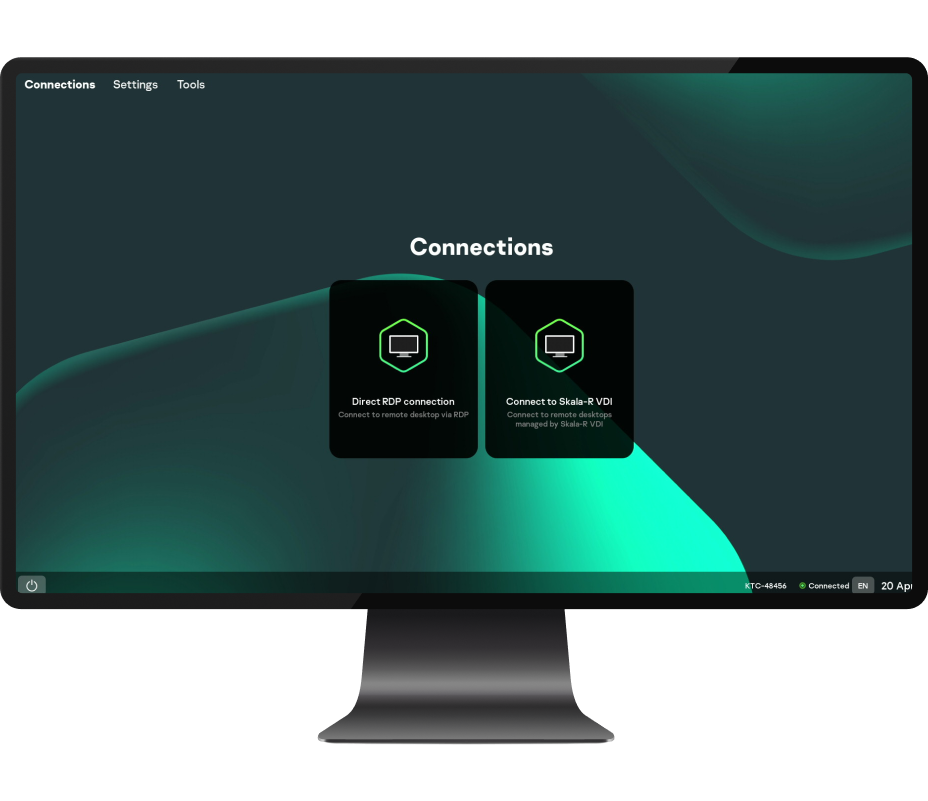 Support for basic connectivity

Secure connection to virtual desktops deployed in a Skala-R VRM virtual desktop infrastructure. Ability to work remotely with physical and virtual desktops running Microsoft Windows or Astra Linux using RDP, with authorization via username and password.

Help with data protection

Security certificate management and thin client protection with no need for additional tools (antivirus).

Secure USB operation

Support for popular RUTOKEN, SafeNet, JaCarta tokens and USB drive forwarding.

Hardware platforms

TONK TN 1200 — compact, high-performance thin client for VDI access.
Suitable for
A user's workstation is one of the most common targets for cyberattacks and malware deployment. A Cyber Immune thin client infrastructure provides the necessary level of security for secure VDI connectivity
Learn more about Kaspersky solutions, products and technologies
Kaspersky
Security Center
Flexible, scalable administration and monitoring console
Kaspersky
IoT Infrastructure Security
Protecting the internet of things at the Cyber Immune gateway level

Kaspersky
Hybrid Cloud Security
Proven cloud-native protection and the best performance for your hybrid environment
How to buy Kaspersky Secure Remote Workspace
Discuss with our experts how to provide a Cyber Immune infrastructure for thin clients