November 25, 2016
Kaspersky Lab Supports the Youngest Grandmaster in Chess History
Kaspersky Lab has become the official sponsor of Russian chess grandmaster Sergey Karjakin, currently contending for the title of World Chess Champion.
Kaspersky Lab has become the official sponsor of Russian chess grandmaster Sergey Karjakin, currently contending for the title of World Chess Champion. Kaspersky Lab will continue to support his participation in sporting tournaments, and will also provide his information security.
"I am genuinely happy to collaborate with a leading international company," said Sergey Karjakin. "Our paths to success have a lot in common: both I and Kaspersky Lab have become experts in our respective fields and we have won world recognition through relentless self-improvement and total commitment to our respective missions. I hope this is the start of a long-lasting and beneficial partnership."
Commenting on the new sponsorship agreement, Eugene Kaspersky, chairman and CEO of Kaspersky Lab, said: "Sergey is a prodigious chess player – one of the best on the planet – and it's a great honor for us to support him. He has already earned a place for himself in the history of chess by becoming the youngest grandmaster ever, and I'm sure he'll reach further, dizzying heights in the future. Right now though, we wish him all the best with his current challenge – becoming world champion, no less. Good luck, Sergey!"
Chess and cybersecurity have a lot in common: both are areas in which the symbiosis of human and artificial intelligence plays a crucial role. Computers help chess players in training and allow them to master their skills, but the key factor for succeeding in this kind of sport was and still is the human brain. We at Kaspersky Lab adhere to similar principles in our work: we believe that the best protection is provided by a combination of advanced technology and the unrivaled knowledge and experience of our experts.
At the age of 12, Sergey Karjakin became the youngest grandmaster in the history of chess. Today, he is the first Russian representative in eight years to contest the title of World Chess Champion. The Russian grandmaster is challenging the reigning World Champion, Magnus Carlsen of Norway. As of today, 10 games of the planned 12 have been played, eight of them ending in a draw. Sergey Karjakin won the eighth game and Magnus Carlsen came out on top in the tenth, leaving the series tied at 5-5. The closing ceremony will be held in New York on 30 November; the winner will be determined in the remaining two games. If the score is tied after 12 games, a tie-break rapid chess match will be played.
Kaspersky Lab sponsors two other Russian chess players: 11-year-old Andrey Tsvetkov, a candidate master who has already won international chess tournaments, and 19-year-old Mikhail Antipov, a grandmaster and the world junior chess champion. Kaspersky Lab has cooperated with both sportsmen since 2012, and is their exclusive sponsor. By supporting young chess players, Kaspersky Lab provides them with the opportunity to participate in international tournaments and receive training at prestigious chess schools.
Kaspersky Lab is a dedicated supporter of talented sports stars in world-class events such as motor sports, cricket, snooker and chess. It aims to provide a platform for them to succeed and excel as sports has always been a force that unites people, and helps them to develop their talents – both physical and intellectual. The support of young sports stars is part of Kaspersky Lab's corporate social responsibility initiatives to make the world a better place. This leads to great results and partnerships. For example, Ferrari Driver Academy member Antonio Fuoco has recently graduated to the GP3 series, where he has already managed to secure a couple of podium finishes.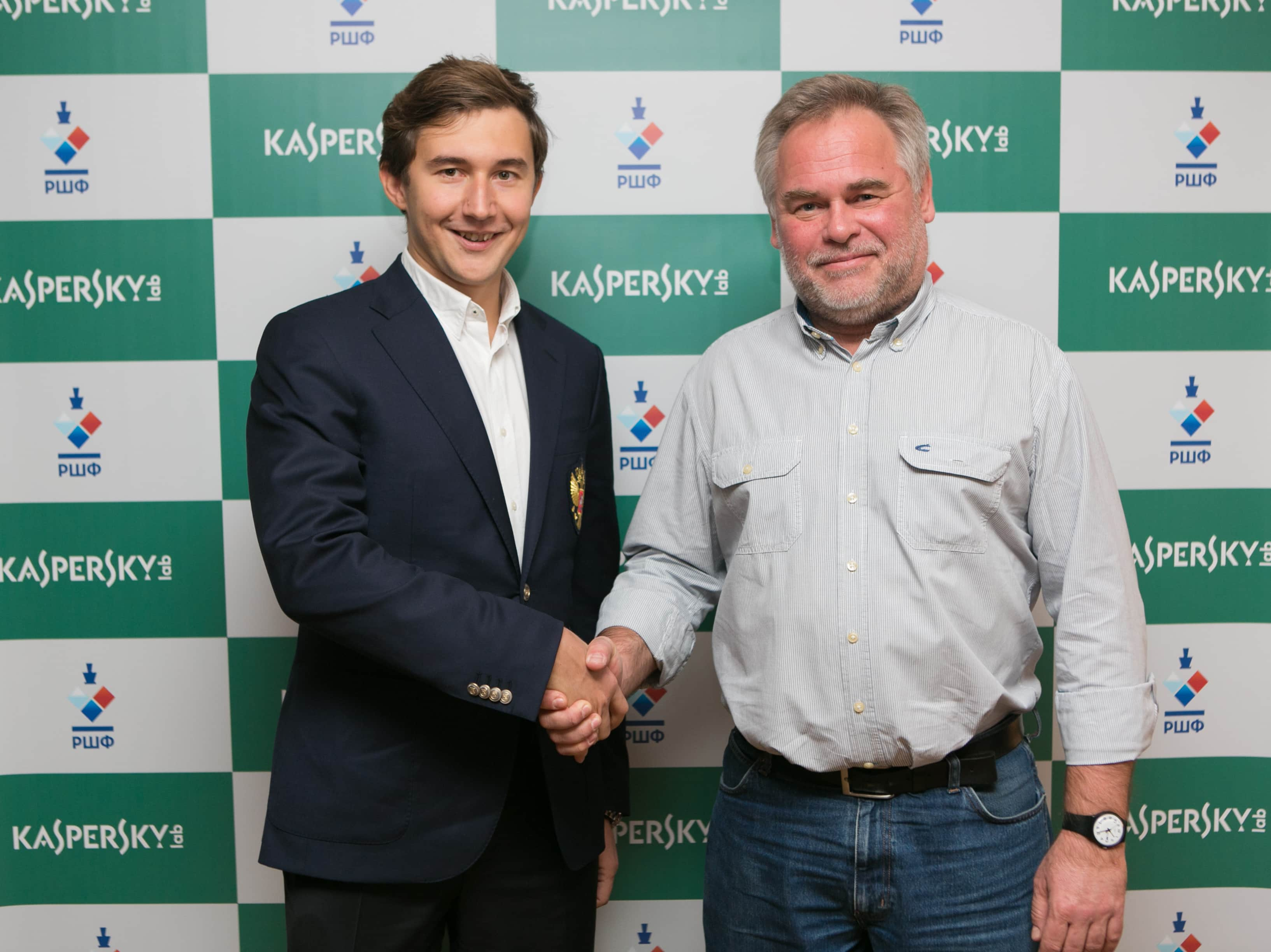 Articles related to Press Releases
Liverpool and England full-back fails to defeat world champion Magnus Carlsen in landmark chess match.

Learn more >

Liverpool and England full-back fails to defeat world champion Magnus Carlsen in landmark chess match.

Learn more >

Kaspersky Lab Automatic Exploit Prevention technology, embedded in most of the company's endpoint solutions, has detected a series of targeted cyber-attacks.

Learn more >