According to a survey conducted by Kaspersky Lab in conjunction with B2B International[1], aroundhalf of the consumers surveyed also use their devices for work. However, only one in 10 is seriously concerned about keeping work information safe should cybercriminals gain access to their device.
One way or another, many employees of large and medium-sized companies use personal mobile devices for work. 36% of respondents store work files on them, and 34% keep work-related email messages. Sometimes, more confidential information can also be found on users' devices, such as passwords to corporate email accounts (18%), networks or VPNs (11%). Such information represents a valuable prize for cybercriminals hunting for corporate secrets.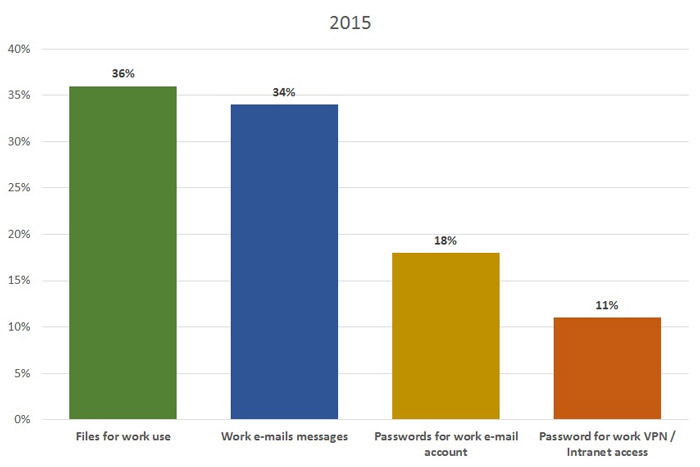 Figure 1: Kinds of information respondents store on their devices (%)
Despite these risks, a bring-your-own-device (BYOD) business model offers many benefits to organisations, even those enterprises that have a great deal of confidential information. For example, easy access to corporate communications and applications alongside personal data and activities means that employees can see and manage tasks faster and more effectively.  However, to keep the business and any proprietary data secure, the integration of BYOD into the IT infrastructure must be implemented responsibly by employers.  Kaspersky Lab's specialists have several recommendations that should be borne in mind when connecting employees' personal devices to corporate IT networks:
BYOD integration should be regarded as a specific project; this is especially true for large businesses. Every last detail of the integration process should be designed beforehand; and this should ideally include an infrastructure audit, a design stage and a pilot implementation.
To effectively protect mobile devices, it is important to use a comprehensive solution that ensures security across the entire corporate network, not one that focuses only on mobile devices. Without this, compatibility problems may arise and create extra work for system administrators.
Managing mobile devices in a large business requires additional skills over and above those demanded by routine system administration. It is worth ensuring there are appropriately qualified IT security specialists on the team. These can provide centralised management for all mobile devices within the corporate network, ensure that all mobile applications are installed, removed and/or updated via dedicated corporate portals, and regulate data access levels and employee privileges.
Most importantly, the business needs to develop robust scenarios for how to remove personal devices from the corporate network if they are lost or stolen, or if an employee leaves the company. A procedure should be developed to remove confidential corporate data from these devices and block access to the corporate network.
"By successfully creating and managing a BYOD network, businesses can simplify their IT operations while providing greater flexibility for employees. However, BYOD can potentially create security gaps if not managed effectively andKaspersky Security for Mobile was developed specifically to meet the right requirements.The best way to make BYOD work for a business is to ensure it is simple to control and easy to maintain without compromising security or performance,"said Kirill Slavin, General Manger of UK and Ireland at Kaspersky Lab.
Kaspersky Security for Mobile was developed specifically to meet these requirements. It ensures the protection of corporate information on users' devices, helps to manage mobile applications and devices, protects users from malware and other cyberthreats, and allows for remote management of devices if they are lost or stolen. Kaspersky Security for Mobile is a component of Kaspersky Endpoint Security for Business, and is managed from a single console alongside other security solutions provided by Kaspersky Lab.
[1] Consumer Security Risks Survey - From scared to aware: digital lives in 2015.
Personal Devices and Corporate Secrets: Only 11% of People Worry about Keeping Work Files Safe on Mobile Devices, Kaspersky Lab Survey Shows
Kaspersky
According to a survey conducted by Kaspersky Lab in conjunction with B2B International, around half of the consumers surveyed also use their devices for work.