Safe Money, Kaspersky Lab's technology for protecting online payments, has once again earned the recognition of international experts, with MRG Effitas awarding the technology its highest and brand-new accolade: the Online Banking/Browser Security Award 2014/15, on the basis of its performance in four quarterly tests.
Unlike most independent labs that conduct comparative tests of security solutions, MRG Effitas assesses the reliability and efficiency of specific protection against financial threats. They regularly analyze the latest versions of specialized software that secures transactions and universal solutions that integrate financial security technologies. In particular, the lab has examined Safe Money, a technology incorporated into Kaspersky Internet Security. According to the four quarterly reports from Q2, 2014 to Q1, 2015, this technology has proved to be one of the most effective – demonstrating excellent results in all four studies and being awarded MRG Effitas Certified status.
The test methodology evolved over the year: solutions had to combat the collections of recently-discovered, active financial malware, and to prevent any leakage of payment data during transactions made from already-infected systems that were designed to imitate the most commonly-seen botnets. In addition, in Q2 2014 the researchers simulated a Man-in-The-Middle attack, in Q3 2014 and Q1 2015 they tried to deceive security systems by redirecting API calls, and in Q4 2014 they bypassed browser protection with the help of Windows Application Compatibility and the Windows AppInit DLL method.
To ensure a level playing-field for all applications, some tests required Kaspersky Internet Security to run with all its subsystems disabled apart from Safe Money. Even that could not prevent the product from successfully blocking all threats.
"Not every security technology can effectively combat current financial cyberthreats. Even fewer are able to cope with this task consistently in the face of an ever-changing threat landscape. Safe Money is constantly, from test to test, proving its effectiveness. That is why we are pleased to grant Kaspersky Lab the Online Banking/Browser Security Award 2014/15", said Sveta Miladinov, the founder and CEO of MRG Effitas.
Eugene Kaspersky, chairman and CEO of Kaspersky Lab, commented on the results of the studies: "Independent specialized tests are very useful for both customers and developers alike. I'm pleased that our solutions have returned good results in near-real-world conditions. It's long been clear that protection on the Internet can't be just a matter of basic antivirus alone; it's also very important to have other things fully secured too, like for example one's finances."
Safe Money is a key Kaspersky Lab security technology. It serves to protect banking transactions and is integrated into its products for home users and corporate solutions. The technology provides multi-level protection for the user's financial activity by checking the computer for malware, ensuring that the payment site is authentic, and safeguarding transactions.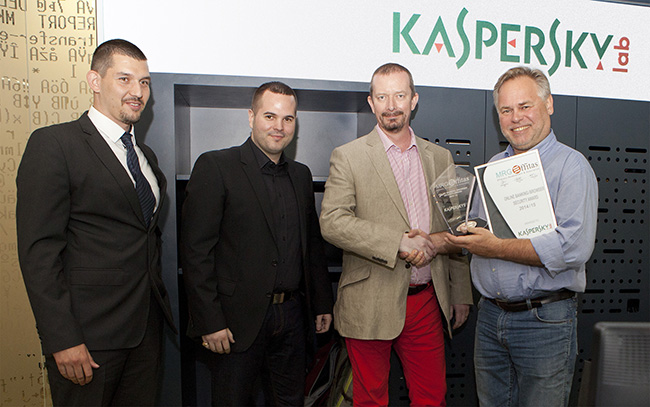 From left to right: Zoltán Balázs, CTO of MRG Effitas / Effitas Group; Sveta Miladinov, Founder and CEO of MRG Effitas; Chris Pickard, CEO of Effitas Group; Eugene Kaspersky, Chairman and CEO of Kaspersky Lab.
The Online Banking/Browser Security Award trophy is shaped like a shield with a coin bearing the Effitas logo positioned on a pedestal behind it. The focus can be on the shield or on the coin resting on the pedestal. The shield symbolizes protection and security, while the coin symbolizes value and wealth. The shape can also be interpreted as an open shell in which a coin is shown instead of a pearl. The carbon fiber frame on the shield and the pedestal symbolizes the use of advanced technology, security and safety.
Kaspersky Lab's Safe Money Technology Recognized as Outstanding by MRG Effitas
Kaspersky
Safe Money, Kaspersky Lab's technology for protecting online payments, has once again earned the recognition of international experts.