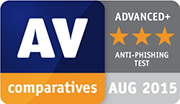 The new version of Kaspersky Internet Security has received the highest Advanced+ award as a result of the anti-phishing technologytestconducted by AV-Comparatives. The Kaspersky Lab solution did not produce a single false positive and successfully blocked 98% of phishing URLs, allowing it to stay well ahead of competitors.
The AV-Comparatives test assessed the anti-phishing protection offered by 10 security products from different vendors in a simulation that replicated typical web browsing conditions. During the testing, all products used default settings; to follow the links, Internet Explorer 11 with the disabled anti-phishing module was used to provide browser independent results.
The AV-Comparatives experts selected 245 URLs from a collection of addresses of phishing sites. Those URLs met the following criteria: they were active at the time of testing, they were unique, and most importantly, they were designed to steal confidential information – such as credit card numbers, financial and bank service accounts, passwords to access email, social networking sites and online games, etc. To eliminate the effect of the time factor, all products were tested simultaneously (because the longer a phishing URL is active, the more likely that it will be listed in the database of malicious sites). As a result, Kaspersky Internet Security blocked 98% of dangerous links, beating the nearest competitor by 6%.
A mandatory requirement to get the Advanced+ certificate in this test was to produce no false positives while checking 500 legitimate banking sites. Kaspersky Internet Security demonstrated superior results in this test.
"New phishing web pages are created by cybercriminals daily, and social networking sites, instant messengers and mass mailings immediately distribute links to them to millions of users. Unfortunately, fake homepages of banks, social networking sites and other companies are in most cases exact replicas of the originals and it is not easy for a user to recognize a forgery. In such circumstances, the security of personal and banking data of the Internet users depends directly on the level of the anti-phishing technologies used. And the first place, achieved in this this test demonstrates that the Kaspersky Lab technology is highly effective at protecting its users", says Eugene Smirnov, Head of Content Filtering Research, Kaspersky Lab.
The award winning anti-phishing technology is integrated in the majority of Kaspersky Lab solutions designed both for home and for corporate use. Thanks to the multi-layer detection system, which involves local and cloud database checking and heuristic engine analysis, this technology makes it possible to reliably tell a legitimate website from a fake page. More information about this technology can be found here.
Kaspersky Lab Anti-Phishing Technology Shows Top Results in AV-Comparatives Test
Kaspersky
The new version of Kaspersky Internet Security has received the highest Advanced+ award as a result of the anti-phishing technology test conducted by AV-Comparatives