July 30, 2015
Kaspersky Lab Announces New Line of Consumer Protection Solutions with Enhanced Privacy Features
Kaspersky Lab presents new versions of its flagship security solutions for home users – Kaspersky Internet Security – Multi-Device and Kaspersky Total Security – Multi-Device.
Kaspersky Lab presents new versions of its flagship security solutions for home users – Kaspersky Internet Security – Multi-Device and Kaspersky Total Security – Multi-Device. These products were developed specifically to protect what matters most to users: their privacy, data, identity, money and the device itself. New solutions include updated technologies ensuring that users are protected whatever they do on their devices online and whichever platforms they choose: Windows, OS X or Android. A set of new features has been added with the aim to protect users' private lives.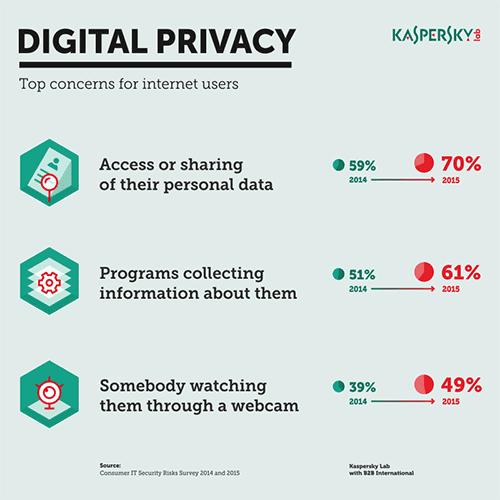 As Consumer IT Security Risks Survey 2015 showed, the number of Internet users that are concerned about their online privacy has significantly increased from last year. 70% of users are concerned that someone could gain access to their personal files, 61% worry that there may be programs on their devices collecting information about them, and 49% do not trust their own webcams – the cameras are known to be frequently used to spy on device owners. All of these issues require security solutions to find new ways of ensuring user privacy on their devices. The new versions of Kaspersky Internet Security – Multi-Device and Kaspersky Total Security – Multi-Device for Windows are designed with this in mind, incorporating new privacy protection technologies.
Social networks, advertising and analytical agencies often request information about users' browser activities, their locations, search history etc. They access this information via the browser and can resell it, and use it to show contextually targeted advertising to the user. Private Browsing removes such data from the Internet traffic and reports any blocked requests to the user via a dedicated plugin (which is available for Mozilla Firefox, Internet Explorer and Google Chrome). Kaspersky Lab's technology is different from other tools incorporated into browsers: the product does more than preventing users from being identified via cookie files, or warning sites that it does not wish to transmit data that could track users; it actually guarantees that this data will not leave the device.
It is also common for additional extensions to be incorporated on the user's device without the user's knowledge when freeware is installed. Those changes could affect the browser home page and default search engine, or install extra plugins and / or extensions etc. In addition, network and system configurations could be modified without the device owner's consent. All these elements potentially encroach on user privacy, since some plugins and extensions may also collect information about users and their online behavior and use it for different purposes. Change Control* detects any process attempting to introduce such changes, reports that to the user and asks for the process to be expressly permitted, or blocked.
"Personal privacy is everybody's inalienable right, whether it's in the real or the virtual world. This is why we at Kaspersky Lab do all we can to protect everything of value to our users – their personal files and privacy – from cybercriminals and other curious residents of the Internet. Naturally, these measures will be more effective if users follow safer Internet practices: protect their devices and accounts with strong passwords, avoid downloading files from untrusted sources, and run regular scans for cyberthreats on their computers," said Elena Kharchenko, Head of Consumer Product Management, Kaspersky Lab.
In addition, the updated Privacy Cleaner tool helps remove all traces of user activity from a Windows computer, including the browser history, the list of the latest documents opened etc. In turn, the Webcam Protection feature prevents the interception of images from the webcam, notifies users when it is accessed by legitimate applications and gives the opportunity to block all access to the camera.
Since the cyberthreat landscape is a constantly evolving subject, we strongly recommend users to regularly update their security products to the latest versions in order to ensure the latest protection advancements are in place. All Kaspersky Lab's flagship home products include free automatic updates and upgrades and can be managed remotely via personal My Kaspersky account.
*The 'Change Control' feature is disabled by default. It can be enabled in the product's configuration .
Articles related to Product news
Kaspersky Lab has published its report on botnet-assisted DDoS attacks for the second quarter of 2018

Learn more >

In the modern world, people are making an everyday compromise between the opportunity to constantly stay connected, or preserve their privacy.

Learn more >

Kaspersky Internet Security has surpassed a host of rival solutions to receive the annual MRG Effitas Online Banking/Browser Security Award 2017/18 after consistently passing quarterly banking certification tests across a 12-month period.

Learn more >