Kaspersky Lab joins forces with City of London Police to educate police forces and businesses across Britain on ways to tackle cybercrime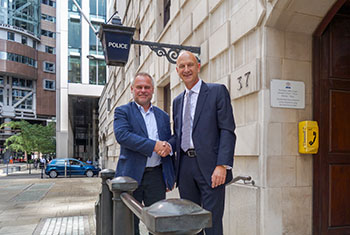 Cybercrime plays a huge part in fraud offence numbers today, with seven out of ten scams now internet-related, according to the National Fraud Intelligence Bureau. The complex and alien nature of such crimes however, means that they are not only difficult to combat, but also to detect and understand. To help tackle the rise in cybercrime, City of London Police has enlisted internet security experts, Kaspersky Lab, to train its police officers at all levels on these ever-growing threats. This innovative training program, the first of its kind with UK law enforcement, will provide them with the skills and knowledge to identify and resolve these crimes – from an individual victim encountering fraud during an online shopping-spree to a business losing thousands of pounds from a targeted attack.
The scheme will extend into further services and large enterprises across the UK, aiming to upskill UK industry on ways to protect themselves against cyber-attacks. Coupled with theoretical knowledge, the week-long training program delivered by experts from Kaspersky's GReAT group allows for a real hands-on experience, teaching vital skills such as inspecting network traffic, analysing hard-drive images and decompiling malicious software using specialised training tools and methodology developed by Kaspersky Lab. The training will also address the need for businesses to improve fraud reporting, to ensure police services and security agencies have a clear view of the issue.
The first of these programs was attended and successfully completed by the National Fraud Intelligence Bureau in February this year. While the course places emphasis on threats that are aimed at financial organisations and government bodies, which are the top targets for online fraud in the UK, the skills learnt by attendees will also be applicable when combatting the cyber threats the general public face.
"As the complexity of cybercrime constantly increases, it's imperative that the service's knowledge of such threats increases at the same pace," comments David Clark, Det Chief Supt Economic Crime Directorate of the City of London Police. "With over 21,000 computer misuse crimes in the UK in the first quarter of 20141, it's clear that people and businesses are at risk and need protecting. The UK police service needs to be ready to identify these crimes and have the knowledge to tackle them head on. This partnership with Kaspersky Lab further underlines our role as the national policing lead for economic crime and will enhance our capability for combating fraud and cybercrime nationwide" adds David.
"It's an honor for Kaspersky Lab to use this opportunity to equip City of London Police with our extensive and predictive security intelligence," commented Veniamin Levtsov, Vice-President, Corporate Sales and Business Development. "We have already spent 17 years developing a set of powerful techniques for data acquisition and investigation of cyber-crimes, and it should become a valuable tool for the law enforcement authorities in the United Kingdom."
About City of London Police / Action Fraud
Since April 2013, Action Fraud has been responsible for recording all non-emergency fraud crime reports for police forces in England and Wales. One year on, Action Fraud now collects and transfers to the NFIB approximately 18,000 reports of fraud, 15,000 information reports and 2,000 computer misuse reports each month coming from members of the public as well as small, medium and large businesses.
The City of London Police already runs the National Fraud Intelligence Bureau (NFIB). The NFIB is the central repository for fraud and cybercrime intelligence, analysing millions of reports (including those from Action Fraud) to identify serial fraudsters, organised crime gangs and emerging and established crime threats. This intelligence is used to provide law enforcement agencies across England and Wales with the information they need to launch criminal investigations and to raise awareness across the country and in the public and private sector of the latest threats. The City of London Police is now responsible for the entire end-to-end Action Fraud and NFIB service – with all staff located in the same office in the Square Mile.
About Kaspersky Lab
Kaspersky Lab is the world's largest privately held vendor of endpoint protection solutions. The company is ranked among the world's top four vendors of security solutions for endpoint users*. Throughout its more than 17-year history Kaspersky Lab has remained an innovator in IT security and provides effective digital security solutions for large enterprises, SMBs and consumers. Kaspersky Lab, with its holding company registered in the United Kingdom, currently operates in almost 200 countries and territories across the globe, providing protection for over 300 million users worldwide. Learn more at www.kaspersky.com.
---
1Office of National Statistics, 2014