December 20, 2010
Eugene Kaspersky has Won a Prestigious Runet Prize
Kaspersky Lab, a leading developer of secure content and threat management solutions announces that Eugene Kaspersky, company's CEO and Co-Founder, has won a prestigious Runet prize for his contribution to the Russian-language segment of the Internet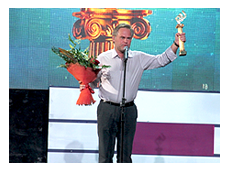 Kaspersky Lab, a leading developer of secure content and threat management solutions announces that Eugene Kaspersky, company's CEO and Co-Founder, has won a prestigious Runet prize for his contribution to the Russian-language segment of the Internet. The awards ceremony took place on 25 November and was shown live on russian television.
Eugene Kaspersky is one of the world's leading antivirus experts with over 20 years of experience in the field of information security behind him. Inspired to research computer viruses in 1989 after he discovered the Cascade virus on his computer, Eugene went on to work at the KAMI Information Technologies Center from '91 to '97, developing the AVP antivirus project together with a group of like-minded associates. In November 2000, AVP was redubbed Kaspersky Anti-Virus, a name that still appears in the Company's product range today. Eugene Kaspersky co-founded Kaspersky Lab in 1997, and was appointed CEO of the Company in 2007. Over the years, the Company has demonstrated prolific growth and its pioneering work has led to numerous breakthroughs in antivirus protection.
"You have to work hard if you want to achieve things. Everyone knows this simple rule, but not everyone has what it takes to follow it. When we founded Kaspersky Lab almost 15 years ago, nobody thought about the difficulties; we saw what we had to do and just focused on achieving our goal. Thanks to well coordinated work by our whole team, Kaspersky Lab can now quite deservedly be proud of its success, which has been confirmed by our nomination for a Runet award," said Eugene Kaspersky. "This prize not only awards the market leaders but also acts as a catalyst for new hi-tech projects and provides the perfect incentive for start-ups. It can't be reiterated enough: if you want to achieve things, you have to work hard. To keep on achieving things, you need to be able to broadcast your success to the world!"
About Kaspersky Lab
Kaspersky Lab is the largest antivirus company in Europe. It delivers some of the world's most immediate protection against IT security threats, including viruses, spyware, crimeware, hackers, phishing, and spam. The company is ranked among the world's top four vendors of security solutions for endpoint users. Kaspersky Lab products provide superior detection rates and one of the industry's fastest outbreak response times for home users, SMBs, large enterprises and the mobile computing environment. Kaspersky® technology is also used worldwide inside the products and services of the industry's leading IT security solution providers. Learn more at: www.kaspersky.com. For the latest on antivirus, anti-spyware, anti-spam and other IT security issues and trends, visit: www.securelist.com.
About the Runet Prize
The Runet Prize is a professional award that was established in 2004 by the Russian Federal Agency on Press and Mass Communications to promote outstanding achievements by companies in the field of IT and digital communications, and to provide recognition for state and public organizations, business structures and individuals that have contributed to the development of the Russian segment of the Internet. More than 140 Russian and foreign organizations have been presented with awards for their achievements in various categories over the prize's seven-year history.
Articles related to Business News
Company cites reputational and revenue impact of a Binding Operational Directive based on media reports, rumor and unsubstantiated allegations

Learn more >

One of the fastest growing types of threat among the multitude targeting industrial organizations in 2017 was targeted attacks.

Learn more >

As part of its mission to tackle online fraud, Kaspersky Lab has become the latest company to join forces with the Merchant Risk Council as Premier Solution Provider.

Learn more >