Reinhard Brandl, Member of German Bundestag, visits Kaspersky's German headquarters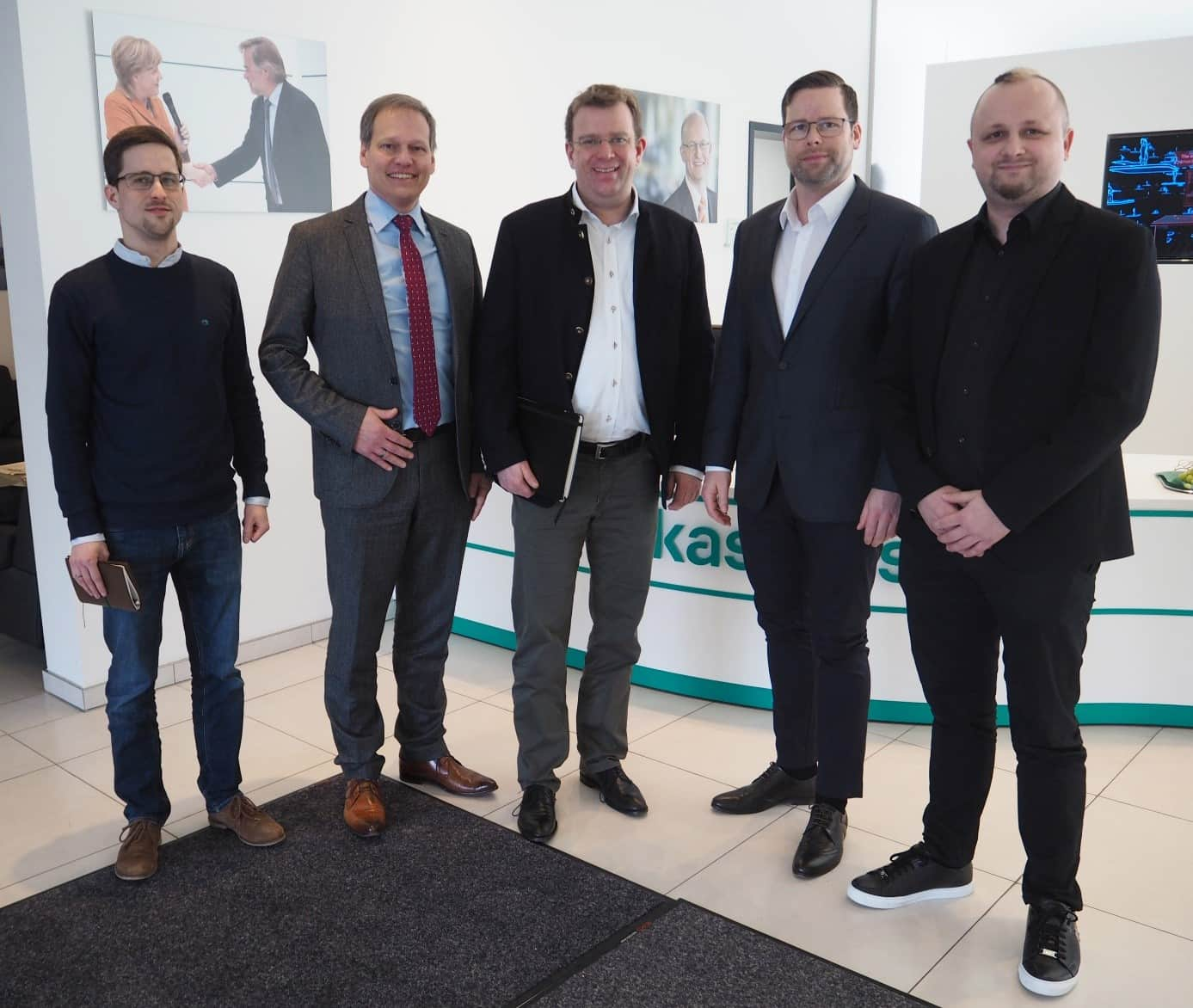 Jochen Michels, Head of Public Affairs, Europe
Exchange on the current cybersecurity landscape – dialogue between politics, business, science and civil society is required to strengthen cybersecurity
Dr. Reinhard Brandl, a directly elected member of the German Bundestag representing the constituency of Ingolstadt (CSU), visited the German headquarters of international cybersecurity company Kaspersky in Ingolstadt today. He was welcomed by Christian Milde, General Manager DACH (Germany/Austria/Switzerland) since the beginning of January. Brandl found out about the company's activities in Germany and Europe and received insights and outlooks for current trends and developments in cyberspace. Another topic on the agenda was Kaspersky's Global Transparency Initiative.
Christian Funk, who heads Kaspersky's Global Research & Analysis Team (GReAT) in the DACH region, provided information on the current IT security situation. GReAT is an elite group of security experts working on cybersecurity around the world and providing leading information and research on cyberthreats. The team is best known for discovering and exposing some of the world's most sophisticated threats, including cyber-espionage and cybersabotage. The GReAT team regularly publishes reports, analyses and forecasts on issues such as the security of networked industrial systems, healthcare, finance and new technologies such as 5G.
Jochen Michels, Head of Public Affairs Europe at Kaspersky, gave a report on Kaspersky's Global Transparency Initiative. The initiative has seen Kaspersky take numerous measures over the past two years to increase transparency and strengthen trust in its products, solutions and services. For example, companies, as well as regulatory and government agencies, can review the source code of software, software updates and threat detection rules in Transparency Centers. Kaspersky is thus setting standards in the IT security industry. Kaspersky has also undergone various independent external audits and certification, most recently the ISO/IEC 27001:2013 certification by TÜV Austria.
One thing became particularly clear during the discussion: IT security is a joint task for politics, business, science and society. Dr. Reinhard Brandl: "I'm pleased that Kaspersky, a company from my constituency, is making important contributions to strengthening IT and cybersecurity in Germany and Europe. The fact that Kaspersky is contributing its expertise to important initiatives in Germany, such as the 'Allianz für Cybersicherheit' set up by the Federal Office for Information Security or the 'Deutschland sicher im Netz' initiative, shows that the company takes the raising of awareness and sensitization of cybersecurity among citizens, administrations and companies – especially small and medium-sized enterprises – seriously." Brandl was also impressed by the expert knowledge: "Today I was able to gain new findings from the company's research and analysis work at the Ingolstadt office and worldwide."
Christian Milde emphasized how important the exchange between politics, business, science and society is: "No actor can meet the challenges of cybersecurity alone. Suitable strategies and solutions can be developed through mutual exchange." The Kaspersky manager also points out the international dimension of cybersecurity: "Cybercrime knows no borders. As a partner of Interpol and Europol, for example, we contribute to the fight against online crime." Milde also emphasizes one important aspect: "Digitization brings new opportunities for the economy and society. With our offerings, we want to enable secure digitization, for example, through our solutions for securing networked industrial plants, critical infrastructures or healthcare facilities, but also through threat intelligence and various services."
Reinhard Brandl, Member of German Bundestag, visits Kaspersky's German headquarters
Kaspersky
Exchange on the current cybersecurity landscape – dialogue between politics, business, science and civil society is required to strengthen cybersecurity