Community Talks on Cyber Diplomacy (#1)
Published on November 16, 2020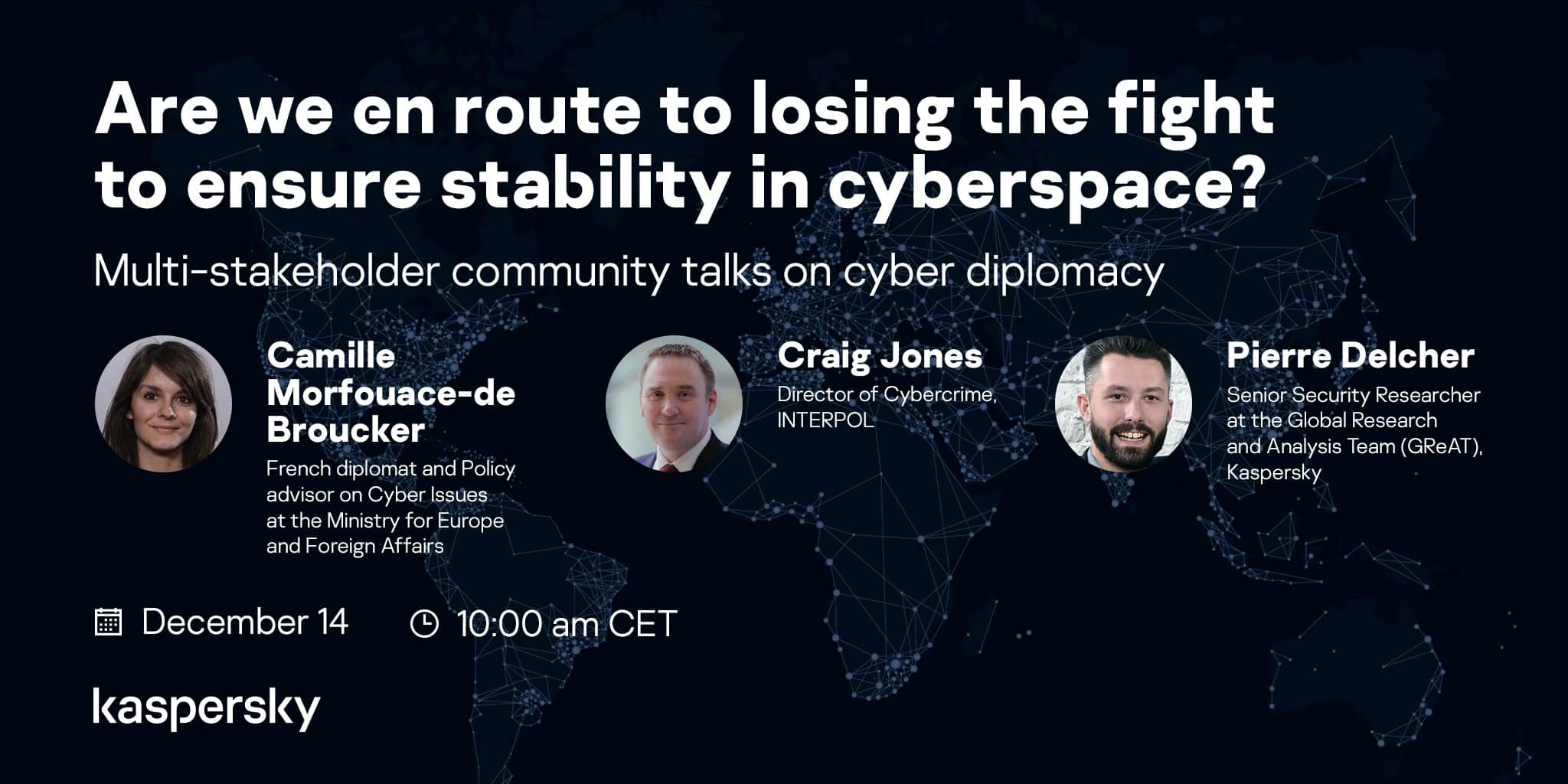 Anastasiya Kazakova, Public Affairs Manager

Some would say that – yes, finally, this strange year of 2020 year is nearing its end and hopefully next year will be less stressful for all of us (and we're certainly among those saying it ). But still, this year was an important one for those who work to ensure that all things cyber are stable, secure and safe.
Just before the holiday season starts, we gathered for the first in a series of multi-stakeholder Community Talks on Cyber Diplomacy to review 2020 and, particularly, discuss if we as a global community might be heading toward losing the fight against cyberthreats.
Are we a step closer to reaching stability in cyberspace or not? Should we close the 2020 chapter on a pessimistic or optimistic note? Are we losing or winning the fight to ensure stability in cyberspace?
We gathered cyberdiplomats, cybersecurity researchers, the technical community, academia, and law enforcement professionals, who all help fight cyberthreats but from different angles.
We discussed three questions:
What we do well and what are the best practices;
Where we failed or are failing; and
What, accordingly, should the priorities be for further work.
We shared what we know, asked about what we don't know, and talked and discussed to learn from each other as to how to best keep cyberspace a comfortable and secure place for all of us.
So what did we discover in the first Community Talk? Has anything positive happened to us in 2020?
(Note: Though many of us might believe that the year 2020 has been challenging and number of cyberattacks around the world continues to grow, we still witnessed many important achievements at the global level.)
For the first Talk we had the pleasure of having the following experts participate:
Camille Morfouace-de Broucker, French diplomat and policy advisor on cyber issues at the Ministry for Europe and Foreign Affairs (@CMorfouace);
Craig Jones, Director of Cybercrime, INTERPOL (@INTERPOL_Cyber); and
Pierre Delcher, Senior Security Researcher of the Global Research and Analysis Team (GReAT), Kaspersky (@securechicken).
Starting with the positive reflections (recalling the good things that occurred in cyberspace in 2020), we learned that, from a cyber diplomacy perspective, the global community has progressed in strengthening multi-stakeholder consultations within the UN OEWG, which recently launched its 'LetsTalkCyber' Dialogue Series. Camille also noted that France, particularly, decided to take a step further to create a more inclusive and action-orientated framework, with dedicated discussions open to exchanges with other stakeholders to make the UN cyber-stability framework work. Thus, France, as 45 other States proposed to create a Programme of Action under UN auspices.
From a law enforcement angle, Director Jones shared that during the pandemic INTERPOL had to swiftly adapt its work to the new environment, since the criminals adapted very quickly to exploit the COVID-19 situation. However, cybercriminals' attacks and methodologies have not changed, while INTERPOL managed to successfully work with national police and 12 private partners for remote cybercrime investigations. The national cybercrime untiscontinue work effectively in the online format. Raising awareness remains important work, and INTERPOL also launched the #WashYourCyberHands campaign to ensure that both individuals and businesses are equipped with the knowledge of how to protect their systems and data.
Finally, Pierre, speaking on behalf of the cybersecurity research community, highlighted that in 2020 threat-intelligence researchers managed to successfully discover new attacks and threats, including advanced state-sponsored activities, and the Kaspersky team demonstrated that 2020 threat predictions were accurate: notably, GReAT anticipated an increase of targeted ransomware and geopolitics as the driving force behind APT attacks (btw, check the 2021 threat landscape predictions here). Pierre also mentioned that the pandemic hasn't prevented researchers from advancing cybercriminal investigations together, including with the technical community and LEAs (Europol and INTERPOL). In 2020, Kaspersky also joined FIRST to enhance cooperation with the network of CERTs.
Were there failures in our work? And if yes, what are the priorities for 2021?
Despite the achievements, there is still a lot to do to further cyberstability. Camille mentioned that capacity building and developing further cyber governance as the 'fruit' of discussions between states and all stakeholders – the key to cyberstability. Multi-stakeholder engagement is essential and this idea is at the heart of the Paris Call, and in 2021 there will be six Working Groups for achieving more practical results. Within the UN, we need to work on national implementation of already agreed 'cyber-norms', and hopefully within the UN we will be able to have an inclusive framework to focus on how countries implement norms and which capacities they might need for that.
Director Jones agreed that the standard-setting process at the UN is critical. INTERPOL wants to protect the community and prevent cybercrime, but doing this job in the global context is still challenging: not all countries have yet prioritized the cybercrime issue and not all countries have legislation covering it; in many cases – roles and responsibilities remain unclear. Therefore, we have different definitions and different understandings of the one and the same problem. Addressing security-by-design in technologies and enhancing trust for building stability are also existing challenges. Quite often, national strategies look great on paper, but in practice there's a lot of work still to do to make them really work, with sufficient resources and sufficient harmonization. Addressing a question from Dr. Katherine Getao, CEO of ICT Authority, Kenya,about how police forces should collaborate in a more visible way, INTERPOL will continue building closer networks among national police forces, boosting cooperation with FIRST for an effective cyber global response program, and further establishing partnerships with private actors.
Pierre agreed on closer cooperation, but said that we as a global community are still failing to make cyberspace more stable. Attacks grow, states are rapidly developing military and offensive cyber capabilities with little transparency and this alarming trend might exacerbate the existing risks in cyberspace. Speaking on behalf of cybersecurity researchers, Pierre stressed that we need effective global cooperative regulation or control mechanisms to prevent confrontation in cyberspace, and to enhance transparency on the use and development of cyber capabilities.
To a question from Eric Axel Behrendt, Global Corporate Development Manager, APAC, TÜViT, asking if a code of conduct for responsible behavior is possible in this regard, Camille recalled that this is a separate process within the UN to fighting cyber criminality, and targeted answers should be developed to targeted problems. For a start, we need to ensure that all understand the rules in cyberspace and that there's enough knowledge to check that agreed norms are implemented. That's why France proposed the PoA as a next step forward and a more pragmatic approach.
Blitz poll!
As the main purpose is to learn from each other, we also asked three quick 'blitz poll' questions to the experts:
The key event of 2020 that had the greatest impact on the global community?
All three experts agreed that it was the pandemic, changing our work and life in general.
The key event/process the community needs to follow in 2021?
Pierre answered the Security Analyst Summit (SAS); Camille mentioned the upcoming reports of the UN OEWG (March 2021) and UN GGE (May 2021); while Director Jones stressed that the year 2021 will be important for INTERPOL in building a closer and more effective cooperative network among national crime units, private partners, and the technical community.
What to read/check for learning more about cyber diplomacy?
Books on reverse-engineering are #1 in Pierre's list; Camille announced that in 2021 the Paris Call should publish the results of the exchanges of the working groupe; while Director Jones stated that INTERPOL's global threat assessment report will be published next year too.
Before you go
Before you go, please check the following useful resources shared at the Talk:
You can re-watch the Community Talk here https://kas.pr/g4ss.
Community Talks on Cyber Diplomacy (#1)
Kaspersky
Some would say that – yes, finally, this strange year of 2020 year is nearing its end and hopefully next year will be less stressful for all of us (and we're certainly among those saying it ). But still, this year was an important one for those who work to ensure that all things cyber are stable, secure and safe.