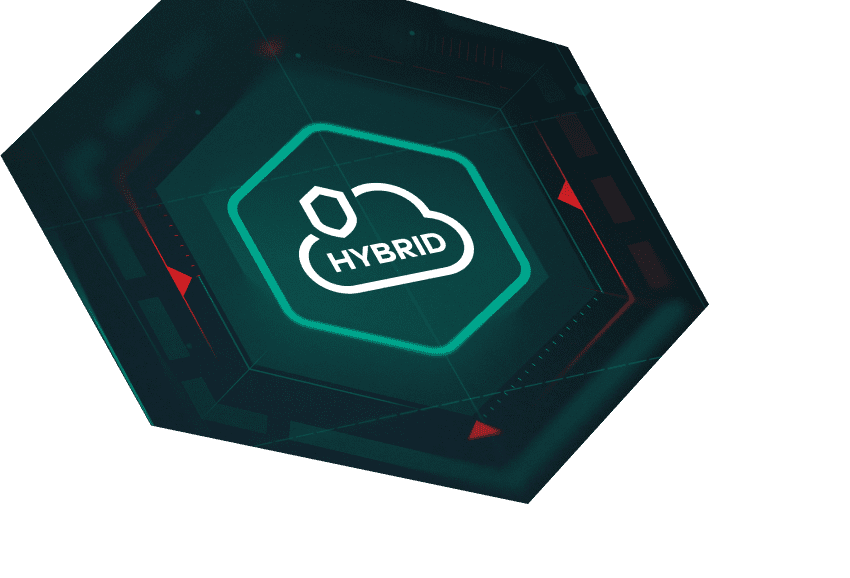 Product
Kaspersky Hybrid Cloud Security
Proven cloud-native protection and the best performance
for your hybrid environment
Benefits
Today's business focus on digital transformation is triggering rapid cloud adoption. Kaspersky Hybrid Cloud Security keeps that process safe and efficient. With one product for all your cloud security needs, one license for all workloads, and one console to manage your whole hybrid infrastructure, security becomes one less thing to worry about – leaving you free to focus on other aspects of your digital transformation journey.
Multi-layered threat protection proactively fights the broadest range of cyberattacks including malware, phishing, and more.
Our flexible licensing model and a unified cloud console streamline costs and save labor hours, helping you get the most from your security budget.
Optimum security performance
The platform-agnostic product provides outstanding protection without in any way compromising the full benefits of virtualization and cloud-based operations.
Regulatory compliance support
The wide range of features supports full compliance with cybersecurity regulations and reduces the number of routine manual tasks involved in ensuring adherence.
Use cases
Kaspersky Hybrid Cloud Security protects your entire hybrid infrastructure, whatever the workload – physical, virtualized, or based in private, public, or hybrid clouds. Whatever your infrastructure, and however it's evolving, we'll make sure everything's running smoothly and safely.
Best performance

Light agents optimized for each OS efficiently reduce consumption of virtualization resources by as much as 30%.

Dedicated solution

The product supports a wide range of server virtualization and VDI platforms, including VMWare vSphere, Microsoft HyperV, Citrix Hypervisor and more.

Smart optimizations

A number of optimizations - including shared cache which shares the results of file scans - decrease the amount of data and the number of operations involved, minimizing the overall load on your IT infrastructure by dramatically reducing IOPS, CPU cycles, memory usage, and disk footprints.
Case studies
See how organizations and businesses are benefiting from Kaspersky Hybrid Cloud Security.
As a closely regulated and scrutinized financial services institution, this Texas-based bank has stringent requirements to keep the huge quantities of personal data it holds on behalf of individuals and organizations secure against increasingly sophisticated and persistent attacks by cybercriminals.
Read more

 
Brazilian customer experience specialist NEO was looking for a solution that could protect the company against digital threats, viruses and malware. After running proof of concept exercises with market leaders identified by Gartner, the Kaspersky solution was the most robust and cost-effective.
Read more

 
Suitable for
Organizations with cloud-native architectures, those focused on cloud migration and digital transformation, DevOps practitioners, and highly-regulated businesses with compliance concerns.
What our users say about us
Our success is measured by you
Smart Solution for Protecting Virtual and Cloud Environments
Allows you to provide higher performance and density of VMs on the host server, which leads to a faster return on investment. This solution uses all the technologies of Kaspersky, which allows you to get maximum protection.
One of The Best Solutions
Multi-platform solution. Allows you to solve the problem of protecting a virtual infrastructure with the minimum load on it. Ease of installation, integration with other vendor products.
Reliable and Convenient Solution
This solution helps to protect virtual and cloud environments, without affecting system performance or disrupting user experience. Protects virtual machines and Windows and Linux servers. Lets you manage the security of your entire hybrid infrastructure on a single console.
Safeguard for Virtual Machines
As we are transforming more towards digitalization in our production environment, we need to protect more against malware on our virtual machines and not just only physical laptops, servers and workstations. It is the perfect solution for protecting our virtual machines. It provides an exclusive protection VM, called an SVM. It can transfer high high-consuming operations to the SVM, such as virus scan which can help us to save RAM and CPU resources. It helps us to optimize resource consumption. It can perform various operations like file scanning and updates.
Premium Support 24/7
Professional help is available whenever you need it. Operating in more than 200 countries, from 34 offices worldwide, we have you covered 24/7/365.
Premium Support 24/7
Professional help is available whenever you need it. Operating in more than 200 countries, from 34 offices worldwide, we have you covered 24/7/365.
Kaspersky
Security for Storage
Protects network-attached storage systems with no performance compromise
Kaspersky
Endpoint Detection and Response Optimum
Build true defense-in-depth and your boost security efficiency using automated response and simple root cause analysis
Kaspersky
Managed Detection and Response
Continuously hunts, detects and responds to threats targeting your enterprise
Gartner Disclaimer.
Gartner Peer Insights content consists of the opinions of individual end users based on their own experiences with the vendors listed on the platform, should not be construed as statements of fact, nor do they represent the views of Gartner or its affiliates. Gartner does not endorse any vendor, product or service depicted in this content nor makes any warranties, expressed or implied, with respect to this content, about its accuracy or completeness, including any warranties of merchantability or fitness for a particular purpose.

The GARTNER PEER INSIGHTS Logo is a trademark and service mark of Gartner, Inc. and/or its affiliates and is used herein with permission. All rights reserved. Gartner Peer Insights reviews constitute the subjective opinions of individual end users based on their own experiences and do not represent the views of Gartner or its affiliates.