According to the 'Financial cyber threats in 2013' study carried out by Kaspersky Lab, financial malware targeting Bitcoin became extremely popular in 2013. The number of attacks targeting the crypto-currency increased more than 2.5 times and accounted for 8.3 million incidents.
Bitcoin was created especially for making anonymous e-payments and has become extremely popular over the last few years. In early 2013, the Bitcoin exchange rate was $13.6. By December it reached a record peak, exceeding $1,200. During the year several slumps occurred, but since April 2013 the price of a single virtual coin has not dropped below $80. This inevitably attracted the attention of fraudsters. Adding to the problem, bitcoins are often easy prey for cybercriminals: if users store bitcoins on their computers in an unencrypted form, attackers only need to steal the wallet file to get information about the "coins" within and access the victim's account.
More than 30 samples of finance-related malware were selected for Kaspersky Lab research. Nine of them were the program designed to steal the crypto-currency. These nine represented a total of 29% of all financial cyber attacks performed using malicious applications.
The tools used by cybercriminals to steal bitcoins can be divided into two categories. The first category includes programs created to steal wallet files. Applications in the second category are designed to install software for bitcoin generation ("mining") on an infected computer. In absolute terms the bitcoin wallet thieves performed twice as many attacks in 2013; however, the tools for "mining" developed more rapidly.
"During 2013 the value of bitcoins increased more than 85 times, and of course that attracted the attention of cybercriminals. By the end of the year the number of users attacked with malware targeting bitcoins was starting to close in on the number of those who faced more conventional banking cyber threats. Crypto-currency holders should be especially careful because it is almost impossible to recover any stolen money. This is the inherent risk in using a crypto-currency like Bitcoin that circulates without any government control," commented Sergey Lozhkin, Senior Security Researcher at Kaspersky Lab.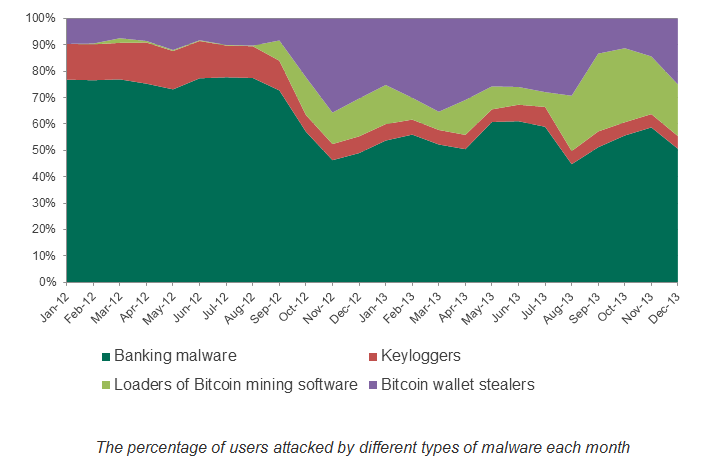 To use crypto-currencies safely, Kaspersky Lab experts advise storing wallet files on encrypted media. For long-term storage a user can make a transfer to a dedicated wallet or put the details down on paper. It is also necessary to provide reliable computer protection against malicious software using a reliable Internet Security class solution.
Home users can benefit from Kaspersky Internet Security, a security solution which in addition to the comprehensive set of protection technologies includes the Safe Money technology which protects user data during banking and e-payment sessions.
The 'Financial cyber threats in 2013' report used data obtained voluntarily from Kaspersky Security Network participants. Kaspersky Security Network is a globally distributed cloud-based infrastructure designed to quickly process depersonalized data about threats which users of Kaspersky Lab's products encounter.
More users, more attacks: Kaspersky Lab stats show a surge in Bitcoin cybercrime
Kaspersky
According to the 'Financial cyber threats in 2013' study carried out by Kaspersky Lab, financial malware targeting Bitcoin became extremely popular in 2013.