Critical Infrastructure Protection (CIP)
& Industrial Security
Cyber threats are targeting industrial control systems.
How can you protect your processes from disruption?
Overview
With cybercriminals becoming increasingly active, industrial control system (ICS) operators and manufacturing & process industries – including oil, gas and petrochemicals – plus companies and government organisations that run critical infrastructure, have never faced such significant security risks:
Attacks against ICS are growing in volume.
Complex threats – such as Stuxnet, Duqu, Flame or Gauss – are being copied by other attackers.
Greater connectivity is introducing new risks for critical infrastructure and industrial security.
As a leader in cyber-security, Kaspersky Lab is continually developing critical infrastructure protection solutions that do more to meet the specific requirements of industrial control systems and the organisations that are tasked with keeping critical infrastructure running.
Read more
KASPERSKY CIP INITIATIVES
There are significant differences between the security requirements of control systems and the protection needs of general business systems. Only cyber-security vendors that understand these differences are able to deliver security solutions that meet the unique needs of industrial control systems and critical infrastructure owners.

By establishing close relationships with government organisations and law enforcement agencies, Kaspersky is playing a leading role in helping industry and regulators to anticipate changes in the threat landscape and defend against attacks. In addition, Kaspersky's security experts are proactively developing innovative security technologies, approaches and frameworks.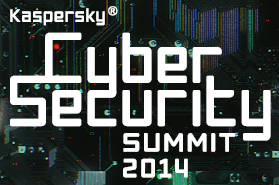 CyberSecurity Summit 2014
15 April, 2014 – San Francisco, CA
Kaspersky Lab, the world's largest privately held vendor of endpoint protection solutions, is organizing its annual CyberSecurity Summit. This event, focusing on "The State of Enterprise IT Security" and what it means for businesses worldwide, will be held on April 15th, 2014 at The St. Regis Hotel in San Francisco, U.S.A.
Kaspersky Lab is bringing together leading experts in IT security from the corporate, government and IT management fields to share their insights with the assembled guests. The event will closely examine the day-to-day realities of businesses and governments struggling to protect their invaluable digital assets against a rising tide of advanced threats built for espionage and the disruption of daily operations, as well as a gathering storm of highly sophisticated attacks from well-financed threat-actors who target the lucrative financial systems that power today's global economy. Whether these attacks are initiated by criminals seeking monetary profit or as an act of cyberwarfare, businesses around the world now find themselves targeted every day. The event will also provide expert perspectives on how threats to government-run critical infrastructure and privately-maintained financial services operations could have a profound effect on the global economy. Kaspersky Lab will also use this opportunity to reveal its vision of Enterprise Security after the panel sessions and presentations have been completed.
Learn more