When our Security Awareness team announced upcoming innovations using virtual reality, we were a bit worried our expert trainers had fallen for trendy technology hype, but it turns out the format only enhances Kaspersky Interactive Protection Simulation training.
Kaspersky Interactive Protection Simulation
Perhaps one of the most pressing cybersecurity problems we see to this day is a lack of understanding between infrastructure security personnel and corporate management. It is particularly common in industrial companies, where emergency cybersecurity measures are likely to affect production. Top managers understand the importance of information security in theory but have a poor idea of its real-life implementation, the infosec team's decisions, and the likely consequences of those decisions.
How do we get the managers and the infosec team onto the same page? Lectures? Not an option for busy top managers. It was with such managers in mind that we developed an interactive simulation format a few years ago: the Kaspersky Interactive Protection Simulation.
In our sessions, teams of several players (ideally including somebody from the infosec team and a representative business decision-maker) strive to protect a virtual enterprise from attacks and other IT incidents. The players use a limited budget and input from the moderator to try and build an optimal corporate protection strategy. Even if they fail in that safe environment, they'll gain unique experience and a better understanding of the inner workings of protective mechanisms and, most important, of how security directly affects income.
Over the years, many companies have used Kaspersky Interactive Protection Simulation with great success. According to feedback on the program, it's resulted in managers and directors asking fewer questions and approving cybersecurity budgets a lot more easily — all because the format avoids rote instruction and instead encourages team-building and participation.
Why VR?
Originally, the simulation required all players to be in the same room and share physical playing accessories — in this case, a game field and action cards — so a while back, we started thinking about how to migrate the simulation online. Then came 2020, with its pandemic, to accelerate the transition. As of last year, remote participation is not just a matter of convenience; many people have or had no choice.
Testing, however, revealed that something was lacking in the online simulation setup. Some people needed direct contact. Otherwise, the process felt a lot like any other conference call — routine and frankly a bit of a chore. The training had lost its immersiveness.
How could we keep the remote aspect of the simulation without losing players' interest? Judging by the pilot sessions, virtual reality was a winning choice. Now, VR goggles transport team members to a virtual control center from which they manage the security of a virtual industrial facility. VR shows rather than just tells them the results of their work.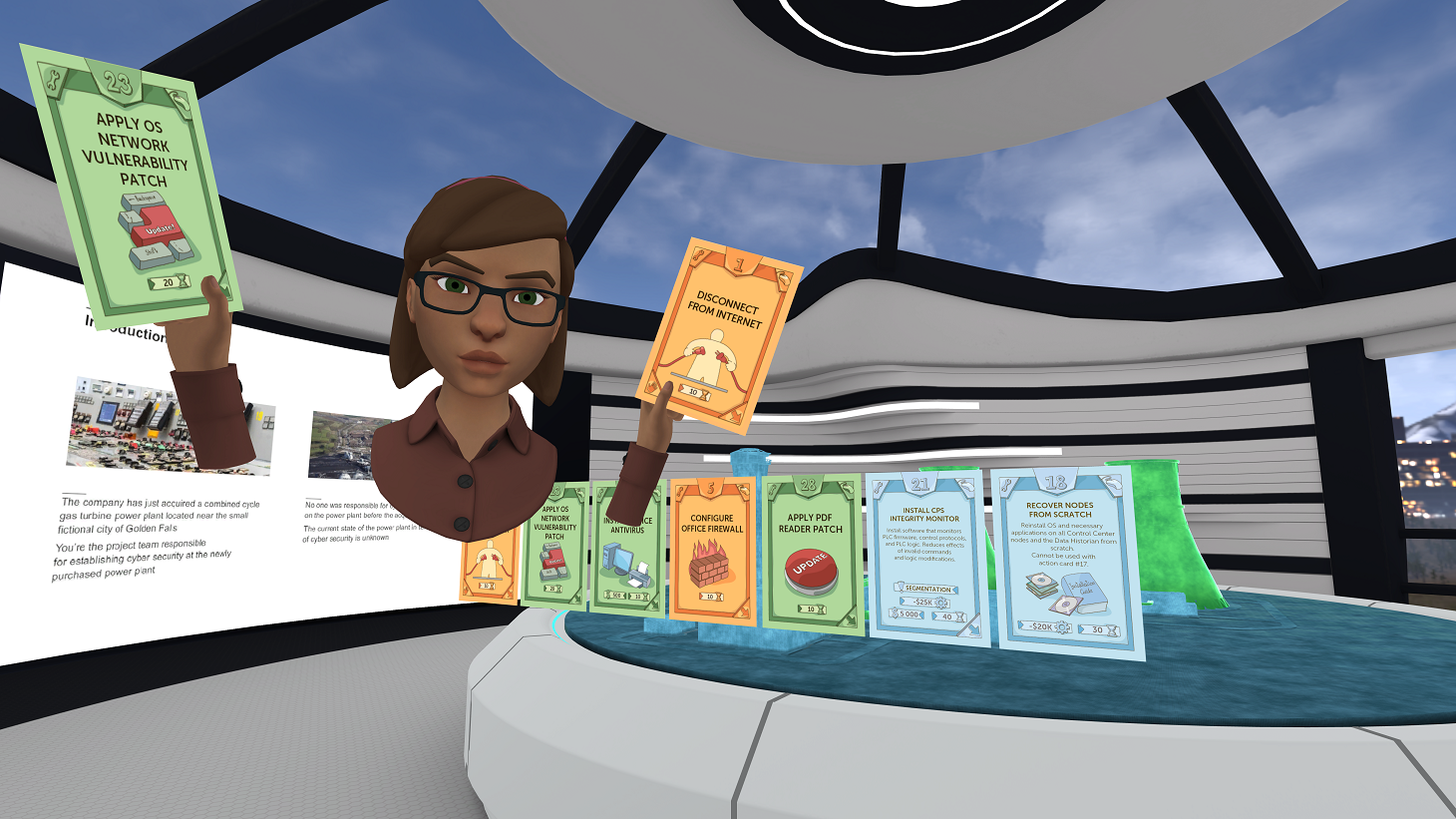 You can learn more about Kaspersky Interactive Protection Simulation Virtual Reality here.
How to join a simulation
We offer several Kaspersky Interactive Protection Simulation scenarios, representing several industries. So far only one — the power plant protection scenario — is available in VR, but others will follow soon. Participants need an Oculus Quest 2 VR system and a reliable Internet connection.
A Kaspersky instructor acts as the simulation moderator (and can also help with VR goggle rental as needed). To participate, contact us or your local Kaspersky partners.