It's always frustrating if your smartphone or tablet gets lost or stolen – and that frustration is compounded by the loss of valuable data stored in the device's memory. Worse still, lost banking information, such as credit card numbers, can prove hugely expensive, while surrendering passwords to social networks can gift criminals the opportunity to steal or tamper with your personal information. Clearly this data requires extra protection from prying eyes, which is where Kaspersky Lab's technologies come in.
In May 2012, Kaspersky Lab, in cooperation with O+K Research, conducted a poll among users all over the world, and found that mobile devices are fairly likely to be lost. Fourteen percent of respondents said their smartphone had been lost or stolen, 9% said the same about their tablet. Along with these devices, personal information stored on them may fall into the wrong hands. That could include your contacts, personal photos, emails and other confidential information. The best way to prevent yourself from becoming just another statistic is to take steps in advance to ensure the security of your device and your data. For example, you can set up automatic blocking of your smartphone or tablet PC, activated using a secret code or graphic password. Unfortunately, this form of protection is not that reliable and there are ways to bypass it. Besides, if a lost device is found by a good Samaritan who wants to return it to the owner, that task is complicated when there is no access to the contact list. To make life easier for the owners of mobile Android devices, Kaspersky Lab has added Anti-Theft technology to its Kaspersky Mobile Security and Kaspersky Tablet Security products. With this technology, the vendor's mobile solutions ensure data confidentiality and can help you find your lost or stolen device.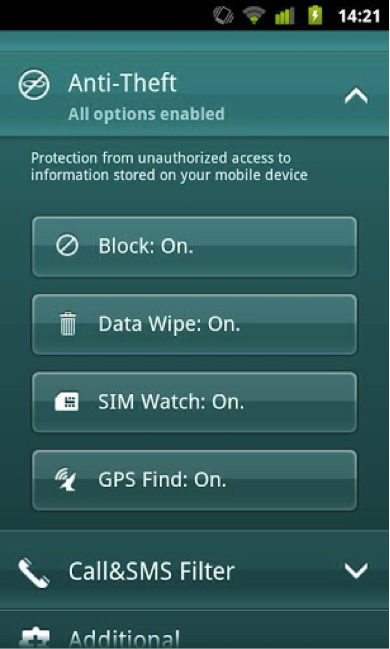 The Anti-Theft module enables you to remotely manage your mobile device. For instance, if it is lost, you can send a command to block it; this device will display your contact information and a message asking to return it to its legal owner. Hopefully, the finder will contact you, and the problem will be solved.
To start looking for your lost device on your own, use the GPS Find feature. This tracks down the device based on the data received from the device's GPS module, the nearest Wi-Fi network or the closest mobile phone base station (if the device has a GSM module). The received coordinates will be converted into a link to Google Maps which will be emailed to you. If you can't immediately find your device, then the extreme measure of deleting all your personal data can be used. The Data Wiper feature will remove all user information from the device's memory and return it to its original factory settings.
If you suspect your mobile device has been stolen, try to gather some information about the perpetrator. The Mugshot function available on any smartphone or tablet PC equipped with a frontal camera can secretly take a few shots of the device's new owner and then send them to you. Another feature may also be of use to smartphone owners: if the new owner replaces the SIM card, the SIM Watch function will automatically block the device and notify you of the new phone number. This information could be a big help in tracking down the perpetrator, but don't forget – Kaspersky Mobile Security and Kaspersky Tablet Security's advanced capabilities do not replace the functions of the law-enforcement agencies.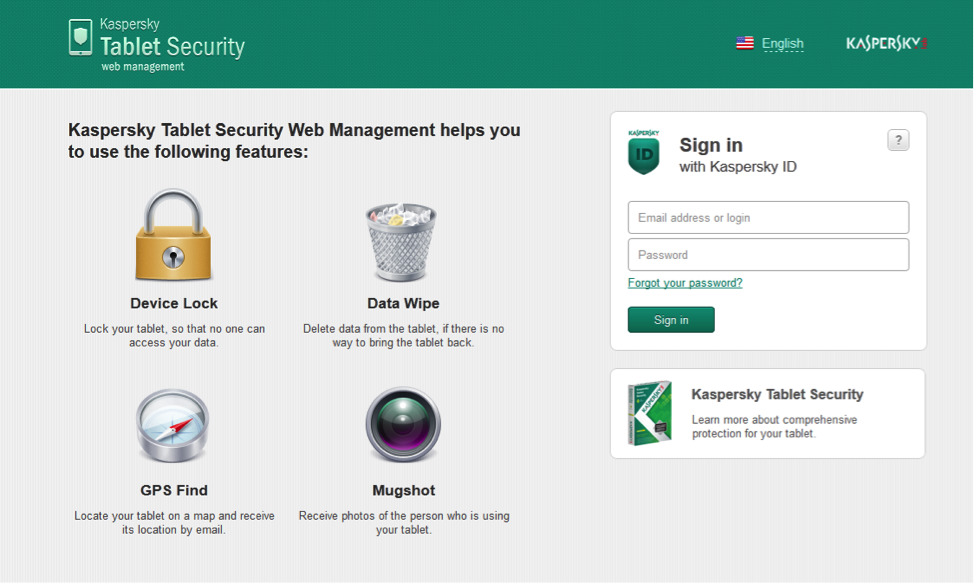 Anti-Theft offers two ways to remotely manage your device: a user-friendly web portal and special SMS commands. The two options have the same capabilities; the latter is more convenient on smartphones with no web access. The text commands are intuitively understandable and fairly easy to memorize; the key thing is not to forget the secret code that you installed when you first launched Kaspersky Mobile Security.
It's worth mentioning that there is more than just the Anti-Theft module to Kaspersky Mobile Security and Kaspersky Tablet Security. Both products offer reliable protection against cyber-threats, including file and web antivirus based on cloud technologies. Together they provide comprehensive protection for your mobile device and personal information.