Today we are going to talk about My Kaspersky. This Web portal lets users manage our security solutions on all of their devices remotely.
A brief historical note: My Kaspersky grew out of the Personal Account feature, a service that offered limited options such as submitting and tracking a tech support ticket. My Kaspersky also supports ticketing, but it has many other useful options, including:
Remote management of your security solutions;
Remote locking of your smartphone in case of loss or theft;
Secure storage and retrieval of your passwords and banking data;
Child safety features that can track your children's location and protect them online;
Check license information;
The ability to purchase Kaspersky products for yourself and others.
Here is a more detailed explanation of how to use all of these features.
Manage devices remotely
To start using My Kaspersky, sign up or log in. You can do so on any device, even if it has no antivirus installed. Then, connect the device you want to manage to your My Kaspersky account.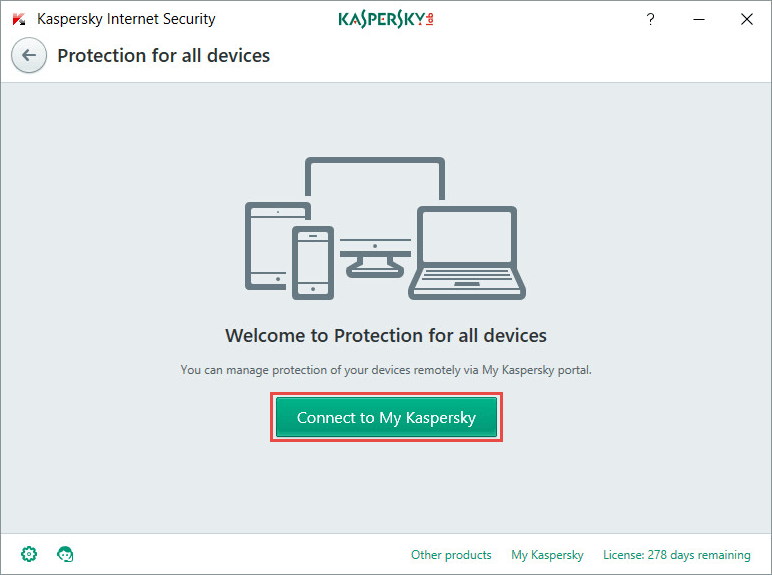 When connected you can do the following:
Start a full or quick scan of the device;
Update antivirus databases;
Turn security components on or off.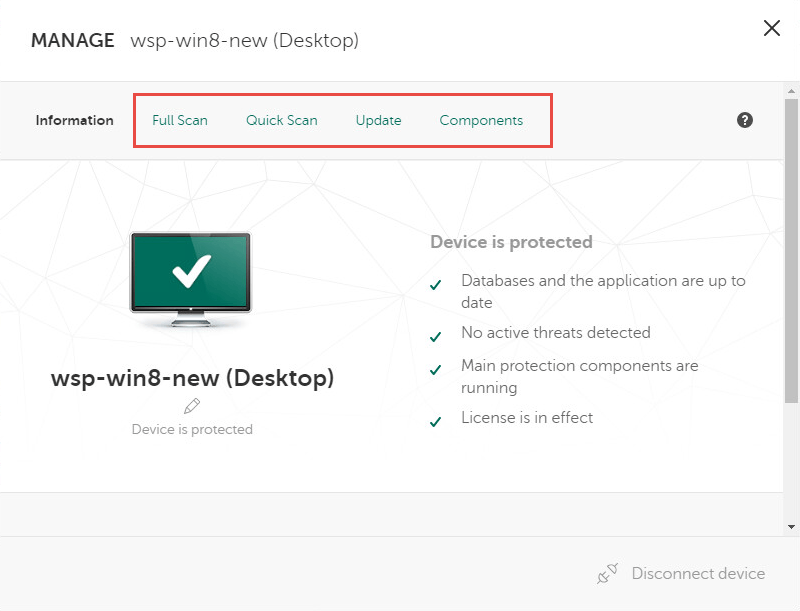 Click here for more information on how to manage Kaspersky Internet Security 2017 remotely.
Lock a device remotely
This feature works with Android devices. If you have Kaspersky Internet Security for Android installed on your smartphone or tablet, you can lock it in a moment with a single command sent from My Kaspersky.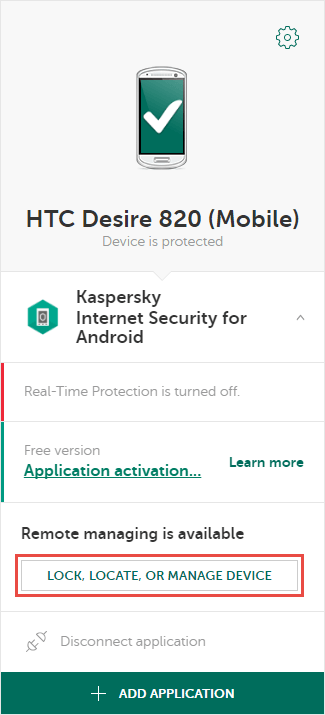 The website can be also used to do the following: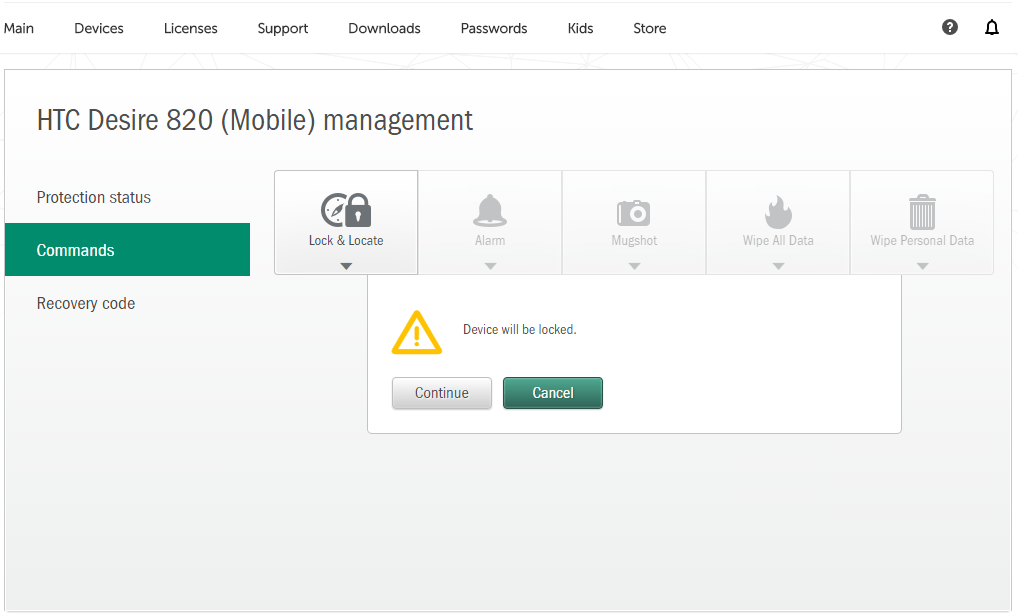 Click here to read more about remote management of lost devices.
Store passwords and notes securely
On My Kaspersky, you can securely store and use passwords for sites, apps, text notes, and banking card data — all in one place. This information is encrypted so that only you can use it.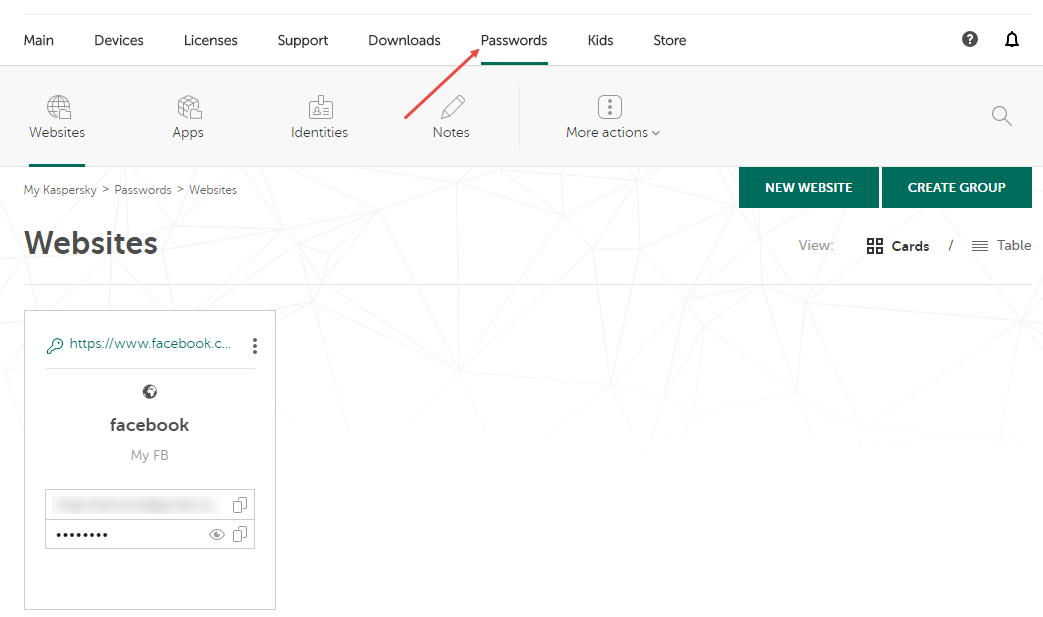 To access this data, you will need one password — just one, a master-password. You can also use Kaspersky Password Manager to do the same. But this is important: If you forget the master-password you won't be able to restore it.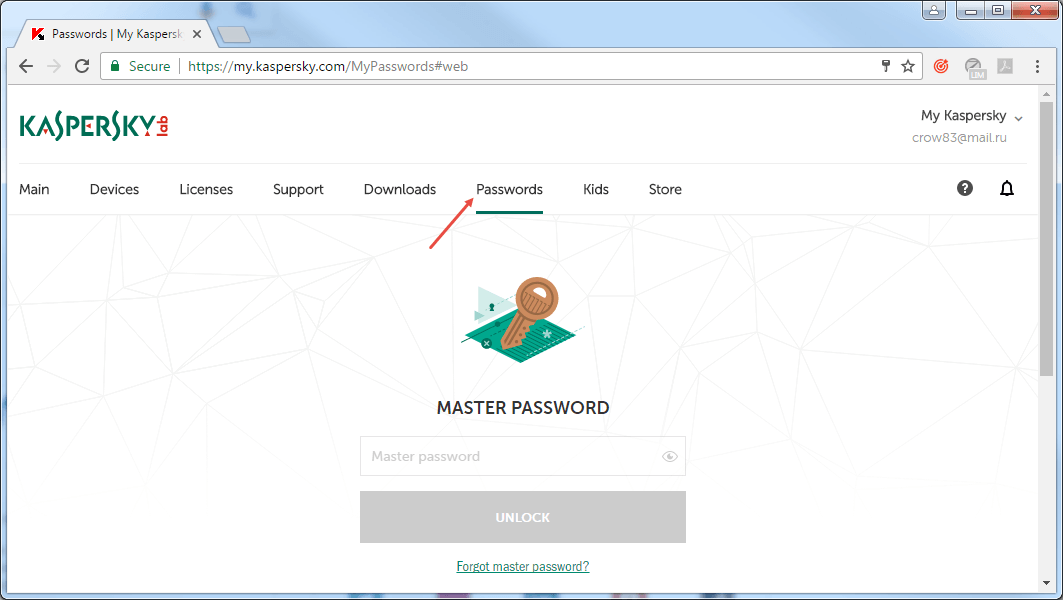 Locate and protect your children
You can use My Kaspersky to pinpoint the current location of your child's mobile device. This feature requires Kaspersky Safe Kids to be installed on their smartphone. This app works on Windows, Android, iOS, and macOS.
You can use My Kaspersky to:

You can find more about how My Kaspersky helps protect children in our Knowledge Base.
Check licenses
Open the Licenses tab on My Kaspersky to add a product activation code. Here you can also do the following:
Check a license expiration date;
See a list of licensed devices;
Extend a license;
Activate the license on a device connected to My Kaspersky;
Restore the activation code for a deleted security solution;
See, which products can be activated with your code.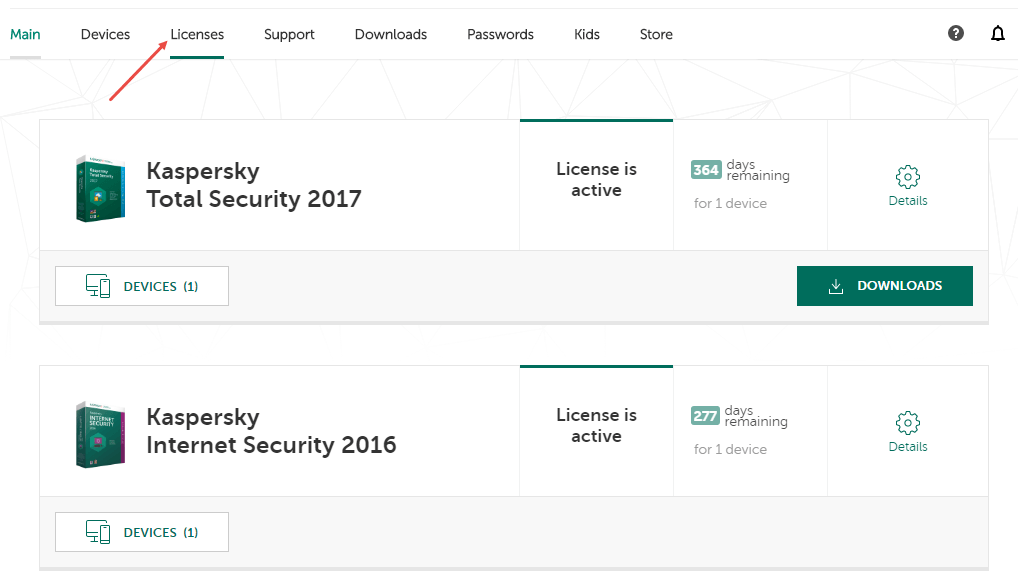 Purchase and download products
My Kaspersky also contains an online store where you can purchase our security solutions. When you do so, the new activation code is added to the Licenses tab on the site automatically. Then you can click the Downloads tab to get the installer. If you want to give the solution as a gift to another person, you can send the download link by e-mail.