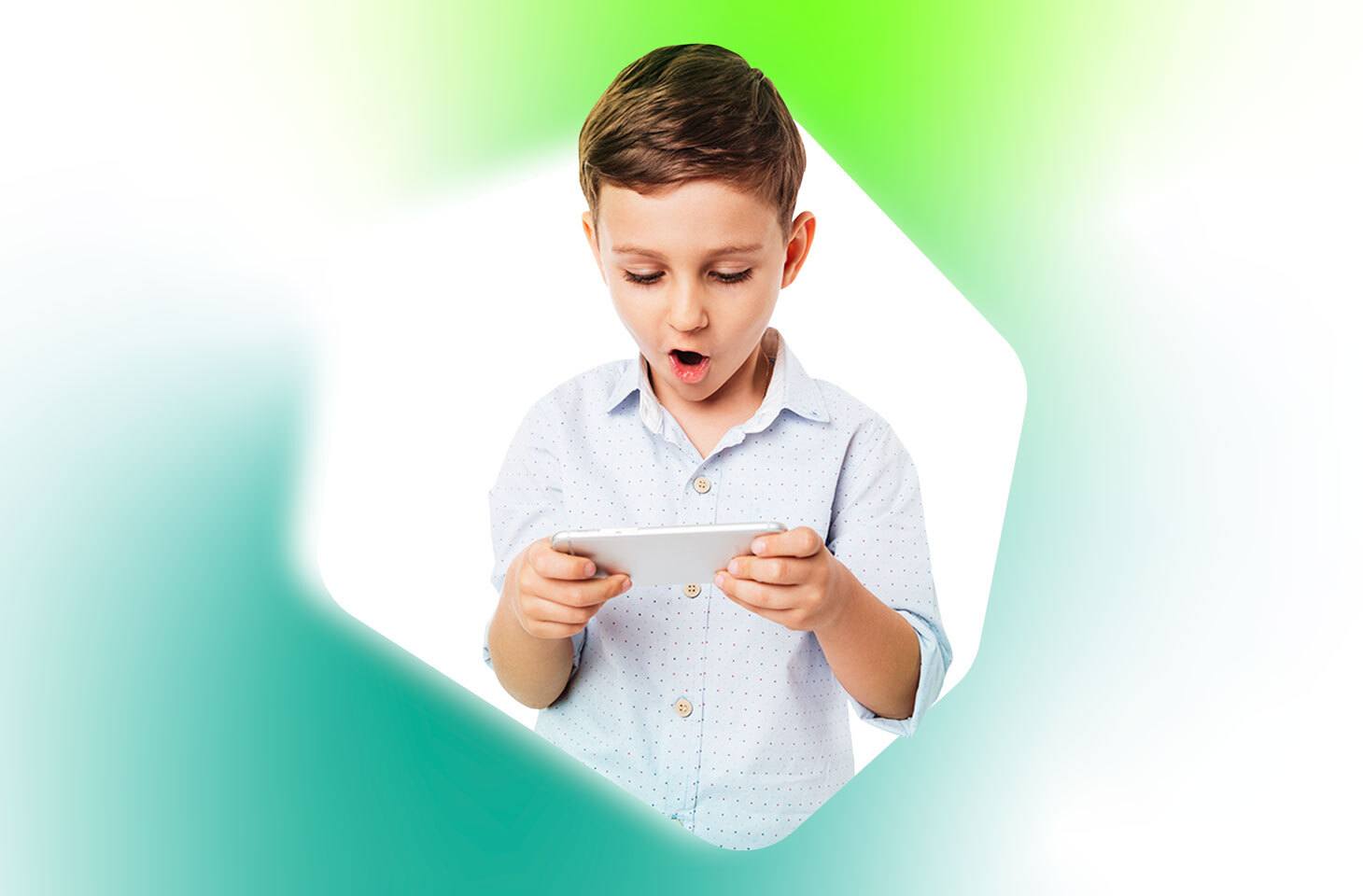 This report examines the categories of websites that kids visit most often across various platforms, the apps they spend the most time on, and what specifically piqued their interest over the past year (May 2022 through May 2023).
How we gather statistics
---
Website categorization
Our Kaspersky Safe Kids solution for home users scans the contents of web pages that children try to access. If the site falls into one of 14 categories, the product sends an alert to Kaspersky Security Network. In doing so, no personal data is transmitted, and user privacy is not violated.
Note: It is up to parents to decide which content to block by tweaking the preferences of the protective solution. However, anonymous statistics are collected for all the 14 categories.
The information in this report was collected from mobile devices using Android and iOS, and PCs and laptops running on Windows OS.
Web filtering in Kaspersky Safe Kids currently covers the following categories:
Anonymizers
Hate, discrimination
Gambling, lotteries, sweepstakes
Job search
Weapons, explosives, military
Alcohol, tobacco, drugs
Adult content
Profanity, obscenity
Religions, religious associations
News media
Video games
Electronic commerce
Internet communication
Software, audio, video
Search query filtering
Looking at children's search activity is the best way to see what they are interested in. Kaspersky Safe Kids can filter kids' queries in five search engines (Bing, Google, Mail.ru, Yahoo!, Yandex), as well as on YouTube. Filtering targets six potentially dangerous topics: Adult content, Alcohol, Narcotics, Tobacco, Racism and Profanity.
This report presents statistics on YouTube searches. We took the top 1000 search queries collected from YouTube between May 2022 and April 2023 inclusive, as 100%. The ranking was based on the number of times a query was input, without breaking it down by region or language. The popularity of a topic is determined by its share of related queries.
We divided the search queries collected from May 2022 through May 2023 into several subject categories:
Other

Harry Potter
Toys
Education
TikTok
Sport
Adult
DIY
Trend
ASMR
Meme
Gacha Life

Games
YouTube gaming influencer
Music
Movies, cartoons and TV shows

Movies
Anime
TV show
Cartoons

YouTube bloggers and channels
Control the use of programs:
Kaspersky Safe Kids allows parents to control and limit the amount of time their children spend on apps and programs on their devices. This report uses anonymized data on the number of hours that kids worldwide spent on apps run on Android and Windows devices.
We identified the 10 most popular apps in the world. We took the sum of the hours spent on these apps as 100%. The percentage breakdown in the TOP 10 reflects the number of hours spent on each app.
Categories of sites visited by kids
---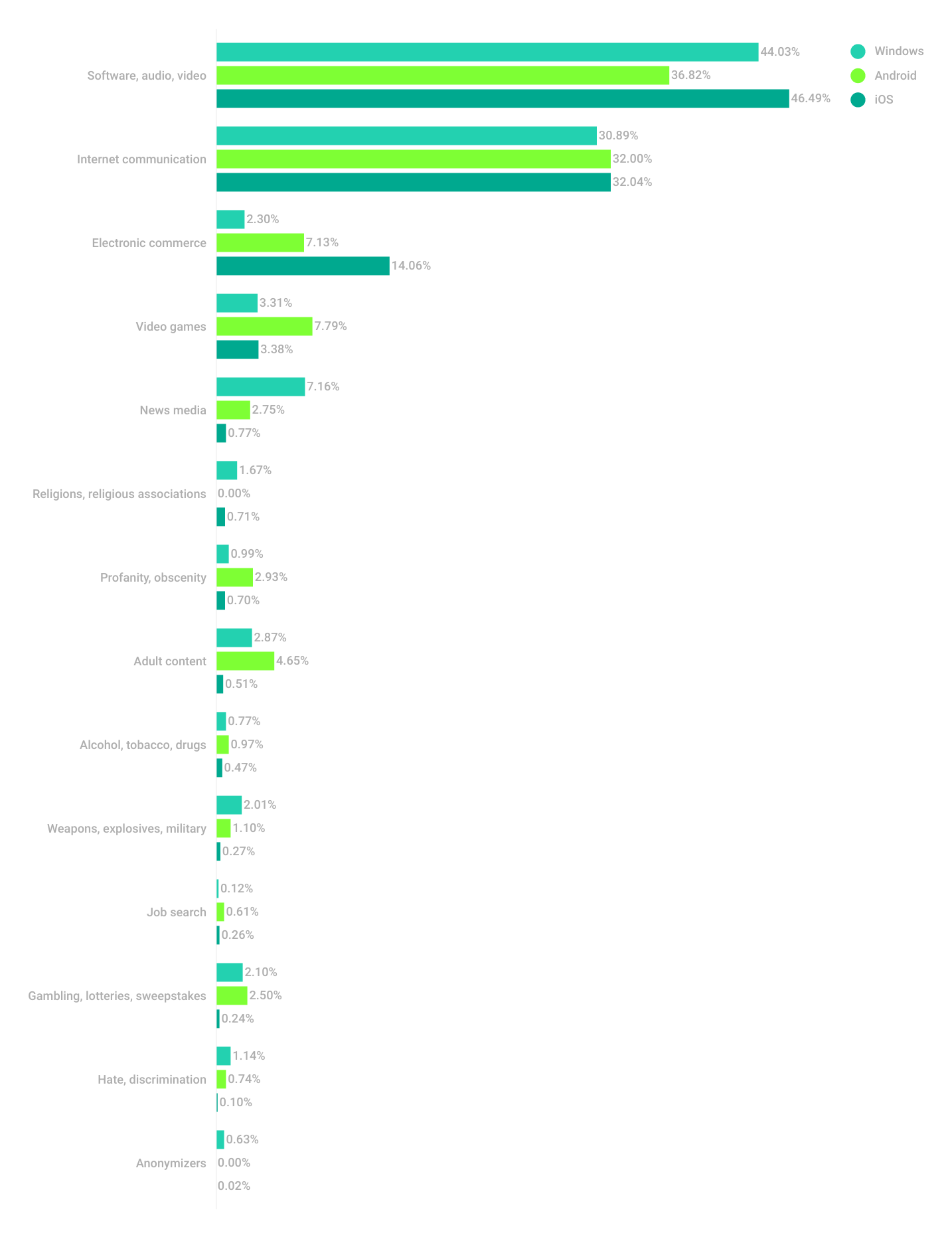 The most popular website category is "Software, audio, video". This is not surprising, since it covers YouTube, movie, anime, and music streaming services, and lots of other audio/video-related content. Kids using iOS visited sites in this category most often (46.49%). Laptops and PCs running on Windows accounted for 44.03% of the visits. The lowest share went to the Android devices (36.82%).
The second most popular category is "Internet communication". This includes all browser versions of messengers, forums, social networks, blogs and other communication platforms. Most often, kids visited these sites on iOS (32.00%), followed by Android (32.04%) and Windows (30.89%).
Next comes the "Electronic commerce" category, which includes online stores, online banking and payment systems. Kids with an iPhone or iPad were almost twice as likely (14.06%) to be interested in online shopping than Android phone owners (7.13%). For Windows, the figure is just 2.30%.
Interestingly, sites with information about video games got fewer visits than other categories. But as we'll see later, games still play a huge role in kids' lives. Android gained the largest proportion of visits to gaming sites (7.79%), almost double the figure for iOS (3.38%) and for Windows (3.31%).
The last category we look into is "Adult content", which, as the name suggests, covers pornographic and erotic sites, adult dating and sex shops. Kids with Android smartphones (4.56%) tried to watch online porn more than others. Children owning iPhones were the least likely to visit adult sites – (just 0.51%). Windows got an average of 2.87% viewing attempts.
Now for another type of online activity: app usage.
What apps do kids spend most time on?
---
Apps Android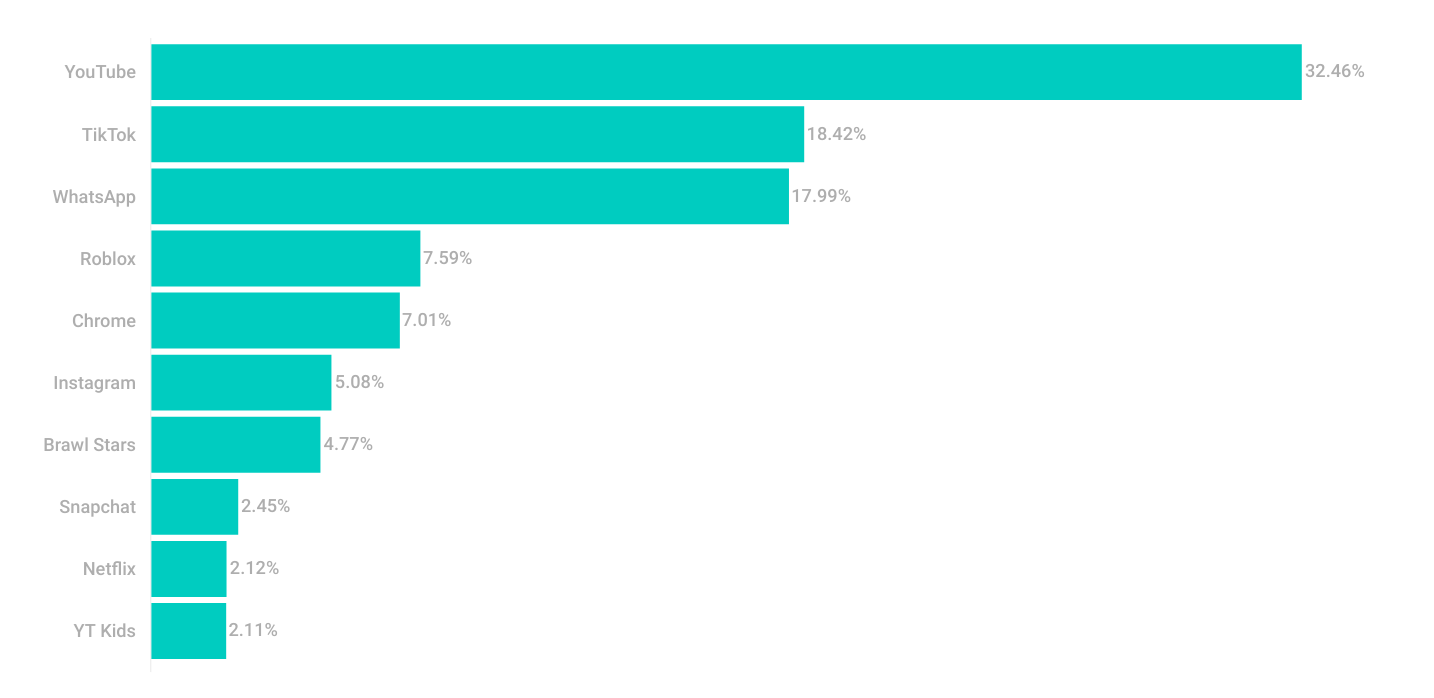 Children with Android-based devices spent the most time on YouTube app (32.46% out of TOP 10 apps). A quite distant second was TikTok with 18.42%. Kids spent almost the same amount of time chatting on WhatsApp 17.99%. One of the most popular gaming universes, Roblox (7.59%) was in fourth place. Next comes the Chrome browser (7.01%), Instagram (5.08%), the Brawl Stars video game (4.77%), the not-universally-popular social network SnapChat (2.45%), and Netflix (2.12%), which traditionally commands a large audience among kids and teenagers. YouTube Kids (2.11%) rounds out the top 10 most popular apps on Android.
Apps Windows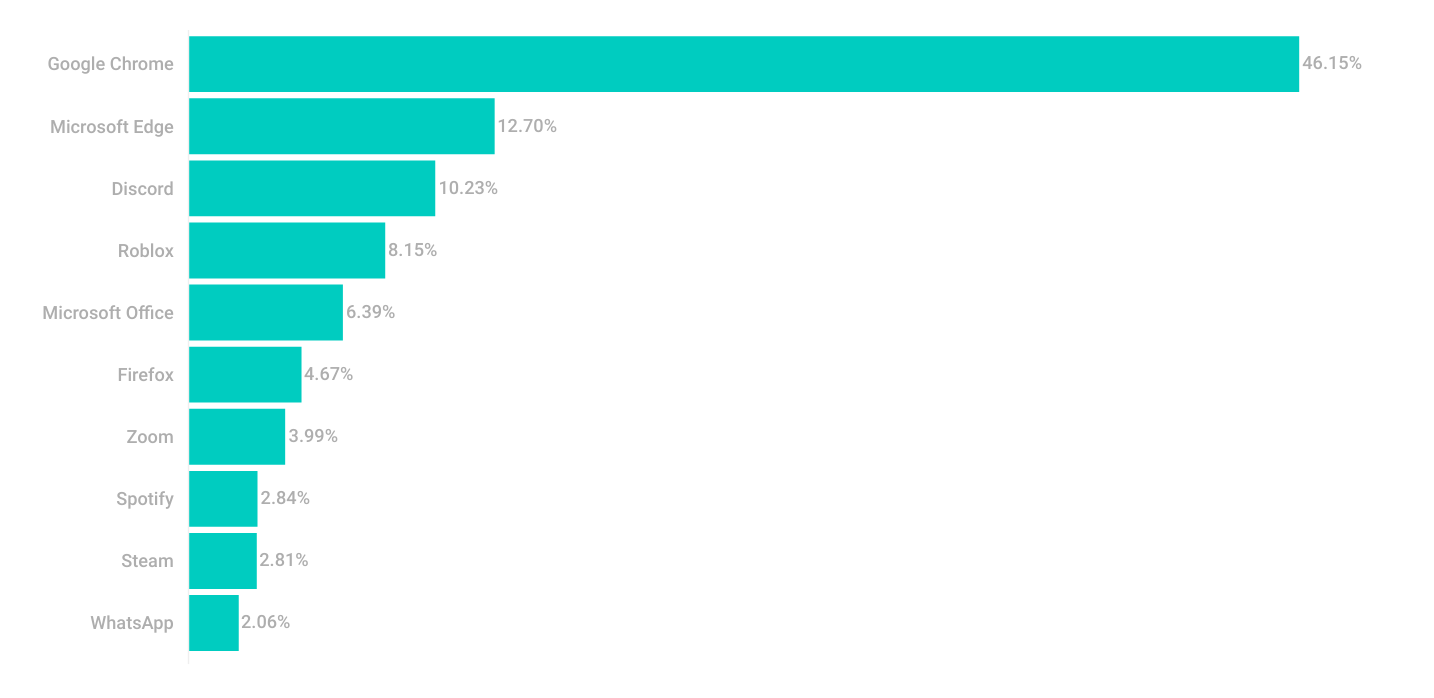 Now let's take a look at the Windows apps that kids use most of all. In first and second places, unsurprisingly is browser activity, which we examined in detail above. Online surfing on Google Chrome takes up almost half of kids' time on a laptop or PC among TOP 10 activities (46.15%). Microsoft Edge finishes way behind with 12.70%, but still manages to take second place in the top 10. Firefox, another browser that made it into the top 10, is down in 6th place with a 4.67% share.
In third place is Discord (10.23%), a favorite place for kids to hang out. Children also like Zoom (3.99%) and WhatsApp (2.06%).
Gaming platforms in the Windows TOP 10 are represented by Roblox (8.15%) and Steam (2.81%). In terms of listening to music, kids prefer Spotify (2.84%), and for studying, they use Microsoft Office, accounting for 6.39% of their time on Windows.
We examined which apps children used most often and which categories of sites they visited. According to the data, the undisputed leader in all areas is YouTube. Time now to dig even deeper into kids' interests through an analysis of YouTube search queries.
Most popular YouTube searches over the year
---

In the past year on YouTube, kids most often (19.51%) searched for the names of channels and YouTubers who create entertainment content, such as challenges, lifestyle, etc. In second place were searches for cartoons, TV shows, movies and anime — this topic accounted for 16.65%. That is followed by searches for music artists and tracks (15.69%). Next in popularity are gaming vloggers with 15.48%, while searches for game titles and related content account for a share of 10.28%. The "Other" section contains a variety of topics, which we'll take a closer look at below.
Here is a summary of bloggers, topics and games that captured kids' attention over the past year.
For instance, the "YouTube bloggers and channels" category was dominated by MrBeast and SSSniperWolf.
As for "Movies, cartoons and TV shows", a more detailed breakdown follows.

In this category, queries related to cartoons led the way with 46.55%. Kids were most likely to search for Miraculous: Tales Of Ladybug & Cat Noir season 5 and MSA previously My Story Animated.
These queries were followed of TV show (29.57%) titles. Among the most frequent kids' searches over the past year were various K-dramas, as well as the series Stranger Things; and in the past six months, there was huge interest in everything related to the TV show Wednesday.
Anime is in third place with a 15.81% slice of the searches. In 2022–2023, Chainsaw Man, Demon Slayer and One Piece topped the popularity chart.
The share of movie-related queries was 8.07%. The top kids' flicks in 2022–2023 were: The Super Mario Bros. Movie, Black Panther: Wakanda Forever, Rock Dog 3: Battle the Beat.
Now let's look at kids' musical preferences in 2022–2023.
The "Music" category accounted for 15.69% of all queries we analyzed over the past year. The most popular music searches among kids were, of course, the K-pop groups BLACKPINK and BTS, plus the hip-hop subgenre phonk and Puerto Rican artist Bad Bunny. And the most searched-for song was Baby Shark.
As for gaming, our chart features two topics from this category. "YouTube gaming influencer" posted a share of 15.48% and other game-related queries got 10.28%.
The top gaming bloggers were Aphmau, Dream and Technoblade, while the most popular games, besides Roblox and Minecraft, were Brawl Stars, Fortnite, Genshin Impact and Stumble Guys.
In the "Other" section, we collected topics that were not the most popular, but still important enough to complete the picture of kids' interests. Let's take a closer look at this section.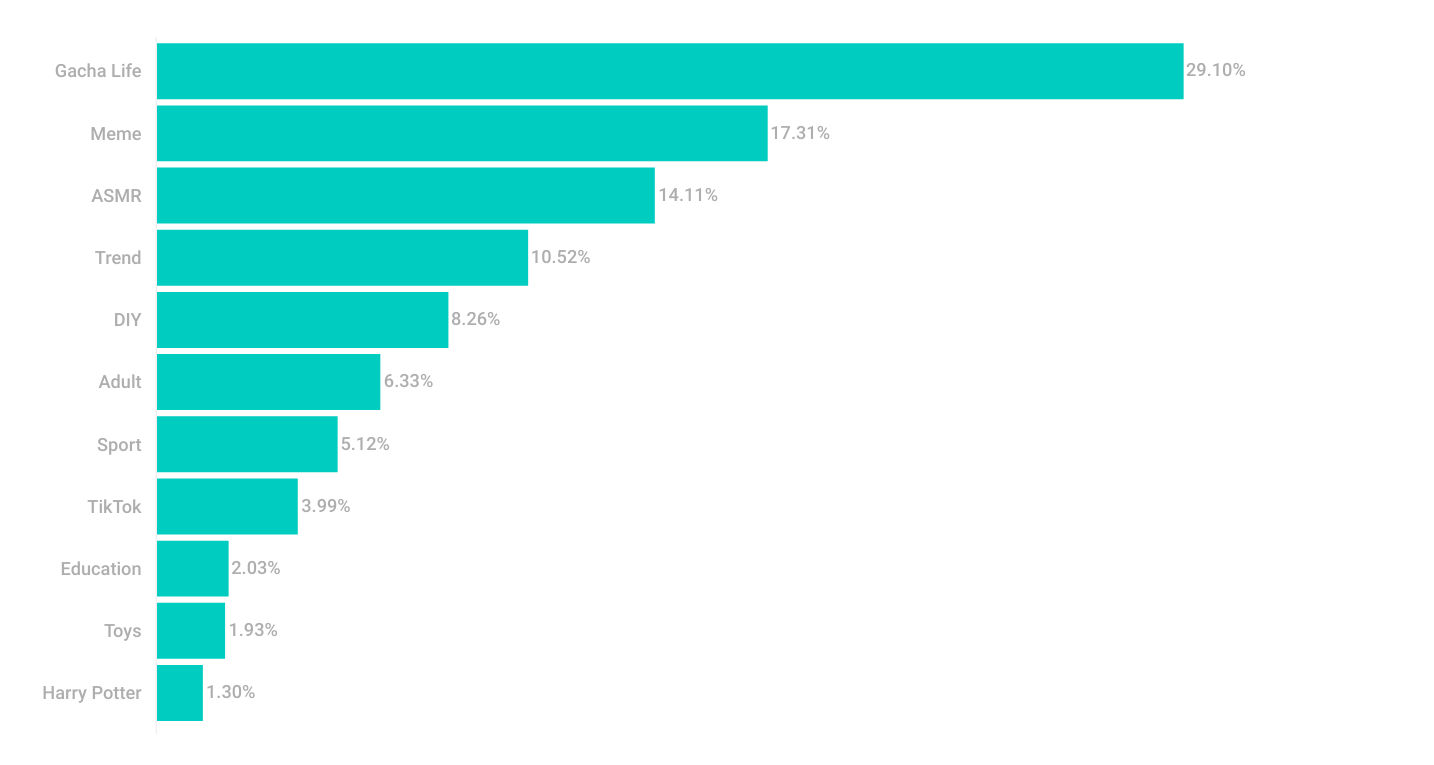 In first place are searches related to the Gacha Life universe (29.10%). These include reactions of Gacha Life characters to various videos, TikToks, mini-movies and much more.
Next are memes with a share of 17.31%. Kids found the "beluga", "skibidi bop yes yes yes", "gigachad" and "countryhumans memes" the most entertaining.
Third place, with a share of 14.11%, goes to the very popular ASMR videos. "Asmr eating" and "asmr makeup" were the soothing sounds most often searched for.
The "Trends" section (10.52%) was reserved for temporarily popular searches. For example, "pink sauce" and "back to school" were popular last summer, "Mukbang" and "uwu" last fall, "not showing my face" last winter and "blanket dancers" this spring.
Conclusion
---
Over the year we've been closely monitoring the changing online habits and interests of kids worldwide. And we can already single out certain phenomena that are emblematic for today's younger generation. They are YouTube, TikTok, Minecraft, Roblox, WhatsApp, K-pop/K-dramas, rap music, Discord and various memes. At the same time, we've observed how some fads, such as Wednesday from Netflix or the "skibidi bop yes yes yes" meme, go massively viral in an instant, and then die down fairly quickly. But it's important to realize that all these trends, shows, games, music and memes are what shape today's lifestyle and culture. Thanks to these common memes, games and shows, kids all over the world can readily understand each other. Our advice to parents is to take an interest in what your kids are into, there's bound to be something because in their world for you too. Trust us!