The rapid development of the smartphone and tablet market has gone hand-in-hand with an alarming growth in the number and variety of threats targeting these devices. We have a single answer to all these threats: meet Kaspersky Internet Security for Android.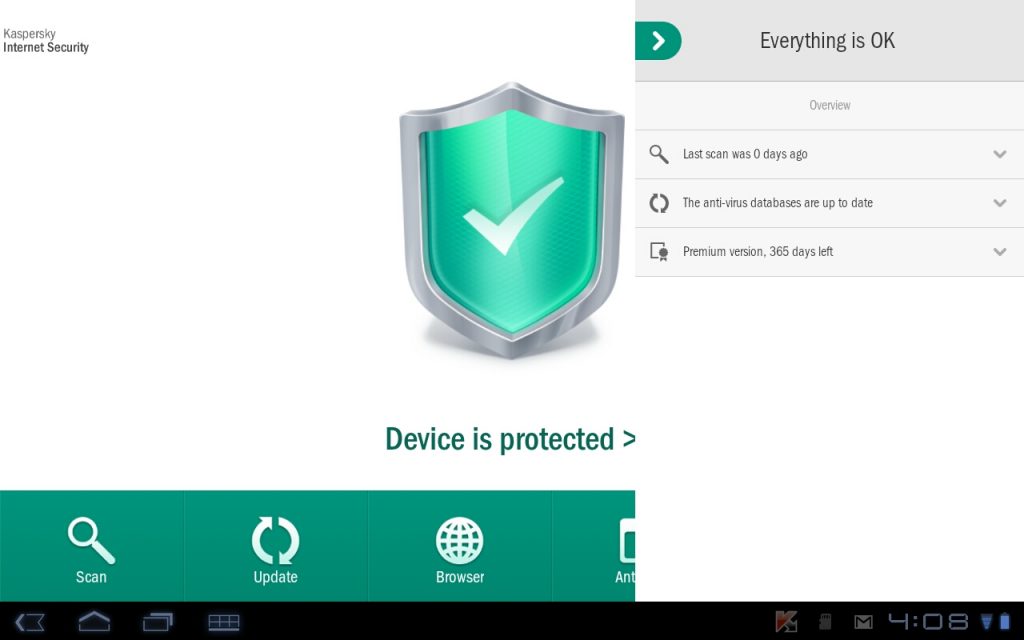 How does your new smartphone differ from your old PC? There are two main differences: your smartphone is more powerful and it is small enough to fit in your pocket. In all other ways, the two devices are similar: they have lots of memory, powerful processors, come with their own operating systems, and they offer Internet access. Sadly, that access comes with a complete range of Internet threats into the bargain. Almost every type of threat targeting PCs has a mobile counterpart. Malicious applications? Certainly! In the past year, these saw a six-fold growth, with 99% of them targeting Android (this is hardly surprising, since Android smartphones and tablets account for 75% of the market and the open platform offers attackers a convenient springboard). Spam? Of course, and when it comes in the form of SMS messages it is even more distracting and annoying. Phishing? Without doubt – smartphones give access to both email and social networks. Malicious or spoofed sites? Naturally –the site address is not as easy to read in the mobile browser, making the spoof harder to spot. There is also smishing (i.e., phishing via SMS), as well as plain old device theft. All this means that smartphones and tablets need the same protection as PCs, plus additional systems to respond to mobile-specific threats. To provide this kind of comprehensive protection for smartphones and tablets, we created Kaspersky Internet Security for Android. It replaces our earlier products – Kaspersky Mobile Security and Kaspersky Tablet Security. Kaspersky Internet Security for Android is a single application designed for both smartphones and for tablets. Depending on the device on which you install Kaspersky Internet Security for Android, the correct version of the user interface and a feature set relevant to the device's capabilities will be activated. For example, an SMS filter is enabled only on devices with a SIM card slot.
The user interface of Kaspersky Internet Security for Android will be familiar to all those who use Kaspersky Lab products for PCs. When the application is launched, it displays the protection status screen, which shows at a glance whether the smartphone's or tablet's configuration is secure, what security problems need to be addressed and how long ago the protection databases were last updated. The technologies 'under the hood' are also in many respects similar to those used in the 'desktop' version of KIS. Specifically, Kaspersky Internet Security for Android uses proactive protection and data from Kaspersky Security Network – Kaspersky Lab's cloud system. This means that the solution not only provides reliable protection against viruses and other malicious applications, but prevents users from following phishing links received via SMS, email etc. as well.
Physical theft remains a significant threat for mobile devices. It is not easy to prevent the loss of a smartphone or tablet, but Kaspersky Internet Security for Android will help you to take all the necessary steps as soon as you discover the device is gone. With the help of a special web portal and SMS commands, the owner can block the device, take a mug shot of the thief, determine the GPS coordinates of the lost device and – if the worst comes to worst – remotely remove all personal data from it.
The essential features of Kaspersky Internet Security for Android are available free of charge, including on-demand scanning of the device, anti-theft protection, and filtration of unwanted calls and SMS messages. Upgrading to a full version, which includes real-time protection, heuristic analysis of unknown threats, anti-phishing functions and handy additional features such as protection for private communication, costs just $14.95. Owners of valid Kaspersky Mobile Security and Kaspersky Tablet Security licenses are eligible for a free upgrade to Kaspersky Internet Security for Android. Tomorrow may be too late, so urge you to start protecting your smartphone or tablet today.