We've got great news: our product line for home users is getting its biggest upgrade in years. Let's talk about what's changing and how it will make your digital life more simple, convenient, and secure.
The first thing experienced users of our products will probably notice is the name. We introduce a new and simplified naming structure of our consumer product line, which elevates to a brand level and is now founded on its name — Kaspersky. But that's just the tip of the iceberg.
The really big news is that we've massively expanded the functionality of our new product line for home users. On top of that, we've actually redone the user interface from scratch. It's now easier to use and more modern. And, finally, instead of the usual license codes, we're switching to a subscription system with several plans.
Genius lies in simplicity
As we said earlier, our protection for home users is now based on the brand name "Kaspersky." "Internet Security" and "Security Cloud" are gone, so you won't mix them up again. After all, if you ask one of our customers which antivirus software they use, what do they usually say? "Kaspersky." That's what our product is called now — it's stunningly simple!
Needless to say, the new Kaspersky product line moves beyond just an antivirus software — it's a whole security platform for your digital life. It's kind of like in Formula 1 — the driver can't win all by themselves. They need a huge pit crew to back them up. But you can't win without the driver either.
We now use a subscription model, which is becoming the industry standard, to distribute our solution. Kaspersky supports the four main platforms: Windows, macOS, Android, and iOS. That's right, you can never have too much security — even if you use an iPhone.
Home users now have access to three plans: Kaspersky Standard, Kaspersky Plus, and Kaspersky Premium.
So you're free to choose the plan that gives you the protection, functionality, and services you need without breaking the bank. What's more, the features included in the plans will protect not only your devices, but the entirety of your digital life.
Everything in its right place
Now it's time for the most important part: new features and services. We broke them up into four categories: Security, Performance, Privacy, and Identity. Each category has its own tab in the interface, so it's pretty hard to get lost.
The number of useful tools in each category depends on your plan. When you switch to a higher tier, you unlock the next level and get a set of extra features. With Kaspersky Standard you get Security & Performance and basic Privacy features. Switching to Kaspersky Plus unlocks the rest of the features on the Privacy tab, as well as unlimited VPN subscription. Kaspersky Premium encompasses the entirety of the functions, including the Identity tab.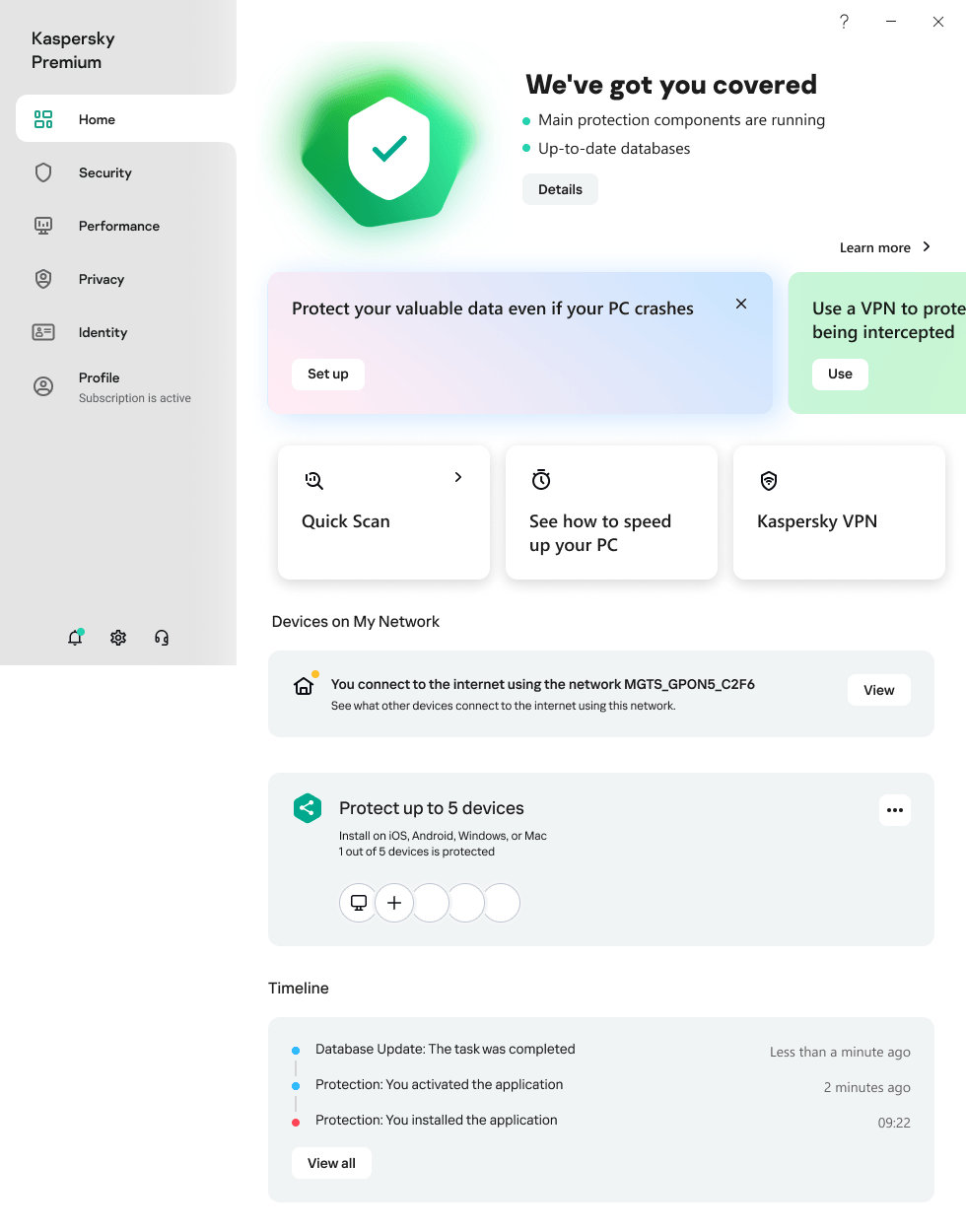 Security: don't leave home without it
Let's start with the cornerstone of the whole operation: Security. This is where you'll find all our time-tested (and often best-in-industry) tools such as antivirus, firewall, anti-phishing, web-antivirus, protection against rootkits and ransomware, as well as vulnerability analysis and prevention.
The big takeaway here is a whole suite of "under-the-hood" improvements. They are unnoticeable to users but make protection more reliable, especially when it comes to advanced new threats. One example is the amazing results we've achieved when it comes to protection against ransomware.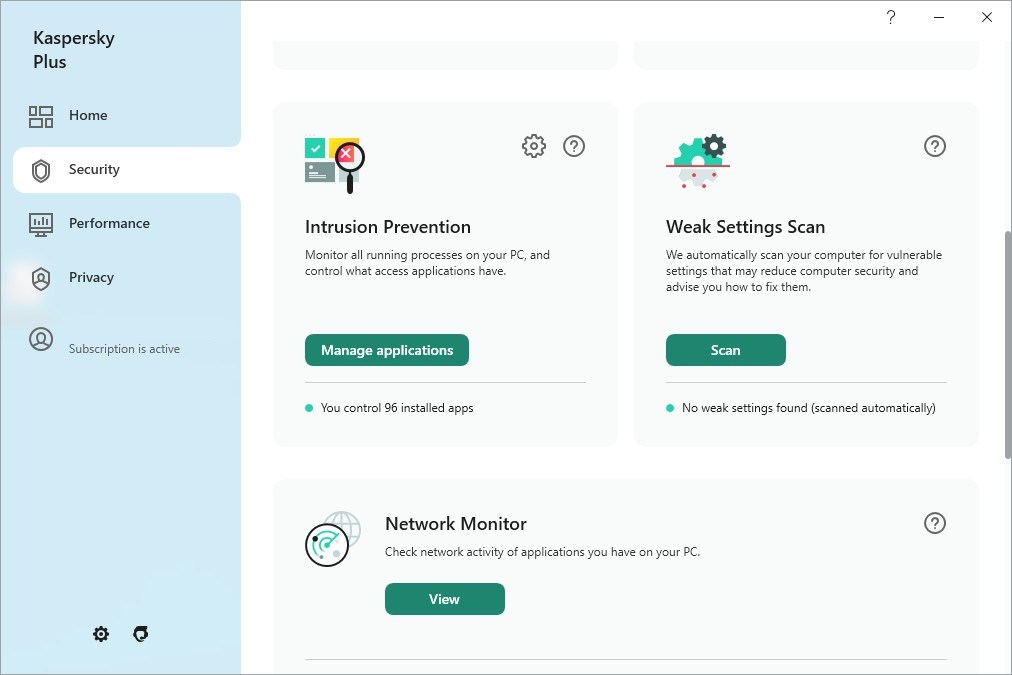 We've moved the most popular and essential features to the main screen for easy access. For example, you can now easily find the way to restore your system even if it got infected before you installed Kaspersky.
Performance: need a little spring cleaning?
The next category, Performance, has lots of new features. They can help you speed up your device, free up disk space, tidy up your apps, and more. If you want to keep your "digital house" spic and span, you'll definitely need these tools. To use a popular analogy, it's like a team of robot housekeepers, each with its own specialization.
For example, you can optimize Windows startup and registry by throwing out all the junk that's been slowing down your system. Or you can find duplicate files that are taking up too much valuable space on your disk.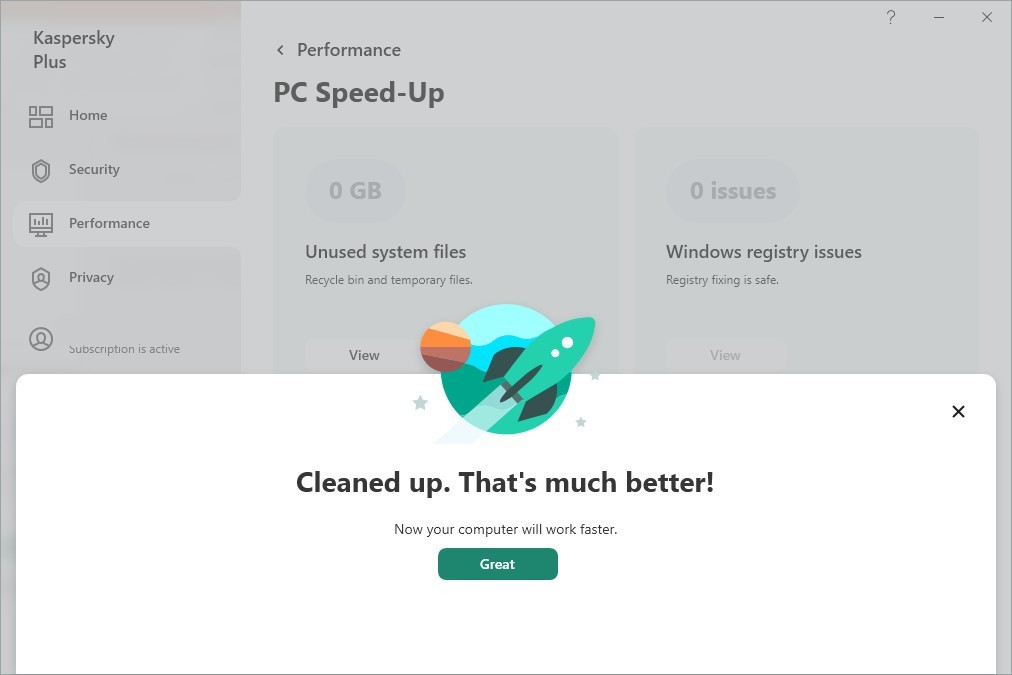 You'll also find backup tools and a system that warns you if your HDD or SDD is about to break down. These features are extremely useful when it comes to saving precious photographs and other irreplaceable digital items.
Our special "Game Mode" blocks all non-critical processes and notifications when your computer is running a game in full-screen mode. So you won't have to worry about FPS or get distracted during a big boss fight. Similarly, the "Do Not Disturb mode" turns on when you're doing something that requires a lot of concentration, like taking a video call, working in an office app, etc.
Privacy: no spies allowed
Another way our product makes your life easier is by protecting your privacy. After all, the more devices and apps you use, the more potential you have for leaks. To make sure no one can peep into the "windows of your digital world" you need to adjust your "blinds" carefully, or even enable certain services. It can be tough to wrap your head around it all.
But now you can simply go to the Privacy section, which lets you manage all your "blinds" from one place. The Privacy section keeps your camera and microphone safe from curious hackers, protects your online payments, and detects stalkerware that certain "well-wishers" may have installed on your device without your consent.
We don't have time to go into every single privacy technology in this overview, so let's focus on the most interesting new features.
Data Leak Checker keeps your online accounts secure by checking whether or not your private information was exposed during the latest data leak. If this should happen to you, you'll get a notification and a recommendation about what to do next.
Devices on My Network keeps track of the devices connected to your home Wi-Fi and warns you if a "stranger" shows up.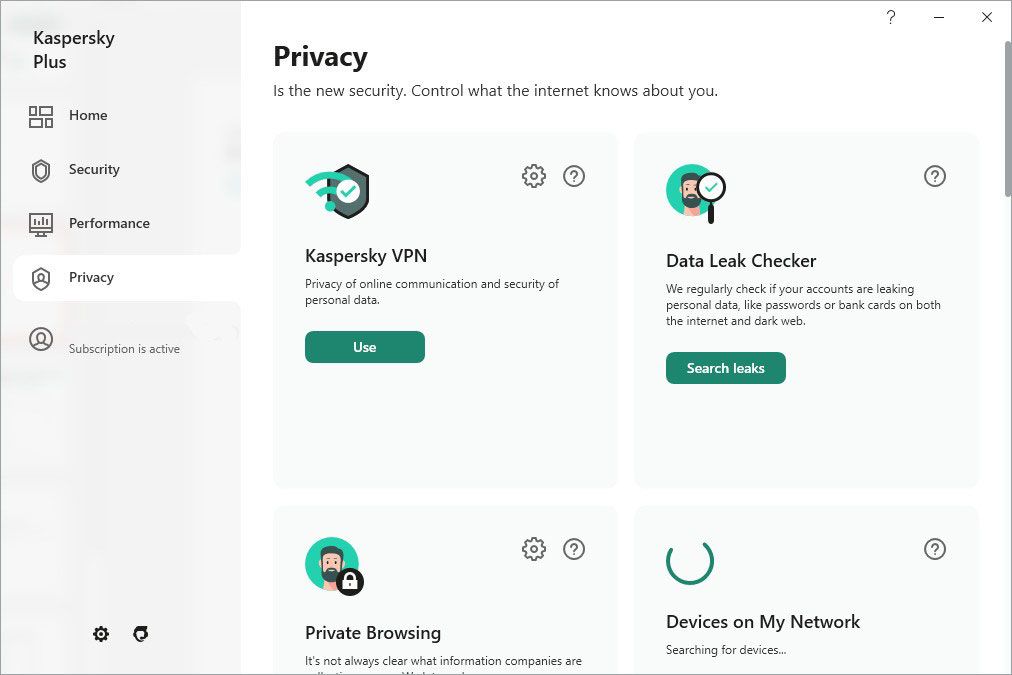 Private Browsing prevents various websites from gathering data about you. If you take a look at the tool's stats, you'll learn a lot about what "privacy" really means online.
Social Privacy feature, currently available on Android and iOS devices, helps you check what private information you share in social media accounts (like Facebook, Google and so on) and adjust your privacy settings.
Kaspersky Plus and Kaspersky Premium plans come with unlimited VPN traffic as part of your subscription. Our smart VPN app can automatically detect unsecured Wi-Fi networks and encrypt your data on the fly as needed. You can connect to a couple thousand VPN servers in over 80 countries. Needless to say, this tool comes with all the hot new features a modern VPN app should have. They include Kill Switch, which guarantees not even a single packet of unencrypted data can squeeze through, the ability to configure access on smart home devices, and support for regional access to content on Netflix, Amazon Prime Video, HBO Max, and other streaming services. We also have good news for those who are concerned with connection speed: according to independent tests our VPN apps is among the fastest.
Kaspersky Plus and Kaspersky Premium plans also include Premium version of our Kaspersky Password Manager. The app helps you create extremely strong passwords, securely stores them for you and warns you in case of an external leak.
Identity & Premium Services
And, finally, the cherry on top is our Identity section.
First, there's Identity protection wallet, a special encrypted folder where you can store any sensitive documents, like your passport or driver's license, to prevent identity theft — and lets you securely access your data on any of your devices.
Second there's instant access to 24/7 premium customer support both by phone and by chat (please note that 24/7 support is not available for all languages). Premium means that you don't have to wait in line — your request will be resolved with the highest priority.
Our experts won't just give you advice, they'll also help you find the optimal configuration for your computer and remotely resolve challenging issues, including those caused by malware that infected the system before you installed Kaspersky.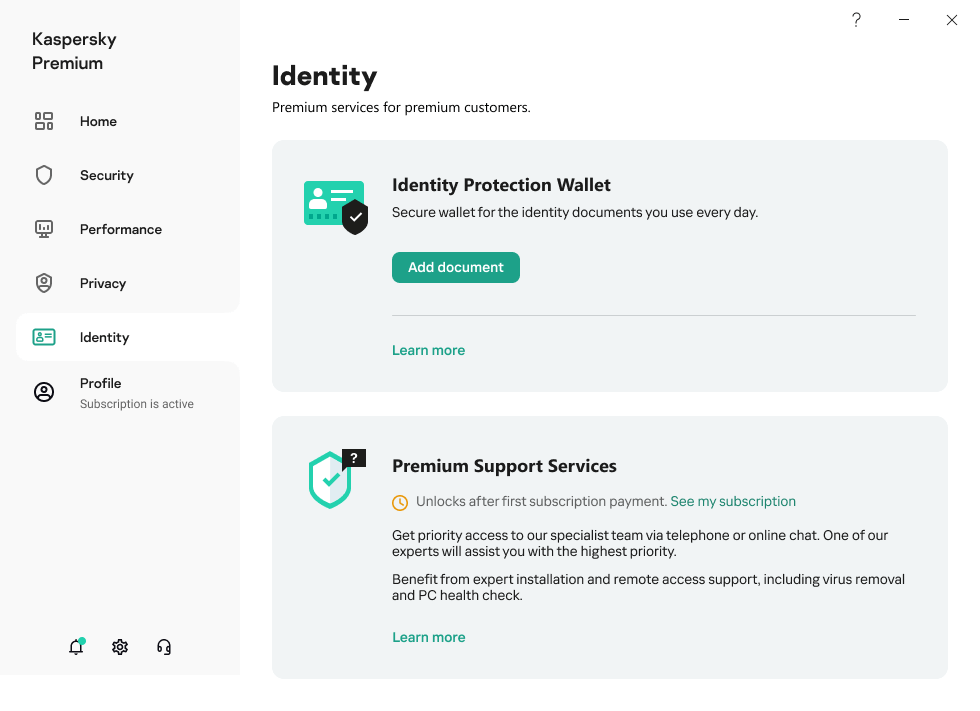 Important part for families with school kids: current Kaspersky Premium subscription also comes with a bonus — free one year subscription to the premium version of our parental control app Safe Kids, recently updated with some new useful features.
Let's chat
The new Kaspersky interface is incredibly intuitive — we've performed large-scale testing to make it as simple and easy to use as possible. Take for example the installation screen. It all starts with a new installer and first-time setup. It looks like a chat, so it should be familiar to anyone using messengers. And you'll actually get something out of the installation process, since the installer walks you through the most interesting features.
After you open the app, you see the Home tab. This is where we've put the elements our users consider the most useful. For example, you'll find the quick scan button here — no more hunting around for it in the menu. There are also buttons on the side menu that will take you to their corresponding sections. So if you want to find out who's connected to your home network or protect multiple devices, you no longer have to check every nook and cranny of the interface to do it.
Kaspersky Plus Review: First Impressions by The PC Security Channel
Demand a free upgrade!
The transition to the new product system will take place gradually. We'll eventually stop selling the old solutions, although we'll still support them for a while.
If you're using the paid version of one of our home products, you can switch to the new system without spending a dime. For example, you can convert your current Kaspersky Internet Security license into a Kaspersky Standard subscription for free. The same way, you can easily convert Kaspersky Security Cloud into a Kaspersky Plus subscription.
By the way, Kaspersky turned 25 last year. It's hard to believe it, but we've been protecting the data and devices of hundreds of millions of users all over the world for more than a quarter of a century now. And we do it better than anyone else in the word — consistently high test scores from independent labs prove that.