Dennis Technology Labs assessed our solution for corporate networks protection Kaspersky Endpoint Security for Windows as the best in its class.
The testing was done by DTL in April-June 2013, and it was the most realistic, i.e. the closest to the actual conditions that the users of corporate solutions would work in. The tests featured only relevant threats of the spring and early summer of 2013. The description of test methods indicated that while checking the response of security solutions to malicious web sources, the employees of DTL visited real contagious sites and did not use any prepared sets of malware.
All tested systems were exposed to threats at full scale, that is the exploits and malicious files were launched by default and even given the opportunity to perform their programmed functions. Moreover, each malicious code had a vantage of at least five minutes.
The tests were carried out in separate rounds: every computer system with an installed solution was exposed to a single threat (for example, by visiting the same malicious website), after that the system was completely reinstalled to avoid any possibility of retaining malicious content on the test system.
The tests were run on computers with Intel Core 2 Duo, 1GB RAM, 160GB hard drive and a DVD-ROM; Windows XP SP3 was used for the operating system, the web browser was Intenet Explorer 7. Therefore, we can say that the testing was done on obsolete computers. However, this OS is still widely used around the world by both individual and corporate users, and a great deal of malicious software is written for the combination of Windows XP and Internet Explorer 7.
All corporate solutions investigated by DTL were subject to two different tests: one – for ability of identifying online threats, the other – for accuracy of recognizing legitimate software without hindering its work by giving false positives.
The overall accuracy of Kaspersky Endpoint Security based on the results of both tests was 97%. The closest competitor reached the value of 96%, and the remaining three packages performed much poorer.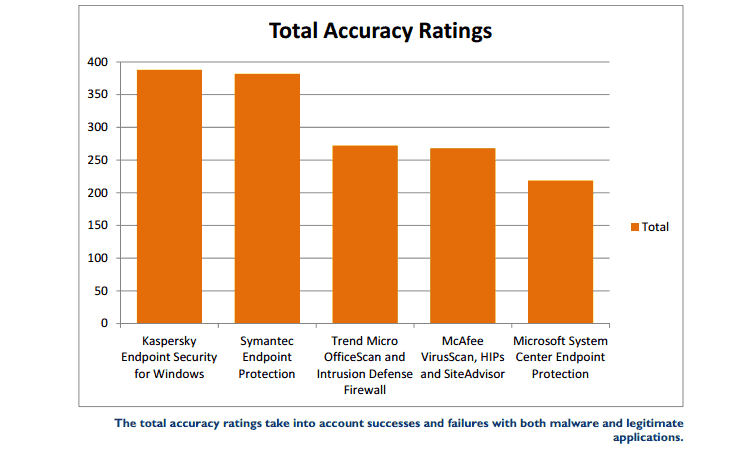 According to the results of testing Kaspersky Endpoint Security for Windows was assigned the highest rating of AAA.