From the fridge to TV, how we'll embrace the year of the virtual assistant in 2023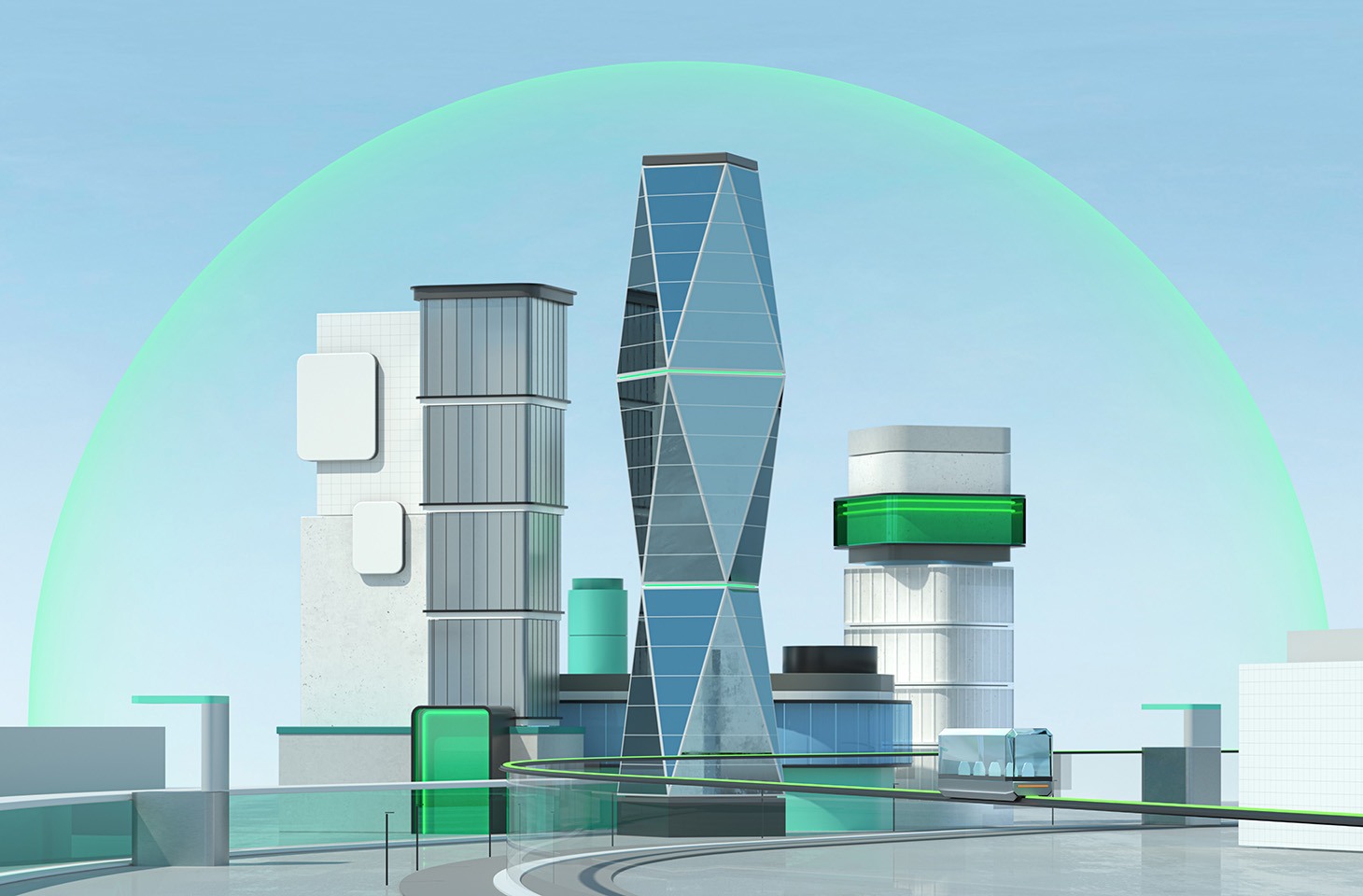 Decades ago, futurologists and TV shows such as 'The Jetsons' envisaged homes filled with elaborate labor-saving robots, devices, and contraptions. Today the home that works for you is smart, where everything from lights and thermostats to your fridge can communicate with you via mobile phone app, or voice command. Making life more efficient, they take on the tasks their time-crunched owners hate.
Smart home technology originates from the world of manufacturing, where connected devices and technologies communicate between themselves and the cloud or over a network. From drinks machines that inform you that they need refilling, to assisting in locating individual components in giant factories, RFID tags were the first smart devices described as the Internet of Things (IoT) by the Massachusetts Institute of Technology Executive Director, Kevin Ashton, in a presentation to Procter & Gamble in 1999.
Today, everything from smart locks linked to video camera-equipped doorbells and vacuum cleaners that tidy up while you're at work, there are more than 140,000 devices compatible with Amazon's Alexa virtual assistant. According to the latest data from Amazon, more than 300 million smart home devices are currently connected to Alexa globally.
Kaspersky has partnered with Arlington Research to explore how people interact with their smart virtual assistants and enjoy good daily digital habits. Researchers also examined if togetherness when buying smart gadgets in the store continues at home, or if controlling the network is a battle of the sexes.
Methodology
---
Kaspersky commissioned Arlington Research to undertake quantitative online research with 21,645 smart home device owners in 21 countries, from the USA, UK, Germany, Italy, Spain, China, Mexico, Brazil, Chile, Russia, Turkey, France, Netherlands, Portugal, India, Indonesia, Philippines, Peru, South Africa, UAE and Saudi Arabia.
Key findings
---
62%

of consumers are aware of the term 'Smart Home', as everything from light bulbs to internet-enabled TVs can be controlled via the internet.

35%

of people have heard of or know the terminology 'internet of things' (IoT).

72%

of men are the gadget lovers of their household and most likely to decide which software or apps are installed on their main computer, while 55% of women will 'Hey Alexa'.

56%

are mostly worried about their internet-connected home security use and protection when it comes to smart devices such as baby or pet monitoring cameras being used to spy on them, or being hacked over Wi-Fi.

54%

of Millennial ages users (25–34) are the most smart device security aware, and done something to secure their gadgets at home.

56%

of those who own a smart home gadget believe they are responsible for the protection of their devices

34%

of respondents believe that simply buying devices from trusted manufacturers is enough for digital protection.
How we live with smart devices
---
Smart digital habits begin at home
The phrase 'Smart Home' embraces everything from virtual digital assistants to internet-enabled light bulbs, heating systems or window blinds that can be controlled via a mobile phone app. While 62% of respondents are aware of the phrase, the original terminology, 'internet of things' (IoT) created for such devices, is only known by 35%.
According to latest research, the next 12 months will be the year of the smart home gadget, with more than 2 billion devices set to answer the front door, do the cleaning while we're at work or order the shopping by voice control. Right now, 61% have any Smart Home or IoT devices at home, with the most widespread being wearable devices (26%), smart speakers (24%) or Wi-Fi enabled cameras (20%).
When it comes to installing software or apps on a computer, like the TV remote, men hog all the household gadgets, with 72% more often responsible for installing software or apps on the all the computers in comparison to 47% of women.
And while we may enjoy shopping with a loved one or partner for fun gadgets that make life easier, men are also more frequent responsible for changing Wi-Fi settings on home routers or adding new devices to the home network — 75% versus 50% for women.
Who is responsible for the following tasks at home?

On the whole, we're still cautious when it comes to smart device adoption, three-quarters are aware of internet-enabled home monitoring or security systems connected to Wi-Fi, 61% have an IoT device at home — APAC and the U.S. have the largest share (73% and 66%). The most common smart device people own is their TV (74%), but people least associate gaming consoles with smart homes as well as routers and media players.
Obstacles to smart device adoption and security
Most people like the idea of virtual or smart devices in their home that can assist with daily tasks or entertainment, but the biggest barrier to adoption among consumers is price (46%) or not seeing a benefit of such devices (20%).
What stop users from using smart home devices?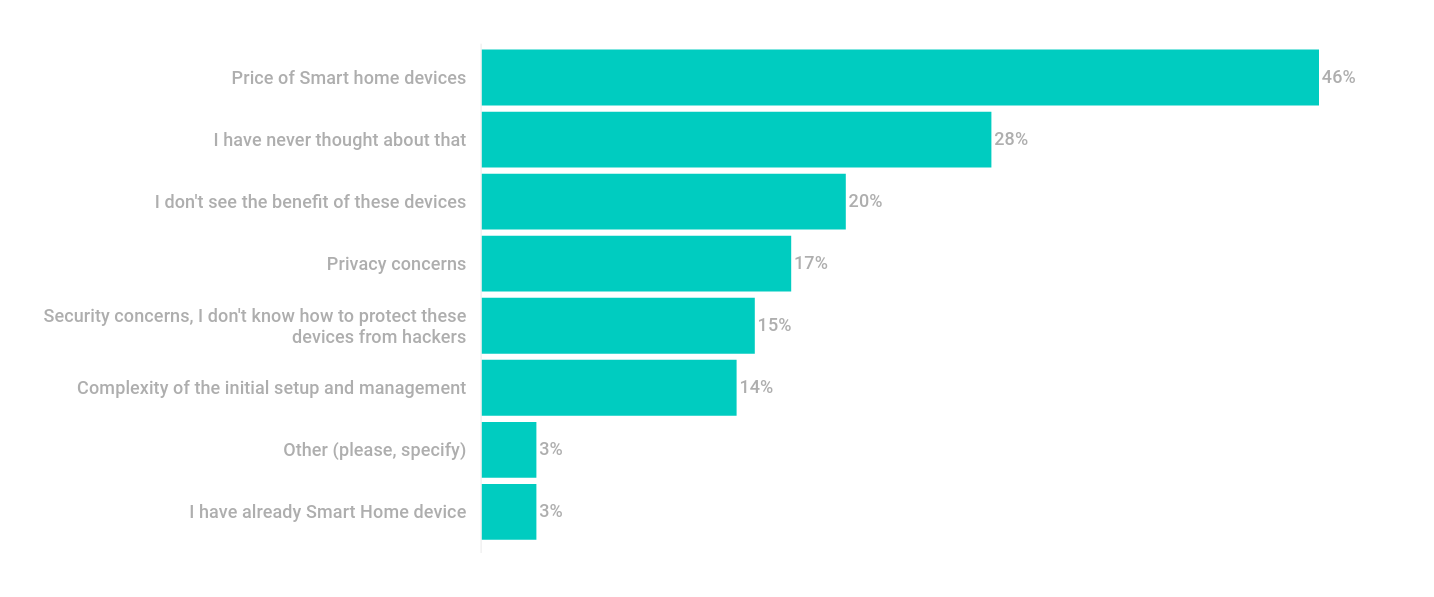 Kaspersky research shows that in the first half of 2021 there were more than 1.5 billion cyberattacks on smart devices worldwide, an increase from 639 in 2020, yet consumers put price and benefit ahead of security, with personal data making its way to the dark web from something as seemingly innocuous as your doorbell.
Once out of the box and inside your home smart device users worry mostly about how their home monitoring/security device system is connected to Wi-Fi or the internet (32%). Doors, locks, smart door bells connected to Wi-Fi or the Internet (30%) or Wi-Fi or internet-connected camera systems for babies or pets were also concerns for 31%.
When it comes to smart device protection, more than half of users worried about their home network being hacked, or their Wi-Fi router or internet-connected camera system spying on them (56%). Integrity of home monitoring or security device systems connected to Wi-Fi or the internet spying on users was an issue for on (53%), while a smart watches, smart glasses, fitness-trackers, health-trackers or location trackers spying on their owner was a worry for 49%.
As for concerns over smart device security incidents, 19% of wi-fi connected roller blind or shading systems have been hacked, 16% of medical equipment such as blood pressure monitors connected to the internet have experienced the same issue. Sixteen percent of smart irrigation system users also had been hacked, with 12% of smart doors, locks, door bells reported issues. Just under a quarter of small home appliance owners are happy with their wi-fi connected kettle, coffee maker or microwave, and have the least concerns about security.
Kaspersky is offering Internet service providers (ISPs) with a solution to protect a wide range of smart home devices such as smart speakers, TVs and thermostats. Kaspersky Smart Home Security has been created to address the growing need for smart device security, which can be seamlessly installed on home routers, enabling broadband and mobile ISPs to provide their customers with effective smart home cybersecurity protection.
Protection of your digital home matters
More than half of respondents, (56%) believe they are responsible for the protection of smart devices they have in their home, with millennials (users aged 25–34) caring most about the protection of smart devices in their home, with 54% securing the devices they own.
Cybersecurity messages are reaching smart device owners who show good digital habits, with 51% choosing to use a cybersecurity solution — the most popular method — to protect their gadgets. Regularly changing device passwords and updating device software is another practice for 41%. When it comes to purchasing, 34% of smart device owners will only buy from trusted manufacturers and put their trust in the maker, believing this will be enough for protection.
What special techniques do people use to protect their privacy online?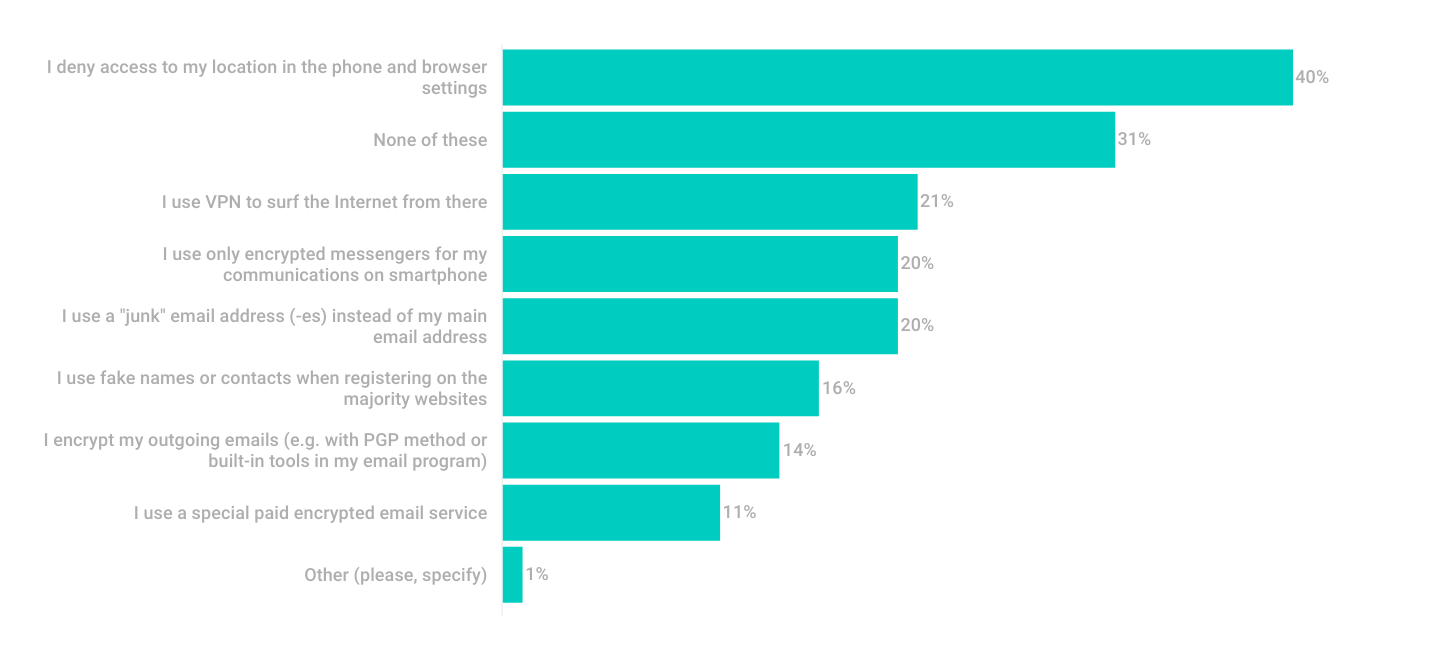 People are willing to put their cybersecurity trust in a who's who list of security software vendors (69%), and IT giants such as Microsoft, Google, Apple, Amazon, Facebook or Alibaba, while 64% value other big IT companies such as IBM or Adobe, but just over half mentioned antivirus companies (51%).
With privacy more of an issue than ever, people most frequent prefer to deny access to their location in their phone and browser settings (40%), use a VPN to surf the internet (21%) and use a "junk" email address instead of their main email address (20%). A fifth of respondents only use encrypted messenger systems such as WhatsApp to communicate on their smartphone.
Conclusion
---
"Hey Alexa, improve our home security"
The report showed while we love virtual assistants who are there for us day and night, are aware of what a smart home is and happy to let smart devices into our lives, we're less aware of how we protect internet connected gadgets into our most precious space.
In the battle to control the devices that run or rule our homes, 'hey Alexa install and connect to our home Wi-Fi' is mostly the domain of men, but we still worry about who may, or may not be watching us via our virtual assistant, or robot vacuum cleaner.
While millennial gadget buyers are the most digital security aware and actively take responsibility for the protection of their internet connected fridge, doorbell, or lighting system which all require a cyber resilience check before purchasing, worryingly education is still needed for those who trust their device manufacturer to do the right thing with their security.
About Kaspersky

---

Kaspersky is a global cybersecurity and digital privacy company founded in 1997. Kaspersky's deep threat intelligence and security expertise is constantly transforming into innovative security solutions and services to protect businesses, critical infrastructure, governments and consumers around the globe. The company's comprehensive security portfolio includes leading endpoint protection and a number of specialized security solutions and services to fight sophisticated and evolving digital threats. Over 400 million users are protected by Kaspersky technologies and we help 240,000 corporate clients protect what matters most to them. Learn more at www.kaspersky.com.