On Christmas Eve we counted the results of our light-hearted survey on Facebook. Users were asked to say which piece of malware, if any, they most associated with Santa.  It turned out that the Russians and the French are pretty fond of the old fella and consider him completely trustworthy, bringing only joy to children and being incapable of any maliciousness. The majority of Spanish respondents see him as a Trojan because he enters homes via chimneys – something that users in both the USA and Croatia agreed with. Meanwhile, the Germans, Slovaks and Latin Americans reckon he's more like spam that appears every year at the same time.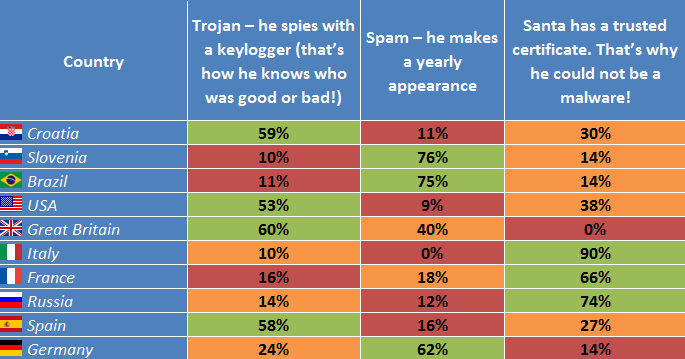 Why's he perceived so differently? Maybe it's down to the big guy being viewed differently in various countries. Let's try and understand just how the festive season's leading character is seen in various parts of the world.    
In North America he's the jolly fat Santa Claus flying through the December sky in a sleigh pulled along by his faithful reindeer. He enters homes via the chimney and leaves presents in stockings hanging from the mantelpiece. He doesn't have a companion (if you don't count his reindeer and the elves who help pack his presents). 
In snowy Russia the star of the New Year festivities is the king of cold Ded Moroz, or Grandfather Frost. Unlike his European counterparts, he always travels on foot and enters homes through the door. He carries his presents in a big red sack. He's the only festive season character to travel with a female helper – his granddaughter Snegurochka, or 'Snow Maiden'. 
Santa Claus and Weihnachtsmann take care of Christmas in Germany. The former, with his companion Ruprecht, visits on St. Nicholas Day – 6 December. He gives presents to children who have been well behaved and punishes those who have misbehaved. Weihnachtsmann is very similar to the Russian Ded Moroz and at Christmas he comes into town on a donkey.
The main gift-giver of a French Christmas is Père Noël (Father Christmas). He visits children together with his assistant Chalande who punishes naughty children. Père Noël gives children presents but only once they have placated Chalande by singing a song.
It was from France that the idea of Père Noël spread to southern Europe, including Spain and Portugal, and from there to many Latin American countries. The French name was altered slightly in Brazil to Papai Noel, and in Peru and Argentina it's Papa Noel. In Colombia, Uruguay and Ecuador they have their own original figure – Papa Pasquale, who walks the streets on stilts and lets off fireworks, but don't expect any presents from him. However, he is a master story teller.
In the UK children request presents from Father Christmas, writing a list of things they'd like and then burning it in the fireplace. They believe that the smoke from the chimney will take their requests to the right address. Another tradition of a British Christmas is the Queen's speech which the whole country listens to.
In Italy they have Babbo Natale, who differs from most of his colleagues in that he doesn't bring presents. On the contrary, children leave out sweets and milk for him after he has come down the chimney. Italian kids get presents from the old lady Befana, and anyone who has been badly behaved only gets a small piece of coal. How she enters the home is not exactly clear; they say it's either through the chimney or, like Weihnachtsmann, on a laden donkey.
In Japan there is no Yuletide figure with a beard and bright red suit. Instead the god Hotei-osho plays this role. He is often depicted as a goat and supposedly has eyes on the back of his head.
But no matter who the hero of the festive season is, everyone loves him and eagerly looks forward to his arrival. Even if the presents are simple, he still conjures up a magical holiday-season mood. And so, what about the survey? Well, maybe we shouldn't take it too seriously. After all, New Year is just around the corner!