What should have been a fairly straightforward climb for Olga Rumyantseva turned out to be a little harder than expected. Despite the difficulties the highest volcano in Asia gave Olga, she can officially add it to the list of successfully completed stages of the Kaspersky 7 Volcanoes Expedition. Here she is all alone on the summit of Mount Damavand!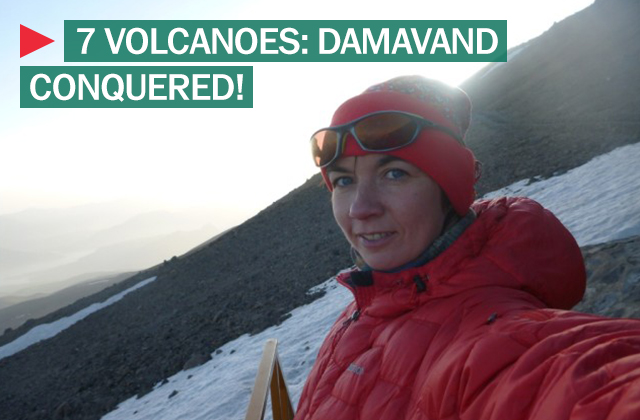 To recap, the experienced Russian climber is tackling the highest volcano on each of the world's continents with the support of Kaspersky Lab, and the company is following her progress and adventures with great interest. As we wrote earlier, Damavand is not considered to be a difficult climb, it's even possible to walk to the summit as there are several different routes. So Olga set off on her ascent full of optimism and after a very fortuitous start, with her friends driving her to the village of Polur, where the president of the local climbing federation then kindly took Olga to the starting point at a hut 3000m up the volcano. The rest of the journey was on foot and extremely picturesque. During the month of June the mountainside is very beautiful – huge red poppies are in bloom and look stunning against a backdrop of mountain slopes, blue skies and bright sunlight. The only difficulty, according to Olga, was a heavy backpack.  Her friends had stuffed it so full of food that she had to stop and eat some of the contents on her hike.
The good weather and her determination helped her achieve her goal on the first attempt.
After a night's rest, her final dash to the summit began. This was difficult physically, with a lack of acclimatization to the area taking its toll on Olga. "Almost nobody does such high mountains in two days," commented Olga. Nevertheless, the good weather and her determination helped her achieve her goal on the first attempt. And no one else was climbing that day, so Olga had the summit all to herself.
Apart from being physically tired and dealing with a drop in air pressure, the hydrogen sulfide gases near the summit also made the ascent that much more difficult. But, all that's behind her now and we hope Olga is off having some well-deserved rest and relaxation in the thermal springs at the foot of Mount Damavand!s
You can follow Olga's progress on a special section of our blog dedicated to her expedition.