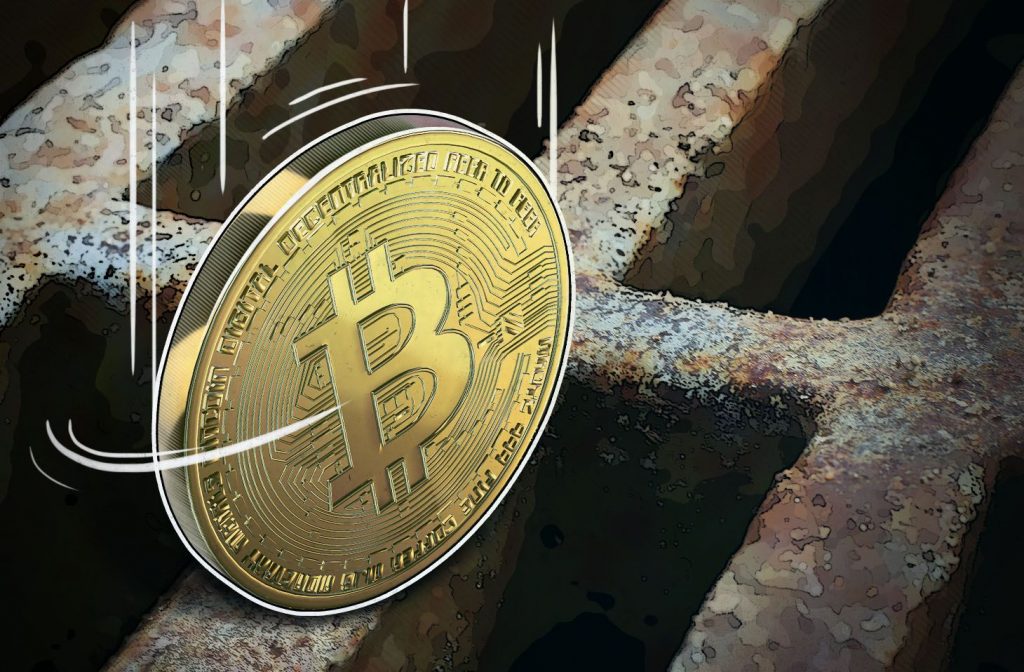 Uncharted territory: why consumers are still wary about adopting cryptocurrency
Kaspersky's Cryptocurrency Report 2019
Introduction:
Cryptocurrency has rapidly become one of the most exciting technologies in recent years. The most popular of them all – Bitcoin – soared in value in 2017, leading to millions to purchase the currency and set up their own mining farms. As of May 2019, the currency reached a market capitalization of nearly $100 billion. Whilst it has now dropped from its November 2017 high of $19,783.06, it is still trading at four times what it was at the beginning of 2017. Financial experts are predicting another boom in the near future, perhaps as early as the end of this year.
The concept of cryptocurrency has come a long way from its early days, when it was perceived as a mysterious and complex technological innovation. This misconception is now redundant, as businesses, their customers, and investors have accepted cryptocurrency as part of modern life. Even entire nations are on board. Japan is preparing to share its positive experience of cryptocurrencies with finance ministers from other G20 countries at the upcoming summit in Osaka. Whether you want to pay for a latte or transfer funds at the click of a button, virtual currency is empowering people to manage their finances differently.
Suddenly, cryptocurrency has become an essential part of modern culture, with celebrities including Johnny Depp and Ashton Kutcher, influencers and renowned global brands all airing their positive views about the technology. For instance, famed YouTuber PewDiePie (who has more than 90 million subscribers on the video sharing platform) has partnered with blockchain live streaming service DLive to produce exclusive content for the platform. Even the word 'crypto' has transformed from a geeky idiom into a common term permeating into wider society. Death Proof star Kurt Russell has taken on a leading role in a film called 'Crypto' and rapper CoinDaddy has released songs about trading cryptocurrency.
There has also been a clear rise in the number of retailers and companies accepting cryptocurrencies as a payment method. The likes of Microsoft and Subway are now accepting bitcoin; Jaguar Land Rover is testing software to allow drivers to earn cryptocurrency for sharing data; and the online gaming community is becoming more interested in cryptocurrency as it provides a faster and safer payment processes.
The idea of using cryptocurrency is resonating with consumers, and following the global rise of digital and biometric payments, many analysts and financial industry experts predict cryptocurrency to follow suit. The onboarding of new users and cryptocurrency adoption continues to rise. In fact, the number of verified cryptocurrency users has almost doubled in the past year.
Yet, despite a surge in popularity amongst the rich and famous, global businesses and the media, there are still hurdles to overcome. Cryptocurrency has still not gained credibility in the financial world, has no physical representation and it is infinitely divisible. The value of cryptocurrency is not based on any tangible assets and its usage is increasingly becoming the first choice for cybercriminals.
Our latest research into consumer attitudes towards cryptocurrency has revealed that many people are still not too willing to jump on the bandwagon. In fact, four-in-five people (81%) have never purchased cryptocurrency. This report will examine the reasons why consumers are still wary about using cryptocurrency and the problems that need to be addressed before the technology will be adopted by the masses.
Methodology:
The Kaspersky's Cryptocurrency Report 2019 is a study into the state of consumer attitudes towards cryptocurrency.
The survey was conducted in October and November 2018. A total of 13,434 consumers were surveyed in 22 countries.
Key findings:
Four-in-five (81%) have never purchased cryptocurrency
In fact, only one-in-ten (10%) said they fully understand how cryptocurrencies work
A third (35%) believe cryptocurrencies are a fad
Almost every sixth (14%), though, of those that are not using cryptocurrency currently would like to in the future
Nearly a fifth (19%) that use cryptocurrencies have experienced hacking attacks on exchanges and (15%) have been victims of cryptocurrency fraud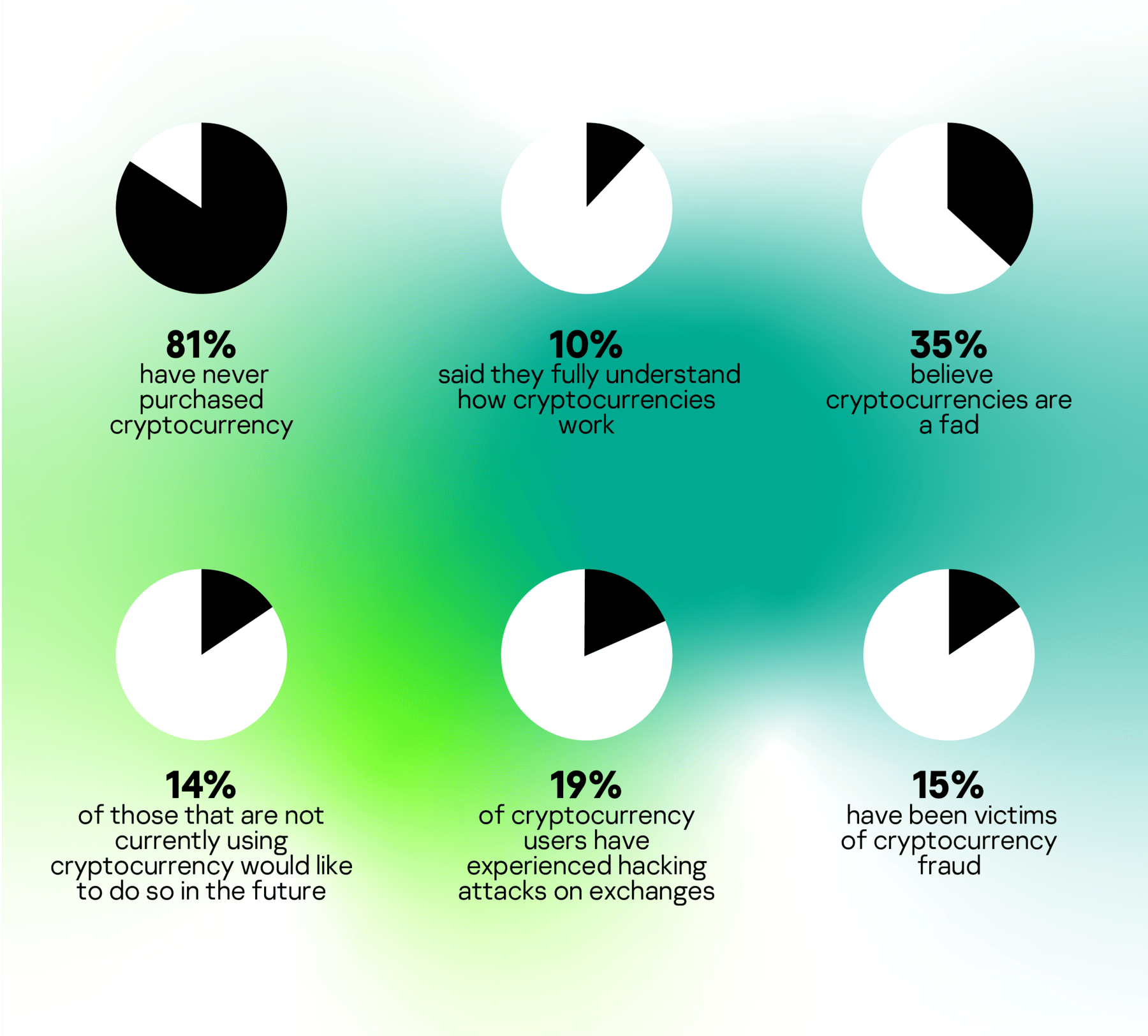 A lack of trust
Building consumer trust and loyalty is a challenge for any business proposition. An idea – no matter how beneficial it is – cannot flourish unless people are ready to believe in it. Establishing trust takes time and needs the product or service to work efficiently. Unfortunately for cryptocurrencies and the businesses that count on them, our study has discovered that the majority of modern consumers are still not ready to rely on them on a daily basis.
Part of the problem could be down to how new and unproven the technology is. With many of us happy to manage our finances and investments with tried and tested methods, such as traditional bank accounts or stocks and shares, we clearly seek credibility when handling our finances. Contactless and biometric payments have become one of the most popular payment methods in stores, but the money still originates from our bank accounts. Nearly a third (31%) of those surveyed stated that they believe cryptocurrencies are quite volatile and they need stability before they are prepared to use them. As a result, only a fifth (19%) use them for monthly online payments.
It is fair to say that without rigorous standards in place to regulate cryptocurrencies, there are still many risks associated with using them. World economics relies on strong currencies, so the idea of investing money in a concept that you fear could collapse, is never appealing.
Furthermore, there is a common perception amongst consumers that cryptocurrency will not be around forever. A third (35%) believe cryptocurrencies are a fad that is not worth bothering about. Much like the personal compact disc player was a stepping stone to the MP3 player, could cryptocurrency just be a stop gap before something far bigger comes along? Many consumers are still waiting for cryptocurrencies to cement their place in the global financial landscape.
Yet, there is still hope on the horizon. Almost every sixth (14%) of those surveyed did say they are not using cryptocurrency at the moment but would like to in the future. There seems little doubt that as exchanges become certified, consumers will be prepared to take the leap and invest their money accordingly.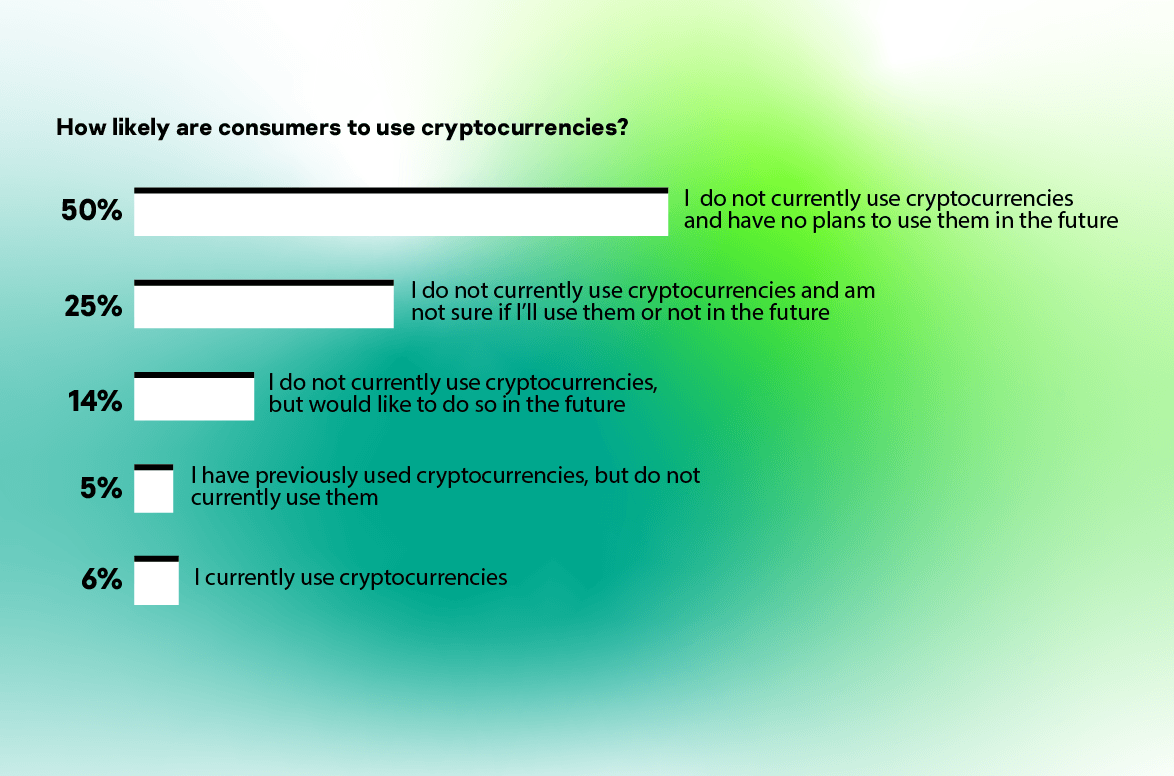 Finances at risk
The scourge of cybercrime remains a challenge for cryptocurrencies. As it currently stands, there are no strict regulations in place to ensure these currencies remain secure and keep investors' money safe. Currencies and exchanges can be launched, but with very few checks to prove they are worthwhile for potential customers. Cybercriminals are aware of this and creating both basic and sophisticated threats to capitalize on any vulnerabilities. And their tactics are working – the extent of theft is alarming, with nearly £2 billion worth of cryptocurrency stolen in 2018.
The potential and consequences of a breach has left consumers concerned that their finances simply will not be safe, if they decide to adopt cryptocurrencies. And for good reason. Thefts, hacks and breaches have cost the cryptocurrency market $882 million in total to date, Unfortunately, the number of people that have been a victim of a breach is increasing. And the trend seems to be gaining momentum. Nearly a fifth (19%) of those surveyed said they have experienced hacking attacks on cryptocurrency exchanges. Furthermore, 15% of consumers have been victims of cryptocurrency fraud. This occurs when cryptocurrency coins or crypto wallets are put at risk or stolen.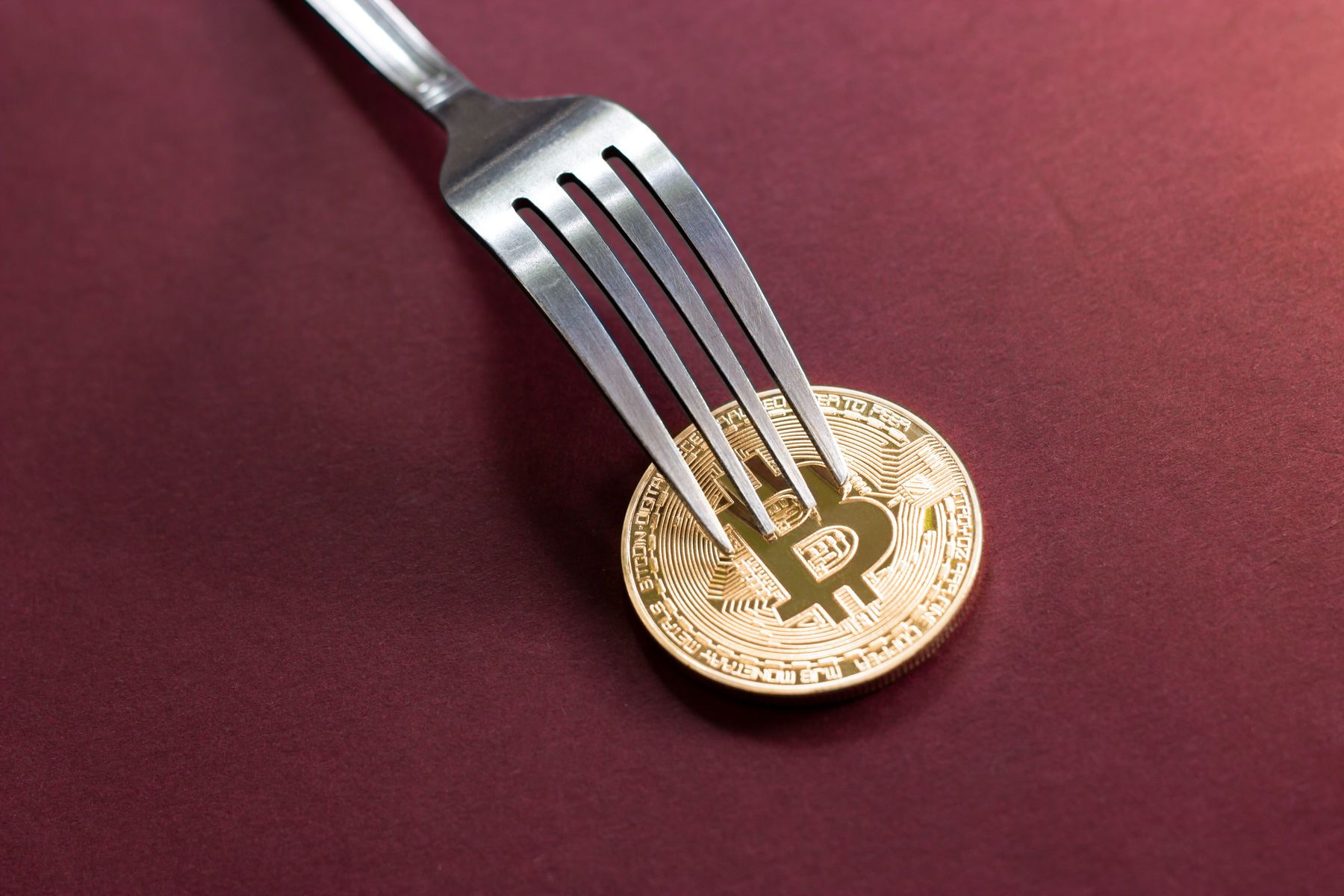 Moreover, cybercriminals are still scheming in other ways to put people's finances at risk. For example, some cryptocurrency exchanges – also known as 'shady exchanges' – are simply set up with the intent of stealing investors' money. Other such scams include fake wallets, which often appear safe to use on the surface but, in fact, separate people from their hard-earned cash. These can be made to look very official and genuine, often being listed on iOS and Android's app stores.
Additionally, with many cryptocurrencies still in their infancy, they appear not strong enough – compared to traditional currencies – to make an investment worthwhile for consumers. Nearly a quarter (23%) of the consumers we surveyed said that they have lost money due to a decrease in the value of the cryptocurrency they chose to invest in. Many of them blame the cryptocurrency for not being profitable for long enough.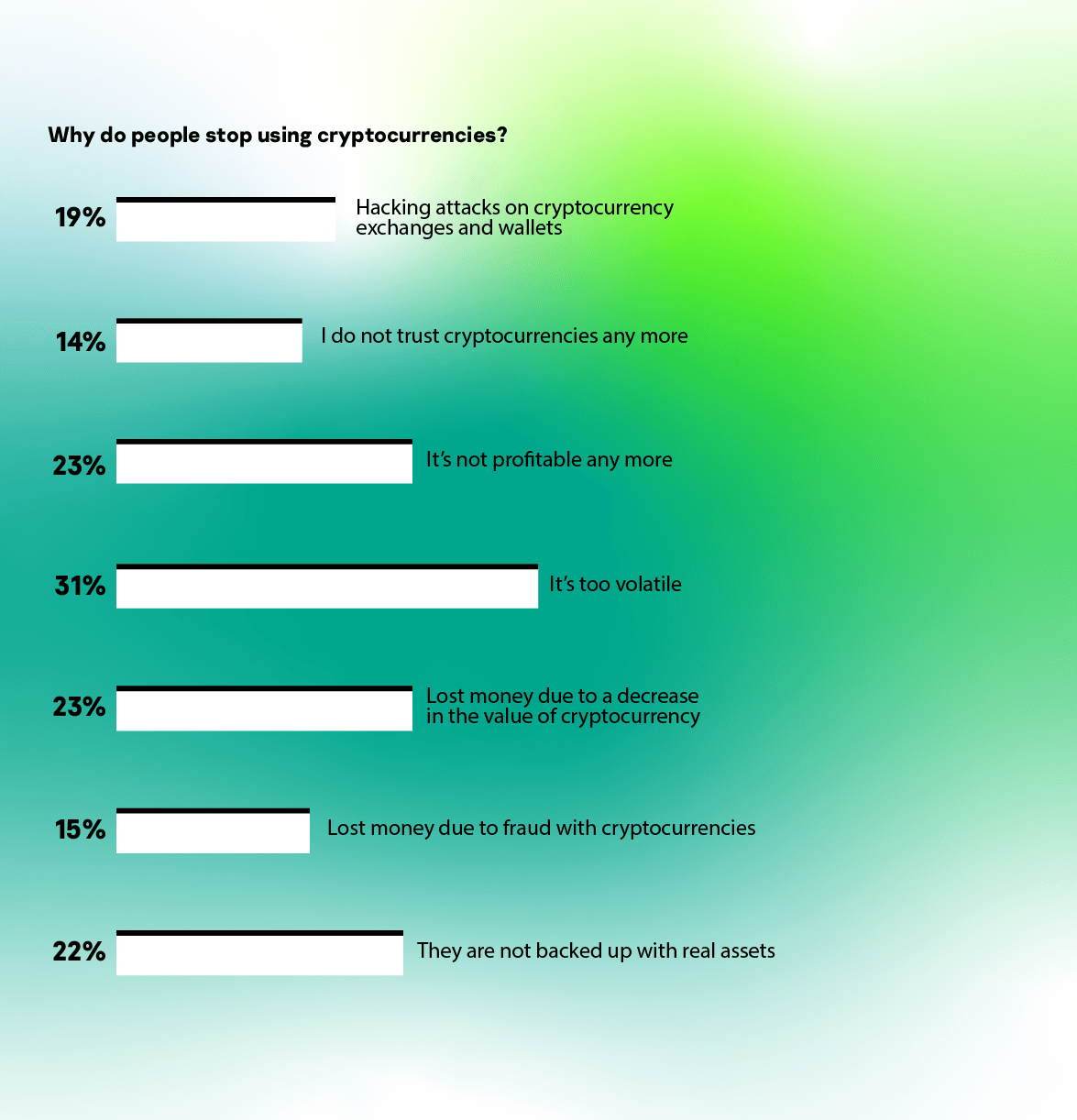 The knowledge gap
Fear of the unknown often holds people back from many aspects in life. From buying a house or changing careers, to even starting a family – taking the plunge is sometimes scary. The same can also be said for technology. If we do not know or trust how something works, or it seems too complicated, then it is highly unlikely that we'll be able to use it effectively or even bother trying.
Cryptocurrency may well be seen by some as an exciting way to manage their finances, but our research suggests that we're still at a stage where the majority of us simply lack the right knowledge to use it properly. Only one-in-ten (10%) of the people we surveyed said they fully understand how cryptocurrencies work, while 45% said they have heard of the concept but do not know how it works. Perhaps even more telling is that 29% of people claim to know how cryptocurrencies work, but only to a certain extent, and 18% have stopped using them because they became too technically complicated.
The perception that cryptocurrency is for nerds is a tough one to shake off. People who have adopted cryptocurrency prefer to do so on a personal computer (55%) rather than smartphones (14%).
Another important aspect is how committed people are to using it in the long term. Our research discovered that just one-in-four (27%) people who have cryptocurrency accounts always remember their credentials. With yet another password to remember to access our online lives, unless they get real value out of the technology many people who fail to commit their passwords or usernames to memory or a password manager, will give up on using the technology because it is too impractical.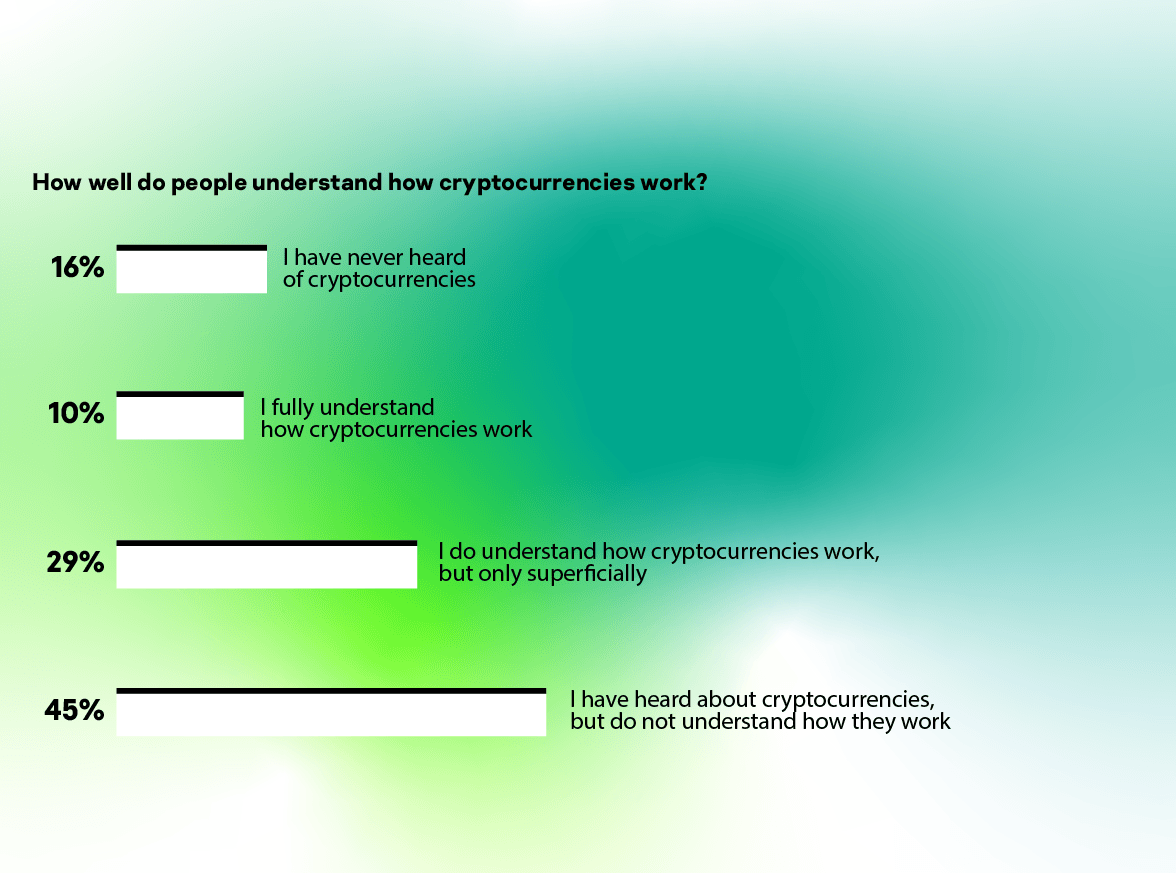 What comes next?
Despite the wave of excitement surrounding cryptocurrencies over the last few years, with famous faces and global brands happy to use them, modern consumers are still wary about making them part of their everyday lives.
Many countries retain power through money, and cryptocurrencies are a big threat to this centralization of power. Every country has its own regulations, so providing access to various exchanges and currencies can be very difficult or even impossible. Due to the existing uncertainty surrounding the future of cryptocurrency, almost a third (30%) of consumers are still waiting to see what the future holds for the technology before deciding to invest in it.
What is more, with more than 1,500 cryptocurrencies on the market, and new alternative ones emerging every week, cybercriminals have developed a number of ingenious schemes to deceive those aspiring to try the new virtual currency. For consumers and organizations faced with this scenario, a very important question arises: how should they deal with this potential threat?
To combat the problem and reduce the risk, companies and institutions that have embraced cryptocurrency need to take serious steps to ensure that consumers can trust them with their money. This starts with working towards the introduction of appropriate national legislation to ensure the technology is secure. Organizations also need to proactively bridge the cryptocurrency knowledge gap by not only keeping consumers informed but adopting the latest security solutions.
Kaspersky provides transparent and powerful protection for the crypto-economy. With several years of research and cybersecurity assessment of crypto start-ups, we recommend crypto businesses apply the following measures:
Follow best security practices for smart contract developers
Use proven frameworks for smart contracts (such as https://openzeppelin.org/)
Conduct a third-party assessment of the smart contract to ensure that nothing is missed
Introduce basic security awareness training for all employees so that they can better distinguish phishing attempts
Monitor for emerging vulnerabilities in smart contract execution environments
For consumers that are already exploring cryptocurrencies or planning to, Kaspersky recommends the following advice:
Always check a web wallet address and do not click on links that lure you to an online bank or a web wallet
When you are entering a deal, keep a clear head and make informed decisions. Do not panic or rush
Before sending, double check the recipient's address (at least the first and last symbols), the amount of crypto being sent and the amount of commission
Do not invest more than you are prepared to lose. Diversify all your investments
Use a reliable security solution that stores your wallet's private key in an encrypted private vault, such as Kaspersky Password Manager
Use a reliable security solution for comprehensive protection from a wide range of threats such as Kaspersky Security Cloud