Connected Love: Privacy in Relationships and the Boundaries of Personal Space
The Story of John and Amy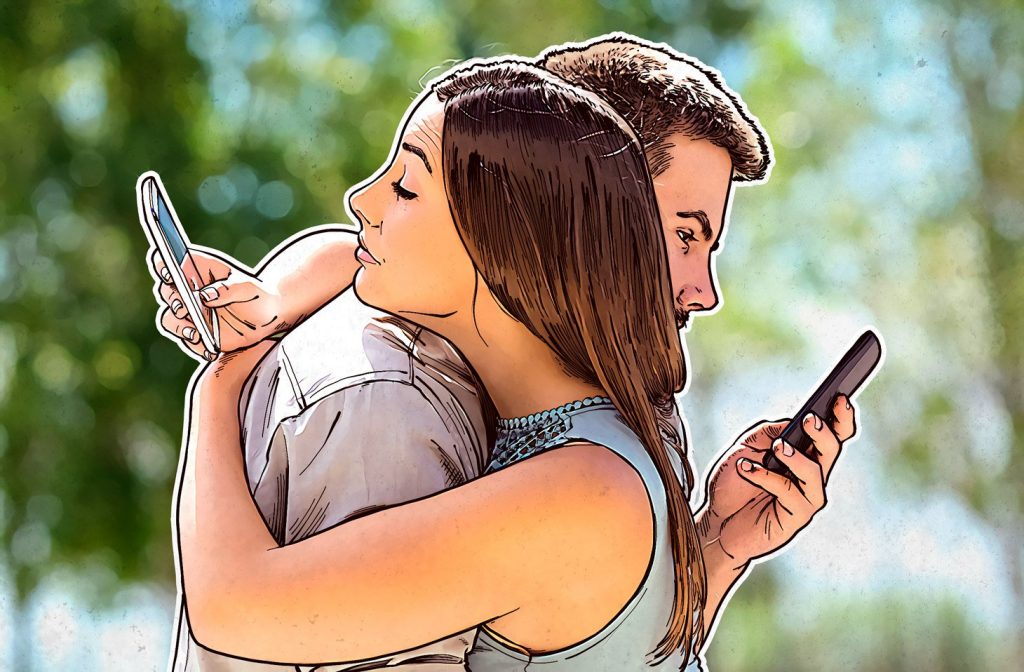 Main Findings
Our study found that the boundaries of digital privacy are blurring. Half of people in a relationship give their partners the PINs/ graphical passwords to unlock their devices and 26% store intimate things on their partner's devices
Although eight-in-ten people believe that each person in a couple should have some private space both online and offline, a similar number (seven-in-ten) also state that relationships are more important to them than their privacy
72% say they have nothing to hide from their partner but at least 61% admit that they do not want their partner to know about some of their activities, including online activities – mostly about the content of messages they send to other people
Spying, for obvious reasons, isn't the way to encourage trust in a relationship. Nevertheless, 38% believe their partner's activity should be visible to them and around a third (31%) admits to spying on their partner online
In many cases, arguments, unfortunately, follow as a result. 33% have argued because one of them has viewed something on a device, which the other didn't want to share
A lack of privacy can be the cause of angst after a break up. For example, one-in-ten have admitted that after a break up they have shared or wanted to share their ex's private information publicly as revenge (12%). Men are more likely to do this – 17% of men have shared or wanted to share their ex's information publicly as revenge compared to just 7% of women
A sneaky third has chosen to spy on their ex via social networks (31%) or via an account that they had access to (21%) after a break up. Women are the worse culprits for spying via social media
Men, meanwhile, are more likely to spend their ex's money online (15% of men compared to 6% of women) and damage a partner's device after a break up (16% vs. 9%), limiting their ex's ability to rebuild their private digital lives at all
Introduction
The digital world gives us multiple digital spaces, in which to communicate, share and store the things that are important to us, either privately or publicly. But what happens to our private digital lives, when we meet our significant other?
Inevitably, the connected world has a key role to play in our relationships, helping us meet and communicate with people, and more. But when online lives collide do boundaries become blurred? How much impact does it have, and with what consequences for our privacy?
What if, once you've embarked on a relationship, you start seeing the occasional interesting message pop up on your partner's smartphone? Do you tell them they have a message but take care not to read it yourself? Do you hope your partner will invite you to read it too? Or, do you sneakily read the message while they're not watching?
If you chose the latter, how would you feel about your partner doing the same to you? And, in a loving relationship where everything is transparent, does it in fact, matter at all?
These questions are so new that society is still battling with them, as shown by works from psychologists such as Robert Weiss MSW and James Grubman, who talk about secrecy vs privacy in relationships. Clearly there's no right or wrong way to navigate a romantic relationship in the digital world. Everyone is different.
We are here to tell a story of one couple, John and Amy (*not their real names), whose experiences are typical of a couple tackling privacy issues in the digital age…
This report is based on research, and uses the example of John and Amy's relationship to discuss some key privacy issues that many modern couples are facing.
Methodology
An online survey conducted by research firm Toluna and Kaspersky Lab in January 2018 assessed the experiences of 18,000 respondents from 18 countries, who have been in a relationship for at least 6 months, and who are more than 18 years old.
Data was weighted to be globally representative and consistent, split equally between men and women.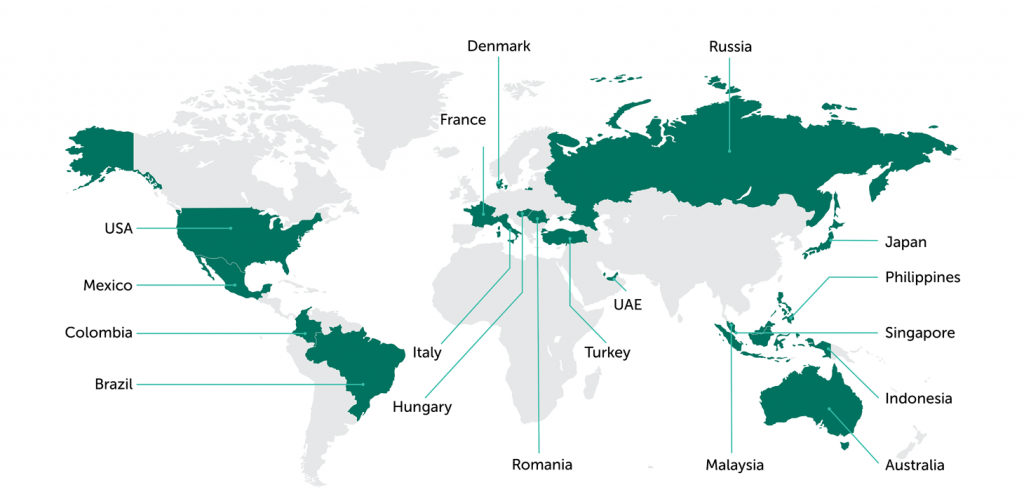 Not all of the survey results have been included in this report. To request further data please contact Kaspersky Lab at prhq@kaspersky.com.
Chapter One: John and Amy meet with a swipe
The digital domain has a big role to play in the lives of modern couples – many meet online for the first time, and use the Internet to find out more about each other before they've even locked eyes. Overall, a quarter of today's relationships (25%) started online – either through a social network, online dating service or an online group or community.
The younger the relationship, the more likely it is that a couple met online – while 17% of couples that have been together for 10-19 years met online, this rises to 29% among couples who have been together 5-9 years, and 37% among new relationships that are less than a year old.
It's easy to see why people are successfully finding another half online – our previous study into online dating found that 32% of Internet users are dating online, so the odds of meeting someone suited to you are strong.
And, once a couple has met, the Internet allows them to stay connected to each other in between dates. Sharing messages, links and calls is an important part of couples getting to know each other better, and helps them develop that 'spark', or chemistry. Online dating is certainly how John and Amy met, and you can see Amy's account of their first date via her social media page below.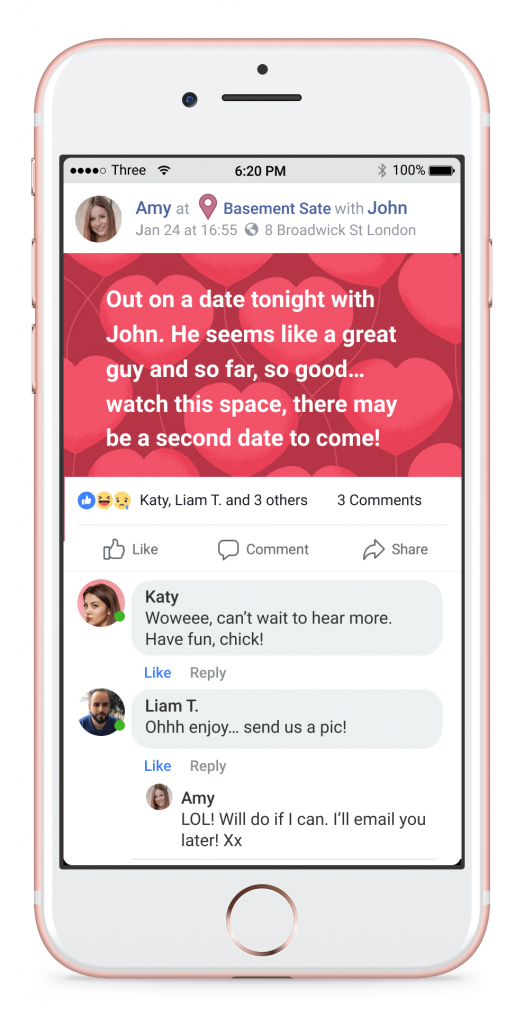 Chapter two: John and Amy become Jamey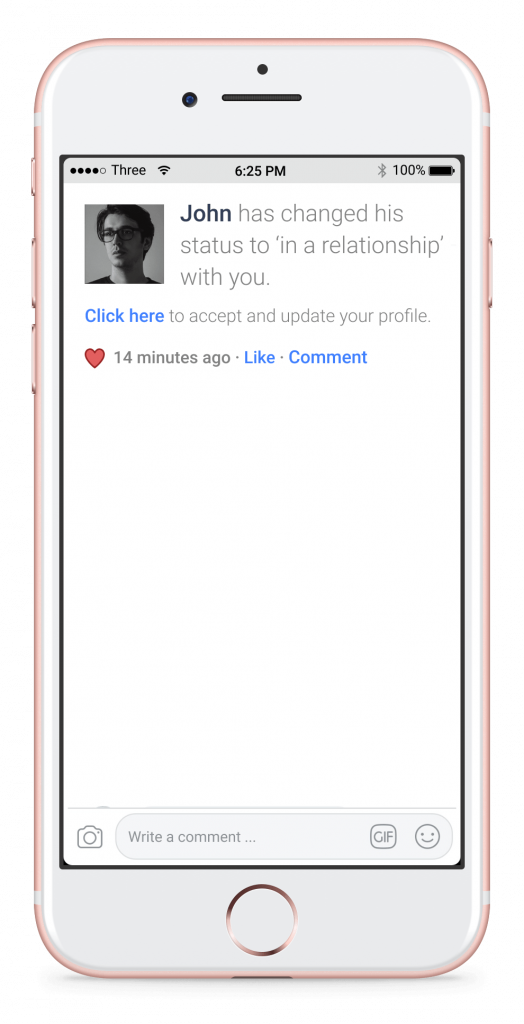 That moment when a new relationship becomes publicly official, for many, also marks the beginning of a period when the boundaries between two previously separate digital lives become blurred. Match.com statistics have recently shown that updating their social media status to 'in a relationship' is a milestone that generally happens 157 days from the beginning of a relationship, and often after each party has said 'I love you' to the other (day 144 on average).
In this instance, perhaps John and Amy had a discussion about their relationship before John updated his Facebook status. But what if they didn't? Would Amy have seen this as a potential intrusion into the privacy of her digital life and how she portrays herself to the world? Certainly, the majority of people (56%) believe their partner should ask for their consent before posting something about them, or posting their photos/ videos online.
I guess we'll never know what sort of discussion John and Amy had when they reached this milestone, but you'll be pleased to hear their relationship progressed nonetheless.
In relationships, it often becomes natural to share some aspect of each other's digital lives – whether that's log in details for shared services like banking, account access for watching films or TV together, photos, or other, more intimate things.
The study shows that 80% of people believe that each person in a couple should have some private space both online and offline, however 70% state that relationships are more important to them than their privacy – as you can see, at some point in their development, relationships start blurring people's attitude to their own privacy.
Thus, many also share access to each other's devices, and our study found that half of people in a relationship know the PINs/ graphical passwords to unlock each other's devices, blurring the boundaries of digital privacy even more. But here is where harm to personal privacy starts: some people in relationships admit to getting their partner's passwords without permission – 3% said that their partners don't know they have this access to their devices.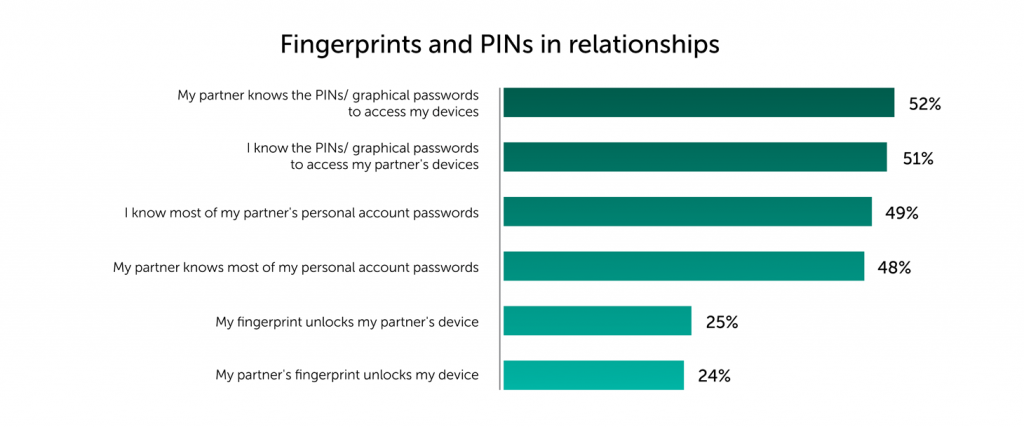 In addition, 26% store intimate things on their partner's devices, such as intimate messages, photos and videos. Moreover, 7% say they have stored intimate messages from previous partners on a device or online account that their current partner has access to, leaving them vulnerable to being read/ viewed by their current partner.
Perhaps these partners simply have enough trust in each other that they are confident the other will not snoop into these intimate depositories. Perhaps they feel they have nothing to hide. Or perhaps they're just leaving it to chance that they, or their current partner, may somehow end up getting upset by an unexpected discovery.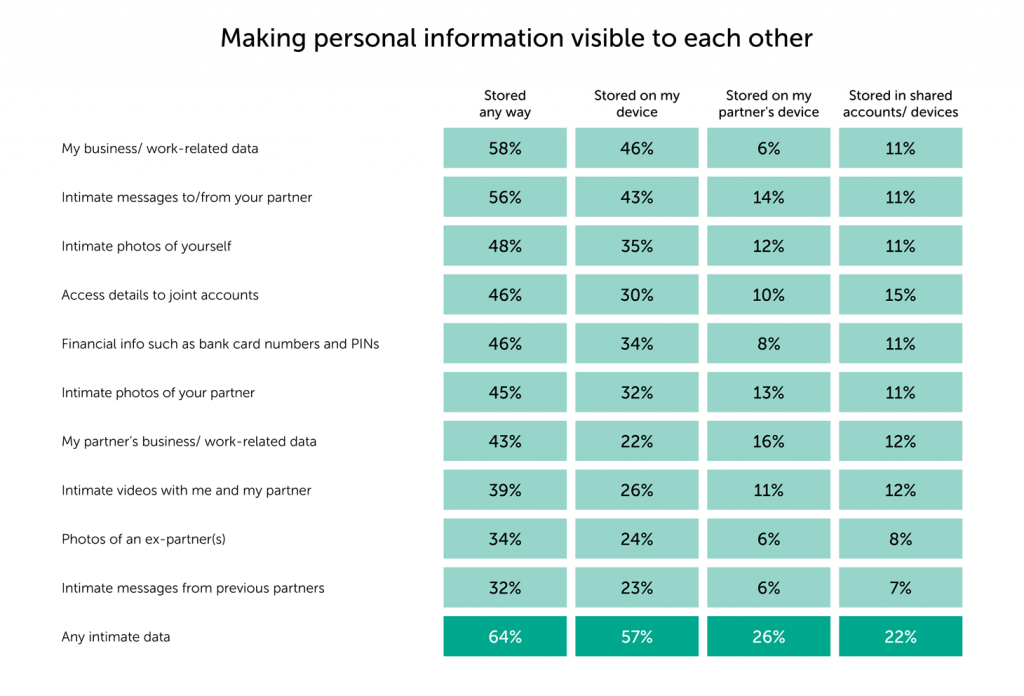 Chapter three: John and Amy need some private space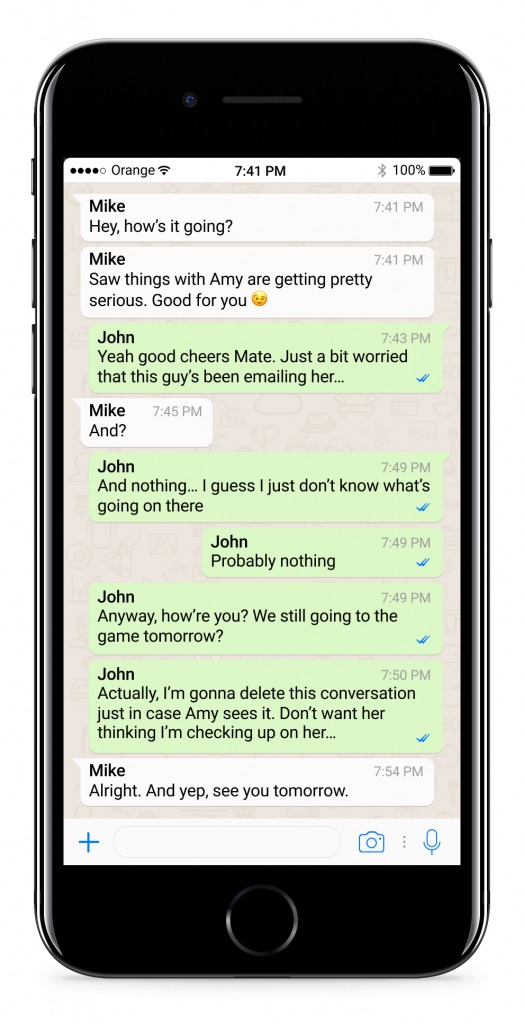 Seeking privacy in an otherwise transparent relationship requires couples to strike a balance. And, as John is discovering here, people in relationships can have different attitudes to privacy.
The sad reality is that privacy is not always respected, and some partners learn the passwords to their spouses' devices/ accounts, or look at something private, without permission.
This behaviour is mostly seen among those who admit that they are not completely happy with the relationship they're in. We measured relationship happiness during the survey by asking people to classify their relationships from the following options: 'our relationship is great and I'm happy with it', 'our relationship is good and I'm satisfied with it' (these two options have been classified as "good" relationships in this report), 'our relationship is OK, but could be better', or 'our relationship is unstable, I'm not sure if we have a future' (these options were classified as "bad" relationships). Users could also choose not to answer this question if they didn't want to.
Classifying relationships in this way has given us some interesting findings. For example, 38% believes their partner's activity should be visible to them and 31% admits to spying on their partner online. So, perhaps it is no surprise that 20% feels their online privacy is endangered because of their partner. However, this rises to 48% among those who said, "our relationship is unstable, I'm not sure if we have a future". So, it's easy to see why privacy may sometimes become the cause of tension, especially for unhappy couples.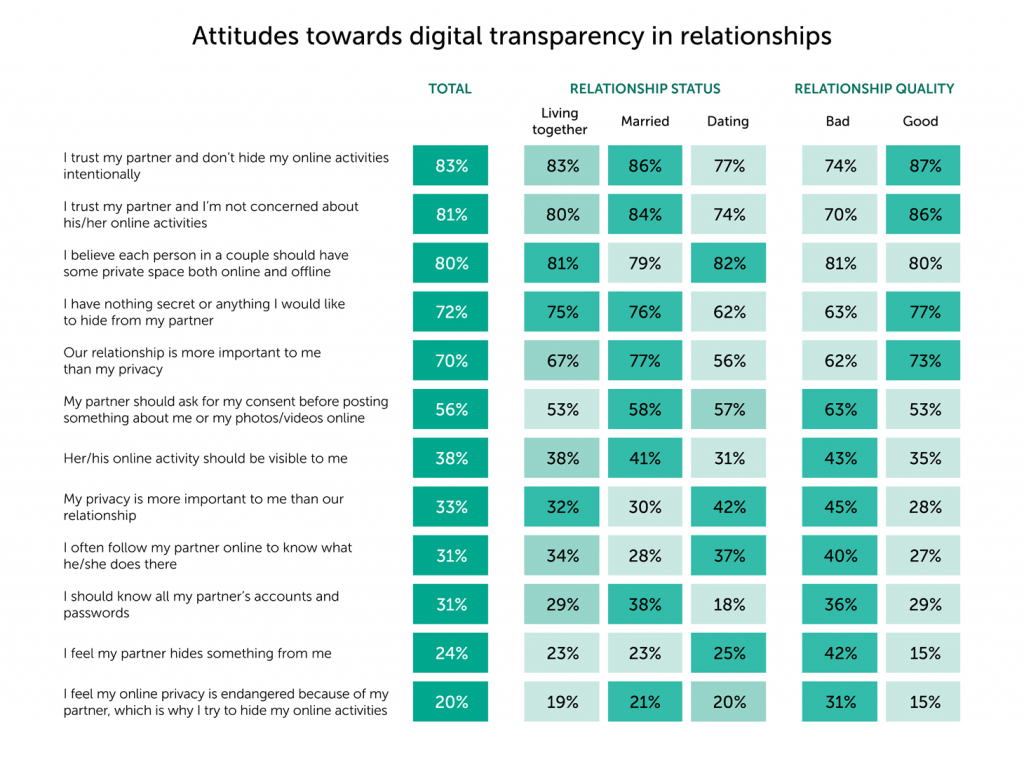 But people can harm each other's privacy not only in order for spying on a loved one. For example, many people admit that they or their partner have seen (either intentionally or accidentally) something their partner didn't want them to see – for example messages (33%), web activity (31%), or photos, documents or files (29%) that they didn't want prying eyes to fall on.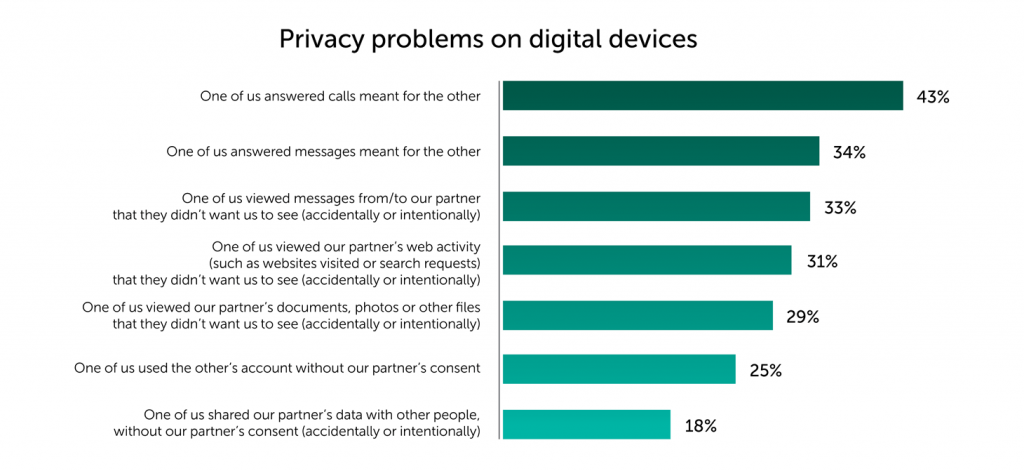 In addition, not enough privacy can be the cause of friction within a relationship, with many couples admitting this is something that they argue about – 33% have argued because one of them has viewed something on a device, which the other didn't want to share.
Furthermore, 47% of those who fall into our 'bad relationships' category, argue about this compared to just a quarter (27%) of those who were classified as being in 'good relationships'. And the figure rises to 66% of those who feel their privacy is endangered by their partner.
Chapter four: Amy and John look for somewhere to 'hide'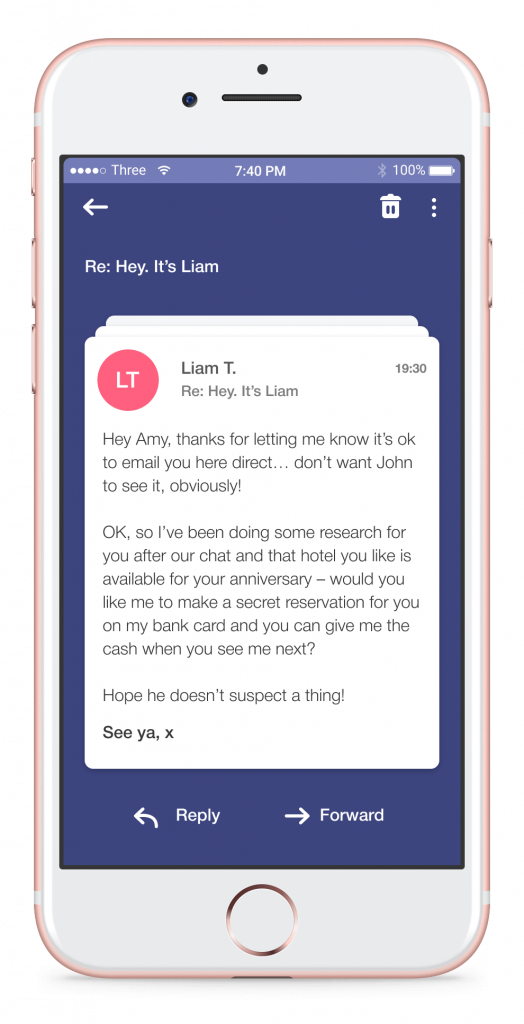 Finding somewhere to 'hide' in a relationship might seem fairly natural if one person is craving some privacy – or if, like Amy, one member of the relationship is trying to organise or buy something as a surprise for the other to celebrate birthdays, anniversaries, engagements, Valentine's Day, and more!
But there may be other things (and perhaps more upsetting) things that one partner may not want the other to see, such as messages, photos or mementos from times with an ex, that are just too hard to get rid of.
Most (72%) say they have nothing secret to hide from their partner and 81% say they trust their partner and are not concerned about their partner's online activities. Certainly, our research shows that happy couples tend to be more transparent with each other. Proof of this is the fact that 87% of those that said they are in a good relationship, also say they do not intentionally hide anything about their online activities (compared to just 74% of those who say they're in a troubled relationship).
Yet, despite this readiness to let their partners cross privacy boundaries, most people still seek to keep something private, just for them. At least 61% admit that they do not want their partners to know about some of their activities (and, it's worth noting that we didn't ask them about everything you can do, so this figure might be even bigger in reality!). People are most likely to hide the content of messages they send to others (24%), how much money they spend (23%) and what they spend their money on (23%). And again, unhappy partners tend to hide more: e.g., 33% of those in a bad relationship hide the content of messages they send to other people (compared to just 20% of those in a happy relationship).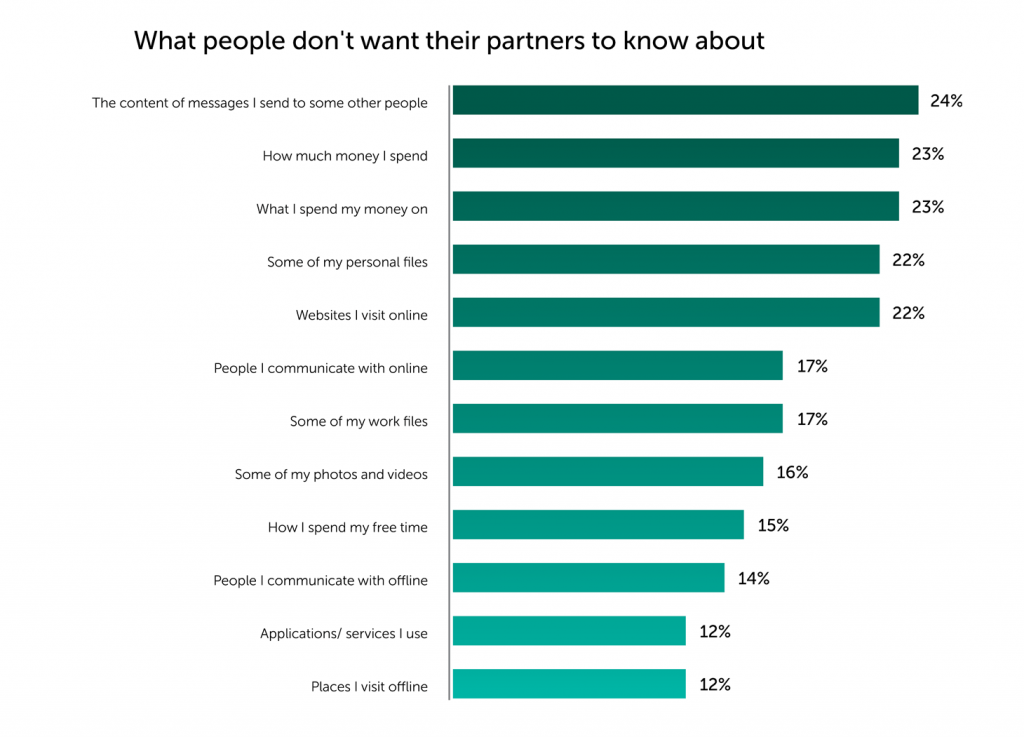 Chapter five: precious to potent – can John and Amy work it out?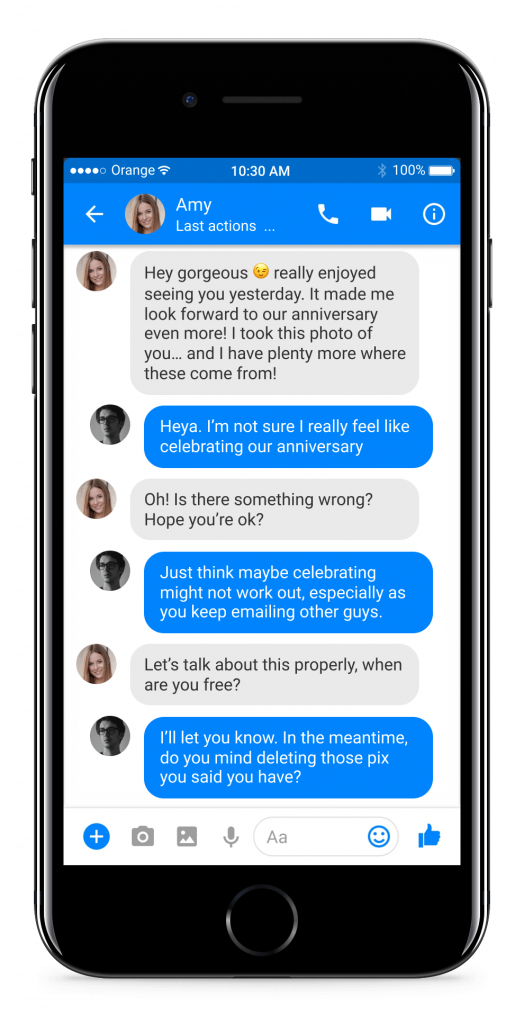 It's always sad when a relationship has problems or when communications breakdown, especially in John and Amy's case, where it looks like a bit of distrust has simply got in the way of a romantic surprise. Let's hope they can patch it up.
Sharing devices for the storage of special or intimate memories in a relationship is surely natural when trust exists between two people. But what if things start to break down like they have in John and Amy's relationship here?
Suddenly intimate data is in the hands of someone who you don't feel as comfortable with anymore, and your privacy may be put at risk. For example, one-in-ten have admitted that after a break up they have shared or wanted to share their ex's private information publicly as revenge (12%). Men are more likely to do this – 17% of men have shared or wanted to share their ex's information publicly as revenge compared to just 7% of women.
It's possible this abuse of trust – or fear of an abuse of trust – could be one of the reasons why after a break up, around half delete their ex from their online worlds by removing their ex's information from their devices, removing them as a friend on social networks, and deleting their photos.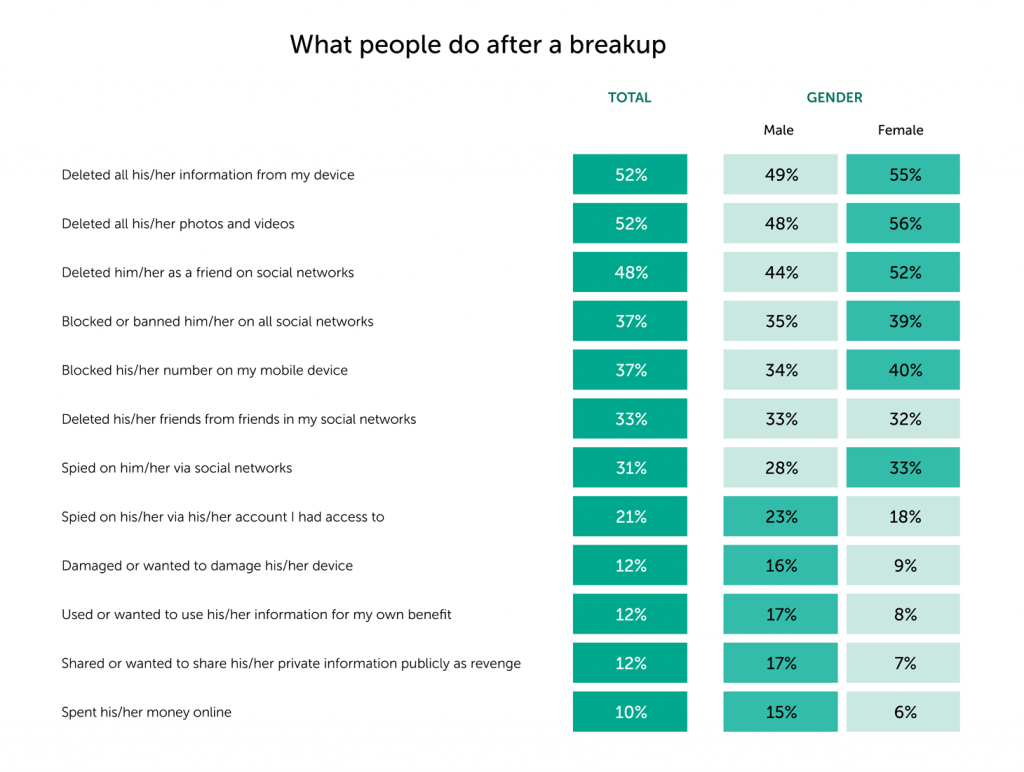 However, a sneaky third chose instead to spy on their ex via social networks (31%) or via an account that they had access to (21%). Women are the worse culprits for spying via social media (33% of women do this compared to 28% of men). Men, meanwhile, are more likely to spend their ex's money online (15% of men compared to 6% of women) and damage a partner's device after a break up (16% vs. 9%), limiting their ex's ability to rebuild their private digital lives at all.
Conclusion
We're still waiting to hear whether John and Amy were able to sort things out in the end, but their story certainly demonstrates the importance of trust and privacy – and the difficulty of maintaining both in a noisy connected world.
Protecting privacy is something we're very passionate about at Kaspersky Lab, so here are a few tips from us on how you can protect your privacy, whatever your relationship status:
Talk to each other! Be honest, but set privacy boundaries in place so that you both know what the other feels most comfortable with. Are you happy to share absolutely everything with each other? Great! Just make sure it's a topic you've discussed before you go scrolling through each other's photos or other files.
Conceal the incoming calls or messages that need to stay secret. Organising an anniversary surprise for your other half, and you don't want them to be able to work it out? The Privacy Protection feature in Kaspersky Internet Security for Android can hide the messages and calls you don't want them to see – so that anniversary surprise remains protected from prying eyes!
Don't let Internet adverts give you away. Perhaps their birthday's coming up and you don't want them to know you've been researching a gift. Putting a solution in place to stop those adverts from revealing what you've been searching for is a great way of keeping that gift under wraps. Kaspersky Lab's Private Browsing features does just that.
Keep the romance alive with Valentine's Day plans they can't foil. Keeping your PC history clear is a great way of making sure they can't see what files you've accessed, or what you've been up to online recently. The Privacy Cleaner feature in Kaspersky Internet Security and Kaspersky Total Security does just that and more – it detects and removes traces of user activity in the system (applications launch, opening / saving files by different applications, temporary files etc.) to stop them working out your plans. In addition, the File Shredder feature in Kaspersky Total Security permanently deletes files to ensure they can't be restored, helping you to keep your secrets safe.
Give your devices strong passwords. Whether you share your devices with your partner or you want to keep your information protected, having strong passwords is key. Kaspersky Password Manager makes this easy, protecting user's privacy and keeping data secure, so that you don't have to worry about who's reading those emails or looking through those pictures on your phone after all.
To find out more about these products or to discuss how to boost your Internet privacy – whether you're in a romantic relationship or otherwise, visit the Kaspersky Lab website.