According to the cloud-based Kaspersky Security Network, about 200,000 new malware samples emerge every day, compared to 125,000 just a year ago. The price of poor-quality protection against cyber threats is not merely a daily bombardment of spam emails, or sluggish performance from a virus-ridden PC – the costs hit regular users squarely in their wallets. Criminals attempt to steal online banking credentials and other critical financial details, and 62% of Internet users experienced at least one attack related to online banking, shopping, or payment services during the last 12 months. In the fight against modern cybercrime, security solutions face a clearly-defined challenge: prevent these financial losses.
To help protect users against the threats that exist and to help keep financial data safe, Kaspersky Lab has released its new 2014 versions of Kaspersky Anti-Virus and Kaspersky Internet Security. The two new products include enhancements to existing protection technologies, like Safe Money technology, and a host of brand new features, like Trusted Applications mode, to ensure the highest levels of security for users' PCs and digital valuables. Kaspersky Anti-Virus 2014 and Kaspersky Internet Security 2014 have been optimized to ensure minimal consumption of PC resources.
What's new?
Several innovative antivirus technologies have been added to Kaspersky Anti-Virus 2014 and Kaspersky Internet Security 2014, which significantly improve user protection. Both products now include Kaspersky Lab's proprietary ZETA Shield antivirus technology, which performs an in-depth scan of data files (think PDF documents or XLS spreadsheets) to identify exploits and malware that may hide deep inside.
New versions of Kaspersky Anti-Virus and Kaspersky Internet Security improve your financial protection and family online safety.
Kaspersky Lab offers further protection from emerging threats through its improved Automatic Exploit Prevention technology, which scans legitimate programs for behavior typically found in exploits – a type of malware that infects the PC through vulnerabilities in installed software. Automatic Exploit Prevention closely monitors programs that are most frequently targeted by cybercriminals – such as Java and Adobe Reader – to block cybercriminals from using unknown gaps in legitimate software to penetrate a computer's defenses.
However, threats don't have to be new or sophisticated to pose a risk. Familiar threats like Trojan ransomware can block access to computers and demand payments to "unblock" victims' machines, sometimes even when an antivirus solution is installed on the system. In many cases, users ignore the security warnings of their security programs and willfully install a program that imitates a legitimate music file, document, or other legitimate program, only to realize too late that the program was in fact malicious.
Now, thanks to the new protection against screen lockers technology implemented in Kaspersky Anti-Virus 2014 and Kaspersky Internet Security 2014, ransomware is no longer a threat. If users of the new Kaspersky Lab solutions face a demand for payment to unblock their computer, they only have to press one simple key combination and the technology will find and remove the malware completely.
Extended protection with Kaspersky Internet Security 2014
Phishing attacks and Trojan programs designed to steal credentials for online banking systems are also among the most popular malicious tools. Kaspersky Lab's Safe Money technology – first introduced in the previous version of Kaspersky Internet Security – has already proved to be an extremely reliable additional layer of protection for online financial operations. The technology has been improved in Kaspersky Internet Security 2014, including support for more Web browsers, and a significantly expanded list of trusted online banking sites, payment services and online stores.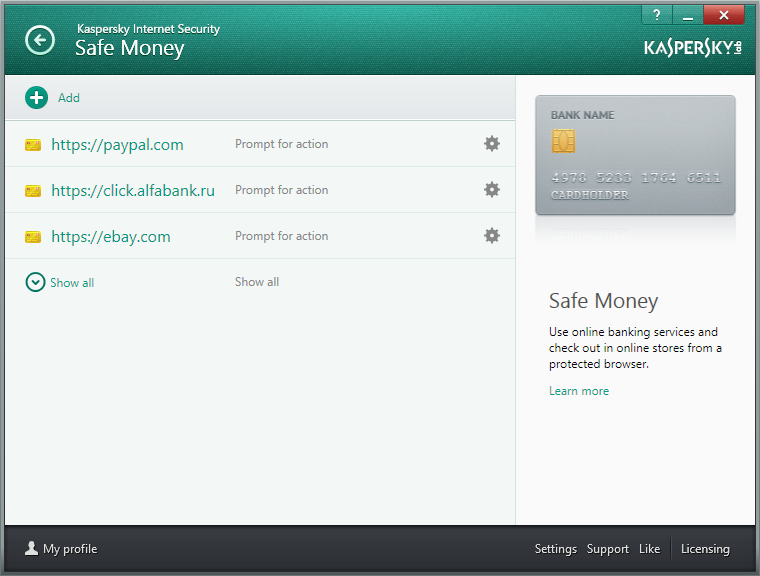 Another major innovation in Kaspersky Internet Security 2014 is the unique Trusted Applications mode. This protects the computer by only allowing the launch of applications that are identified as safe to use. Thanks to the multi-level system which checks the legitimacy of programs and an intelligent system that can adapt to a particular user, this mode is capable of providing a very high level of security. The Trusted Applications feature is based on the extensive and constantly updated Kaspersky Lab's database of legitimate applications. The database contains over 700 million unique entries with thorough descriptions of all popular applications including operating systems, browsers, image viewers, video players, games, and more.
For users with children, Kaspersky Internet Security 2014 offers improved Parental Control capabilities, which provide flexible controls over all possible scenarios in which a child might use the computer. This mode includes a set of default profiles that contain computer-use scenarios appropriate for different age groups, while still giving parents the freedom to modify these settings at their discretion. Parental Control allows parents to determine when and how long children can use the computer, which applications can or cannot be launched, and what information – such as credit card numbers and home addresses – should be blocked from being shared on social networks.

Kaspersky Internet Security 2014 is available both as a standalone product and as part of Kaspersky Internet Security – Multi-Device, a security solution that will soon be launched to give users an easy way to secure their Internet activity on multiple computers and mobile devices, with just a single purchase of a single license.
Kaspersky Internet Security and Kaspersky Anti-Virus are available for purchase now on Kaspersky Lab's online store. Current customers may upgrade free of charge from previous versions to the new products for the remainder of their existing license period.