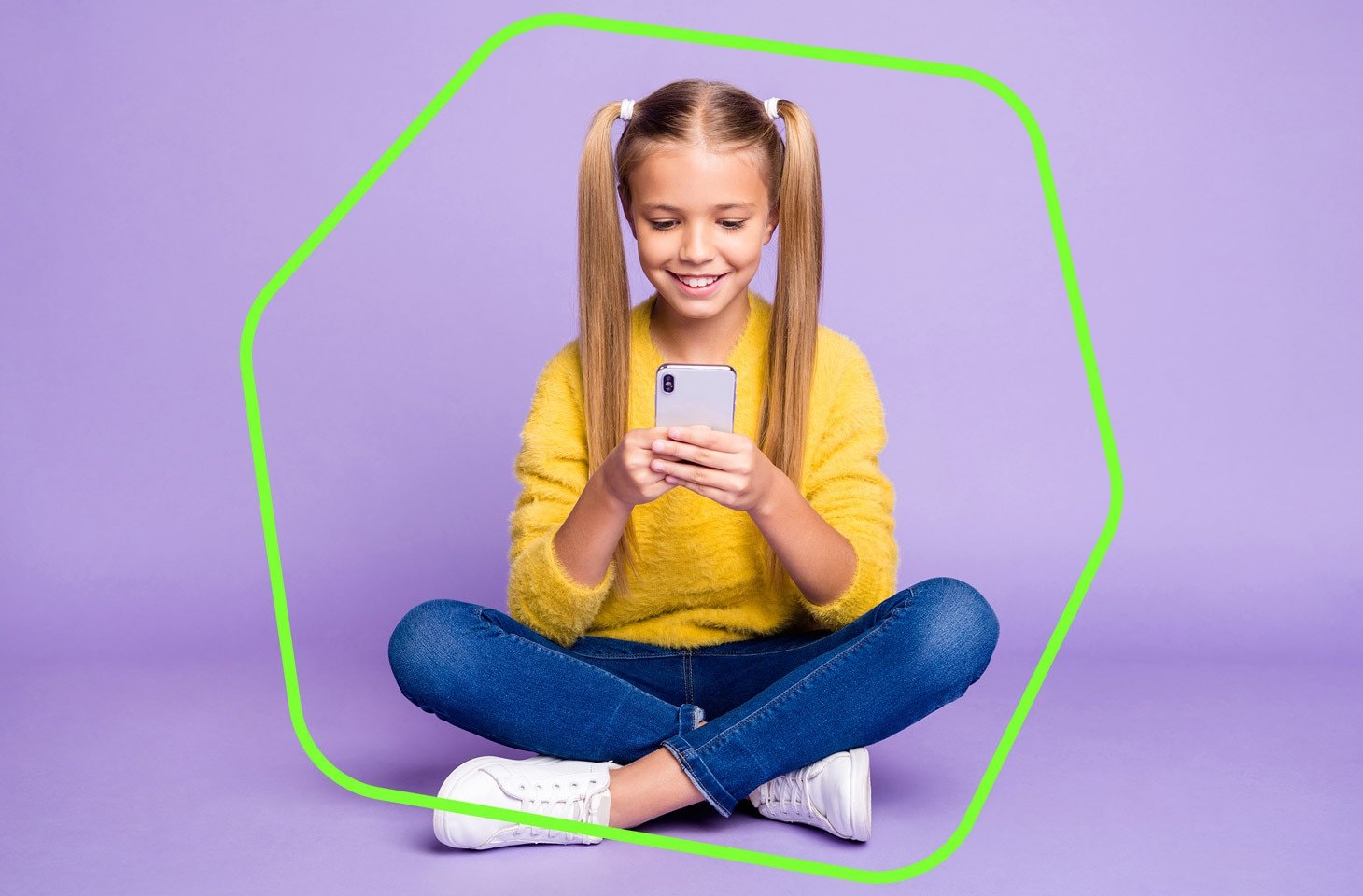 How we collect our statistics
---
Search queries filtering
Looking at children's search activity is the best way to see what they are interested in. Kaspersky Safe Kids can filter kids' queries in five search engines (Bing, Google, Mail.ru, Yahoo!, Yandex), as well as on YouTube. Filtering targets six potentially dangerous topics: Adult content, Alcohol, Narcotics, Tobacco, Racism and Profanity.
This report presents statistics on YouTube searches. We took the top 1000 search queries collected from YouTube during the period from June to August, 2023 inclusive, as 100%. The ranking was based on the number of times a query was input, without breakdown by region or language. The popularity of a topic is determined by its share of related queries.
We divided the search queries collected from June through August 2023 into several subject categories:
DaFuq!?Boom!/Skibidi Toilet
Games
Other

Harry Potter
Toys
TikTok
Education
Sports
DIY
Adult content
Trends
ASMR
Meme
Gacha Life

YouTube bloggers and channels
Movies, cartoons and TV-shows

Cartoons
TV-shows
Anime
Movies

YouTube gaming influencer
Music
Control the use of programs
Kaspersky Safe Kids allows parents to control and limit the amount of time their children spend on apps and programs on their devices. This report uses anonymized data on the number of hours that kids worldwide spent on apps run on Android devices
We determined 15 world's most popular apps, taking the sum of the hours spent on these apps for 100%. The percentage breakdown in the TOP 15 reflects the number of hours spent on each app.
Top 15 Android apps
---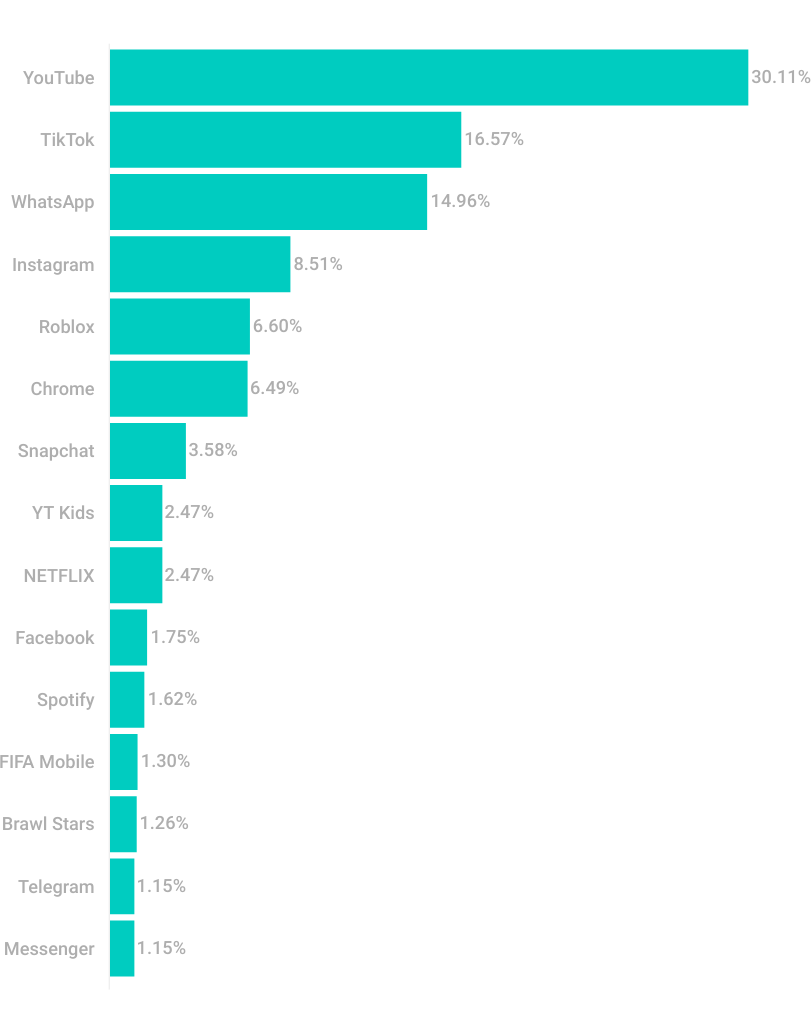 The most popular app among kids worldwide is YouTube. Its share amounts to 30.11%. Curiously, YouTube Kids accounts for just 2.47%. On the second place is TikTok with 16.57%, roughly half the share of the above two combined. Leading the charge among social networks are Instagram (8.51%), Snapchat (3.58%) and Facebook (1.75%). The most popular messenger used by kids is WhatsApp (14.96%). Telegram (1.15%) and Messenger from Meta (also 1.15%) are also in the Top 15. As for games, this summer children spent the most time on Roblox (6.60%). They paid significantly less attention to FIFA Mobile (1.30%) and Brawl Stars (1.26%).
Kids also spent time surfing the web in Chrome (6.49%), watching shows and movies on Netflix (2.47%), and listening to music on Spotify (1.62%).
For a deeper dive into the hottest kids' trends this summer, let's take a look at what they've been searching for and watching on YouTube, the most popular platform.
YouTube searches
---
To explore kids' interests, we took the Top 1000 anonymized searches on YouTube and categorized them by general topic.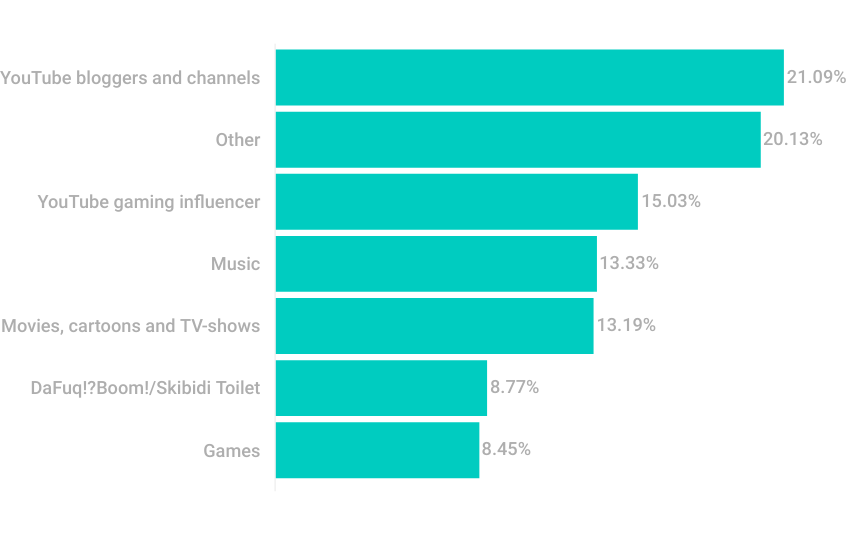 The largest share of searches fell to names of YouTube bloggers and channels (21.09%). This is followed by the Other section (20.13%), which covers less trending but still current topics. We'll take a closer look at the topics in this section below. Gaming bloggers and streamers scored 15.03%, while individual game-related searches accounted for just 8.45%. Music picked up a 13.33% share. Movies, cartoons and TV shows accounted for 13.19% of the Top 1000 searches. This time, besides the general topics, we added DaFuq!?Boom!/Skibidi Toilet as one of this summer's biggest hits, with a whopping 8.77% slice of the Top 1000 searches. It's with Skibidi Toilet that we'll start drilling down into what got kids buzzing this summer.
DaFuq!?Boom!/Skibidi Toilet
In short, Skibidi Toilet is an animated series on YouTube Shorts created by Georgian blogger DaFuq!?Boom!
It all began with short videos featuring one and the same head popping out of toilets in various abstract settings, accompanied by a mashup of Dom Dom Yes Yes by Biser Kind and Give it to me by Timbaland. After that, the series got fleshed out with a plotline and its own universe populated with characters, resembling a mix of Kaiju films (for example, Godzilla), web horror in the spirit of Slenderman, and apocalyptic sci-fi in a Half-Life 2 setting. No coincidence that last bit, since every episode is made using Source Filmmaker from Valve, the Half-Life 2 developer and publisher. Characters from the series showed up in kids' searches, with TV Woman and TV Man the most popular.
YouTube bloggers and channels
This section covers content related to lifestyle, challenges, unboxings, beauty tips, kids' entertainment and the like. Among kids worldwide, the most popular channel remains MrBeast. As well as the original channel, they seek out MrBeast videos translated into their own language.
Besides MrBeast, children actively searched for Triple Charm (English), shfa (Arabic), ViktoriaSarina (German), Fede Vigevani (Spanish), Michou (French), Space Family (Italian), Fala Sério (Portuguese) and A4 (Russian).
YouTube gaming influencer and Games
This summer (and not only), IShowSpeed showed not just speed but the highest number of searches among game bloggers. Close behind is the gaming blogger Aphmau. The top also featured Paluten (in German), Problems (in Portuguese) and Furious Jumper (in French).
Among searches for games in general, the undisputed leader this summer was the sensation Lacey's Flash Games. But don't judge a book by its name, since games are far from the only thing it has to offer.
Like Skibidi Toilet, Lacey's Games evolved into a web horror based on the character Lacey, who appears, for example, in the flash game Lacey's Wardrobe (the main intrigue here is the existence of the game in real life). Various content makers create horror stories (and more) based on the game. This summer saw Lacey added to the list of horror characters.
Fortnite ranks second in popularity after Lacey's Flash Games, followed by the evergreen Minecraft and Roblox, as well as Genshin Impact.
Movies, cartoons and TV-shows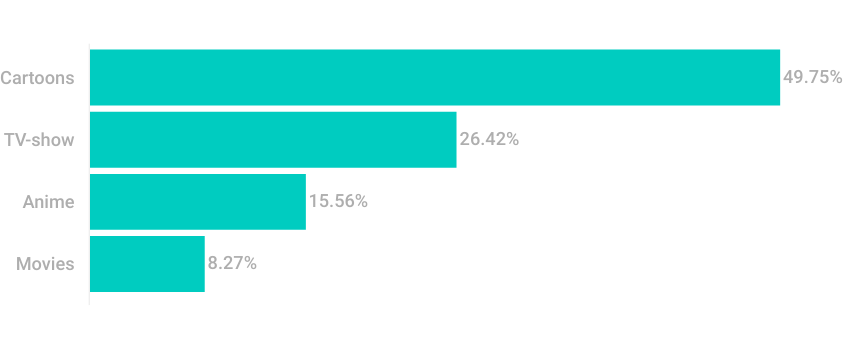 Cartoons (49.75%) account for almost half of the searches in the Movies, cartoons and TV shows category. While TV shows (26.42%) and related topics make up just over a quarter. Anime (15.56%) easily outstrips movies (8.27%) by number of searches, since many films can't be watched in full on YouTube. Kids mostly look for trailers or reviews of new movie releases.
The unassailable search leader among cartoons for some time now has been the channel MSA (My Story Animated). Besides the standard Tales of Ladybug & Cat Noir, My Little Pony, Peppa Pig and Helluva Boss, this summer children watched the animated series Murder Drones, the pilot of which appeared in 2021. Only one episode was released in 2022, but 2023 has seen four new ones, two over the summer.
Among TV shows this summer, the most searched-for were Chinese and Korean dramas (aka C-dramas and K-dramas). Top of the pile were the C-dramas We Fall In Love (2023) and Love Forever Young (2023). In addition to Asian shows, the Netflix original series Cobra Kai and Wednesday are still popular with kids.
The summer's biggest blockbusters, Barbie and Oppenheimer, did not pass kids by. Unsurprisingly, they searched more for Barbie. However, that was by no means the hottest kids' topic of the summer.
Music
Besides videos, YouTube doubles up as a music-streaming service. 13.33% of the Top 1000 searches were for music artists and tracks. The K-pop genre is still all the rage, with searches for South Korean artists accounting for 18.64%. K-poppers' absolute favorite is BlackPink. Next in line are Stray Kids, BTS and TWICE. The most popular K-pops tracks are (G)I-DLE — Queencard, Jung Kook — Seven (feat. Latto) and NewJeans — Super Shy.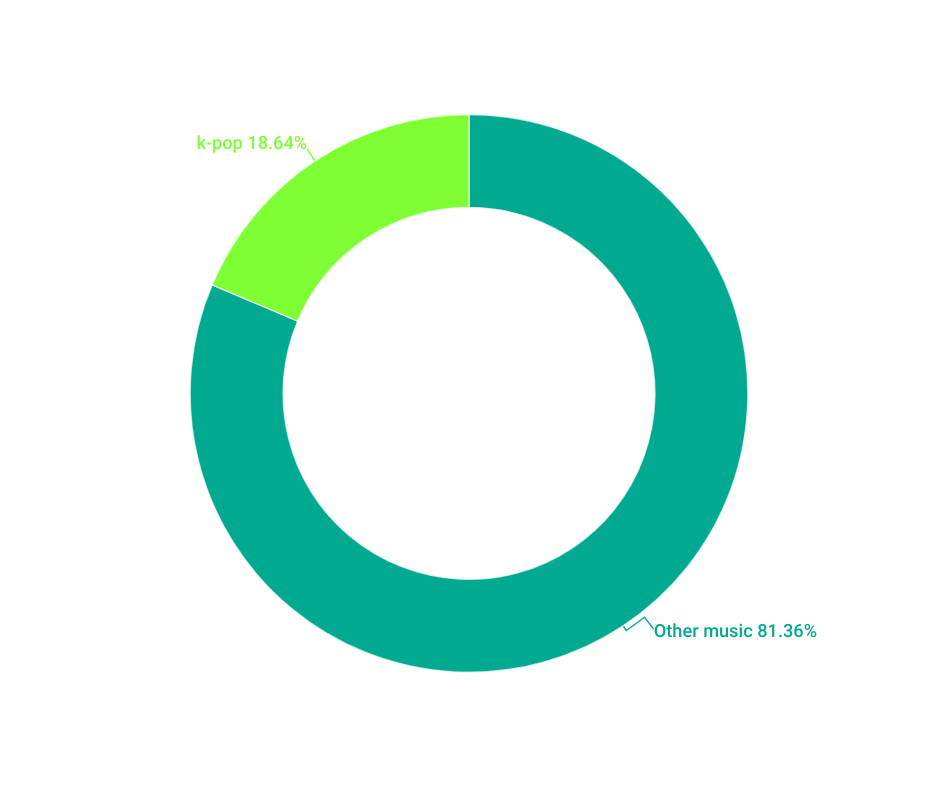 Despite the undying appeal of K-pop, phonk is still the most searched-for music genre among kids.
As for tracks, this summer kids listened to Barbie Girl by AQUA and numerous variations of it, such as Nicki Minaj & Ice Spice — Barbie World (with Aqua). It's worth noting that US rapper Ice Spice caught kids' attention this summer.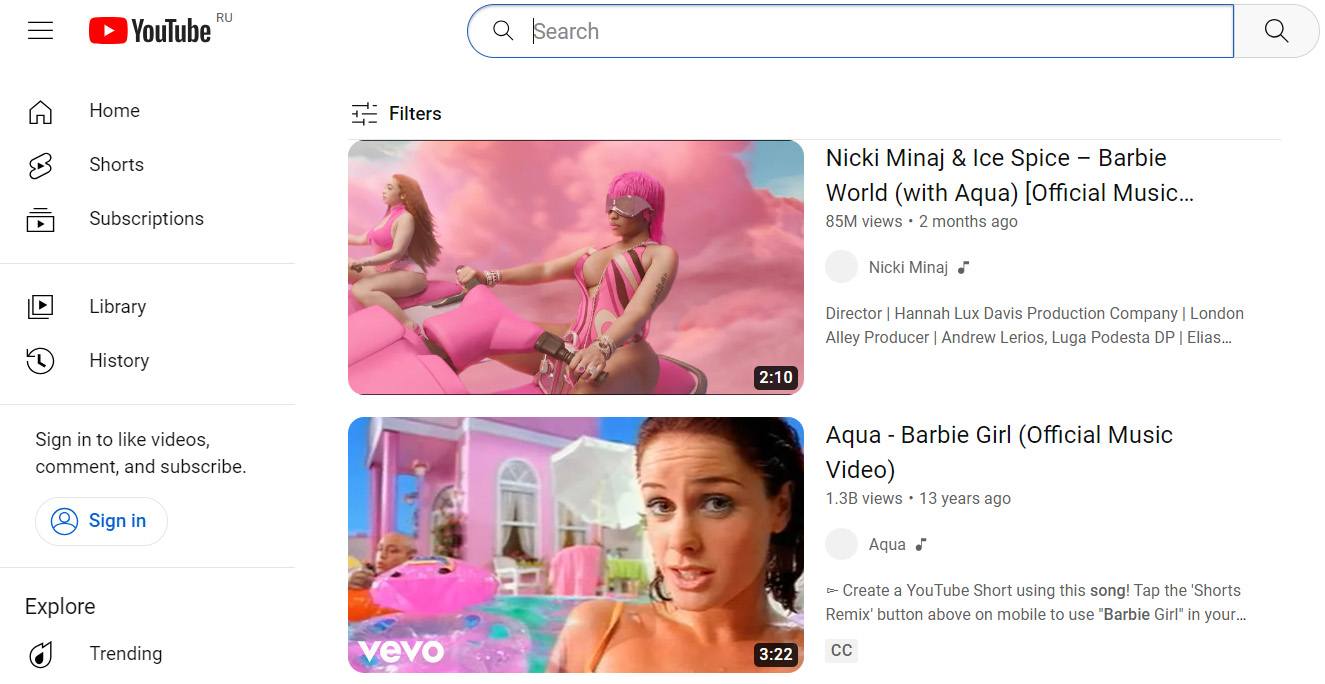 Alongside Taylor Swift, Ariana Grande and Billie Eilish, long adored by kids worldwide, XXXTentacion, who died in 2018, is still highly sought-after. Joining the list of popular performers this summer is Olivia Rodrigo.
Other
The Other section combines searches on topics that are of interest, but not sufficiently so to warrant their own category.
That said, Gacha Life videos are still pretty popular. They are in first place in this section. 23,74%. Next come meme videos (22.49%), traditionally a very popular kids' topic. This summer's biggest meme videos (besides Skibidi Toilet, of course) were Countryhumans, Trollge Incident and Sad Cat Dance. If you want to know more, better to just watch them.
As the name suggests, the Trends section (17.51%) covers topics that appear from nowhere and disappear just as quickly. This summer's trends included the 1 10 100 Challenge, McDonald's Grimace Shake in honor of Grimace's birthday, and the annual August back-to-school trend.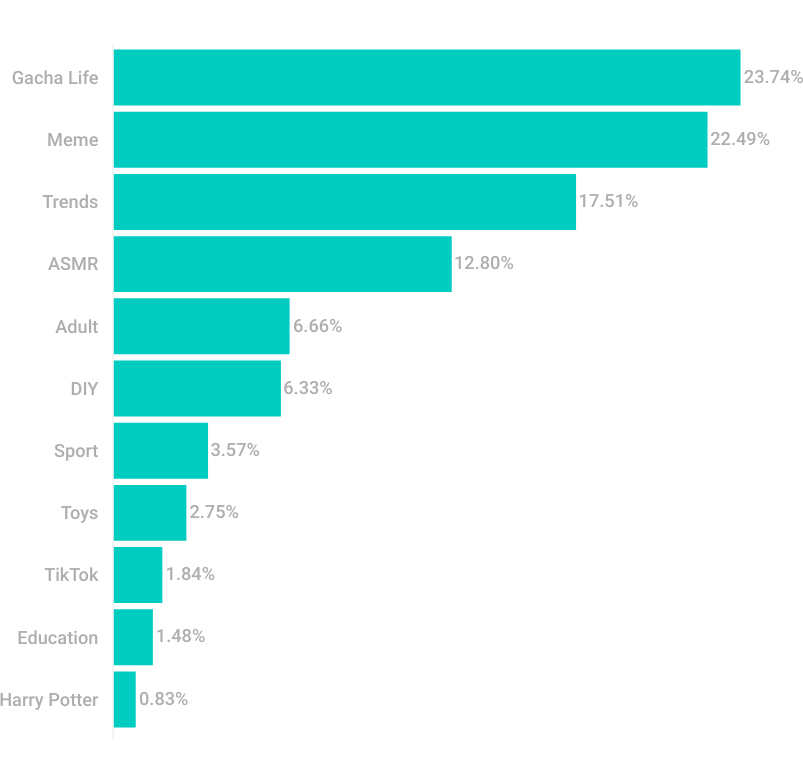 Conclusion
---
Vacation time is a chance for kids to take a break from school and max out on entertainment. This summer they were hooked by the Skibidi Toilet craze. It may represent the death throes of civilization for many, but we never recommend leaping to conclusions.
Beneath the surface of what might seem to be primitive, even idiotic videos lies an entire universe peopled with protagonists and antagonists, ideas and storylines that could rub shoulders with recognized classics such as Harry Potter or The Lord of the Rings.
Whenever a new internet phenomenon comes along, before dismissing it as a sure sign of societal decay, spend a little time getting to know more about your kid's interest — that way you'll also learn more about your kid.