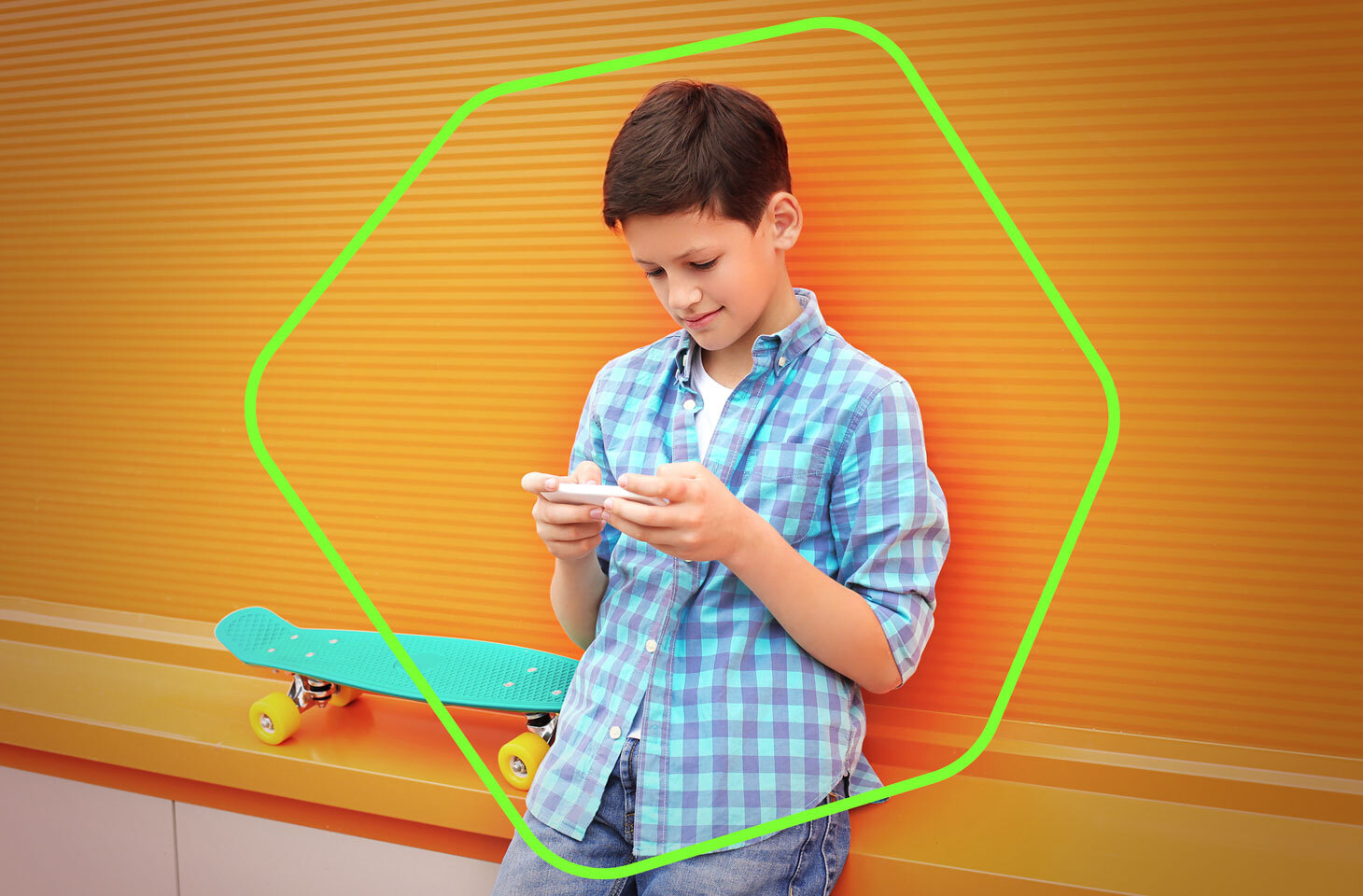 To compile this report we examined the categories of websites that children opened most often in a browser and the number of hours they spent on Android apps. Additionally, we examined the top 1000 searches on YouTube. The report is based on anonymized statistics gathered by Kaspersky Safe Kids.
You can read more about the analysis technique applied in last year's report. The current one focuses on the most striking current global trends from February to May 2022.
What children are browsing
---
The children of today most often visit websites in the "Software, audio, video" category (43.6%): they're primarily listening to music on streaming platforms, and watching YouTube bloggers and Netflix series.
Among the top-10 most popular mobile apps for Android, YouTube had a commanding lead (31.6%), with TikTok a distant second (19.04%). By the way, we previously wrote about why TikTok isn't all bad.
As the data shows, children all over the world prefer to spend most of their device time on YouTube. That makes this platform a valuable resource for studying trends and children's interests as a whole.
Young YouTube users were most interested in the following topics:
Bloggers
---
We divided the category "Bloggers" into "general topic" bloggers (53.69%), Let's Players, game streamers and reviewers (28.34%), with Minecraft players separately (16.34%), and bloggers who post educational content (1.63%).
The leaders in this category were "general topic" bloggers, representing 53.69% of search queries. They post entertainment content: lifestyle, challenges, reviews, reactions, and their own music videos. Children were actively searching for popular personalities, including A4, MrBeast, Lady Diana, Luna y Estrella, and SSSniperWolf.
In second place, at 28.34%, were bloggers who play and provide gaming commentaries: they organize live streams with spectators (streamers), or post edited videos (Let's Play). The most popular bloggers in this category were Paluten, Windy31, Ssundee, iCrimax and Pozzi.
We created a standalone category for blogs that focus on Minecraft (16.34% of searches). The most sought-after personalities here were Kompot, EdisonPts, Aphmau, FixEye, Dream, BastiGHG.
Video blogs with educational content were not particularly popular: they made up only 1.63% of searches in this category. Of course, these videos are nothing like school lessons. The bloggers normally carry out different experiments and explain scientific ideas in a fun and easy-to-understand way.
Music: K-pop and phonk
---
The second most searched-for topic was music. Korean performers — BTS, Blackpink, Twice — are still popular search queries. In the spring, a new video by PSY (of Gangnam Style fame) featuring SUGA of BTS, That That, was released. It became one of the most frequent searches by children in the "Music" category.
Among the other music queries, phonk merits special attention. Phonk is a subgenre of 1990s hip-hop in which modern rap is combined with jazz samples and old vocal recordings.
Movies: My Story Animated
---
Searches related to cartoons led in the category "Movies, Cartoons & TV Shows," accounting for 46.1% of searches. TV shows made up 24.48% of all searches in this category, while movies accounted for 14.15%. And we cannot leave out anime, which represented 15.31% of searches.
In addition to searching for obvious big-screen hits, children gravitated in large numbers to the channel My Story Animated, where there are cartoons about adolescents' real-life problems.
Another trend was TV shows (24.48%). It's notable that young users were interested not only in children's programs, such as The Voice Kids 2022, but also adult programs, including Germany's Next Top Model 2022. We found that in Germany as a whole, kids watched TV shows on YouTube more than in other countries, and these shows included Köln 50667, Berlin — Tag & Nacht and Klinik am Südring.
Games: the usual and The Backrooms
---
Minecraft continued to be the most popular game on YouTube, accounting for 16.8% of the searches in the "Games" category. It was followed by Roblox (10.62%), Fortnite (7.48%), Poppy Playtime (7.45%), [FNF] Friday Night Funkin' (7.15%), BrawlStars (5.32%) and FNAF — Five Nights at Freddy's (7.15%). Among Us, a past favorite, was no longer trendy — it represented less than 2% of search queries.
The Backrooms is a new game with a growing fan base. In fact, it's not so much the game itself that's popular, but the urban legend about the maze with infinite rooms containing myriad horrors. Over the years, this horror story has spawned numerous memes and sequels. But when the short film The Backrooms (Found Footage) was posted on YouTube in early 2022, it was immediately dubbed "one of the scariest films on the web." And as we all know, kids love horror.
Gacha: reactions and heat
---
In case you missed it, Gacha Life is a role-playing game, but it's probably more accurate to say that it's a wildly popular "game world". Players create their own anime characters, choose their appearance and clothing, and make up stories. This all makes the game more like a mini-movie. Players can then upload their creations to YouTube and TikTok, where the Gacha trends form: Gacha memes and Gacha movies. This spring, the largest number of searches were related to "Gacha react". Enthusiasts of this trend create short scenes on hot topics and use Gacha characters to express their reactions to movies, games, anime scenes and so on.
Something parents should be aware of are "gacha heat" searches. They're not too frequent on YouTube or TikTok — 13.2% of searches — but often designate content that's inappropriate for children. But there's no need to panic: if your children are spending time watching Gacha movies, that does not necessarily mean they're watching "gacha heat" content. But if they are, that could be a reason to start considering teaching them about sex!
Miscellaneous: strange and grown-up content
---
This category is a catch-all for disparate searches that did not fit into the other categories. The bulk of these searches — 22% — were for various internet memes, such as "ytpmv", "animation meme" and "floppa".
Kids have been interested in ASMR videos for quite some time, and they represented 20.6% of searches in the "Miscellaneous" category. ASMR stands for "autonomous sensory meridian response" and refers to the body's reaction — manifested as pleasant sensations (goose bumps, tingling, tickling) — to different audio and visual stimuli such as whispering, the sound of breathing, pages rustling, food crunching and so on. In the last few years, millions of videos have been posted on YouTube in which the creators promise that the viewer will have those feelings. Like all viral videos, ASMR videos captivate children. Another popular search query was "UwU": an emoji made out of letters that is meant to show a cat with its eyes closed, which at the same time represents the name of a female gamer subculture.
The third most popular search in the "Miscellaneous" category were DIY videos and channels (13%). These are instructions that tell viewers how to make things on their own, and they also encompass everything that's considered a life hack. The most popular channels of this genre are 5-Minute Crafts and 123 GO!. Overall, these are worthwhile videos, and it's a good idea to encourage kids to take this approach to YouTube, searching for "how do you make…".
Kids don't shy away from the major scandals of the entertainment world. This spring, many adolescents — just like adults — followed the story of Johnny Depp and Amber Heard's divorce, and they repeatedly watched Will Smith slapping Chris Rock at the Oscars, which immediately became a meme. And of course, they kept up with the celebrity couple Zendaya and Tom Holland, who became megapopular thanks to the film Spider-Man: No Way Home and the Euphoria TV series.
What are your kids searching for?
---
If reading about kids' popular searches has made you wonder if some of it might apply to your own children's internet habits, Kaspersky Safe Kids can help you. Our product has many useful options. In particular, the YouTube Safe Search feature shows you the search history on YouTube so you can see exactly what videos your kids have been watching. Just remember — parental control products are created first and foremost to help cultivate trusting relationships in the family, not to spy on children!