Afraid you missed out on some of our blog posts this June? Not to worry, we've compiled highlights from our most popular Kaspersky Daily articles for you! Take a look: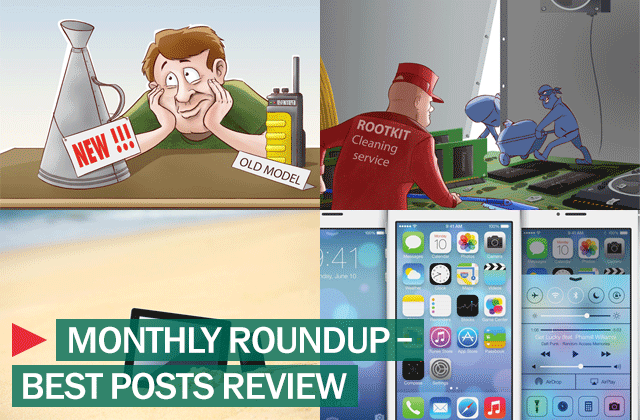 iOS 7 Premieres Some Nifty New Security Features
The Apple iOS 7 premiered at the World Wide Developers Conference this past month, boasting new, heightened security features. Owners will no longer need to fear data theft thanks to the introduction of new features like Activation Lock and iCloud Keychain, which help prevent factory resets and encrypt sensitive data like passwords or credit card numbers, respectively.
Rootkits are sneaky forms of malware that have the ability to hide themselves on your computer for months or sometimes even years without your knowledge.  Although they are hard to detect, there are measures you can take to ensure your safety. Always keep yourself secure by using anti virus software, and be sure it's assigned to monitor critical system files on a low level, catching malware trying to modify the hard drive, and that it's removing 100% of rootkit components.
Stay Safe When Arranging Your Vacation
Are you looking to book a summer vacation? If so, be on the lookout for cybercriminals looking to prey upon travel enthusiasts with "malicious traveler" campaigns this season. Before giving your credit card number to a travel site, make sure it's safe by following simple steps like: use only popular, reputable travel websites, avoid offers from unknown sources and double check your confirmation details. There are many fraudulent sites and offers out there, but remaining vigilant and using common sense before charging a vacation should keep you safe.
You've heard it before, and you'll hear it again; when accessing accounts online, it's imperative that you use strong passwords to protect your data.  The majority of web services today require passwords for access, but by using long, more complex combinations that are unique to each site you log into, you'll make it more difficult for attackers to breach your accounts.
You may have heard the term exploit when talking about Internet security, but do you really know what it means? In basic terms, it's the method through which attackers hone in on vulnerabilities to carry out strikes against their victims. If we're being honest, vulnerabilities will always be around, but with the combination of a strong antivirus product and the utilization of smart Internet browsing tactics, you will be less susceptible to an attack.
Google Trades Privacy and Security for "Hangouts"
Google recently announced the rollout of its replacement to the popular "Talk" feature;  "Hangouts." With this switch, two main concerns have arisen, the first being the end of XMPP chats, or the ability to talk to users on different platforms such as AOL's instant messenger. The second, and more eyebrow raising concern, is the inability to go off the record with individual "Hangout" chats, meaning OTR encryption will no longer be an option.