Security is not just anti-malware protection. As a concept, mobile security is comprised of privacy features, permission restrictions for too nosy applications, a backup capability in case your smartphone gets broken, a denylist for undesirable calls, as well as encryption and parental control functionalities. Android is a very flexible OS, and all these challenges can be well dealt with if you choose the right security app from Google Play. Yet there is an abundance of suitable options, so we decided to help you by making a short list of the best security applications.
Password-enabled security of apps and multimedia
Free / Premium
Almost all apps on a smartphone behave as if any person who lays hands on the device is the rightful owner. Yet this is not true. A friend could take your phone "just to check out what's there", children would use it to play, and colleagues and relatives – just to stick their noses into it out of sheer interest. In the two latter cases, a graphic security code or PIN lock could help, but when you give the device to a friend or a child, you ought to unblock it anyway. So, all your private data, in this case, is likely to be exposed in a couple of clicks. App Lock solves this problem by creating a list of protected applications. On launching them, one must enter an additional security code. Moreover, you can store some private photos and videos in a media gallery secured by a password, and leave all the rest in the ordinary folder. For the most paranoid users, App Lock is able to hide itself from view, and in that case, the app settings are activated only via a secret dialing code.
Revoke application's permissions
Free
On installing any application, Android notifies you which permissions are required. If you happen to find out that the new "live wallpaper" needs to access your contact list for text messaging (by the way, this is a very bad sign, and in this case, you'd better not install it), you have no other choice than to either accept the negative consequences or abort the installation. However, an increasing number of apps require more "extra" permissions. It just so happens, however, that Google has a tool to selectively revoke permissions from already installed applications. This feature was immediately available in Android 4.3 and is called App Ops. Unfortunately, in V4.4.2 it was taken away. App Ops simply offers access to Google's setting screen where you can restrict any app's access to the contact list, user's geolocation, and so on. For Android 4.4.2 and later, unfortunately, App Ops functionality requires root access. For Android versions below 4.3, App Ops is not available, but the LBE Privacy Guard app offers a comparable set of features.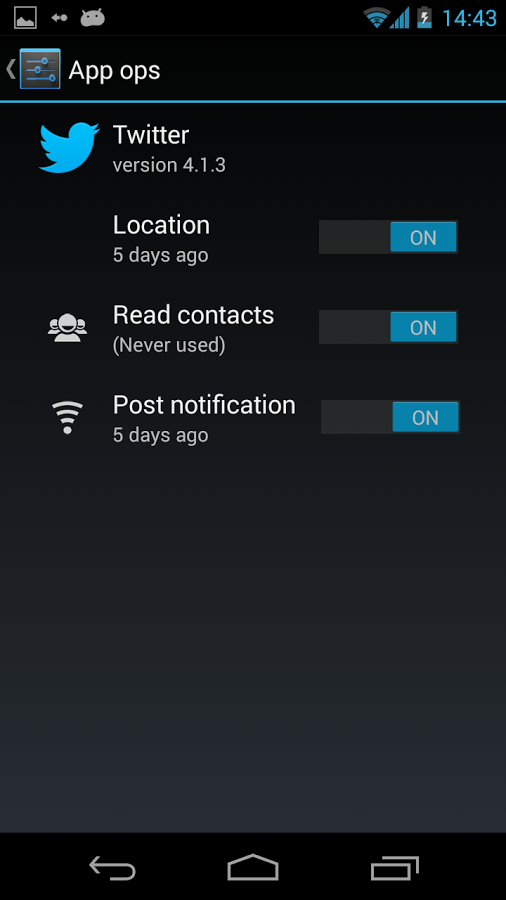 #Android's hidden function: to revoke permissions from already installed apps. You can, for instance, disable GPS tracking via an app.

Tweet
Smartphone data encryption
$8
For those who have to store confidential documents on a smartphone, locking apps like App Lock or PIN codes are not enough to secure the data. With Android 3.0 and later versions, the operating system offers capabilities to encrypt all data stored on a smartphone. The process serves to ensure maximum security of the data, but a full-fledged password is required every time one wants to use the smartphone otherwise, the very approach is of no use at all. It is quite a tedious job to enter a password 50 times a day, so there is an alternative: to encrypt only the most sensitive data. Applications like EDS are a suitable option. It creates a container file in the smartphone's memory and securely encrypts the content. Storing a file in such a container ensures it is not accessed by anyone but you. EDS has two modes. The simpler of them presupposes fully manual operation of the container. The more advanced mode requires root access: in this case, an encrypted container, when in operation, is treated as a removable storage drive. When saving a file to that storage, you automatically encrypt it. An important side note: EDS containers are compatible with the TrueCrypt desktop app, simplifying the data exchange between systems.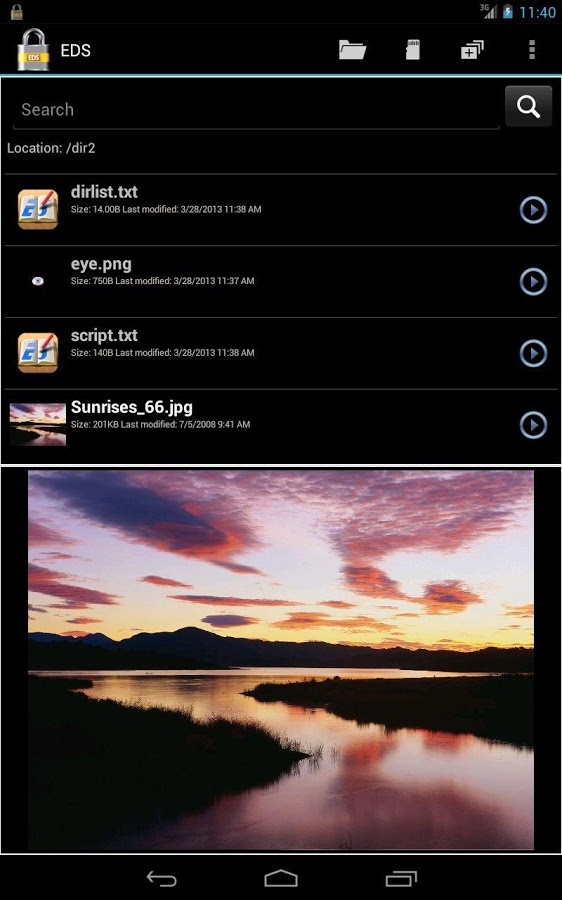 This app is recommended for end users, whereas enterprises and corporate users are required to install a special MDM solution, providing a holistic approach to mobile security.
Parental control over teenage users
$20 per device
A parental control app should operate differently, depending on the age of a child. For teenagers, the most suitable model functions as follows: the device is constantly possessed by the child, with parents setting a series of specific limitations, for example, denying access to porn web sites or setting a maximum duration time for mobile gaming. Google Play offers a dozen such applications, but many of them are not fully functional due to various reasons. Funamo Parental Control works as expected: it enables web site block via certain keywords, restrictions toward in-game purchases, compulsory Safe Search capability on Google, Bing and Yahoo; limitations to certain app launches (based on time of the day, gameplay duration, etc.). A parent can use a remote monitoring functionality (GPS location, text message reading, Web site history, etc.) via Web console. The major drawback of the app is the absence of category filtering (violence, politics, porn, etc.), while this capability is available in the Windows version of Kaspersky Internet Security and Kaspersky Safe Browser.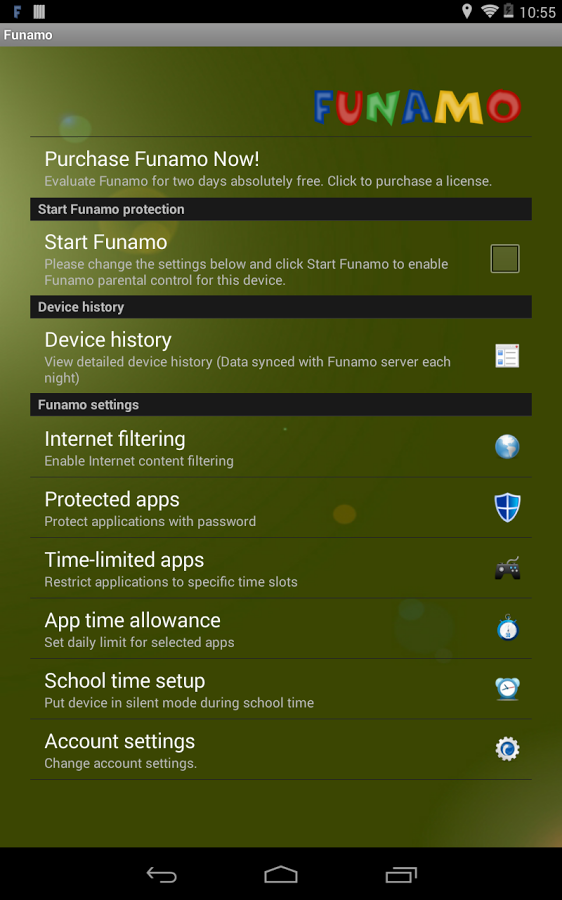 On a side note, discreet monitoring is impossible, as the app always shows the icon in the notifications panel. So, parents should discuss the matter with their kids and establish mutually accepted rules of phone use.
Hiding a part of multimedia gallery
Free/Premium
Disclaimer: this application and those like it are not yet stable for Android 4.4 (KitKat). V4.4 users are recommended to backup their photos and check with caution, whether the Hide/Show function works correctly.
Almost half of smartphone galleries store photos which are not intended for public use. A simple way to hide them without deletion is Gallery Lock. Selected shots are deleted from the default gallery and are stored in a special, password-protected gallery. The most reserved users can enable a "stealth' function which is designed to hide the Gallery Lock icon and open the hidden gallery by a secret digit code in the Phone application.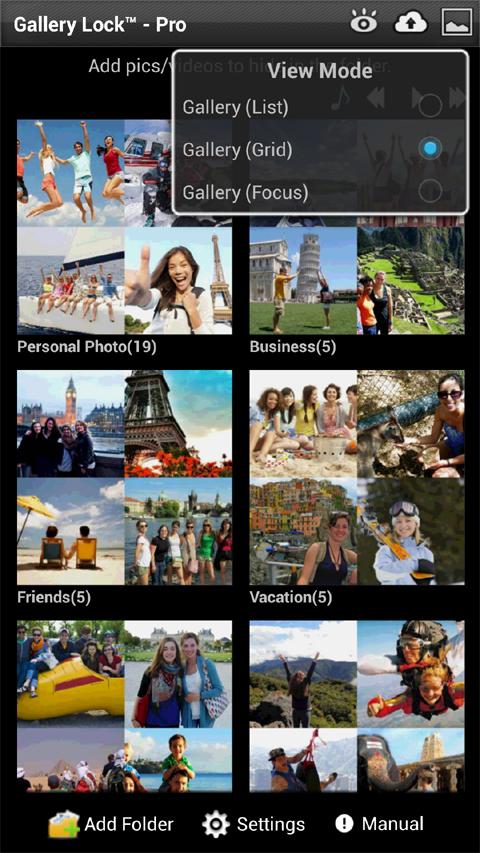 For those who would like to hide the contact list, calls, and messages as well, there is a special capability within Kaspersky Internet Security for Android.
Anti-theft, anti-virus protection protecting a smartphone against fraud and tactless friends
Free/Premium
Of course, Kaspersky Internet Security for Android is designed to protect you against mobile viruses and dangerous web sites (phish web sites, for instance), but that is not the only good thing about it. Even the free version is equipped with a number of anti-theft capabilities. One can locate a forgotten smartphone by launching a buzzer, or remotely lock it and wipe up the data, or locate it via GPS, or take a photo of the person who found (or stole) it.
Moreover, one can hide certain contacts from the contact list or text messages, making this communication stealth for those who happened to access the smartphone. There is also a denylist functionality preventing certain people from making undesired phone calls or sending messages to you.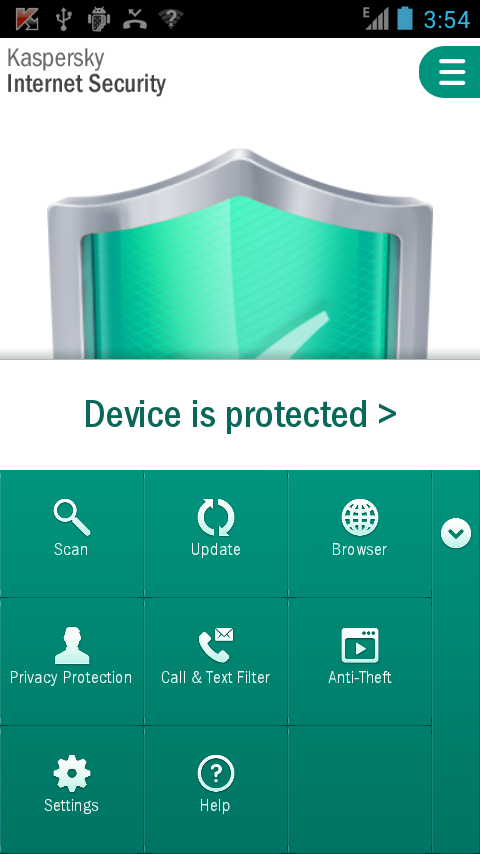 Speaking of malware, we should note recent independent testing proved that Kaspersky Internet Security for Android showed a 100% level of security against malicious apps (which account for over 100,000 for just Android and only for Q1 2014).
Child mode on a smartphone
Free
The name of the application includes the "parental control" reference, but it is only partially so. It would be fairer to talk about the "child mode", which is applied when a smartphone is voluntarily given to a child. In the "child" mode, the smartphone is not allowed to launch any apps except those which are included on an allowlist; it is not dialing phone numbers or accepting incoming calls and is restricting purchase and installation of new apps. That means: yes for gaming, no for using. Profit!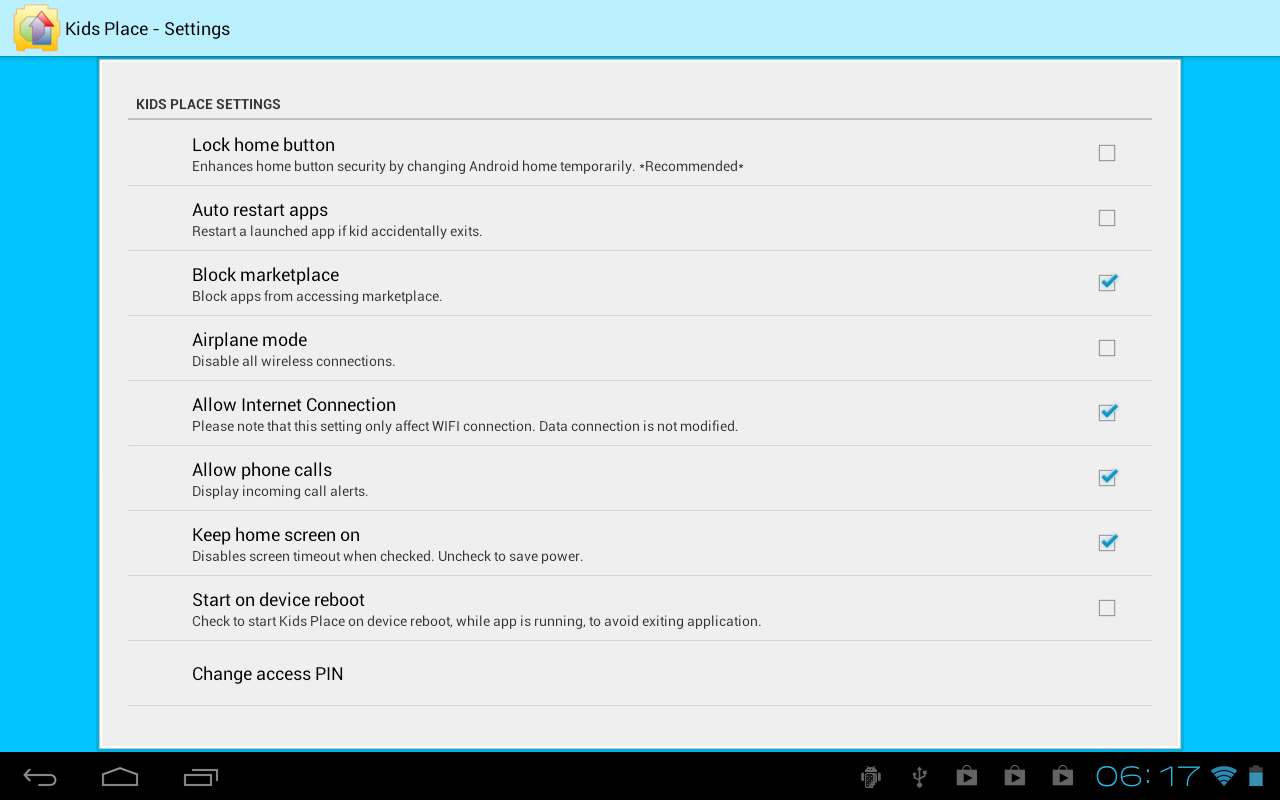 Password manager
Free / $12 a year
A multiplatform password manager which enables a single cloud database for both PC and smartphone. Disabling advertising and getting access to additional features requires a purchase of the annual license. With LastPass, a user may access each web site via a unique and complex password, not overstretching one's memorizing abilities. Compared to competitors, LastPass is attractive due to its two-factor authentication, which is ran on the launch of the app itself.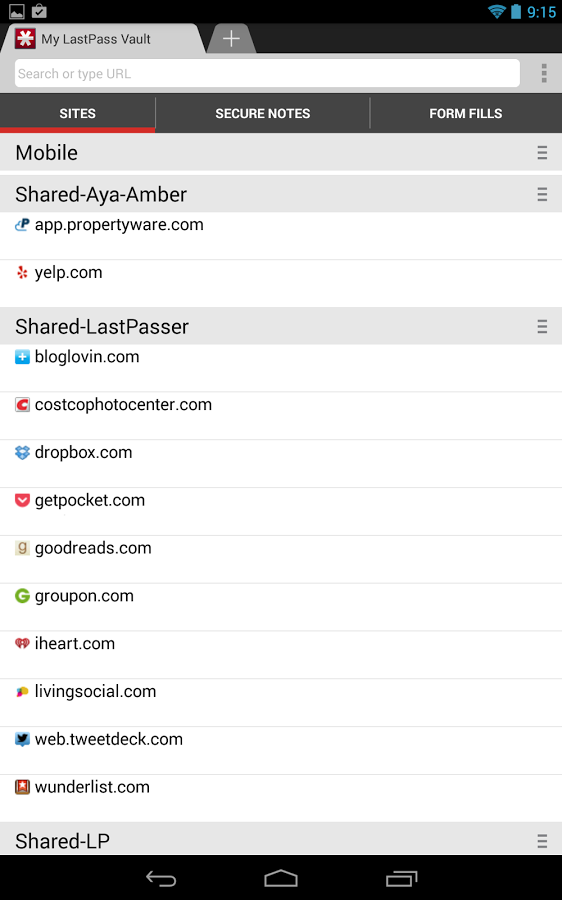 Smartphone backup
Free/Premium
Whereas the backup capability is partially enabled in Android by default, and, provided you handled all the settings correctly, you won't lose any contacts or apps no matter what happens. However, when setting up a new phone, you would have to go through the tedious process of re-setting everything; for example, placing necessary icons onto a screen. Also, some data, including call log and conversation history, is not included in the backup copy. The MyBackup app is trying to backup (and restore) every single part of your system: playlists, Wi-Fi hotspot names, autocorrect glossaries on a keyboard, application settings, etc. The copy can either be saved onto an SD card or the My Backup cloud storage. A number of features require root access. If compared to the renowned Titanium Backup, this app provides better functionality in "non-rooted" mode.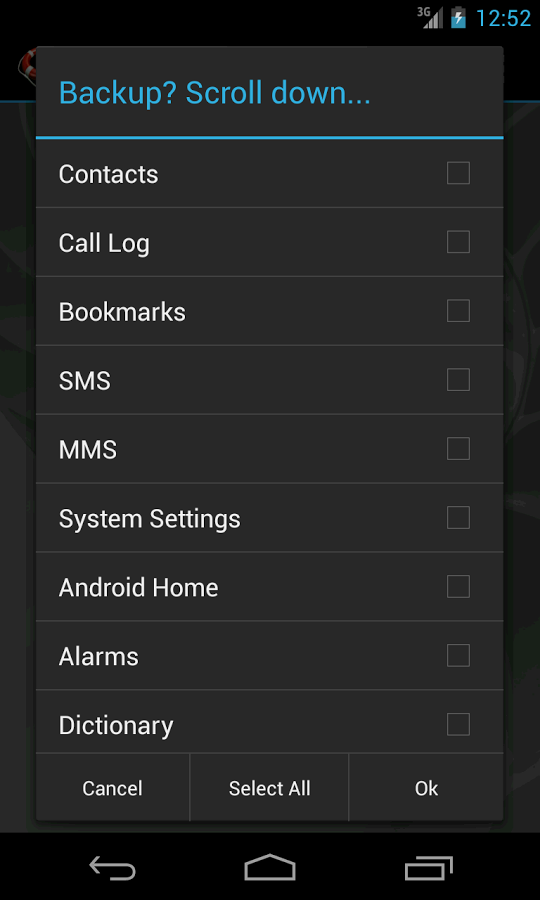 Tor Project for Android
Free
Thanks to Edward Snowden's revelations, the Tor Project and other tools for anonymizing one's Internet presence gained significant popularity last year. Android flexibility allows the implementation of a Tor proxy on a smartphone, and Orbot does exactly this. After a simple setup, any app installed on a smartphone can connect to the Internet via a chain of "onion routers", making the owner's communications very hard to trace. The only condition is an application's ability to work via a proxy server. In addition, Orbot developers suggest a number of privacy-friendly apps already optimized for Tor: a private browser, Orweb; a search app, DuckDuckGo; etc.