The ancient stratovolcano, Elbrus, is Europe's highest peak and takes its place amongst the "Seven Summits," a must for any self-respecting mountaineer. So naturally Olga Rumyantseva could not pass it up during her solo climbs of the highest volcanos on each of the world's seven continents.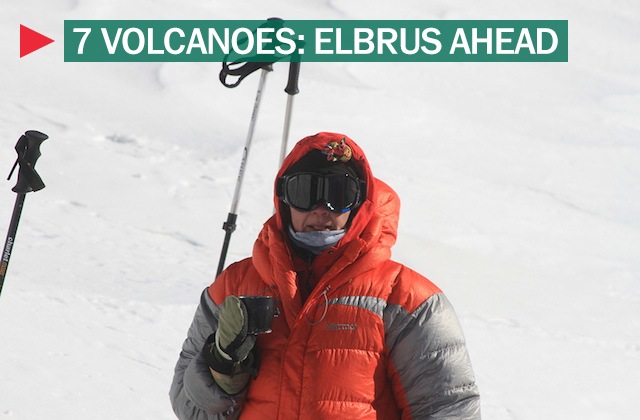 Although it's a solo climb, Olga is not entirely on her own. Kaspersky Lab is enthusiastically supporting the renowned climber throughout her expeditions. Olga recently returned from Damavand (Iran), and has previously successfully climbed Kilimanjaro in Africa and Mount Sidley in Antarctica. Now it's time for Elbrus.
Although it's a solo climb, Olga is not entirely on her own. Kaspersky Lab is enthusiastically supporting the renowned climber throughout her expeditions.
Elbrus, which stands in the Caucasus Mountains of Southern Russia, has two peaks. The western summit is 5642 m above sea level and the eastern peak is slightly lower at 5621m. Olga has decided to focus her attention on the western peak, but if all goes to plan, she will be able to tackle its eastern neighbor as well.
Olga, what are your plans for the upcoming climb?
Basically, my plan is as follows:
I'm starting from Mineralnye Vody and going on to Terskol. The next day I'm moving to the foot of Mount Elbrus and up to the "Bochky" camp, which is located at a height of 3,900 meters.  The third day and night is the ascent to the peak. I will then return to Bochky or Terskol. If the weather is bad it will take an extra day to complete the climb.
Elbrus is very popular. There are lots of people there. Do you think you will be able to get away from the crowds and climb alone?
Yes, Elbrus is very popular – especially during the high season. So I am not sure I will be alone on my ascent to the peak. On the other hand, there is one advantage to its popularity- there will be someone to take a picture of me at the summit.
Seriously though, there are two points to keep in mind. First of all, Elbrus is big enough for all groups to keep a fairly good distance from one another. Secondly, most climbers prefer to make their life easier and travel part of the route by cable car from the foot of the mountain to the Bochky camp and then travel to the top of the Pastukhov rocks (4800m) by snowcat. I want to go all the way on foot. Since there are very few eccentric people like me, hardly anyone will get under my feet.
Despite its popularity, Elbrus is a very dangerous mountain. What are the main challenges and dangers of climbing Mount Elbrus?
Elbrus is one of the deadliest mountains. Due to its popularity and accessibility (for the residents of Russia) a lot of poorly trained people come here. And Mount Elbrus is very deceptive. In good weather, the route can be seen clearly, everything seems obvious. Therefore, many inexperienced climbers do not pay much attention to their clothing and their climbing equipment. However, the weather on Mount Elbrus changes very quickly: in a few hours a nice day may become nasty – cloudy and windy with almost zero visibility. In these conditions it is easy to lose your way and freeze to death.
What about the famous health resorts around Elbrus? Wouldn't you like to try the Narzan mineral water?
My plan has one free day to allow for possible problems with the weather. If possible, I may use that day to visit the Narzan spring so I can rest and recover from the climb.
Olga the original date for this ascent was different. Why did you change it?
I thought it would be a nice symbolic gesture to time my climb to coincide with Kaspersky Lab's birthday. While the company is celebrating the heights it has already reached, an ambassador for the brand will be conquering the next peak.
Besides it so happened that  my family is away on holiday and I don't have much to do in Moscow. So why not use this time to climb Elbrus and then get back home when my family gets together. There is a lull at work too. The timing is perfect!
When is it the best time to climb Mount Elbrus? And what do you consider to be your climbing "season?"
The climbing season on Mount Elbrus is quite long – from mid-June to mid-September. For me, like I said, the timing of my trip is based on a convenient fit with my other commitments, work and family. After all, the project is one thing – but life is life!
We fully support Olga and look forward to hearing more good news from her as she continues the Kaspersky 7 Volcanoes Expedition!
In the meantime, send us a story about your dream journey and get ready to make your dreams come true! Get more contest details!