With the focus on "big data" and data growth, and the increase in data breeches and vulnerability, how confident are you that your organization's infrastructure will not be next? What should you do to protect your company and your customers?
The amount of data being collected and stored is constantly growing, and users expect that data to be accessible 24/7 with no barriers. The media reports daily that data is being compromised by viruses, hackers, and malicious code.  The data being compromised is business critical data, personal data, healthcare data, financial data, and retail data. There is no industry safe from this malicious activity.
How fast is this malicious activity growing?
Research shows that in all of 2006 there were 2000 unique pieces of malware. As of Q4 2013 it had increased to 315,000 of unique pieces of malware per day, and we know this number continues to rise exponentially.
Kaspersky Lab and Hitachi Data Systems have partnered to protect their customers' data

Tweet
Companies of all sizes and in all verticals are being targeted – from SMB to enterprise. According to an IDC report, an estimated 40% of the data in the digital universe requires some level of protection, from heightened privacy measures to fully-encrypted data. However, today, about only half the data is actually protected. Additionally, IDC reports two-thirds of the digital universe bits are created or captured by consumers and workers, yet enterprises have the liability or responsibility for 85% of the digital universe, resulting in tremendous exposure if it is not protected.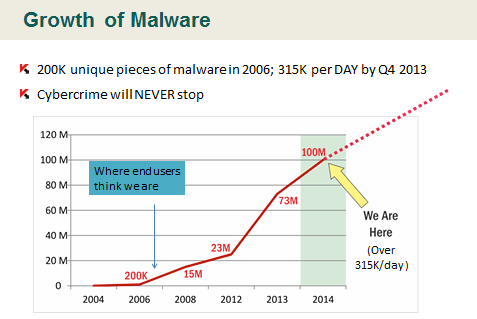 So what should companies do to protect their customers as well as themselves? 
Corporate infrastructure and datacenters have a wide range of heterogeneous hardware of servers and storage. The right solution must ensure you are protecting your data at the endpoint and where the data is stored. To mitigate risk, and ensure ease of installation, it is very important to choose and implement a complete security software solution with a best of breed storage platform that works transparently to provide you with the best solution to protect your infrastructure.  That is why Kaspersky Lab and Hitachi Data Systems have partnered to ensure our products work together seamlessly and transparently.
Network data storage architecture without anti-malware protection are a threat to the security. #enterprisesec

Tweet
To detect and stop viruses before they spread, the Hitachi NAS Platform (HNAS) integrates antivirus functionality into the HNAS system software. This provides integrated antivirus functionality, which allows administrators to manage antivirus behavior from the HNAS interface as well as from the Kaspersky Anti-Virus for Windows Server Enterprise Edition console, and helps to protect corporate data from the spread of malicious code. Additional protection against viruses is achieved by scanning files by Windows and other CIFS/SMB clients. Virus scanning is conducted in real-time and transparent to end users.
Network data storage architectures without anti-malware protection are a direct threat to the security of the corporate IT infrastructure, customers' data, and a company's reputation. By implementing Kaspersky Security for Storage with Hitachi Data Systems HNAS storage platform this combined solution helps network administrators to secure the corporate network against malware spreading via the NAS.